Happy New Year to everyone! I hope everyone enjoyed the holidays. After taking a few weeks off, I'm back with my regular Sunday column! The holidays were relatively quiet but it's all about to kick off. The start of the legislative session is just over a week away, which means things are about to get real loose in Juneau.
The House
The Supreme Court ruled against Democrat Kathryn Dodge on Friday (1/4/2018). Dodge filed a lawsuit challenging some ballots after the Division of Elections certificated the District 1 House race for Republican Bart LeBon. It was initially ruled a tie but after a recount LeBon was up by one vote. The court ruling upholds the single vote margin. This gives House Republicans 20, one short of a majority. But don't tell them that, they continue to refer to themselves as the House Majority. Representative Gary Knopp (R – Kenai) bailed from the group and Representatives Gabrielle LeDoux (R – Anchorage) and Louise Stutes (R – Kodiak) are sticking with the Democrats. Without a clear majority from either group, it is uncertain what will happen at the start of the session. Eventually the stalemate will be broken. It's just a matter of who will blink first. It's going to be fun to watch. This has only happened twice in Alaska history, in 1963 and 1981.
Speaking of House Republicans, they recently made a real genius hire. They hired Zack Freeman as their Press Secretary. Freeman moved to Alaska in April from Seattle. He continues to dress like he belongs in a Seattle coffee shop. He briefly ran a political consulting firm with Rick Whitbeck, but they broke up their partnership not long after it began. Freeman managed several legislative campaigns, most resulting in losses. His clients that won were Representatives-elect Sara Rasmussen, Kelly Merrick, and Representative Lance Pruitt (R – Anchorage). But he's not concerned about the others. Nothing a little gerrymandering can't fix! "REDISTRICTING"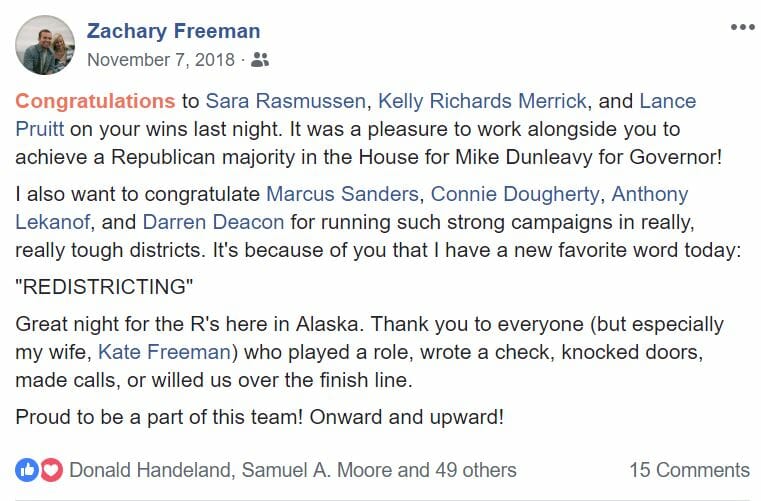 What's more concerning about Freeman is the disgusting attack he was behind against Albert Fogle. Freeman was managing Joe Riggs' campaign. Riggs was running in the Republican primary against Fogle and Laddie Shaw. Right before the election, a disgusting, anti-gay mailer went out against Fogle. Here is a Landmine story about the whole thing, "Former Mad Myrna's Bartender, Joe Riggs, Attacks Republican Primary Opponent for Being Gay."
Freeman also referred to the Lower 48 as the "mainland" to a candidate he was briefly working for. Freeman is a grifter who has likely realized it's easier to grift in Alaska than in Seattle. It will be fun to watch him try to be a press secretary.
Other Happenings 
From now on, please refer to Governor Mike Dunleavy as Governor Michael J. Dunleavy. Kind of like Donald J. Trump, I guess.

Word is Governor Michael J. Dunleavy hired Pat Kemp and Ruben Yost to work at the Department of Transportation as "consultants." Both previously worked at DOT under Sean Parnell. Republicans were critical of Bill Walker when he hired people as consultants. No word yet on how they feel when Michael. J Dunleavy does it. One longtime employee refereed to Pat Kemp as a, "Legit Loose Unit." It's only a matter of time, Pat.
Senator Mia Costello (R – Anchorage) hired Chaz Rivas to work for her in Juneau. She hired Sam Moore last summer but decided not to take him to Juneau. Costello is known for having a very high staff turnover. She also hired Tom Wright to be her chief of staff.
Representative-elect Laddie Shaw hired Josh Walton, who previously worked for Costello, and Patrick Fitzgerald, who previously worked for Representative Harriett Drummond (D – Anchorage). I love that Laddie is mixing it up. Pay attention to Laddie Shaw, folks. He is sure to bring some very high energy to Juneau!
Representative-elect Josh Revak hired Sergej Michaud and Forrest McDonald. Revak served in Iraq with Michaud. He also helped Revak with his campaign. Michaud will serve as chief of staff. The Forrest McDonald hire has caught the eye of many who have observed his, well, not so restrained Facebook comments over the years. Hopefully he stays off Facebook in Juneau. All three served in the Army.
Word is Senator Mike Shower (R – Wasilla) hired Terrence Shanigan and Ceezar Martinson. Martinson recently unsuccessfully ran as a Republican for House District 20, Downtown Anchorage. Shanigan is a whole different story. He was Chair of the Alaska Libertarian Party and is real good buddies with Michael Chambers. Enough said. Last I heard he was living in Oregon. I guess he really sold Shower! Shower also hired former State Senator Scott Ogan as his chief of staff. Ogan resigned for the Senate in 2004 after it was discovered he was hired as a consultant for Evergreen Resources, which was a conflict of interest.
Paul Landes, Senior VP of Marketing and Sales at GCI, and everyone's favorite boss…, was recently named the Alaska Philanthropist of the Year by the Association of Fundraising Professionals. GCI really should have been the winner. If anyone ever wants to give me millions of dollars to donate, and let me take all the credit, I'm definitely available. KTVA, owned by GCI, did a story about it. The interview started with Landes, who is known for his extravagant car collection, talking about a 1982 Corvette he owns that has, "5 miles on it. I'm pretty proud of that. It's never been driven. Never been titled. Never registered." Bizarre.
This Week's Loose Unit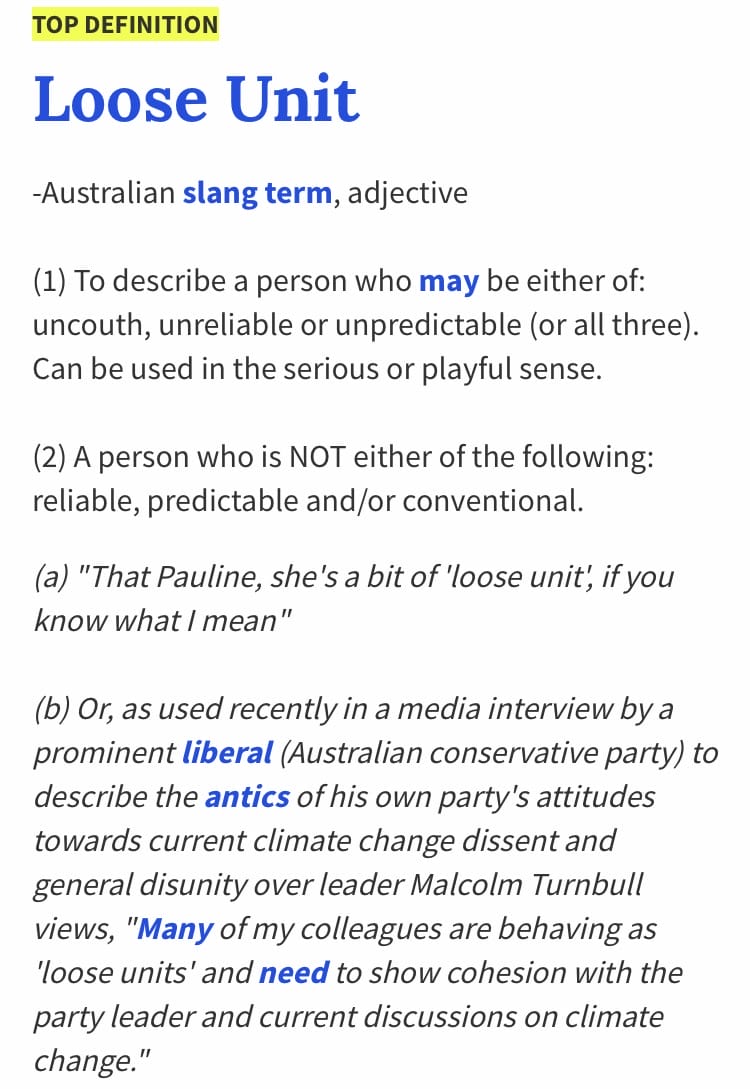 I just love those weeks where the Loose Unit is a no brainer. This is one of those weeks. This week's Loose Unit is the Permanent Fund Dividend Division, specifically Division Director Anne Weske. The application for the 2019 PFD was supposed to be available at 9 am on January 1. And it was, for a few minutes. As more people started applying, it became clear there was an issue. According to their website:
We are making some exciting changes to the 2019 PFD application process that will improve accessibility for all Alaskans and provide an additional option for giving! This year, you can expect to file your PFD faster and get it sooner by applying online. You can also take it further through a new donation opportunity! Please read the information below to be prepared for your 2019 PFD application!
Weske and her people definitely made some exciting changes. Not long after the problems started, the application went down and this message appeared. As of this writing, the message is still there and the application is not available.

Several people who had tried to apply early said that as they tried to refresh the application, other peoples personal information appeared on their screen. Damn, that's loose!  Maybe this is part of a larger strategy. Governor Michael J. Dunleavy can promise us all $100,000 dividends –  just as long as we can't apply for them!
If you have a nomination for This Week's Loose Unit, or if you have any political news, stories or gossip (or any old pics of politicians or public officials) please email me at jeff@alaskalandmine.com.