It's been quite the week for politics in Alaska. Governor Michael. J Dunleavy gave his first State of the State, announced a series of crime legislation bills, and made a bunch of new boards and commission appointments. The House is still at an impasse, the Senate began confirmation hearings for commissioners, and, well, the Art Chance and Jonathan Quick situation. More on that below.
Before I get to the weekly roundup I would like to address something. I have heard some criticism that I am being unfair to or that I am out to get Governor Dunleavy and his administration. I understand the criticism. But it's not true. I like Mike. I first met him back in 2012 when we were both running for the state senate. Over the last seven years we have had numerous conversations. I think Mike has appointed some great people as commissioners. Qualified and experienced people like Corri Feige to the Department of Natural Resources, Bruce Tangeman to the Department of Revenue, and John MacKinnon to the Department of Transportation. But he has also made some very questionable, and a few very bad appointments. It is the job of the media to hold elected officials accountable. Making a great choice does not excuse making a bad one. I wish all the best for the new administration. If they are successful that means the State is successful. But part of being a leader is being held accountable for bad choices. I will continue to do that, regardless of who is in power.
A friendly message and reminder to all our readers, the Landmine is made possible by myself and a team of awesome Alaskans. It takes a lot of work to provide the content we do. We don't have any financial backers. We do sell ads but this only provides limited income. If you enjoy the content we provide, please consider making a one time or recurring monthly donation. You can click here to donate via PayPal. We would really appreciate it!
The Governor
Governor Michael J. Dunleavy gave his first State of the State address on Tuesday (1/22/2019) night. Luckily the lack of organization in the House did not prevent holding a joint session for the State of the State. Dunleavy declared a "war on criminals" and said spending needs to be in line with revenues. In the speech he stated:
Therefore, we will expend the necessary resources for additional State Troopers, provide more local control, and more prosecutors. We will ensure that our courts will remain open five full days a week in order to hear cases. We will provide the focus and the resources necessary to combat the scourge of opiates and other illicit drugs driving up our crime rates and ruining lives.
Many legislators and politicos wonder how his administration is going to reconcile these promises with a budget that is expected to include a billion dollars in cuts. His revised budget, from what Governor Walker previously prepared, is expected to be unveiled in mid-February.
Many were concerned about the lack of attention to education in the speech. The word "education" was only used once in the speech, when he said he "chose education as a career." Here is a link to a video of the speech. Here is the text of the speech.
The day after the speech Dunleavy announced a series of four crime bills he is introducing that will repeal and replace the unpopular Senate Bill 91. This ADN article explains all of the bills. Last year the legislature passed SB 54, which fixed many of the problems with SB 91. But many people still want a full repeal. It will be interesting to see how these bills move through the legislature.
Several of Dunleavy's appointees had confirmation hearings before Senate committees this week. A few noteworthy ones (the most noteworthy one will be covered in the Loose Unit section) were Amanda Price and Jason Brune. Price was appointed as Commissioner of the Department of Public Safety and Brune was appointed as Commissioner of the Department of Environmental Conservation.
Public Safety Commissioner
During Price's confirmation hearing she was asked by Senator Scott Kawasaki (D – Fairbanks) why she left the Walker administration. She worked for Walker for two years as a special advisor on crime prevention, intervention, and response. She responded, "I anticipated this question and I struggled with how to answer it." She went on to say, "It became clear to me that – for whatever reason – my hopes, and the work that I was attempting to accomplish on behalf of Alaska, was not being furthered under that administration and that it was no longer suited for me to serve." That's an interesting response considering multiple former senior Walker administration officials told me that she was let go for not showing up to work and constantly taking credit for other peoples work.
She also said, "His (Walker) chief of staff is actually calling in to share his experience with me today." I guess he, either Jim Whitaker or Scott Kendall, didn't get the message because neither one of them called in. However, Marcia Davis, Walker's former deputy chief of staff, did call in to testify in favor of Price. Davis has an interesting history with the Alaska Public Offices Commission. Check out this ADN article about her, 'Campaign finance commission says group tied to Gov. Walker aide broke law'. Yikes. The interaction can be seen here.
And what was probably the oddest thing about her confirmation hearing was a story she told about a young girl she met the day before while on a "travel purgatory." Before telling the story she said, "I've been struggling with how to share this with you or if I should share this with you." She then proceeded to talk about a young girl she had just met. She stated her name and the small town she is from. She said the girl's mom told her she wanted to be like Price when she grew up, but her mom said she doesn't think she can because of some trauma she experienced. I'm no public safety expert but naming a kid, the small town she is from, and talking about trauma she endured probably isn't a good idea, especially for the head of public safety in Alaska.
Environmental Conservation Commissioner 
Brune's confirmation before the Senate Resources Committee was brutal. During public testimony, Brune endured over an hour of savage in person and over the phone testimony from the public who were against his confirmation. Brune did have some people testify in support of him, but the majority of testimony was against. Brune was the former executive director of the Resource Development Council and used to work for Anglo American, a global mining company. He has been an outspoken supporter of Pebble Mine. The environmental crowd was definitely triggered and mobilized for this one. As you can imagine, a lot of people aren't excited about him overseeing permitting in the State. The entire public testimony can be seen here.
A quick editor's note. I have known Jason for almost ten years. He is actually the reason I decided to first run for office. At a resource lunch in 2011 he told a room of nearly a thousand people that he is tired of seeing people complain about problems in the State but not do anything about it. He then challenged everyone to raise their hand if they would run for office. No one raised their hand. That's was the moment I decided to run for office. Jason is a good person and incredibly smart. I understand why many in the public are concerned with his appointment but he is definitely qualified for the job.
Other Appointments
Governor Dunleavy announced over 40 new appointments to boards and commissions this week. A few have caught the attention of folks.
But first I gotta give a shout out to my boy John Anderson, who Dunleavy appointed to the Board of Agriculture and Conservation. Anderson is a farmer and a legit cool cat. Congrats, John. Now for some more fun ones.
Vivian Stiver was appointed to the Marijuana Control Board. She is a former member of the Fairbanks City Council. She is also VERY anti-pot and even chaired a group that tried to ban commercial marijuana activity in Fairbanks. Let's just say marijuana industry folks could use a toke or two to calm down after hearing about her appointment.
Tammy Randolph was appointed to the UA Board of Regents. She has been the focus of attention this week because of her Twitter account, which is now set to private. Let's just say she was a BIG fan of retweeting and sharing memes. These include the QAnon and Pizzagate conspiracy theories, calling Michelle Obama a man, and a whole lot more. I'm not saying this should disqualify her but the public definitely has the right to know about this. Here are a few more. If there was no sperm, you must confirm! Jesus.
Trevor Shaw was appointed to the Commission on Judicial Conduct. Remember this one? This was the one Walker appointed to me in 2015. I was taken off because of pics of me in Vegas wearing a speedo – with a lot of ladies! #Speedogate. Anyway, Shaw resigned form the Ketchikan School Board last year after he faced a recall effort. If you're not familiar with why he was recalled, I definitely suggest googling it. Not sure he fits in with the mission of the Judicial Conduct Commission. Also, while on the school board he enjoyed mocking people who didn't agree with him. I'm told the public testimony for his confirmation hearing will be one to watch. Lots of folks from Ketchikan should be calling in.
Shaw is yet another Republican candidate who lost their election and has been appointed to a board or commission or hired by the Dunleavy administration. Tuckerman Babcock is surely behind this. He joins gay basher Joe Riggs (Alaska Mental Health Trust Authority Board of Trustees), Albert Fogle (AIDEA/AEA Board), Marcus Sanders (Human Rights Commission), Craig Johnson (Personnel Board), Marilyn Stewart (Deputy Director for Community Relations), and Stanley Wright (Executive Office Assistant). I'm still waiting to hear from them…
Another peculiar one was John Francis to the Violent Crimes Compensation Board. Francis replaces Gerad Godfrey, who is a victim of violent crime. His dad was shot and killed and mom was shot and badly hurt in 2002 by his dad's mistress. Francis is listed as the Co-Founder, Tech Manager, and Lead Investigator of Alaska Ghost Hunting. His bio includes, "My first major experience with the Paranormal was in the U.S. Coast Guard. Two of us were performing CPR on a man who'd suffered a heart attack. When he died I felt his soul pass though me where I could feel the mixing of his thoughts with mine. It took me several days to come to terms with what happened and it changed my life forever." Whoa. Check out their website. They have a ton of open positions including clergyman and evidence analyst. They even have a legit application. Who you gonna call?
A Republican legislator told me, "Who the fuck is vetting these people?"
Other Happenings
The Alaska Republican Party held a central committee meeting this weekend in Juneau. Apparently things are a lot calmer and less exciting with Glenn Clary as the chairman instead of Tuckerman Babcock.
There is a new term for the Dunleavy administration floating around political circles in Juneau – The Duncock administration.
Leslie Ridle, former Commissioner of Administration for Governor Walker, has taken the job as Chief Executive Officer of Girl Scouts of Alaska. She starts on February 20. Leslie, I am expecting a deal on those cookies!
Senators Lisa Murkowski (R – Alaska) and Ben Cardin (D – Maryland) wrote an oped in the Washington Post this week supporting the Equal Rights Amendment. It is a very good read with some interesting history about the amendment. You can read it here, 'It's time to finally pass the Equal Rights Amendment'
Up and coming lobbyist Sonia Henrick landed a big fish recently by picking up the big BP lobbying contract. Woooo! Henrick has worked in the legislature, for Governor Sean Parnell, for Senator Lisa Murkowski, and at ExxonMobil. There aren't that many female lobbyists in Alaska. Young Henrick is making a splash.
Senators Bill Wielechowski (D – Anchorage) and Donny Olson (D – Golovin) were chosen to chair Senate Finance Subcommittees. Wielechowski will chair the Judiciary Subcommittee and Olson will Chair the Law Subcommittee. Both are lawyers. I'm told it is very uncommon for members of the minority to chair subcommittees. Maybe the majority wants to pass around the blame for what is sure to be a contentious budget. Or maybe they are being smart. It's not as easy to criticize the majority when you are chairing a finance subcommittee.
Senator Mike Shower (R – Wasilla) threw some serious shade on his Senate Majority colleagues this week…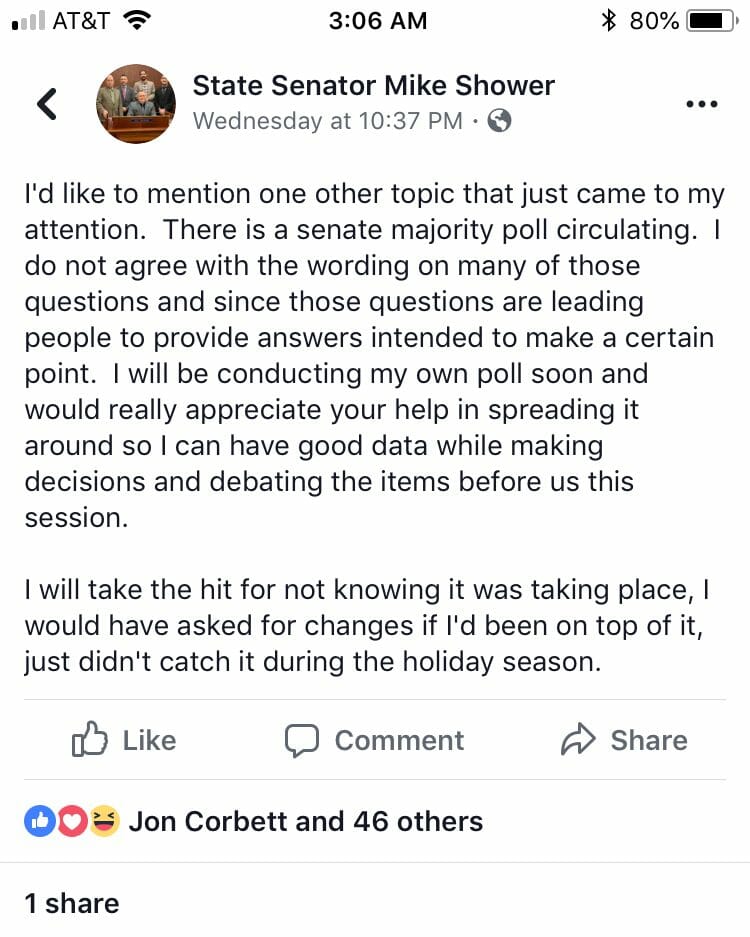 The Alaska AFL-CIO held a big food drive on Wednesday (1/23/2019) for federal workers affected by the shutdown. Look at all that food! Luckily a deal was struck at the end of the week and the shutdown is now over. Well, at least for three weeks…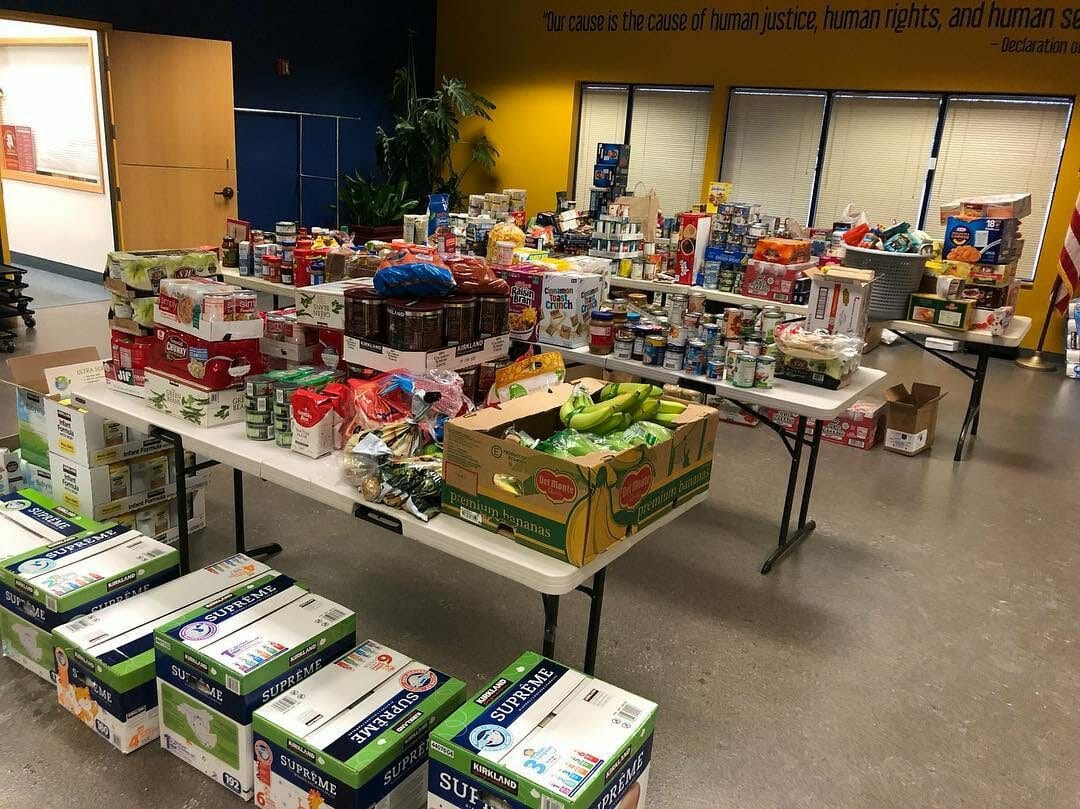 This Week's Loose Unit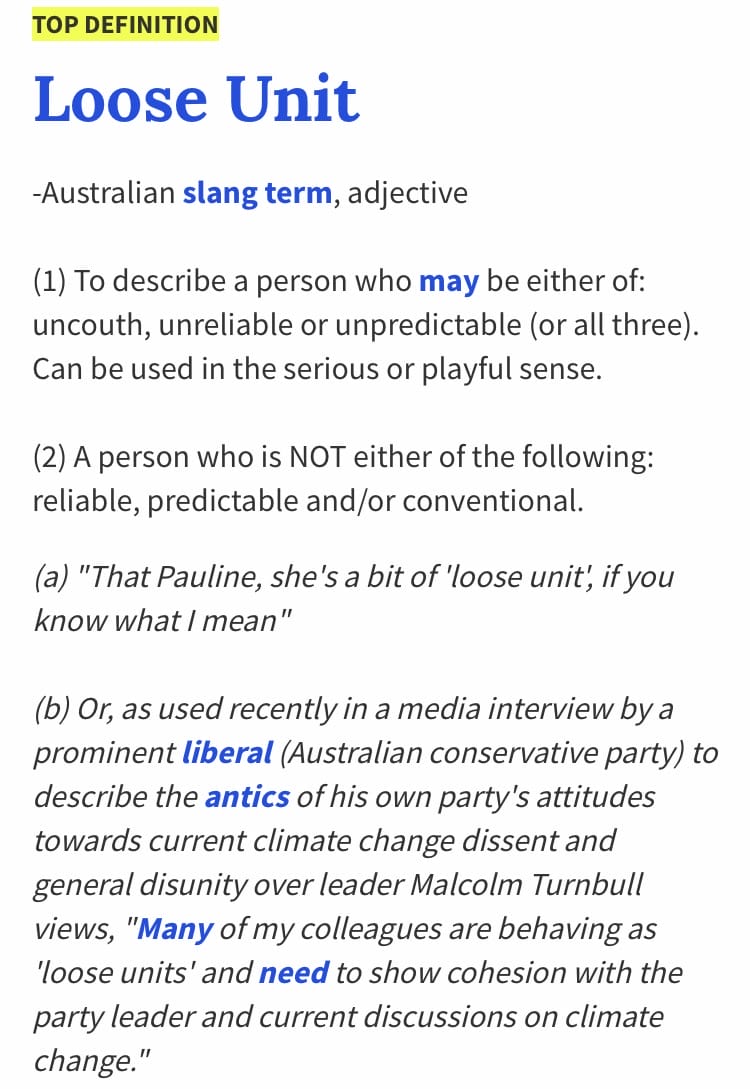 This has been one of those weeks. It's impossible to choose just one after what went down this week. Between the extremely Loose Unit Art Chance being appointed to a special policy advisor in the Department of Administration and Jonathan Quick, Dunleavy's choice for Department of Administration Commissioner, being caught lying on his resume, it was quite the week. If you've been under a rock the last week, both Chance and Quick are no longer employed. Chance did not accept his offer and Quick resigned.
Chance took to social media immediately after it all went down to attack the Dunleavy administration. What did they expect. Loose!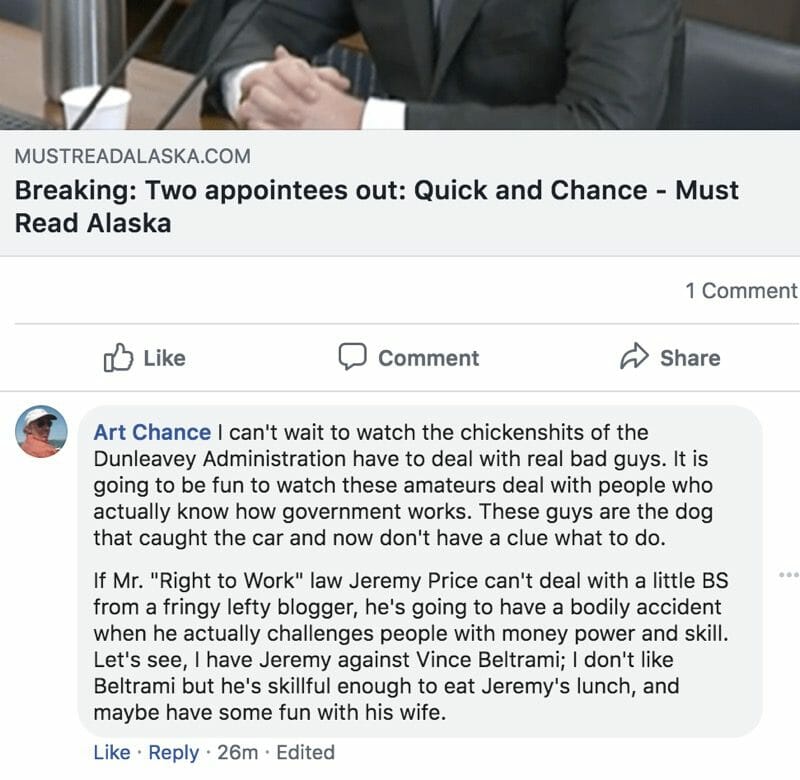 But what's even looser than these two no longer working in the Dunleavy administration is how they were hired in the first place. Notice how the Dunleavy administration took no responsibility in all of this. This is all Tuckerman Babcock. He seems to be on a mission, at any cost, to put his people everywhere he can in State government. Quick is from the Peninsula, where Babcock is from. I hear Chance was hired at the direction of Babcock. Ever head of John Lehe? He is the private investigator Babcock hired when he was chair of the Alaska Republican Party to investigate the "Prometheus" rumors about Mike Dunleavy. Lehe too is now employed in the Department of Administration. I don't even know what to say about that.
During Quick's confirmation hearing before the Senate Finance Committee, Senator Peter Micciche (R – Soldotna), another Peninsula guy, praised Quick. Micciche said how impressed he was with Quick when he was chief of staff for Kenai Peninsula Borough Mayor Charlie Pierce, who is now facing a discrimination lawsuit. Micciche also mentioned how he and Quick both married to North Roaders, whatever that is, and how he plays hockey with Quick's father-in-law. Weird.
Dunleavy has chosen one of the most partisan people in the State to be his chief of staff. Very loose. The results of that decision are playing out in real time. I think the best way to demonstrate how loose this week is a little graphic representation. Enjoy!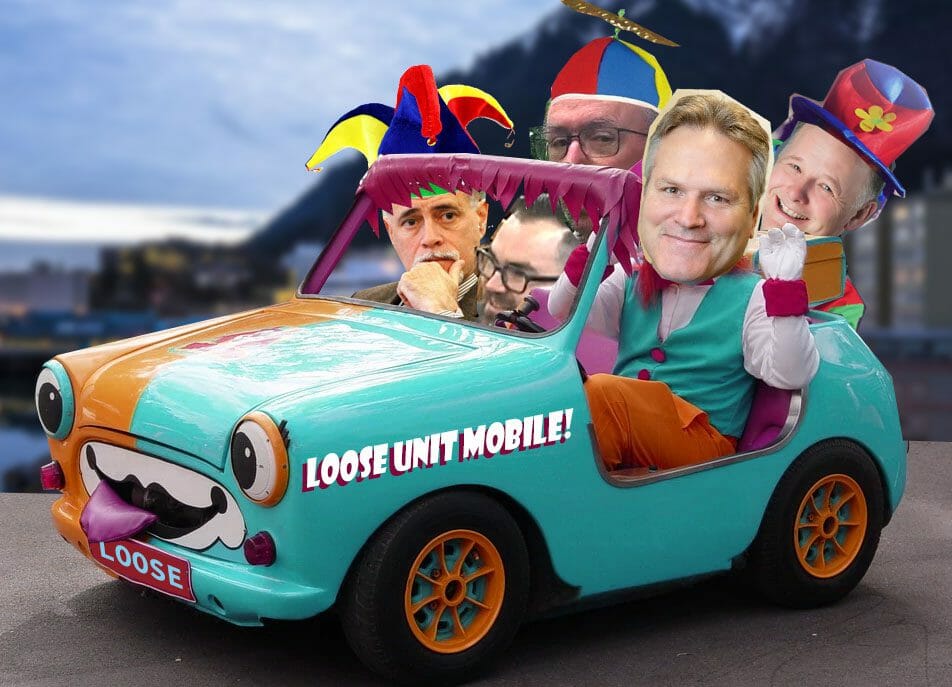 If you have a nomination for This Week's Loose Unit, or if you have any political news, stories or gossip (or any old pics of politicians or public officials) please email me at jeff@alaskalandmine.com.