The first session of the 33rd Alaska Legislature got underway in Juneau on Tuesday. All but one of Alaska's 60 legislators were sworn in. Senator Mike Shower (R – Alaska) has been absent all week and has not provided an explanation as to why. Rather than waiting weeks into session for the House to organize – which happened after the 2018 and 2020 elections – Republicans took back control of the State House for the first time in six years on the second day of session. Governor Mike Dunleavy (R – Alaska) is delivering the State of the State tomorrow night to a joint session of the Legislature. And several politicos are on the move.
A friendly message and reminder to all our readers. The Landmine is made possible by myself and a team of awesome Alaskans. We worked hard on all of our election coverage. I am back in Juneau for the fifth session in a row to report on the session. If you enjoy the content we provide, please consider making a one time or recurring monthly donation. You can click here to donate. We have a donation system that makes it super easy. We would really appreciate it. And thanks to everyone who has been supportive!
Landmine's New Guy
If you have been around the Capitol this week you may have run into Jacob Hersh. He's in Juneau reporting for the Landmine. Jake, who was born and raised in Anchorage, reached out to me during Covid when he was in college in Washington state. He was a Landmine reader and pitched a story about attending college during Covid. Ever since he's been writing freelance articles for the Landmine. He was even our roving correspondent for our general election coverage. Jake, who turns 22 next month, has already written some great pieces about his experience and impressions in Alaska's capital city. It's his first time in Juneau. He's here for at least a month and hopefully longer. So make sure to either support the Landmine with a donation or buy an ad so I can keep Jake here longer!
Here are some of Jake's first pieces:
Dispatches from Juneau: Day 1 of the legislative session
Dispatches from Juneau: Tying one on in the capital city
Republicans Take Back the House 
On Wednesday, Representative Cathy Tilton (R – Wasilla) was elected Speaker of the House by a 26-14 vote. But that vote did not reflect what ended up being the new 23-member House majority. This Landmine article breaks down what happened that day. And this Landmine article explains how the Republicans took back power after six years thanks to a deal they made with the Bush Caucus.
The new majority leadership team is:
Speaker of the House: Cathy Tilton
Rules chair: Representative Craig Johnson (R – Anchorage)
Finance co-chairs: Representatives DeLena Johnson (R – Palmer), Bryce Edgmon (I – Dillingham), Neal Foster (D – Nome)
Majority leader: Representative Dan Saddler (R – Eagle River)
Majority co-whips: Representatives Josiah Patkotak (I – Utqiagvik), George Rauscher (R – Sutton)
The new 15-member minority is led by Representative Calvin Schrage (I – Anchorage), who will serve as minority leader. Representatives Louise Stutes (R – Kodiak) and David Eastman (R – Wasilla) are not members of either caucus.
Here is a list of committee chairs and committee membership.
Those House Judiciary Committee meetings are going to be something lit! And the 11-member House Finance Committee includes four freshman (three majority and one minority). It will be interesting and entertaining to see how the House functions over the next several months.
Other Happenings
The Republicans and Democrats both held fundraisers the on Monday night. It's traditional to hold fundraisers the night before session starts as fundraising is prohibited while the Legislature is in session. The Republicans held their event at the Hangar. The Democrats held theirs at a Juneau mansion right behind the Governor's Mansion. Both events were packed. The Republican event had a cash bar while the Democrat one had free booze! Kind of a fail by the Republicans to charge for booze at a fundraiser.
I wanted to give a big shout out to everyone who showed up to the Alaska Political Report mixer on Thursday night at the Narrows. The event was a big success (the tab does not lie). Thanks to everyone who subscribes to the Alaska Political Report. If you have questions about the Report or want to subscribe, you can click here for more information.
Governor Dunleavy and Lieutenant Governor Nancy Dahlstrom held their inaugural gala last on Friday night in Juneau at Elizabeth Peratrovich Hall. It was a packed event with several legislators, lobbyists and members of Dunleavy's administration. Noticeably present was Representative Andy Josephson (D – Anchorage), the only Democratic member of the House in attendance. The after parties at the bars in Juneau did not disappoint.
Governor Dunleavy will deliver his annual State of the State address tomorrow night to a joint session of the Legislature at 7 pm. You can watch it on Gavel to Gavel or 360 North.
Sealaska is hosting a legislative reception on Wednesday night in Juneau. They always have a great spread!
Governor Dunleavy appointed Sitka Superior Court Judge Jude Pate to the five-member Alaska Supreme Court. He replaces Chief Justice Dan Winfree, who was forced to retire due to his age. Alaska judges face mandatory retirement at age 70.
Here are the latest politicos that are on the move:
Longtime staffer Buddy Whitt is leaving Senator Shelley Hughes' (R – Palmer) office to go work for Representative Kevin McCabe (R – Big Lake). McCabe is chairing the House Transportation Committee.
Brix Hahn is leaving Senator Donny Olson's (D – Golovin) office to go work for Representative DeLena Johnson (R – Palmer). Johnson is co-chairing the House Finance Committee.
Anna Latham is leaving her role as deputy director of Insurance to serve as Governor Dunleavy's deputy legislative director. She will serve under Legislative Director Laura Stidolph. Latham and Stidolph both worked as legislative staffers years ago for former Representative Kurt Olson. Konrad Jackson, who is now working for Senator Jesse Bjorkam (R – Nikiski), was Olson's chief of staff then. Talk about full circle!
Here's who has filed for Anchorage Assembly and School Board seats so far. The filing period closes on Friday at 5 pm.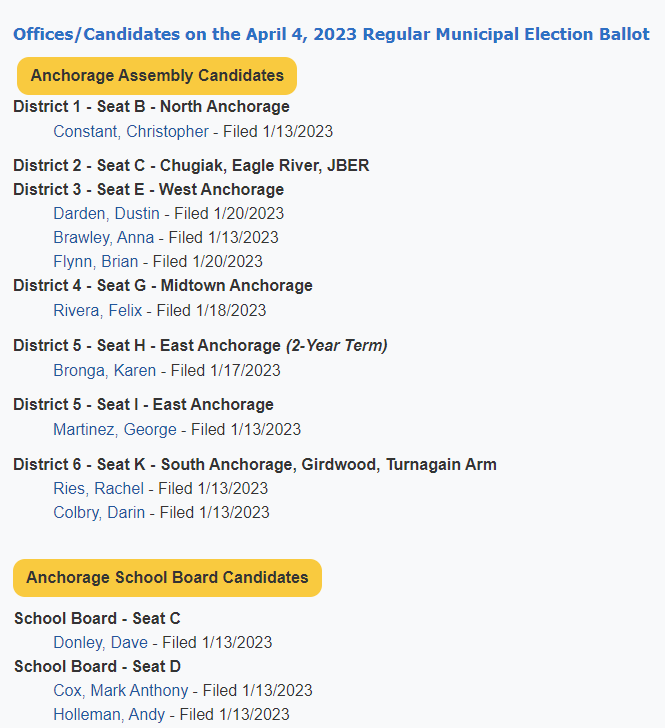 This Week's Loose Unit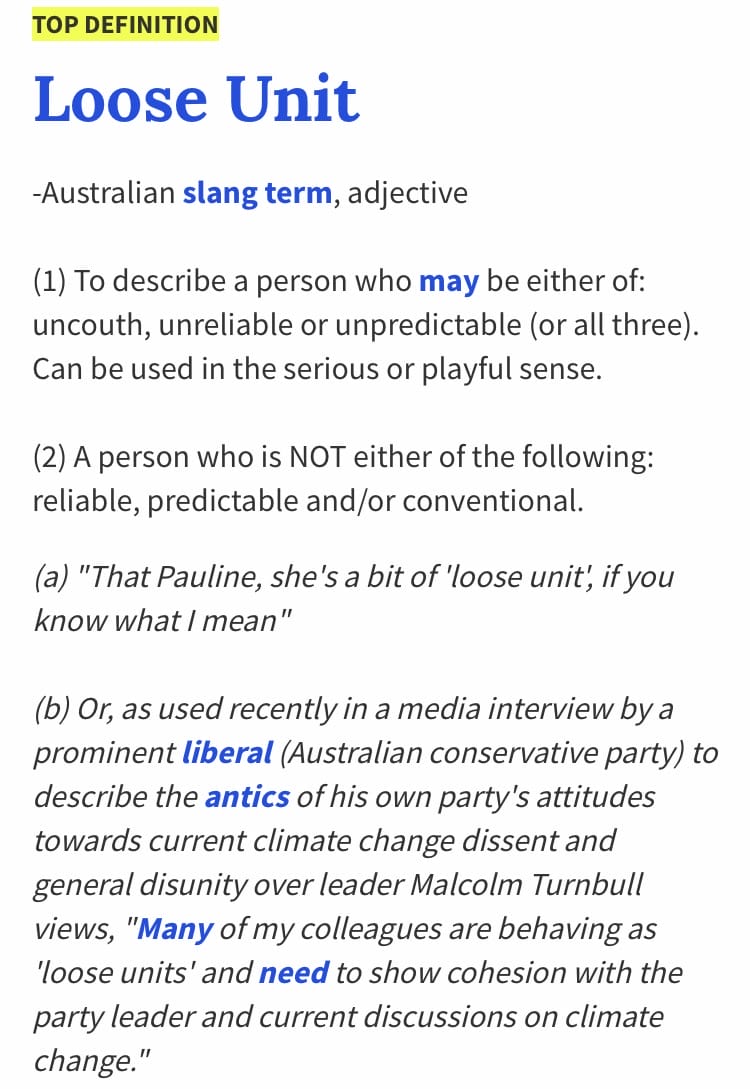 With the first week of session, there were plenty of contenders. But one person really stood out. This week's Loose Unit is Senator Mike Shower. Shower was absent for the swearing in on Tuesday and has not been seen or heard from since. He has not responded to messages asking about his whereabouts or put out any kind of statement. During a Senate majority press conference on Tuesday afternoon, Senate President Gary Stevens (R – Kodiak), and several other senators, all said they had not heard from him. This is extremely loose behavior for a state senator. Rumors are circulating that he is either flying for FedEx or attending to a family matter. But not explaining at all why he is not here is loose. I'm sure Shower is mad about being relegated to a three-member minority and not ending up on a single standing committee. But he ran for office and has an obligation to be here or explain why he's not.
There is also confusion about what his absence means. The seat is technically vacant so none of his pre-filed bills can go anywhere. And what if a member places a call o the house, which compels attendance? The convectional wisdom is that because he has not been sworn in that would not apply, but who really knows until it happens. Very loose. And now, there is a lot of chatter around Juneau that Shower may resign, which would result in a vacancy. That would be super loose. A former lieutenant colonel going AWOL as a state senator and not being sworn in is about as loose as it gets.
If you have a nomination for this week's Loose Unit, or if you have any political news, stories or gossip (or any old pics of politicians or public officials) please email me at jeff@alaskalandmine.com.