In a 26-14 vote this morning, Representative Cathy Tilton (R – Wasilla) was elected Speaker of the House. The initial vote was 28-12 but Representatives Cliff Groh (D – Anchorage) and Alyse Galvin (I – Anchorage) changed their votes from yes to no. But the vote did not reflect who Tilton later said was actually in the majority.
Representatives Justin Ruffridge (R – Soldotna) and Louise Stutes (R – Kodiak) were also nominated for speaker but votes for them did not take place. Representative Andrew Gray (D – Anchorage) nominated Stutes and Representative Zack Fields (D – Anchorage) nominated Ruffridge. Ruffridge was out of the chamber when he was nominated. When told he was nominated for speaker when he was walking back in, he responded, "What?"
After the vote, Tilton took questions from the press. She said the majority is comprised of the House Republicans minus Stutes and Representative David Eastman (R – Wasilla), plus the four members of what is known as the Bush Caucus: Representatives Bryce Edgmon (I – Dillingham), Conrad McCormick (D – Bethel), Neal Foster (D – Nome), and Josiah Patkotak (I – Utqiagvik). That would be 23-member majority.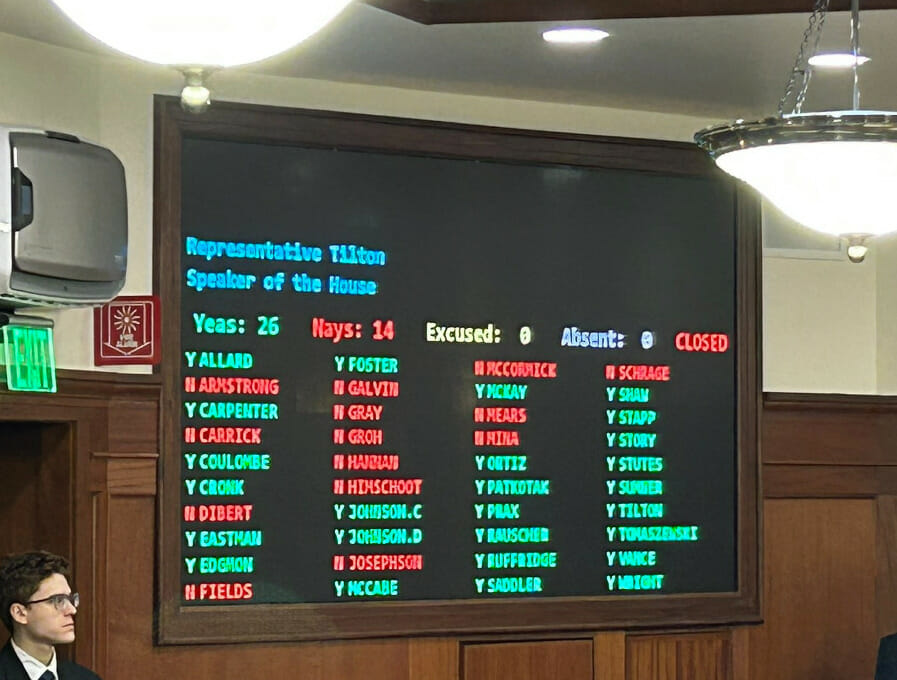 Stutes and Eastman voted yes, while McCormick voted no. Representatives Dan Ortiz (I – Ketchikan) and Andi Story (D – Juneau) also voted yes, but according to Tilton are not part of the majority. When informed in the hallway that Tilton said he was not in the majority, Ortiz responded, "That's news to me." Story said she voted for Tilton because it was clear she had the votes to be elected speaker.
Tilton would not say who the finance committee co-chairs, rules chair, and majority leader will be. Others also stated that those positions have not yet been agreed on, but Edgmon and the Bush Caucus will likely receive significant benefits for teaming up with the Republicans. Those benefits will likely include one or two finance co-chair positions. There are typically two finance co-chairs but it's possible a third one will be added. The same thing happened in the Senate this year.
Chatter in the capitol is that Representative Craig Johnson (R – Anchorage) will be rules chair and Representative Kevin McCabe (R – Big Lake) will be majority leader. Johnson previously served as rules chair from 2013-2014 during his last stint in the House.
A press release this afternoon announced Representative Calvin Schrage (I – Anchorage) as the minority leader. It's not clear yet how many members will be in the minority, but if it's everyone not in the 23-member majority minus Eastman, they would have 16. There is no difference in minority committee representation between 16 and 17 members.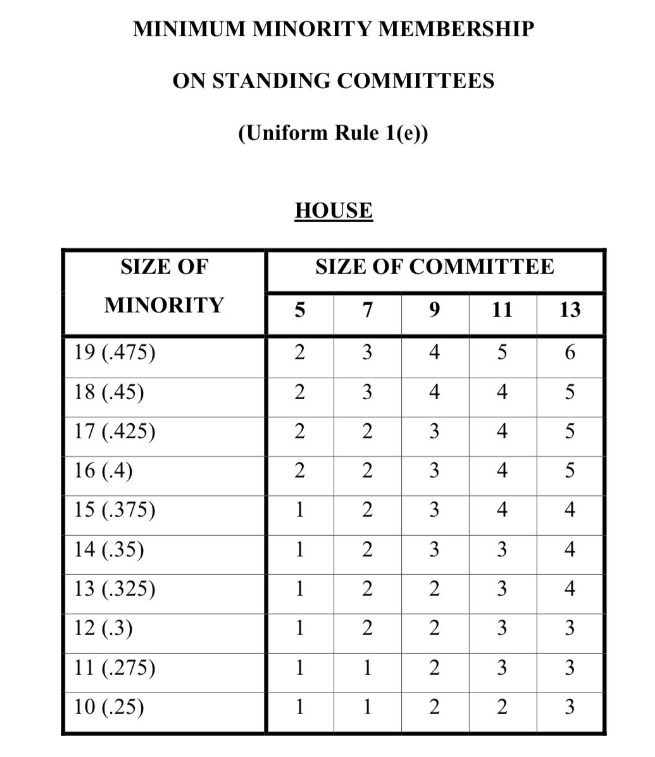 The House adjourned until tomorrow at 2 pm. At some point the Committee on Committees members will be appointed. They will then develop a committee report listing all the majority and minority members and their positions. That meeting does not need to be noticed, but the report must be adopted by at least 21 House members.
If the majority stays at 23 members, the Bush Caucus will be able to exert disproportionate control over the majority's policies and agenda. This is because the four of them could threaten to leave, which would destroy the majority. If the minority stays at 16, the majority would need to rely on minority votes for procedural two-thirds and three-quarters votes: 27 and 30, respectively.
Stay tuned for more updates as all of this unfolds in the days to come.