Happy New Year! Like 2020, 2021 was an unusual year, especially for Alaska politics. In addition to a new Legislature, Anchorage elected a new mayor. COVID-19 continued to have impacts that included the Capitol being closed to the public. Will it be closed or restricted for the upcoming session? I hope not but that decision will be up to the Legislative Council. The legislative session starts on January 18, just over two weeks away. Lieutenant Governor Kevin Meyer (R – Alaska) announced this week that he will not be Governor Mike Dunleavy's (R – Alaska) running mate in this year's election.
A friendly message and reminder to all our readers, the Landmine is made possible by myself and a team of awesome Alaskans. It takes a lot of work to provide the content we do. I am heading back to Juneau in January to report on the Legislature. If you enjoy the content we provide, please consider making a one time or recurring monthly donation. You can click here to donate. We have a donation system that makes it super easy. We would really appreciate it. And thanks to everyone who has been supportive!
Session Staffing 
The legislative staff exodus that has been going on for months continues. With just over two weeks before the session starts, several legislators have expressed how tough it is to find people who want to work in Juneau. Some of that is due to COVID-19. But it probably more has to do with the increased polarization and toxicity in Juneau. Who would want to work in a place with a bunch of self-righteous hacks who freak out and demand to see video of some people having a few beers and winning at life after work. Below is a summary of some of the recent staff changes. More announcements of staff leaving are expected later this week.
Malia Barto, who was the deputy press secretary for the Senate Majority, announced this week that she left her role. This came a month after Daniel McDonald, the long-time press secretary for the Senate Majority, quit. This leaves the Senate Majority currently without any press people.
Nick Moe and David Dunsmore have been hired to work in Senator Bill Wielechowski's (D – Anchorage) office. Dunsmore previously worked for Wielechowski. Nate Graham and Leighan Gonzales both recently left Wielechowski's office.
Kollette Schroeder, mother of Representative Sara Rasmussen (R – Anchorage), has moved from Senator Mia Costello's (R – Anchorage) office to Senator David Wilson's (R – Wasilla) office. Costello hired Taylor McCann, a former House page, to work in her office.
Remond Henderson, a long-time legislative staffer, is now working in Representative Neal Foster's (D – Nome) office. Last September, Patrick Fitzgerald left Foster's office to take a job with the Teamsters.
Peter Torkelson, Juli Lucky, and TJ Presley, all long-time staffers, are working for the Redistricting Board and not expected back in Juneau.
Just like with legislators, experience for staff means a lot in Juneau. A lot of experienced staff have left, which means there will be a lot of new faces in the Capitol (if they are not hidden by those damn masks). This empowers legislators like Senator Bert Stedman (R – Sitka), Senator Click Bishop (R – Fairbanks), and Representative Neal Foster. They all have all been in office a while and all have experienced staff who know the budgeting process better than anyone. Look for that to be a big advantage during the next session.
Farewell Kevin Meyer 
At the end of a press conference on election integrity on Tuesday (12/28/2021), Lieutenant Governor Kevin Meyer announced that he will not be seeking re-election as Governor Mike Dunleavy's running mate. It was an emotional end to a 30-year career in public service. The worst part about the whole thing is how Dunleavy acted. The announcement came at the end of the press conference. When Dunleavy was done he dismissively motioned for Meyer to come to the mic. Not one word from Dunleavy about Meyer's time on the Anchorage Assembly or in the House or Senate, where he served as Senate president. Not one word. Why do you think that is? My theory is Dunleavy finally got his revenge. You see when Dunleavy voted against the budget as a senator in 2017, Kevin Meyer was rules chair. Meyer was the one who booted Dunleavy from his office when he broke caucus rules by voting against the budget. This is something Dunleavy has never forgotten. With the passing of Ballot Measure 2, the governor and lieutenant governor now run as a ticket. Before, each ran in a primary and ended up with each other after. It's been no secret that for months Dunleavy has been seeking a different running mate. He could have just had a little more class when it came to how he ended Meyer's political career.
Other Happenings 
Anchorage Mayor Dave Bronson announced this week that he appointed Cheryl Frasca as the new director of the Office of Management and Budget. Apparently the old director, Karl Raszkiewicz, was moved to a different position in October and Marilyn Banzhaf has been the acting director. The first I heard about that was this week after I asked what happened to Raszkiewicz after the Frasca announcement. Frasca was the OMB director under former Mayors George Wuerch and Dan Sullivan and also served as OMB director under former Governor Frank Murkowski.
Former President Donald Trump announced his endorsement for Mike Dunleavy this week. But he included a caveat – Dunleavy can't endorse Senator Lisa Murkowski (R – Alaska). Note "ANWAR" in the press release. Soon after, Dunleavy came out and obliged Trump by saying he has nothing to worry about. Dunleavy's proposed operating and capital budgets use hundreds of millions of one-time federal COVID dollars, much of which was secured by Murkowski's role in the infrastructure bill. Imagine having to appease Trump by bashing Murkowski while at the same time using money Murkowski secured so your election year budget does not have to include taxes.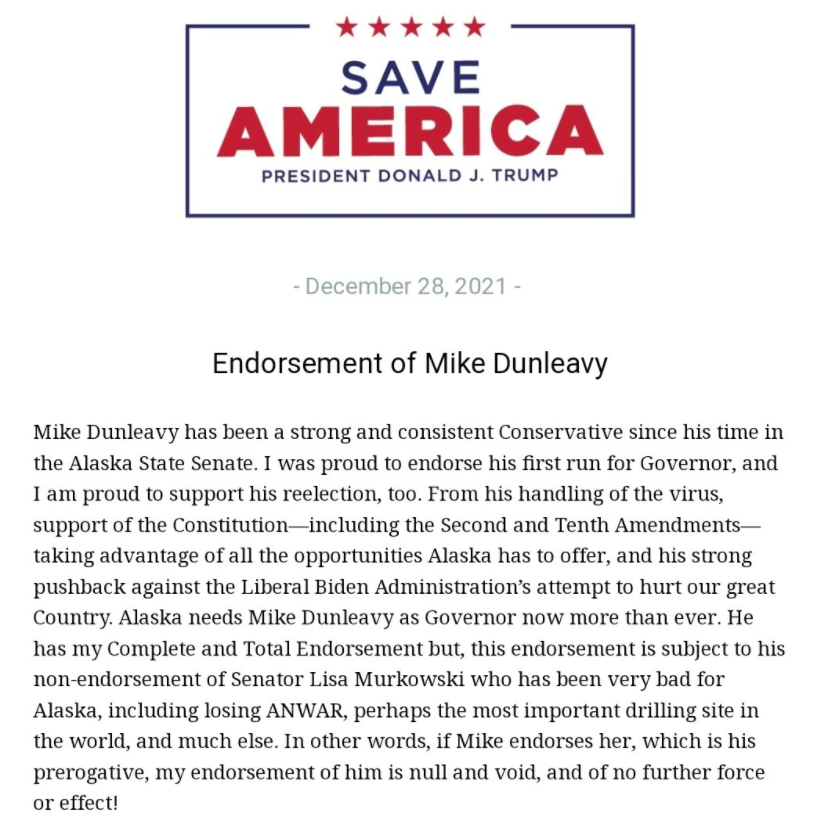 Check out all these names for a fundraiser for Representative Harriet Drummond (D – Anchorage). Drummond was paired with Representative Zack Fields (D – Anchorage) with redistricting. But Fields said there is no ill will or animosity between him and Drummond. It's just how it goes sometimes with redistricting, he said. If they both end up running for the seat, and the districts don't change due to litigation, it will be a hot race to watch.
The Resource Development Council has chosen their new executive director, and it's not any of these applicants. We can all look forward to Dave Stieren continuing to troll Scott Kendall and Dermot Cole on Twitter. RDC should be announcing the new executive director this week.
ConocoPhillips Alaska posted a government affairs job in Juneau this week. It is now closed. Michael Hurley, Conoco's long-time Juneau lobbyist retired last year. But the job posting is interesting. Portia Babcock is Conoco's current government and public affairs manager. Sources report that Ben Stevens, Babcock's boss, is not a fan of her and is therefore looking for a Juneau based person to deal with the government. Which probably makes sense. Portia Babcock, a key player in the Alaska resource cabal, is the sister of Tuckerman Babcock and wife of Ralph Samuels. This means she is persona non grata in most of the legislative offices where the power is. And Stevens can't engage with the government until March, when his one-year cooling off period is over. Can't wait to see who they hire!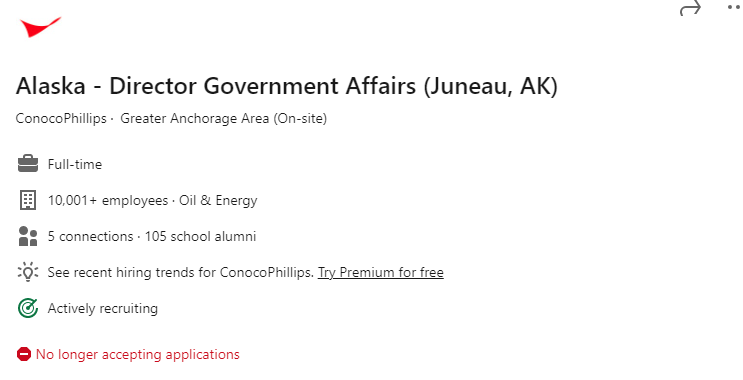 This Week's Loose Unit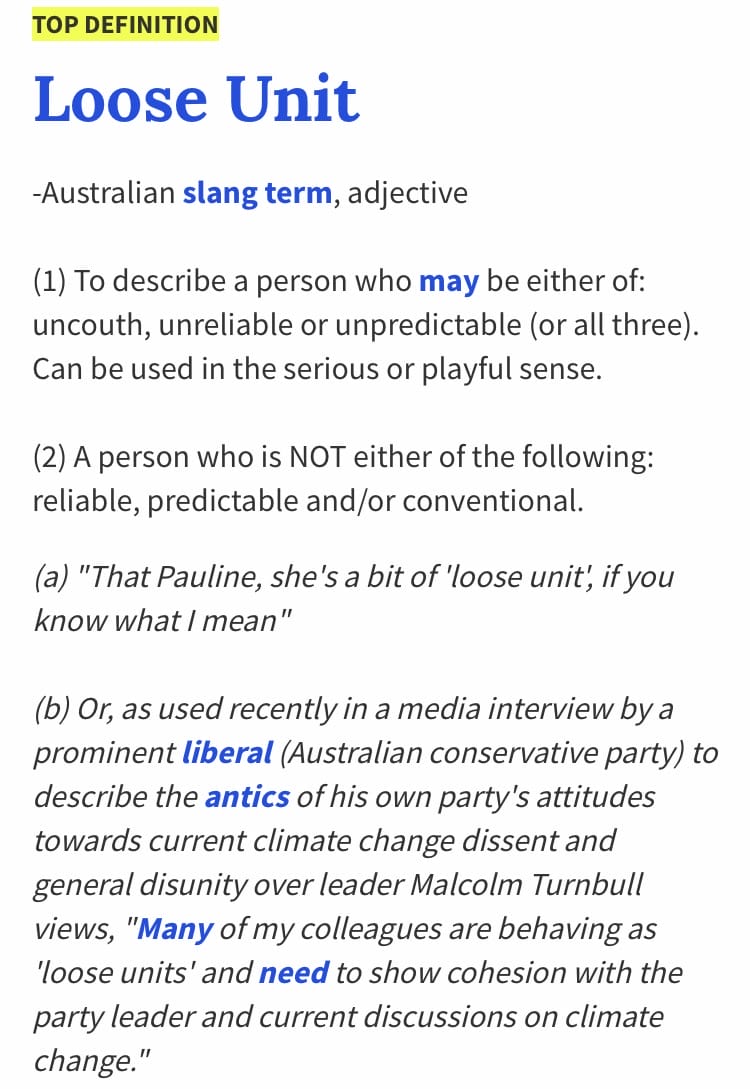 Even though it was a pretty quiet week, this week's designee was easy. This week's Loose Unit is a tie between Governor Mike Dunleavy and Lieutenant Governor Kevin Meyer. On Tuesday, they held a press conference on election integrity. They talked at length about a bill they are going to introduce this session. Dunleavy urged the Legislature to act on the bill within 30 days. But when ADN reporter James Brooks asked if he could see a copy of the bill, he was told, "No." Hyper loose. Meyer went on to say the bill will likely be ready on the first day of session. It doesn't get much more loose than holding a press conference on a bill but refusing to show people the bill. Classic Loose Unit behavior. You can see the interaction here:
If you have a nomination for this week's Loose Unit, or if you have any political news, stories or gossip (or any old pics of politicians or public officials) please email me at jeff@alaskalandmine.com.