I spent four days on the Big Island this week before the start of session. And let me tell you it was amazing! I head down to Juneau tomorrow morning. The 33rd Alaska Legislature is just two days away from gaveling in. But in what has become normal since 2019, the House has still not organized a majority. The filing period for the seven Anchorage Assembly seats and two School Board seats opened on Friday. Former Municipal Manager Amy Demboski went full megalomanic and hired progressive attorney Scott Kendall to send Mayor Dave Bronson a letter threatening a lawsuit. And some more politicos are on the move.
A friendly message and reminder to all our readers. The Landmine is made possible by myself and a team of awesome Alaskans. We worked hard on all of our election coverage. I am headed back to Juneau again to report on the session. If you enjoy the content we provide, please consider making a one time or recurring monthly donation. You can click here to donate. We have a donation system that makes it super easy. We would really appreciate it. And thanks to everyone who has been supportive!
Landmine Legends Voting is Open 
Thanks to everyone who made nominations for the inaugural Landmine Legends! We had a lot more nominations than we expected. Voting for all 20 categories is now open. You can click here to vote. Voting will be open until January 25. We will announce all the winners on January 31. We have already had a ton of people vote and several of the categories are very close!
House Still Unorganized 
Not much has changed regarding organization since what I wrote in last Sunday's column. But it does seem that the Republicans are favored, if only slightly, in taking back the House for the first time since 2017. Representative Louise Stutes (R – Kodiak), who has served as Speaker of the House for the last two years, is still talking to Republicans. And with Representatives Dan Ortiz (R – Ketchikan) and Josiah Patkotak (I – Utqiagvik) as likely coalition members who would be willing to join with the Republicans, the advantage is there. But it has still not come together.
Republicans have 21 (minimum for a majority) including Stutes and Representative David Eastman (R – Ketchikan). But Eastman has proven to be an unreliable vote for Republicans in the past. At one point this week Republicans were representing they had a 21-member majority that included Patkotak and Eastman and not Stutes. But that ended up being a bluff to try and entice more members to join. Once a group gets to 21 they sometimes can pick up a few more members. But the coalition group sniffed that out for what it was and no one bit.
Later, it seemed a deal was close to being made for a 21-member majority that would have had excluded Eastman and had Stutes as speaker and Ortiz as a Finance co-chair. That also failed to materialize.  The problem with a 21-member majority is anyone has a veto and can grind things to a halt.
Stutes has been working hard to entice a few more coalition members to join her but so far that has not happened. In fact a different deal was close to coming together late this week. However, Stutes either overestimated her numbers or didn't clearly communicate with coalition members she thought she has and the deal blew up. That does not mean that something can still come together. But it shows how fragile things are.
The main problem is, like a chess board, when you start moving pieces around it affects the other pieces. Depending on who aligns with who to form a majority, determining leadership positions becomes contentious. In addition to a speaker a rules chair (who decides what bills go to the floor), Finance co-chairs (who are in charge of putting together the budget), and majority leader have to be agreed on, which is not easy with a small majority. There are also multiple committee chairs that need to be agreed on.
Republicans seem to be willing to make a deal with Stutes, Patkotak, Ortiz and a few coalition members. But they don't seem willing to give up much in the way of leadership positions or committee chairs. And this is the crux of the dilemma. For those who are willing to join Republicans, they have a high price. They aren't going to do it unless they get something out of it, and rightfully so.
While it's possible a deal comes together tomorrow or Tuesday, it's not likely. There seems to be a desire by a lot of people to have a majority with at least 23 or 24 members. This would prevent any member form having a veto and allow for a little cushion. But for the reasons listed above it will be challenging to make that happen. I will be in Juneau starting tomorrow and closely tracking all of this.
Anchorage Assembly and School Board Races
Seven of Anchorage's 12 Assembly seats and two of Anchorage's seven School Board seats are up in April. The filing opened on Friday and closes on January 27. Due to two members going to the Legislature, one not running, and one being termed out, the Assembly will have at least four new members. The Assembly already replaced Forrest Dunbar – who was elected to the State Senate – with Joey Sweet. They will soon replace Jamie Allard – who was elected to the State House. Here are the seats that are up:
District 1 – Seat B – North Anchorage (Formerly Downtown Anchorage)
This seat is occupied by Assembly member Christopher Constant. He is running for re-election. He ran unopposed in 2020. If elected this would be his third and final term.
District 2 – Seat C – Chugiak, Eagle River, JBER
This seat is occupied by Assembly member Jamie Allard, who is going to Juneau. The Assembly will choose someone to serve out her term, which is up in April.
District 3 – Seat E – West Anchorage
This seat is occupied by Assembly member Austin Quinn-Davidson, who is not seeking re-election. Several people have filed letters of intent for the seat.
District 4 – Seat G – Midtown Anchorage
This seat is occupied by Assembly member Felix Rivera. He is running for re-election. He narrowly defeated Christine Hill in 2020. If elected this would be his third and final term.
District 5 – Seat I – East Anchorage
This seat is occupied by Assembly member Pete Petersen, who is termed out.
District 5 – Seat H – East Anchorage
This seat was occupied by Forrest Dunbar and is now occupied by Assembly member Joey Sweet. Sweet is not running for the seat. This seat's term ends in 2025 because Dunbar left in the middle of his term. All other seats are three year terms.
District 6 – Seat K – South Anchorage, Girdwood, Turnagain Arm
This seat is occupied by Assembly member Suzanne LaFrance. It's not clear if she is running or not. There is speculation she plans on running for mayor in 2024.
Two School Board seats are also up. Members Dave Donley and Andy Holleman are both up and are both running.
Other Happenings
Several politicos are on the move:
Brandon Brefczynski has left Governor Mike Dunleavy's (R – Alaska) office to take a job at the Alaska Industrial Development & Export Authority (AIDEA). He joins Randy Ruaro, who also left Dunleavy's office to be the new executive director at AIDEA.
Joe Byrnes has taken the legislative liaison job at the Department of Natural Resources. He worked for Representative Bart LeBon (R – Fairbanks), who was defeated in November by Representative-elect Maxine Dibert.
Grace Kubitz, a former legislative staffer for Representative Zack Fields (D – Anchorage), is the new external affair manager at NANA. Congrats, Gracie!
Rob Carpenter, who last Sunday I reported had left DOT, is back at the Legislative Finance Division as the deputy director.
Sarah Leonard is leaving her role as the president and CEO of the Alaska Travel Industry Association.
Sarah Leonard is leaving as the President and CEO of the Alaska Travel Industry Association to take a job in Colorado. A hiring committee will find a replacement. pic.twitter.com/bXGn7PpAy5

— The Alaska Landmine (@alaskalandmine) January 13, 2023
The Supreme Court ruled 2-1 (two justices recused themselves) to uphold a lower court ruling that Representative-elect Jennie Armstrong did meet residency requirements to serve in the Alaska Legislature. Justice Susan Carney dissented. Scott Kendall, who represented Armstrong, and many others said the case was a joke and wasn't even close. Well, one Supreme Court justice seems to think otherwise.
In a 2-1 decision (2 justices recused) the Supreme Court affirmed the Superior Court's ruling that Rep.-elect Jennie Armstrong met residency requirements to serve in the Legislature. Justice Carney said she would have reversed the lower court's decision. #akleg pic.twitter.com/hP8WF16NwM

— The Alaska Landmine (@alaskalandmine) January 14, 2023
This Week's Loose Unit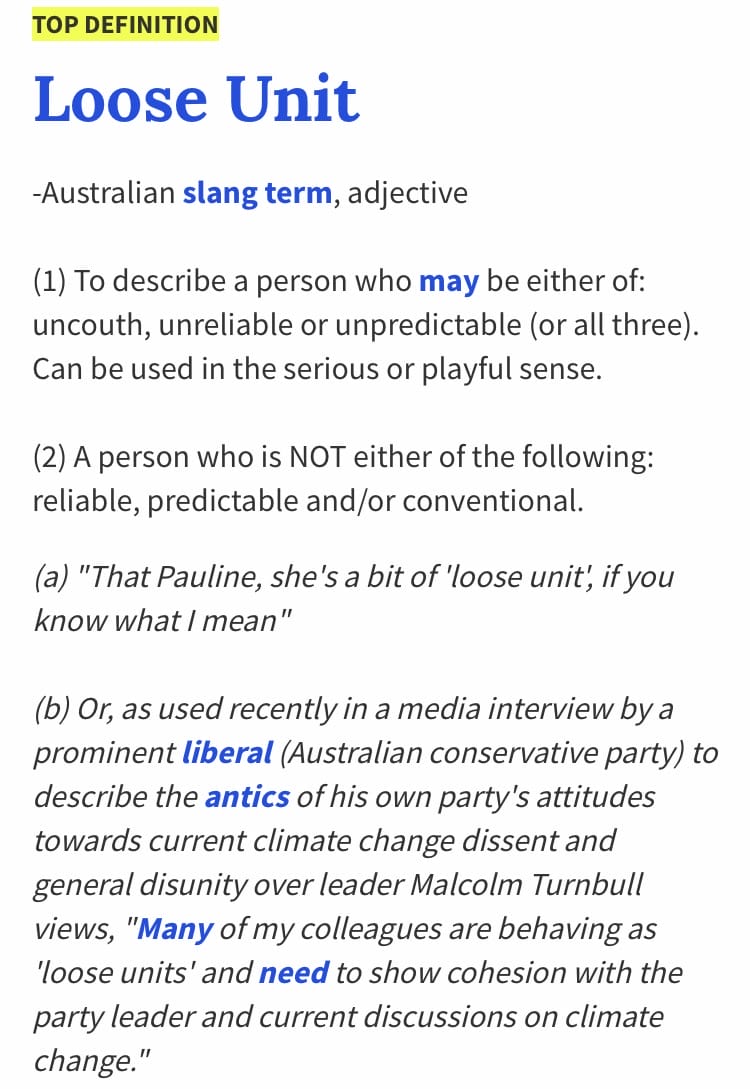 This week's designee was the Loose Unit on December 26 but really earned it again. This week's Loose Unit is Amy Demboski. Earlier this week, attorney Scott Kendall sent an explosive 11-page letter to Mayor Dave Bronson on behalf of Demboski. The letter makes numerous serious allegations and concludes by demanding cold hard cash (how much, exactly, is TBD). Demboski's decision to hire Scott Kendall is, itself, very loose. Kendall is former Governor Bill Walker's chief of staff, the architect of Ballot Measure 2, and a guy who frequently represents Democrats and progressives.
But what is even looser is the staggering hypocrisy and absurd hand-washing woven throughout Kendall's letter on behalf of Demboski. Demboski has been running the show in the Bronson administration from day one. Are we seriously meant to believe that Demboski was an innocent bystander in the Joe Gerace scandal? In the decision to give Hickel the go-ahead to perform millions of dollars of construction work without Assembly approval? In all of the botched responses to homelessness? In the decisions to hire numerous unqualified people to important positions at the MOA?
It is especially ironic that Demboski is alleging sexually inappropriate comments and behavior in the mayor's office. Recall that, in 2016, Demboski and her surrogates tried to win her race for mayor against Ethan Berkowitz by spreading the disgusting and completely false claim that Berkowitz approved of incest with his own son. Demboski made national news for that. And she was fired after calling a female subordinate a "f—— c—", a sexist insult that would get just about anyone fired from any job. That doesn't mean that Demboski's allegations of sexism in the Bronson administration aren't true, obviously, but this is a classic case of the pot calling the kettle black.
Demboski is also the one who tried to cut the Assembly live feed and dismiss security and the police from Assembly chambers during a series of out-of-control meetings about a mask mandate during Covid. Demboski has a long, well-documented history of malicious, dishonest, and retaliatory behavior, especially toward former colleagues and employers. Those on the left (including, it seems, Scott Kendall) who have let their guard down and joined "Team Amy" may be in for a rude awakening.
Stay tuned for a Landmine story with a lot more on this.
If you have a nomination for this week's Loose Unit, or if you have any political news, stories or gossip (or any old pics of politicians or public officials) please email me at jeff@alaskalandmine.com.