We are nearly three weeks into the legislative session. Committees have been meeting to hear departmental overviews, the budget, and various bills. The House minority gained a member, Representative Louise Stutes (R – Kodiak), taking the group to 16 members. Chief Justice Daniel Winfree gave the State of the Judiciary address to a joint session of the Legislature, his last before retirement. Senator Dan Sullivan (R – Alaska) is scheduled to address a joint session on Tuesday at 11 am. And the field is set for the seven Anchorage Assembly races in April.
A friendly message and reminder to all our readers. The Landmine is made possible by myself and a team of awesome Alaskans. We worked hard on all of our election coverage. I am back in Juneau for the fifth session in a row to report on the Legislature. If you enjoy the content we provide, please consider making a one time or recurring monthly donation. You can click here to donate. We have a donation system that makes it super easy. We would really appreciate it. And thanks to everyone who has been supportive!
State of the Judiciary 
Chief Justice Daniel Winfree's State of the Judiciary on Wednesday was definitely one from a man who is about to retire. Winfree, who is turning 70 soon, must retire as the Alaska Constitution caps the age of judges in Alaska to 70. After introducing his fellow justices, including recently appointed Judge Jude Pate, court officials, and his wife, Winfree gave an extremely candid speech about the importance of an independent judiciary and the differences between the legislative and judicial branches. I think the fact that he is being forced to retire allowed him to be more direct than if he had more time on the court, and that is a good thing.
Winfree spoke about the different lenses legislators and judges use. He made it clear that, unlike in the legislative world, there is "no room for transactional analysis." For a few minutes it almost seemed he was scolding them but then it became clear he was not doing that at all. He was explaining to them how they see the world and how members of the judiciary see the world. I think a lot of politicos assume the Supreme Court works like any legislative committee. If you have five members, you need three votes to pass something. You can make deals behind closed doors. But Winfree made it clear that whenever they hear a case, they all meet together to discuss it. Notes or memos get sent out to all the members at the same time, and cases are not discussed privately among one or two members.
He also spoke about "activist judges" and quipped he has known the definition of an activist judge for years, a judge who rules against you. He went on to speak about and defend our merit based judicial selection system and the risks of judges being elected or hand picked by politicians. I thought it was a great and important speech. Too often judges are apprehensive about speaking publicly about such matters. But Winfree was able to go a bit off leash because he's retiring. I have watched many State of the Judiciary speeches. This was the best one I have ever seen. I definitely suggest watching it.
Stutes Joins Minority, Eastman Remains Alone
Representative Louise Stutes, who served as Speaker of the House the last two years, joined the House minority this week. Several sources report that she attempted to join the Republican-led House majority, but some members objected. Apparently the new House majority is like NATO – no new members without a unanimous vote. Some more moderate members of the House majority were unhappy she was not allowed to join. The minority now now has 16 members while the majority remains at 23. Representative David Eastman (R – Wasilla) remains on his own, not being a member of either caucus.
Because Eastman is not in either caucus, he was informed by House Rules that he is losing staff points and therefore losing one of his two staffers. The below email was sent to his staffer Pam Goode by Representative Craig Johnson (R – Anchorage). Eastman claims he had no knowledge of the decision while Johnson says it was Eastman's decision. I'm inclined to believe Eastman. Why else would Johnson directly send her an email firing her? He could have just told Eastman he was losing a staffer and had to pick one. Since the email, Eastman has asked to divide his remaining 18 staff points between his two staffers, but was told a staffer must be at a minimum of 15 points. That seems unfair.
After Stutes joined the minority, it was announced that she will serve as the whip, replacing Representative Zack Fields (D – Anchorage). Stutes is the only Republican member of the minority.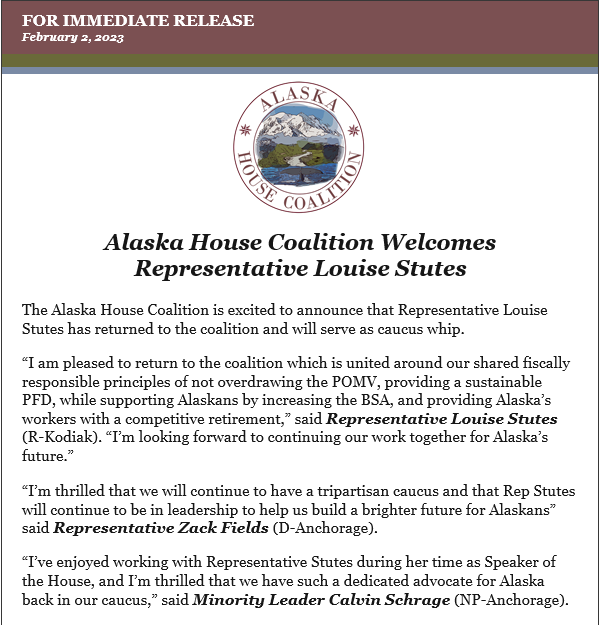 Other Happenings
After five withdrawals, the field is set for the upcoming Anchorage Assembly and School Board races. Four Assembly races have three candidates while three races have two candidates. Both School Board races have just two candidates. Only two incumbents, Assembly members Chris Constant and Felix Rivera, are seeking re-election to the Assembly. So there will be at least five new Assembly members in April. Stay tuned for more Landmine coverage on these races.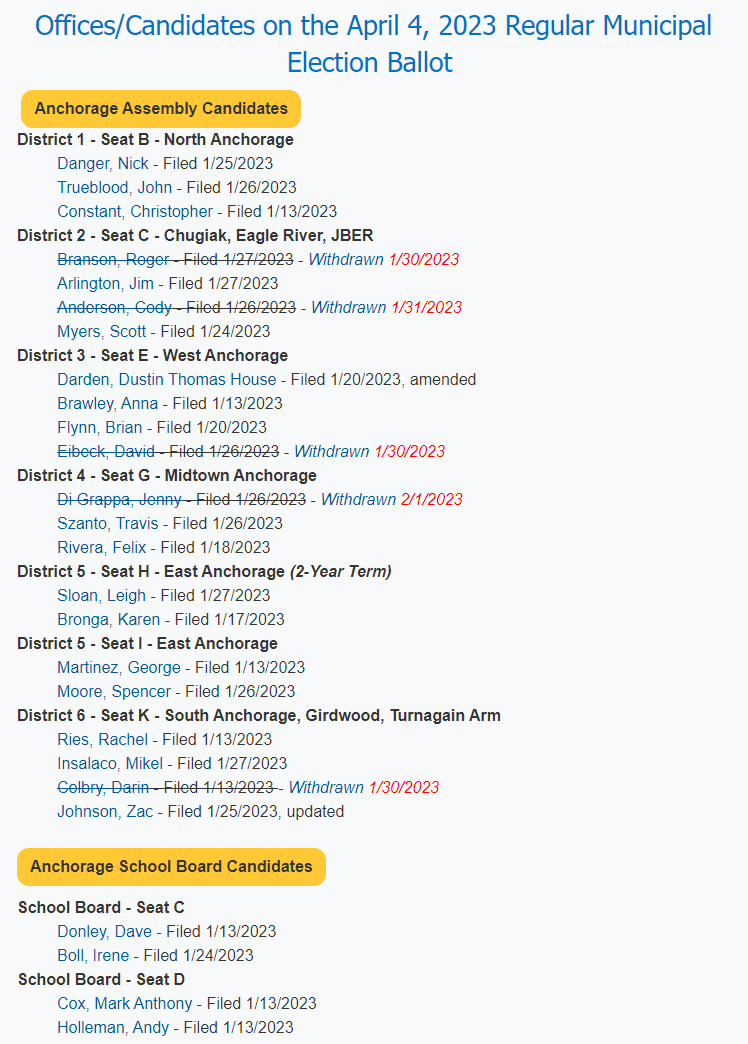 Congresswoman Mary Peltola (D – Alaska) announced the hiring of former Senator Josh Revak as her new state director. Revak, a Republican and former opponent of Peltola's, is a smart hire. It shows she is willing to work with members of the other party, just like the late Don Young did. Before serving in the Legislature, Revak worked for Don Young and Senator Dan Sullivan. So he definitely has the skills and knowledge for the job. Best of luck to him in his new endeavor.
Representative Justin Ruffridge (R – Soldotna) announced the formation of the "Freshman Caucus" this week. It is co-chaired by Representative Andrew Gray (D – Anchorage). Comprised of all 17 new House members, this could come to spell problems for both the House majority and minority. The 17 members include seven members of the majority and ten members of the minority. Seventeen of 40 members is a big bloc, and if they decide to vote together on certain issues, meaning against either of the caucuses, things could get weird. Love how Representative Stanley Wright (R – Anchorage) is just kicking it on that couch with his legs up. My man.
There has been a lot of chatter about a new policy that will require staff and lobbyists to wear lanyards or badges indicating who they are. I am all for this. Frankly, this should have been done years ago. Other states require lobbyists to wear name tags or identifying badges. Members of the press are required to wear their press pass. Everyone else should be required to as well. With so many new people in the Capitol, it makes sense for people to know who is who.
If you did not hear, the Midnight Sun is folding. Jim Lottsfeldt, the owner, sold it to the Alaska Current, a new website that is funded by progressive interests. Matt Buxton will be joining the Alaska Current and continuing to publish his own newsletter. You can read more about it here.
This Week's Loose Unit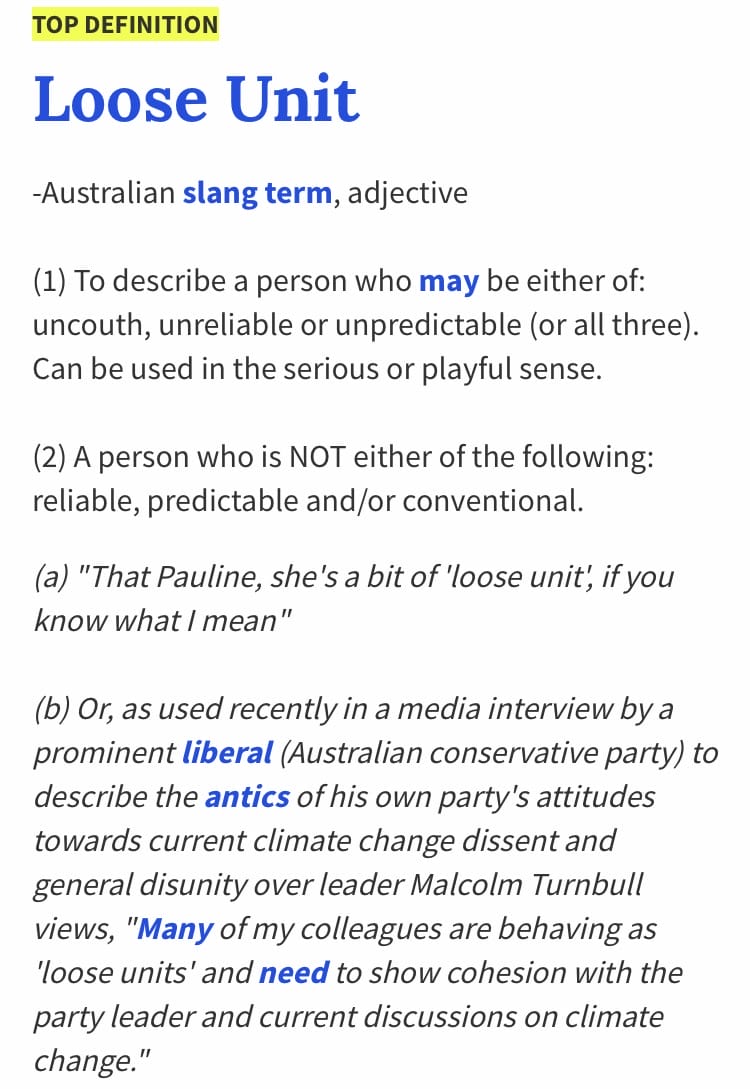 This week's designee really went above and beyond to earn Loose Unit status. This week's Loose Unit is the House Community and Regional Affairs Committee. On Tuesday, the committee heard Representative Andy Josephson's (D – Anchorage) pension bill for public safety employees. It started out with Representative Kevin McCabe (R – Big Lake), the vice-chair of the committee, telling Josephson, "Can we get some real numbers instead of these fake numbers" by various public safety unions. Josephson responded by saying, "It's 8:10 am on a Tuesday. You have just, in a very derogatory fashion, attacked, as essentially deceitful, every public safety agency in the state. Is that what you want to do this morning?" It was very loose. You can watch the interaction here:
Then, a few days later McCabe got into it with Representative Rebecca Himschoot (I – Sitka) over the same bill. Himschoot mentioned the bill was prefiled but McCabe, saying she's new, doesn't understand what that means (this is McCabe's second term, not his tenth). Himschoot told McCabe the bill did pass the House twice before. To which he said it passed only once before. Super loose interaction. You can watch that one here:
But where it got really loose was when the bill was being voted on to move out of the committee. Representative CJ McCormick (D – Bethel), the chair, had to actually tell several members, including McCabe, to stop resorting to personal attacks. The poor dude is 25 having to deal with this loose behavior. The bill ended up passing out of the committee on a 4-2 vote, with majority members McCormick and Ruffridge voting yes with minority members Himschoot and Representative Donna Mears (D – Anchorage). McCabe and Representative Tom McKay (R – Anchorage), majority members, voted no and were not happy. While very loose, I think this whole situation is an example of what we can look forward to in the House this session. Buckle up!
If you have a nomination for this week's Loose Unit, or if you have any political news, stories or gossip (or any old pics of politicians or public officials) please email me at jeff@alaskalandmine.com.