It was another busy week in Alaska politics. Governor Michael J. Dunleavy proposed some constitutional amendments. It's week four of the legislative session and the House has still not organized. The Senate has continued to hold confirmation hearings. And everyone is waiting for the Dunleavy budget to drop. One person described it as, "An oncoming blood bath of which no one in the State can be prepared for." I hope everyone is enjoying the small break from politics today and watching the Super Bowl!
A friendly message and reminder to all our readers, the Landmine is made possible by myself and a team of awesome Alaskans. It takes a lot of work to provide the content we do. If you enjoy the content we provide, please consider making a one time or recurring monthly donation. You can click here to donate via PayPal. We would really appreciate it!
The Governor
Governor Dunleavy formally proposed three constitutional amendments this week. He first announced them in his State of the State address. The first would put the dividend formula in the constitution. The second is a spending limit. And the third third would require a vote of the people for new taxes or tax increases. A constitutional amendment requires a two thirds vote of the legislature as well as a majority vote of the people. So even if they get the required votes in the legislature, they would not appear before voters until the 2020 election. It will be interesting to see how the the legislature handles them.
Governor Dunleavy appointed Kelly Tshibaka as Commissioner of the Department of Administration this week. She was appointed after his first pick, Jonathan Quick, resigned after problems with his resume came to light. Tshibaka (how do you even say that?) is Harvard educated and previously served as assistant inspector general and chief data officer for the U.S. Postal Service Office of Inspector General. She has also held high level positions in the Federal Trade Commission and the Office of the Director of National Intelligence. I don't foresee any issues with her resume. She is also very into Jesus. Her and her husband are pastors at a church in D.C. Check out this audio clip of her talking about speaking in tongues, and actually doing it. Bizarre.
The Dunleavy administration also created a job for her husband in the Department of Education. They will make almost $300,000 a year combined. Must be nice!
Governor Dunleavy held his Inaugural Ball last night at the Dena'ina Center last night. It was a packed event with a who's who of Alaska politicos. Many legislators were in attendance, including Representative Zack Fields (D – Anchorage)! Dunleavy's speech sounded more like a campaign speech than a victory speech. Mike, you won buddy. Lieutenant Governor Kevin Meyer gave a more relaxed and funny speech. He gave some serious shout outs to ConocoPhillips for the work they are doing in Alaska. They also happen to be his former employer. The folks at the BP and Exxon tables did not seem amused about not being mentioned.
Other Happenings
It was a busy week in Juneau for trade groups. The Resource Development Council, Alaska State Chamber, Public Safety Employees Association, Alaska Power Association, the home builders, and the firefighters were all in town. I'm sure they had no problem meeting with their representatives. Not a whole lot is happening in the House.
Former Representative Charisse Millett was also in Juneau. She is now working for PSEA. She should probably get her finances in order or those cops she is working for might be paying her an official visit. Check out this bizarre four page letter to her from the Alaska Public Offices Commission over a $25 fine for not filing her financial disclosure on time. According to the letter:
Due to Rep. Millett's failure to pay or appeal the assessed penalty, the Commission upholds the penalty assessment under the provisions of AS 24.60.240 and 2 AAC 50.855.
Commission staff has exhausted efforts to collect the civil penalty owing to the State of Alaska under 2 AAC 50.895 and approves referral of the case to the Office of the Attorney General to begin the formal collection process or other actions appropriate to enforce AS 24.60.1
Imagine how much time the commission has wasted trying to get the $25, and then write the letter. Damn.
There was a big meeting last week of Alaska progressives. I hear it was about lessons learned and plans for the next election. I would have loved to be a fly on that wall. Apparently Vince Beltrami was appropriately posted up at the door as security. I'm guessing no one got in who did not belong.
The Alaska Democratic Party central committee voted 79-12, with many abstentions, yesterday in Juneau to censure Disco Ray Metcalfe for two years. This comes after a complaint last year from someone who claimed Metcalfe was using their personal matters to attack them by sending them to members of the party. I guess this means he is banned from the party for the next two years. I'm sure Disco Ray is stayin' alive.
Word is Tuckerman Babcock, and his wife Kristie, tried to push the Alaska Republican Party central committee to censure Representative Gary Knopp (R – Kenai) last weekend in Juneau. They are mad he bailed on the other Republicans in the House, ending their fragile majority. When the committee decided to table the motion, apparently the Babcocks withdrew their monthly contribution to the party and encouraged others to do the same. Nothing like trying to bring people together.
Representative Sharon Jackson (R – Eagle River) is also not a fan of Knopp. She was overheard saying, "We have a saying in the military. We don't negotiate with terrorists." Ok, Sharon.
The Matanuska Electric Association held their annual holiday party last night. Why a holiday party in February? The party was previously scheduled for December 1, the day after the big earthquake. Good on them for still having it.
The Senate Majority released the results of an online poll they recently conducted. Not sure if this is any indication on the reliability of the results.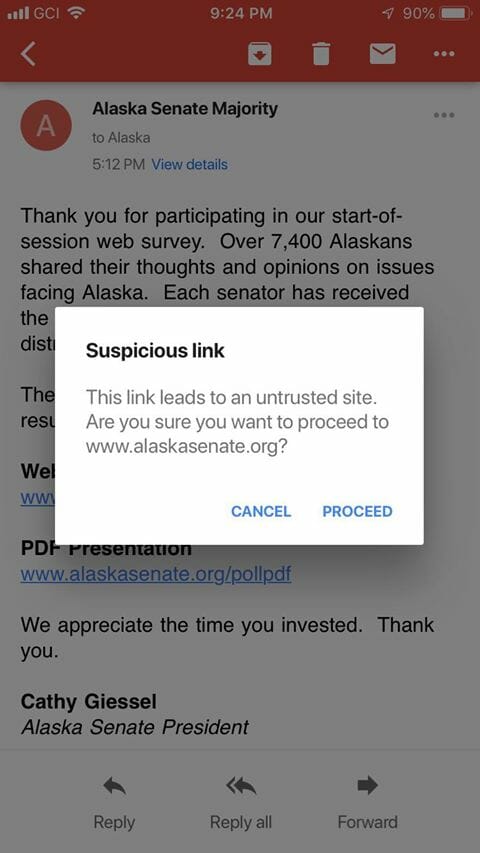 Kevin Clarkson, Governor Dunleavy's pick for attorney general, had a confirmation hearing in the Senate this week. There was a lot of discussion about his personal views. He says they will not preclude him from doing his job. Clarkson has a history of defending pro-life and other social conservative positions. Clarkson is widely respected in the legal community.
The filing deadline for the Anchorage municipal election was Friday at 5 pm. Here is an article I did with who is running for the Assembly and School Board.
This Week's Loose Unit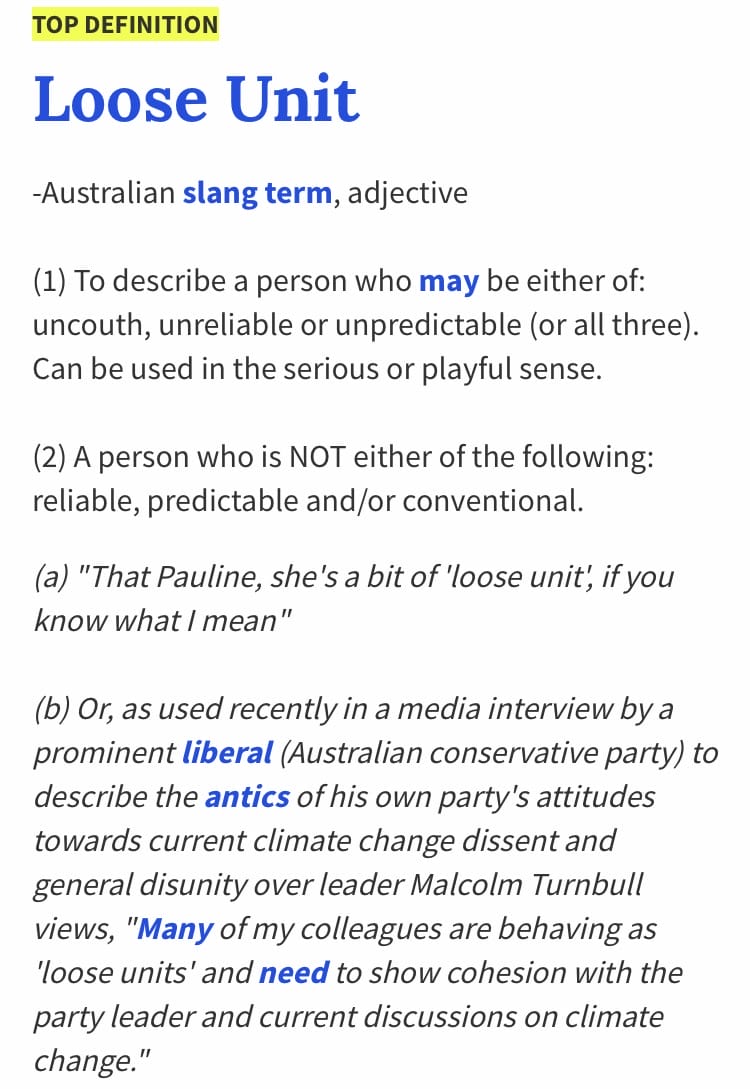 This week is another easy one. This week's Loose Unit is Tammy Randolph. Randolph was appointed to the UA Board of Regents a few weeks back. Not long after, her Twitter account came to light. It included a lot of retweets and memes ranging from calling Michelle Obama a man to a pic of Johnnie Cochran with a description "If there was no sperm you must confirm." This was referring to the Brett Kavanaugh Supreme Court appointment. There was also some weird stuff about crazy right wing conspiracy theories.
Anyhoo, on Tuesday she "apologized" for the retweets and said she was looking forward to serving on the board. Here is part what she told the ADN about QAnon and Michelle Obama in classic Loose Unit fashion: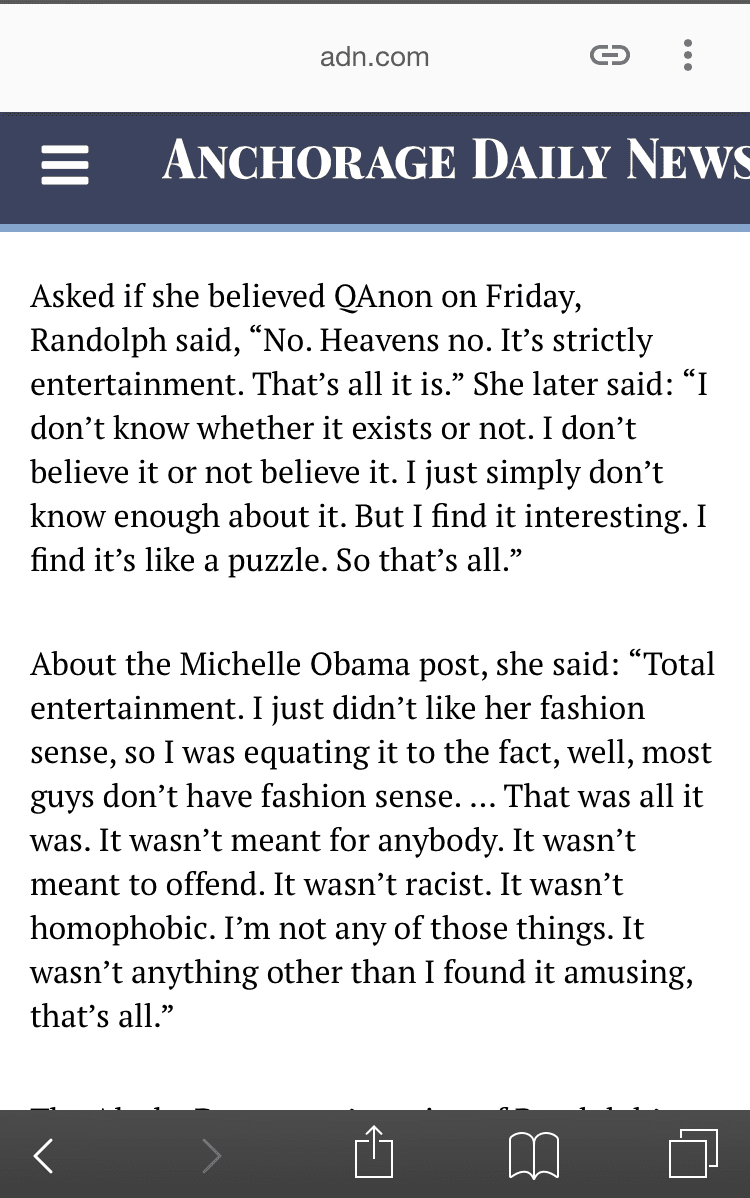 It doesn't get much looser than that. Actually, it does. Two days after that ADN article came out, Randolph withdrew her name for the board. I have a feeling the word "vetting" has been used many times on the third floor of the Capitol this week.
If you have a nomination for This Week's Loose Unit, or if you have any political news, stories or gossip (or any old pics of politicians or public officials) please email me at [email protected]