It was another busy week in Juneau. Both Alaska Senators, and the Chief Justice, addressed joint sessions of the Alaska Legislature. The House has sorted out all of their committee assignments and have started to hold real committee meetings instead of the fake ones they had been holding. And there were some very energetic constituent meetings all over the State this weekend.
A friendly message and reminder to all our readers, the Landmine is made possible by myself and a team of awesome Alaskans. It takes a lot of work to provide the content we do. There are now additional costs that I have temporarily located to Juneau. If you enjoy the content we provide, please consider making a one time or recurring monthly donation. You can click here to donate via PayPal. We would really appreciate it!
The Rainbow Swamp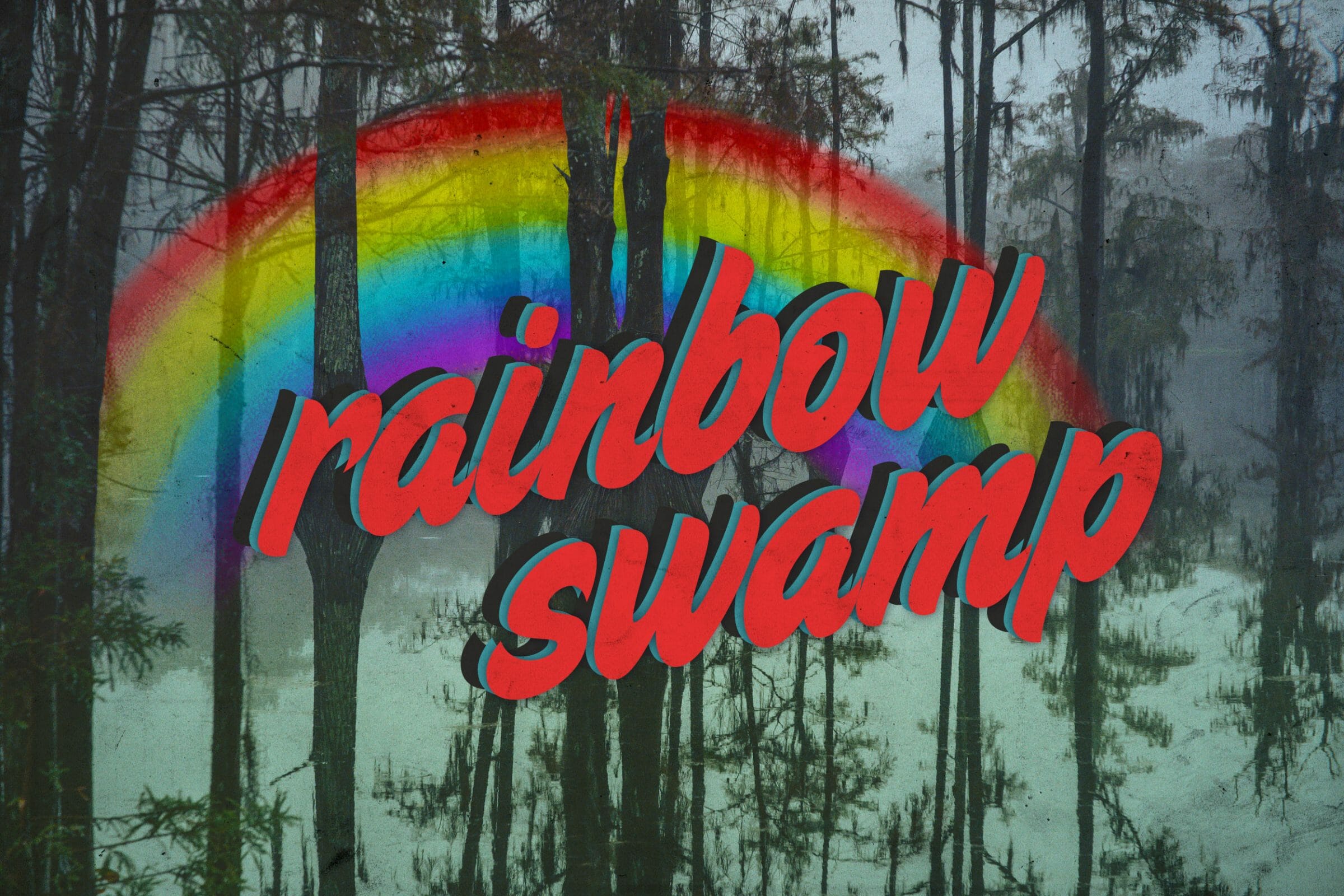 You may recall last week I wrote about some lobbyists who occupy the Rainbow Foods building across from the Capitol. I am now referring to it as the Rainbow Swamp building. Wendy Chamberlain, who owns the building along with her ex-husband and fellow lobbyist, Eldon Mulder, wasn't too keen on me pointing out that she gives Alaska Republican Party and Dunleavy administration propagandist Suzanne Downing free space in the Rainbow Swamp. So she did what she is well known for. She started spreading lies and rumors about me. Wendy, no lobbyist runs or bankrolls me. In fact, you are the one running and probably bankrolling Suzanne Downing. Hey Wendy, I'll make you a deal. You stop telling people lies about me and I'll stop telling people the truth about you. Now if you want to go to war, I'm more than happy to. I'm thinking of a making you a regular feature in a new column called Wendy Wednesdays. It will be some really awesome content. What do you think? And Wendy, I know deep down you really like me. I get so excited thinking about you reading the Alaska Landmine from the Rainbow Swamp.

A quick recap on the Rainbow Swamp. Wendy pays Heather Brakes $350,000 a year. Yes, $350,000. Brakes is a fellow lobbyist and former Legislative Director for Governor Sean Parnell. Another lobbyist in the Rainbow Swamp cabal is Dianne Blumer. Blumer works with Brakes and has several of her own clients. She also pays Brakes $30,000 a year. Another associate member of the Rainbow Swamp, who is not in the building but has an interesting connection to someone in the Rainbow Swamp is Kevin Jardell. Let's just say Jardell and Brakes have a very special, non-lobbying relationship. Among Jardell's huge list of clients and money is ExxonMobil, who pay Jardell $14,600 a month, or roughly $175,000 a year. Damn. Between just that one contract and the $350,000 Wendy is paying Brakes, they are doing very well. Must be nice being part of the 1%!
One more thing. With all the connections the Rainbow Swamp has to Governor Dunleavy (see last column for that) why don't you guys just construct a sky bridge from the third floor of the Capitol directly to the Rainbow Swamp. Wait, scratch that. It has to be a tunnel to the Rainbow Swamp. Not only will it provide direct access to the Rainbow Swamp, it will also make it a lot faster to go back and forth. I'm sure Governor Michael J. Dunleavy's (R – Alaska) people can find the money to build it. After all, in the recent budget massacre one of the few places to see an increase in funding is the governor's office.
The Legislature
On Tuesday, Senator Lisa Murkowski (R – Alaska) addressed a joint session of the Alaska Legislature in her annual address. She started out by joking, "Believe me, I'm not here to start any coups." If you missed it you can check it out here. I would like to give Senator Murkowski a special Landmine shout out for doing a podcast with me in Juneau this week. It was a lot of fun. Thanks, Lisa!
The next day, Chief Justice Joel Bolger gave the annual State of the Judiciary to a joint session of the Alaska Legislature. He was a bit more serious than Senator Murkowski. And by a bit I mean a lot. He did not take questions after. If you missed it you can check it out here.
The day after the Chief Justice, Senator Dan Sullivan (R – Alaska) addressed another joint session of the Alaska Legislature in his annual address. He began by giving a nice tribute to Jack Coghill, who recently passed away. If you missed it you can check it out here. I would also like to thank Senator Sullivan for doing a podcast with me this weekend. It was very awesome! It will be up soon.
The House Committee on Committees report has finally been set and adopted. You can click here to see all the standing committees in the House, who is chairing them, and who sit on them. You can also see which House members are on the joint committees.
Other Happenings
The Alaska Municipal League (AML) was in Juneau this week. Let's just say there weren't many municipal or borough officials who were excited about the Dunleavy budget. Governor Dunleavy met with the executive committee but not the full group. In the past, the governor has always met with the full group. Probably a good call. It would have likely been a blood bath. I'm told members of the executive committee were told to check cell phones and Apple watches before they met with Dunleavy. That is some Richard Nixon level paranoia. Lieutenant Governor Kevin Meyer (R – Alaska) did meet with AML. He told them, "There's a new sheriff in town. He's 6'7", he's a mean SOB, and he's probably packing." Bizarre.
Some members of the board of the Alaska Support Industry Alliance, along with CEO Rebecca Logan, were also spotted in Juneau this week. That is a fun group.
There were a lot of staff in town for the addresses of both Alaska Senators. One major spotted in was the legend Amanda Coyne, who took a job with Senator Sullivan after he was elected in 2014. Several people were overheard saying how much they miss her blog.
Speaking of Senator Sullivan. A prominent female Democrat told me, "I really don't agree with his politics but the guy is dreamy as hell. I can't stop looking at his amazing eyes." Whoa.
This interesting thing was spotted in Juneau outside of Senator Bert Stedman's (R – Sitka) office. Not really sure what to say here…
The Valley Davids, as I call them, were enjoying some comfortable travel this week. Senator David Wilson (R – Wasilla) and Representative David Eastman (R – Wasilla) were both spotted sitting in first class on flights back to Anchorage. Must be nice! Senator Wilson even had a little companion with him.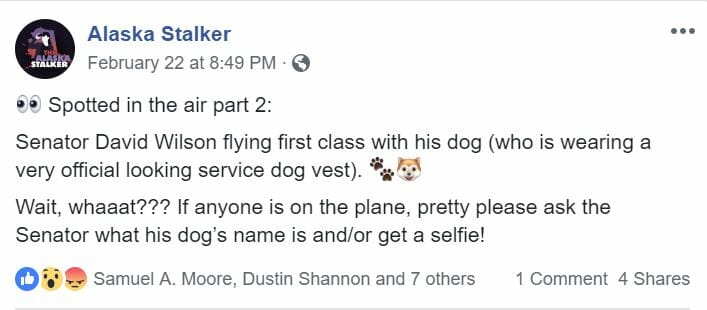 Senator Natasha von Imhof (R – Anchorage) was also spotted on an Alaska Air flight to Anchorage, with a carry on cooler… When asked what was in said cooler she replied, "I keep my heart in here on ice." According to the Alaska Stalker tipster, that got several laughs.
The Alaska Stalker is on maternity leave, but she is keeping the gems coming.

Governor Dunleavy has been talking a lot about how important it is for the budget to match revenues. I thought it was interesting to point out that while in the Senate, Dunleavy voted yes for the operating and capital budgets for fiscal years 2014, 2015, 2016, and 2017. Every one of these budgets had a multi billion dollar deficit, all paid for by money in the reserve accounts. Those four years alone drained over $10 billion out of the reserves. The FY 2014 combined operating and capital budget, which Dunleavy voted for, was $7.3 billion. Oh the good old days.
Check out what some pieces of garbage did to a Soldotna woman's car earlier this week. The idiots can't even spell. Here is an article about it.
Governor Dunleavy has hired another Republican, who lost a recent election, to work in his administration. Jamie Allard, a Lora Reinbold disciple who was defeated in the primary by now Representative Kelly Merrick (R – Eagle River) for one of the Eagle River House seats is now working as a Special Assistant to the Commissioner of the Department of Military and Veterans Affairs. I wonder how much she is getting paid?
Ross, are you ok?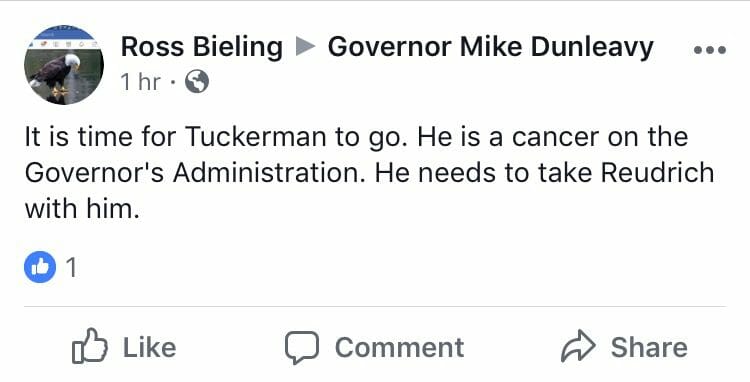 Looks like there was a hot mic situation in the Valley. It's getting very loose, folks.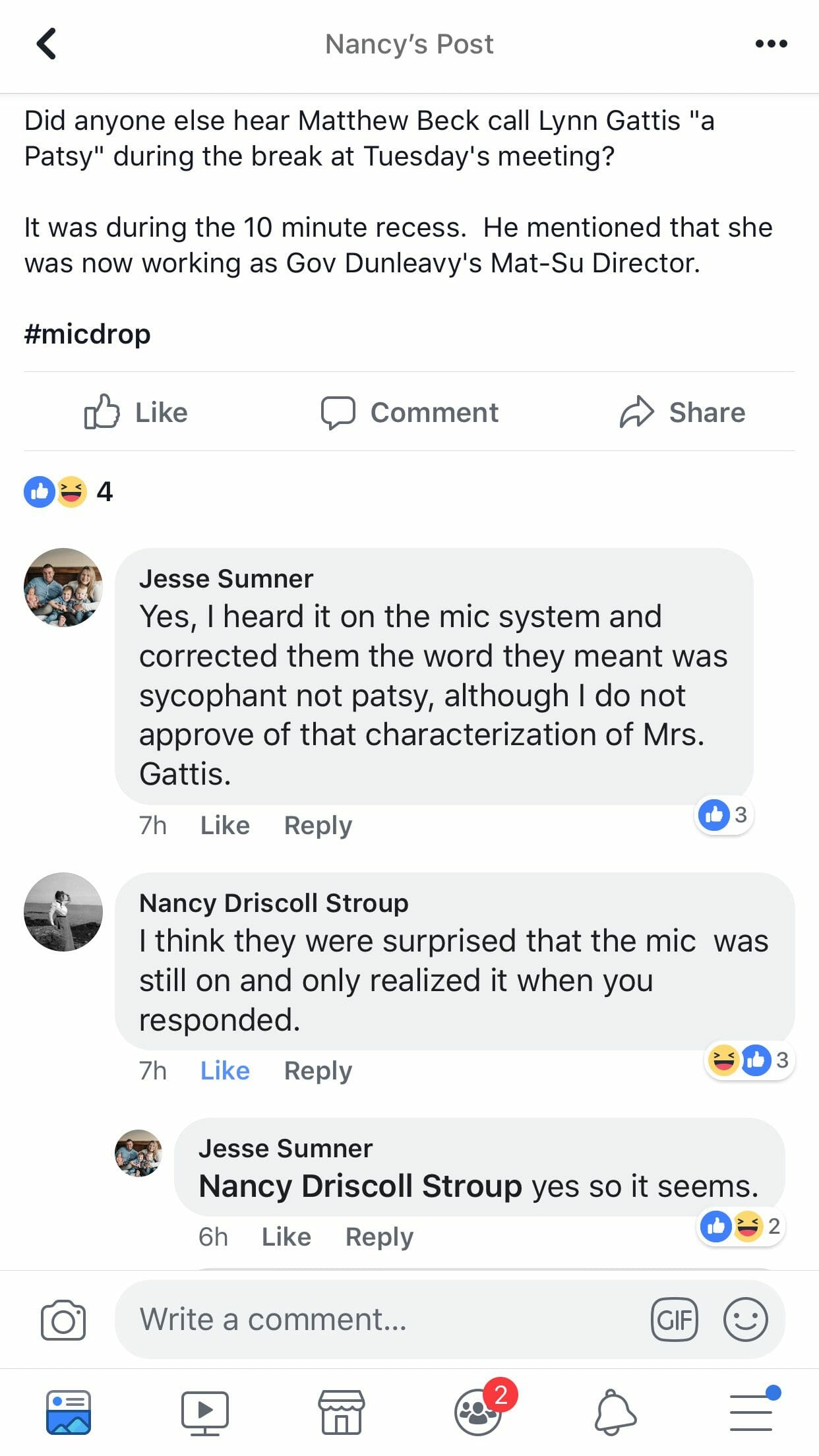 A quick note to everyone asking me if Cale Green is coming to Juneau to work for the Senate Finance Committee. See below tweet from him. Add this to a long list of things Suzanne Downing has written that aren't true.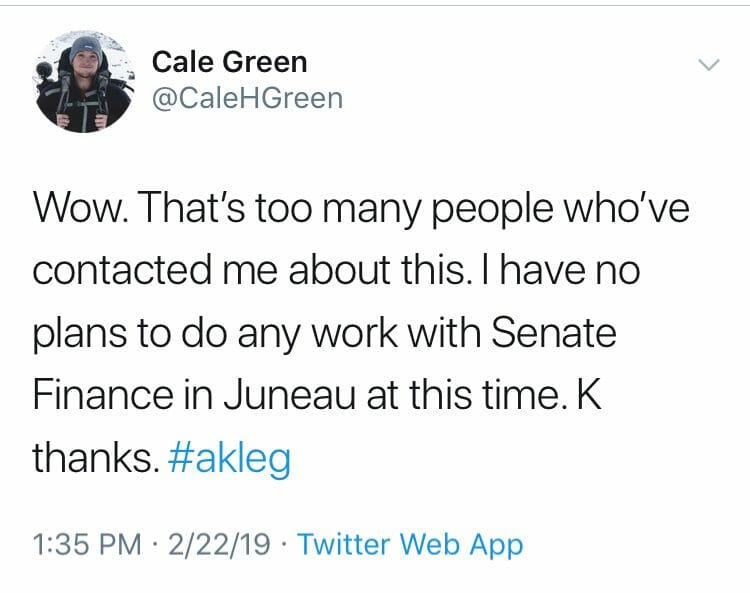 Anchorage Caucus was held yesterday at the ASD building on Northern Lights. It was pretty wild. Hundreds of people showed up to testify, almost entirely about the budget. There were so many people that the Fire Marshall showed up. Not one person testified in favor of the budget. You would think that Governor Dunleavy paying Mary Ann Pruitt $185,000 a year to run communications would have at least resulted in a few people showing up to testify in support of the budget. And about Pruitt, check out this Alaska Public Media article by Nat Herz about the shady contract Pruitt has with the Dunleavy administration. There will be another Anchorage Caucus next Saturday.
A funeral and memorial service was held yesterday for Alaska legend Jack Coghill. I was told it was a a great tribute to Coghill and was very well attended.
The Anchorage Municipal election is coming up fast. Ballots go out in mid-March. Liz Vazquez, who is running for the West Anchorage Assembly seat, is coming out HOT! Check this out this post she made this week. This is real. Dude is not even from Alaska. He's even featured as number 6 in this article, "These 40 Mugshots Will Haunt Your Dreams For Years. The Last One Especially… OMG." I guess Liz is worried MS-13 is coming up.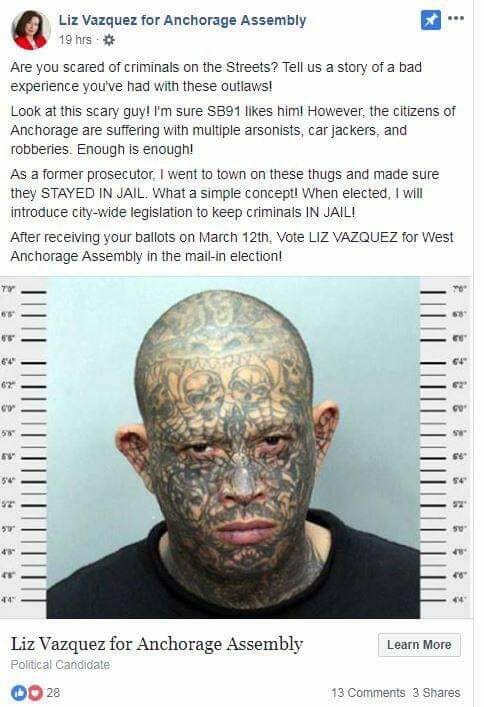 The Alaska State Chamber of Commerce sent out a press release the day Governor Dunleavy's budget came out. Let's just say "applauding" the budget did not go over too well with their members. After all, their mission statement is, "To promote a healthy business environment in Alaska." A portion of it can be seen below. Who wants to bet that Chamber board member, Portia Babcock, who is Tuckermam Babcock's sister, had a role in crafting this one?

This Week's Loose Unit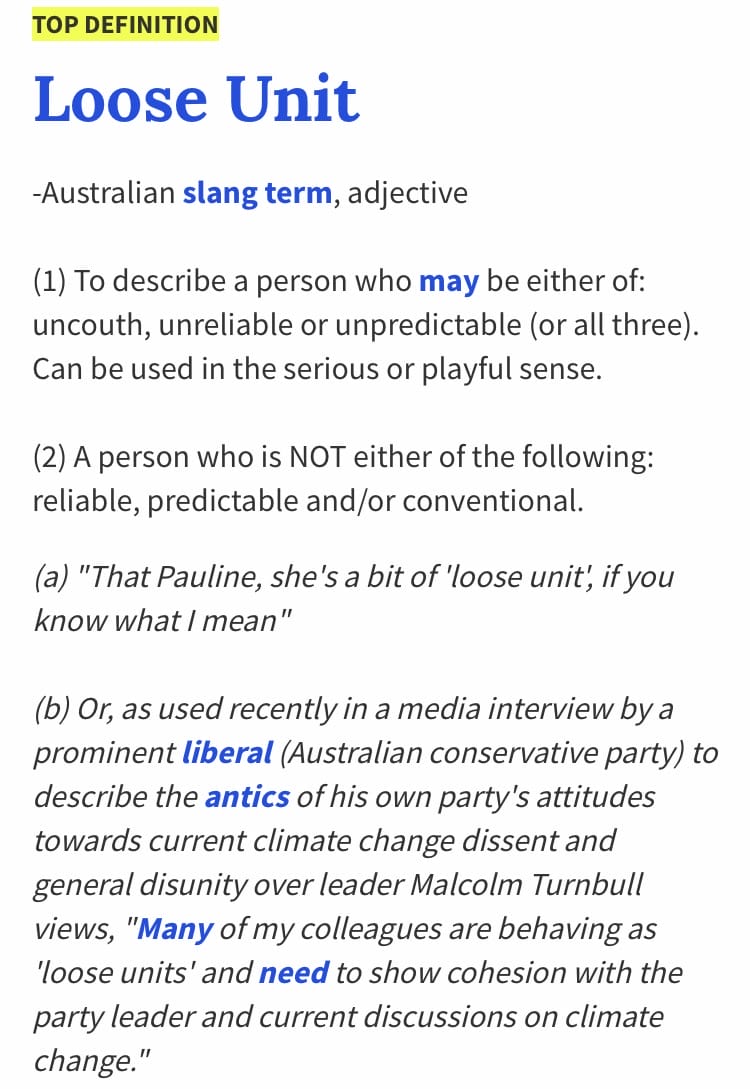 I'll be honest. It was a toss up this week between that wild Liz Vazquez MS-13 post and the Alaska State Chamber for their bizarre press release. But a last minute development made this week's winner clear. This week's Loose Unit is John Childs. Who is John Childs you may be asking? He is a billionaire from Boston who owns a luxury fishing lodge in Bristol Bay. He also donated $100,000 to the failed ballot initiative, Stand for Salmon. But get this. Childs was charged this week in the same prostitution sting in Florida as New England Patriots owner Robert Kraft! Childs is 77. Very loose. This Landmine article explains it all, "Major Stand for Salmon donor charged in same prostitution ring as Patriots owner Robert Kraft."
The question I immediately asked myself is why is a billionaire getting $40 rub and tugs at some Florida massage parlor when he could pay a professional a few grand? Discretion is the key word here. Classic Loose Unit. Maybe his frugality is why he is a billionaire. The Alaska Landmine appreciates frugality but Jesus, John. I think you can afford to splurge a bit, especially at your age. Have fun fishing at your lodge this summer…
If you have a nomination for This Week's Loose Unit, or if you have any political news, stories or gossip (or any old pics of politicians or public officials) please email me at jeff@alaskalandmine.com.