What a week it has been in Juneau. After continued drama, the House finally managed to organize after breaking the previous record, set in 1981, for the most number of days without an organization. Governor Michael J. Dunleavy (R – Alaska) dropped his controversial budget, shocking and angering many around the State.
A friendly message and reminder to all our readers, the Landmine is made possible by myself and a team of awesome Alaskans. It takes a lot of work to provide the content we do. There are now additional costs that I have temporarily located to Juneau. If you enjoy the content we provide, please consider making a one time or recurring monthly donation. You can click here to donate via PayPal. We would really appreciate it!
The Governor
On Wednesday (2/13/2019), Governor Dunleavy, along with his out of state hatchet man and self identified Alaskan, Donna Arduin, held a press conference and unveiled his new budget. I was banned from asking any questions after one of the most bizarre interactions of my life with Mary Ann Pruitt, Dunleavy's Communications Director. You can read all about that here.
The budget includes $1.6 billion in cuts to things like healthcare and education, the two biggest budget drivers, and lots more. It also calls for the repeal of the ability for municipalities and boroughs to tax on oil and gas exploration and production. This would effectively prevent the North Slope Borough from paying for its public services. As you can imagine, they aren't happy. Arctic Slope Regional Corporation endorsed Dunleavy for governor. I have a feeling they are regretting that. It is very unlikely the legislature will approve this but as Senator Donny Olson (D – Golovin) told KTUU, "It's one of those things where it appears to me that he's declaring war on rural residents in particular."
Here is what the mayor of the North Slope Borough had to say about it.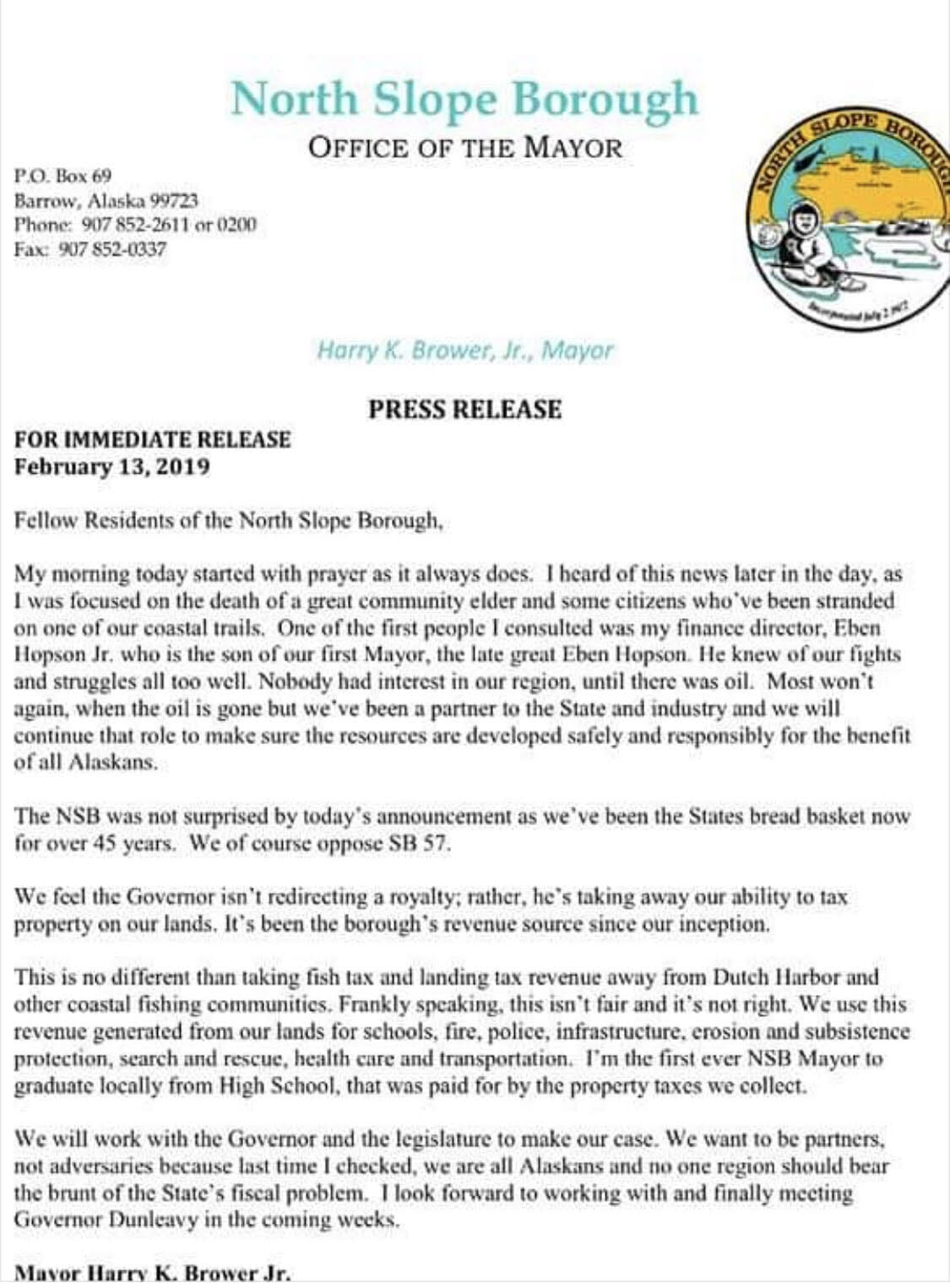 The Dunleavy administration continued to deal with loose picks this week. Christopher Twiford, who Dunleavy chose to serve on the Alaska Workers' Compensation Board, had a bad week. He was charged with multiple counts of felony assault and misdemeanor possession of a weapon after he allegedly hit a woman in the head with a pet food dish and then pulled a gun on her while he was drunk. This ADN article provides more detail. "The woman told police that Twiford in November had pointed a gun at her face after an argument and threatened to shoot her if she dated someone else." Very loose. His appointment has been withdrawn.
Joe Riggs, the guy who sent out a horrible anti-gay mailer against one of his Republican primary opponents last August (click here to read about that), was appointed by Dunleavy to the board of the Alaska Mental Health Trust Authority. Riggs was scheduled to have his confirmation hearing this week in the Senate Finance Committee. But his name was pulled from the agenda the night before the committee meeting. No one is officially saying why. Sources say that Riggs may have been a little too friendly with a lady when he was in Juneau a few weeks ago. #MeToo?
On Friday (2/15/2019), Dunleavy released a bizarre video where he pledged to send Alaska National Guard troops to the southern border if President Trump asks. I guess anything to distract form that budget. Here is the video.
Thomas Millar (no idea who that is) is now a Division Director with the Department of Administration. He used to be a Deputy Sheriff for Ventura County in California. Weird.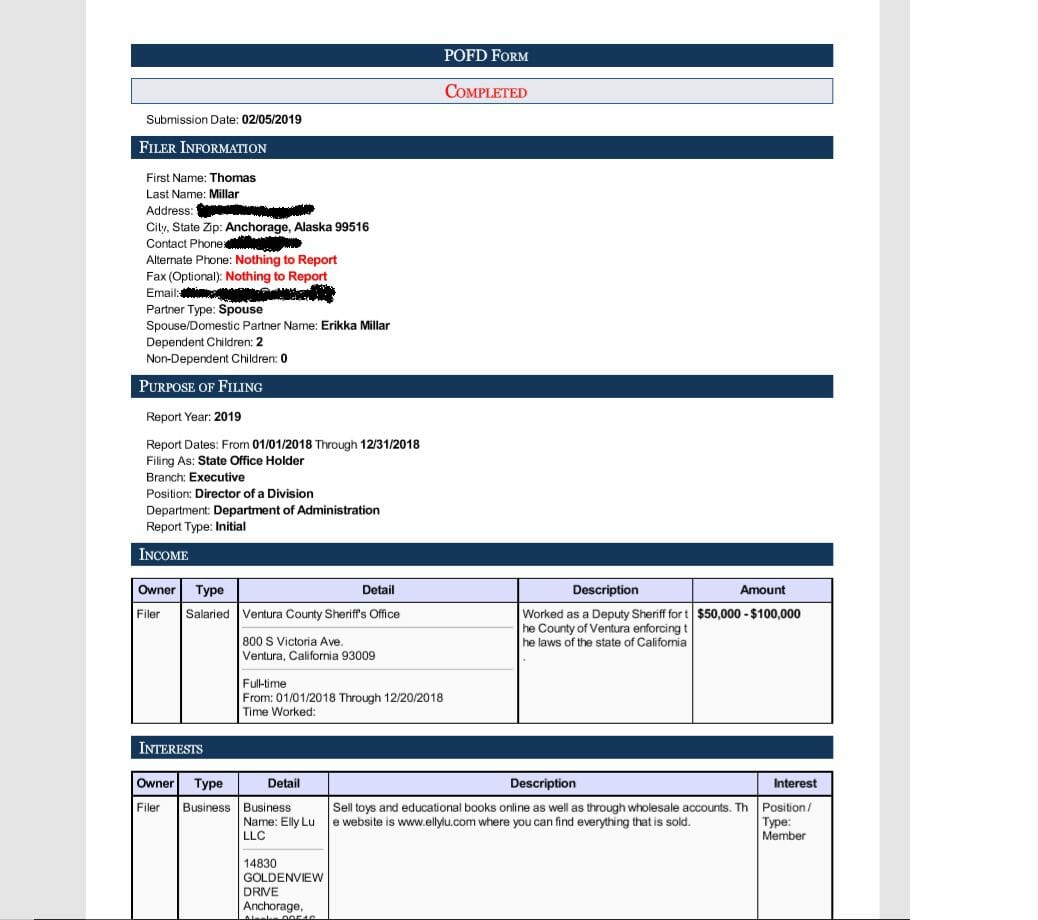 Rina Salazar, who goes by Princess Rina Salazar on Facebook, was hired as the Executive Assistant to the First Lady. The First Lady is not a State employee. I asked around and no one has ever heard of this position existing for past governors. If her job involves hiring any event planners, she may have an issue if any of the companies in Juneau are owned by anyone who is gay. Word is she was very unhappy that an event planning company in Anchorage was asked to submit a bid for the Inaugural Gala because the owners are gay. Good luck there, Princess Rina.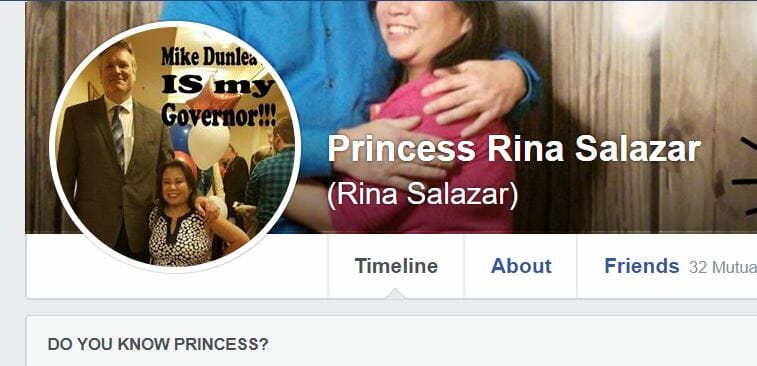 The Legislature
The House has finally organized! But not after some more drama this week (See this week's Loose Unit on that). Bryce Edgmon (I – Dillingham) was re-elected Speaker of the House on Thursday (2/14/2019). This also happened to be Valentine's Day. Angry Republicans probably consider it the Valentine's Day Massacre. Edgmon switched his party registration from Democrat to Undeclared earlier this week. This was likely to get the support of some House Republicans to vote for him as Speaker. His elections as Speaker came after a month of the House not being organized. Edgmon was elected by a 21-18 vote, with Representative Gary Knopp (R – Kenai) shown as excused. This Landmine article explains what happened.
Representatives Chuck Kopp (R – Anchorage) and Jennifer Johnston (R – Anchorage) both voted for Edgmon. Republicans got a pretty good deal. They hold three of the five leadership positions. Kopp is the Rules Chair, Representative Steve Thompson (R – Fairbanks) is the Majority Leader and Representative Tammie Wilson (R – North Pole) is one of the Co-Chairs of Finance, along with Representative Neal Foster (D – Nome). Oddly enough, Wilson and Thompson voted against Edgmon for Speaker. I guess you can have it both ways.
Before Edgmon was elected Speaker, House Republicans continued to hold fake floor sessions. They also had some interesting press conferences. The first one (Eastman, Vance, Carpenter, LeBon) was on a bill that would suspend the rules so the House could do business. One problem there, it takes a 2/3 vote of both bodies to suspend the rules. LeBon went full Count Dooku and did not say one word.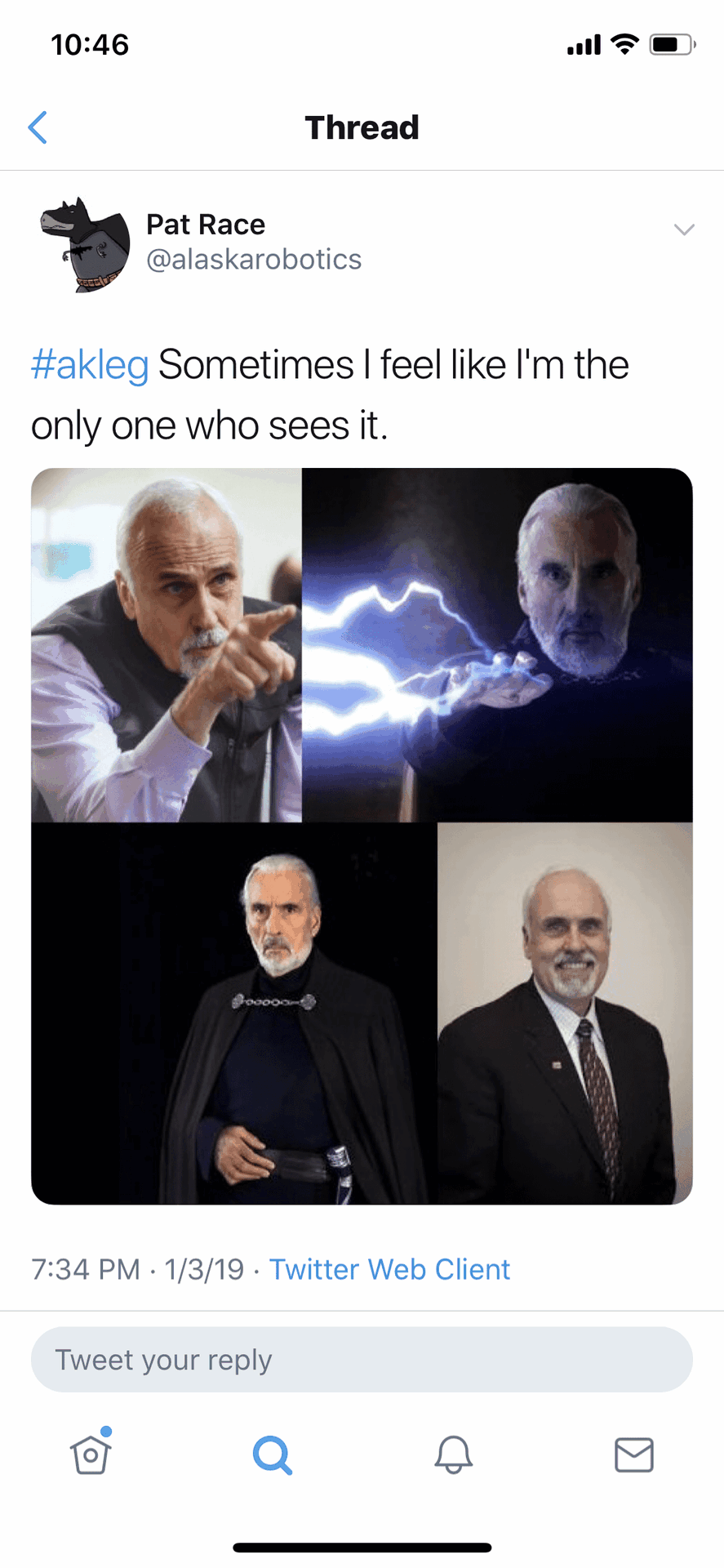 The second one, composed of several freshman legislators led by Representative Josh Revak (R – Anchorage) announced they would be working from their desks on the floor until the House organized. It appeared to be the beginning of a sit in. Luckily the House organized the next day. Are none of the veteran legislators giving them any advice or guidance?
The Senate Finance Committee was very lively this week. Self identifying Alaskan Donna Arduin, Dunleavy's out of state budget director, faced many questions from frustrated senators about Dunleavy's budget. I'm not sure if she is more of a Bond villain or Cruella de Vil, so I took to the internet to find out. The results were clear. It must be the sleeveless fur coat.
Donna Arduin
Donna Arduin
If she doesn't scare you
No evil thing will
To see her is to
Take a sudden chill
Donna, Donna Arduin
Gov. Dunleavy's Budget Director Donna Arduin is most like: #akleg

— The Alaska Landmine (@alaskalandmine) February 16, 2019
Senator Lora Reinbold (R – Eagle River) continues to weigh in on what's happening in the House. She just can't escape it. Lora, maybe get a proofreader. I'm available. All you have to do is agree to do a podcast with me. Senator Mike Shower (R – Wasilla) also has some opinions on what's happening. As a current legislator told me, "They have no idea what it means to act like a senator."
Other Happenings
The Alaska AFL-CIO held their annual fly-in this week in Juneau. They had a great reception at the Baranof that included live music, some awesome food, and a hosted bar! Those cats know how to throw a party. They also held a protest on the third floor of the Capitol (governor's floor) on Wednesday afternoon to express their disapproval of his proposed budget. It got pretty loose. No one from the governor's office came out to talk to them.
Members of the Alaska Federation of Natives (AFN) were also in Juneau this week. Let's just say they weren't too happy about Dunleavy's budget. I was not able to make the reception but I heard the food was VERY good.
The Alaska Council of Producers (CAP), the large metal mines trade group, also had a fly-in this week. I was not able to make the reception but I heard it was a good time.
The Southeast Conference was also meeting this week in Juneau. They happened to be meeting when Dunleavy's budget came out, that guts the Alaska Marine Highway System. Timing, Mike. Timing.
You learn a lot being in Juneau. For example, this week I learned that Alaska Republican Party and Dunleavy administration propagandist Suzanne Downing is getting a real good deal on office space. So good, in fact, that it's free. Well known Alaska lobbyist, Wendy Chamberlain, let's Downing have free space in the Rainbow Foods building in Juneau, which her and her ex-husband, and fellow lobbyist, Eldon Mulder, own. Chamberlain was a big Dunleavy supporter. She was even sitting in the front row at the swearing in ceremony in Kotzebue. Along with her at the swearing in was Heather Brakes, who Chamberlain pays $350,000 a year to work for her. Suzanne Downing was also there. I wonder who paid for Downing to get there? Brakes is also in the Rainbow building. She was Governor Sean Parnell's Legislative Director. Someone else in the building is Chamberlain and Mulder's daughter, Corey Mulder. She worked on the Dunleavy independent expenditure group, Dunleavy for Alaska, and is often seen at Dunleavy press conferences in Juneau. I'm sure Chamberlain and her ilk have no influence whatsoever on what Downing writes… I'm going to start calling that building the Rainbow Swamp.
Downing and her "landlord" (maybe overlord is more appropriate) Wendy Chamberlain were spotted at the restaurant Salt in Juneau this week. They were there with Matt Larkin, who owns Dittman Research. He was in town presenting poll data to legislators and the governor.
Also spotted at Salt that night was Public Safety Commissioner Amanda Price having dinner with Gerad Godfrey. They both worked for the Walker administration together.
Former State Senator, and Senate President, Clem Tillion has been in the Capitol this week. He is here advocating for a full PFD. Dude is a straight legend. During a podcast he did with me this week, he told me the story of how he once sent the State Troopers after two rogue senators and ordered they be returned to the Senate floor in handcuffs.
Celebrity chef Gordon Ramsay was also in Juneau this week. He was spotted at many bars and restaurants around town. Word is he was here working on a new show. Nate Graham, a legislative staffer, ran into him at the Alaskan and sent me this pic. Legends.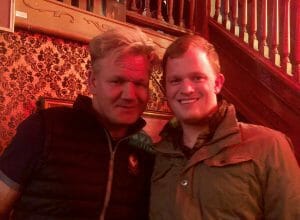 There is still no campaign against the proposed alcohol tax in Anchorage. Voters will decide whether or not to approve the tax in the upcoming election. There was talk of a well funded campaign from the alcohol industry after the Anchorage Assembly voted to approve the tax and send it to the voters. They better hurry up. Vote-by-mail Ballots go out in mid-March.
A note to whoever is staying above me in the Driftwood. Please shut your damn dog up. Or better yer, don't leave it home all day. It constantly barks and whimpers. And I really didn't appreciate you slamming the floor as hard as you could when I was recording a podcast. I know who you work for.
Sometimes staffers think they are real clever, especially new ones. This week I got a text from a staffer asking me about a conversation I overheard about a representative with "some baggage" at the labor reception. I told him I never heard anyone say that. He then told me it was these three guys I was talking to, and asked who they were. I again said I never heard anyone say that. I figured he was trying to plant some idea in my mind. I ignored it and moved on. Then, a few hours later I got a text from that rep asking if I could meet. I said sure and headed over. This same staffer had told the rep that I was doing a hit piece on the rep. I said that could not be further from the truth and showed the rep the text the staffer sent me a few hours before. I then started hearing about this imaginary hit piece from other people in the building. I confronted the staffer, and he of course had an entirely different story. I know you think you're clever, but you're not. If you ever try and use me again like that I won't be this nice and leave your name out of the story. I know you think you are a player and an operator. You aren't.
And to anyone who ever thinks about pulling some bullshit like this, know I don't tolerate this kind of crap. Trying to tarnish the reputation of a good person for some political goal or for a joke is low and despicable. For anyone dumb enough to try something like this, I guarantee my sources and connections are better than yours.
This Week's Loose Unit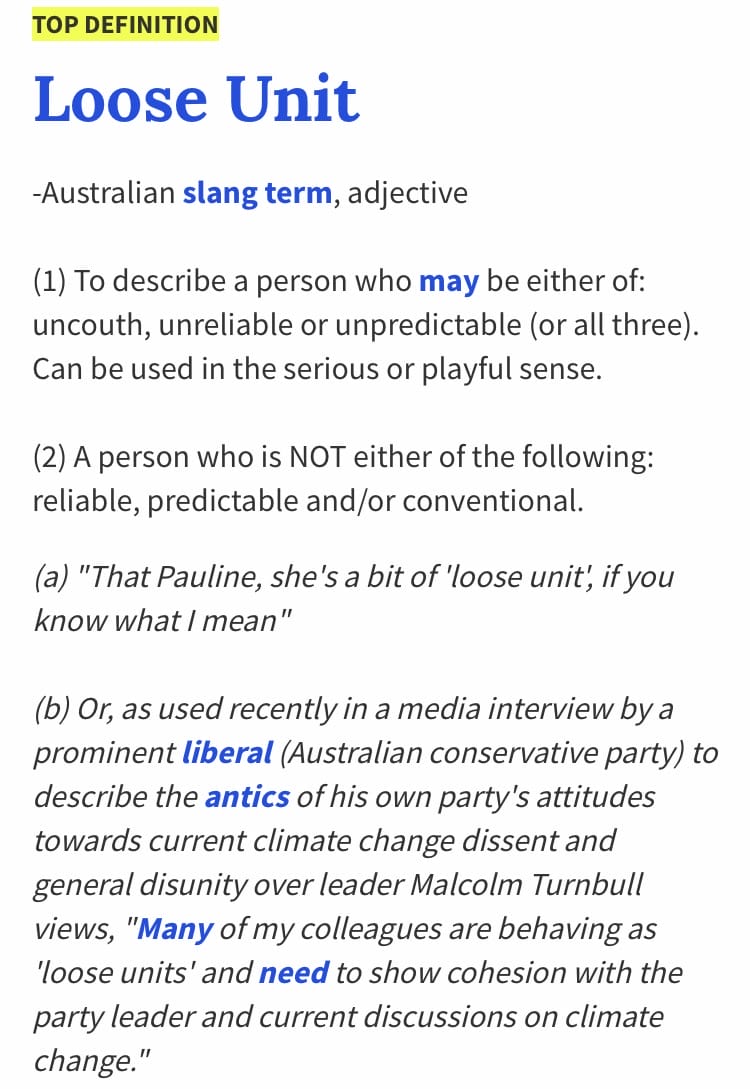 There were many Loose Units in Juneau this week. But one stood out. This week's Loose Unit is Representative Gary Knopp (R – Kenai). On Monday (2/11/2019), multiple Alaska news outlets (not the Landmine) reported that Knopp was going to break the gridlock in the House and vote for a Republican Speaker. This came after a month of no organization after Knopp broke with the fragile 21 member Republican majority out of concern it would not hold. Many assumed it was going to be Representative Dave Talerico (R – Healy). Republicans rejoiced that they were finally going to elect a Republican Speaker of the House.
When nominations were opened for a Speaker, Representative Chuck Kopp nominated Talerico. But then Representative Louise Stutes (R – Kodiak) nominated Knopp. This seemed to confuse many in the room. When the vote on the House floor occurred on Tuesday (2/12/2019), Knopp got super loose and voted against Talerico, resulting in another 20-20 vote. There was a collective gasp in the room when he voted no. Few could believe what happened. One person described it as, "The loosest thing I have seen in the House in a long time." A vote for Knopp then took place, which was also 20-20. So loose.
Later, Knopp told reporters that he never said he would vote for Talerico, but said he would vote for a Republican, which he did when he voted for himself. Classic Loose Unit. House Republicans were under the impression he was going to vote for Talerico, and they were not happy. Let's just say Knopp probably won't be invited to any Republican events anytime soon.
If you have a nomination for This Week's Loose Unit, or if you have any political news, stories or gossip (or any old pics of politicians or public officials) please email me at jeff@alaskalandmine.com.