We are nearly a month into the legislative session, and things have been relatively quiet. Senator Dan Sullivan (R – Alaska) gave his annual speech to a joint session of the Legislature on Tuesday. The 2022 executive compensation and travel report is out, and it reveals some good stuff. The Senate selected membership of their finance subcommittees, which will start meeting this week. The House finance subcommittees have already been meeting. Debate has been heating up on raising per student spending funding, known as the Base Student Allocation (BSA). An oil property tax bill introduced by the Senate Resources Committee was hastily withdrawn when it was uncovered, by the Landmine, that is was meant to benefit a specific company. And Governor Mike Dunleavy's (R – Alaska) amended budget is due to come out this Wednesday
A friendly message and reminder to all our readers. The Landmine is made possible by myself and a team of awesome Alaskans. We worked hard on all of our election coverage. I am back in Juneau for the fifth session in a row to report on the Legislature. If you enjoy the content we provide, please consider making a one time or recurring monthly donation. You can click here to donate. We have a donation system that makes it super easy. We would really appreciate it. And thanks to everyone who has been supportive!
Several state executives saw pay increases last year, travel costs increased significantly post pandemic
The following is an excerpt from this week's edition of the Alaska Political Report. You can click here for more information about the Political Report. A subscription is $1,299/year per organization. Discounted pricing is available for non-profits and government entities. Our coverage of the budget starts with the governor's proposed budget in mid-December and we track everything in detail through the entire process. If you have any questions or would like to subscribe, please email jeff@akpoliticalreport.com.
The 2022 executive compensation and travel report is out. It's a reminder that the state continues to pay some eye-popping salaries to some of its executives — particularly at state corporations and other quasi-independent entities. It also shows state travel was up significantly from 2021. We will have a breakdown of the legislative travel reports next week.
Another report, recently released by the Alaska State Officers Compensation Commission, is recommending raises for the governor, lieutenant governor, and department heads. The report recommends the governor's salary increases from $145,000 to $176,000, the lieutenant governor's from $125,000 to $140,000 and department heads from $141,000 to $168,000. It is now in the hands of the Legislature. The recommendations will go into effect in 60 days unless the Legislature votes to reject them.
Frank Richards, who heads the Alaska Gasline Development Corp., was paid $453,000 last year, up $8,000 from the previous year. Bill O'Leary, president of the Alaska Railroad, made $334,000, $29,0000 of which was classified as "other."  That could have been for a bonus or cashing out leave. Bryan Butcher, chief executive at Alaska Housing Finance Corp., made $313,000, up $13,000 from the previous year. Alan Weitzner, the former head of the Alaska Industrial Development and Export Authority who left in November, collected $286,000, $42,000 of which was classified as "other." We asked AIDEA if the "other" compensation was a severance package or leave cash out. We have not heard back yet. Milton Keeter, CEO of the Alaska Aerospace Corporation, collected $226,000. Curtis Thayer, the head of the Alaska Energy Authority, made $213,000, $13,000 of which was classified as "other." And Sana Efird, executive director of the Alaska Student Loan Corp., made $173,000.
Meanwhile, University of Alaska President Pat Pitney collected $351,000 in salary, up $10,000 from the previous year, along with $22,000 for housing, which was up $8,000 from the previous year, and $10,000 for a vehicle. University of Alaska Fairbanks Chancellor Dan White made $308,000, up $8,000, with $9,000 for a vehicle and $11,000 for "other." University of Alaska Anchorage Chancellor Sean Parnell made $286,000, along with $5,000 for a vehicle and housing in the former home of Elmer and Mary Louise Rasmuson that was donated to UAA by the Rasmuson Foundation ten years ago.
The 2022 report shows that executive branch travel costs were up significantly from 2021. The main reason was that travel rebounded after the coronavirus pandemic. But last year was also an election year. GOP Gov. Mike Dunleavy benefitted from himself and his commissioners traveling around the state in their official capacities, touting their accomplishments. Several commissioners and executive branch officials also traveled outside of Alaska to attend various conferences.
Dunleavy and his commissioners spent $435,000 on travel last year. The biggest spender was Transportation Commissioner Ryan Anderson, who racked up $68,000 in travel costs. Commerce Commissioner Julie Sande came in second with $61,000 in travel. Here is a ranking of Dunleavy and all his commissioners' travel costs from 2022: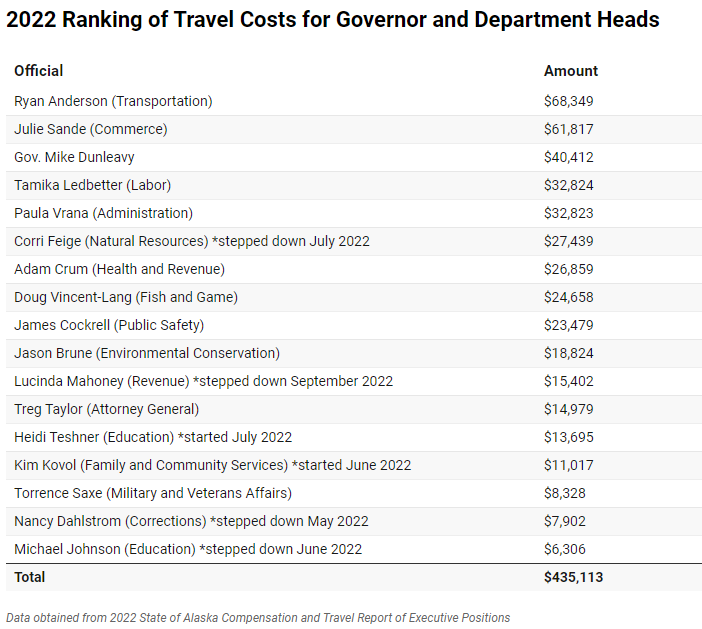 The total spent on travel by executive branch departments in 2022 was more than $1.4 million. Here is a ranking of how much each department spent on travel last year: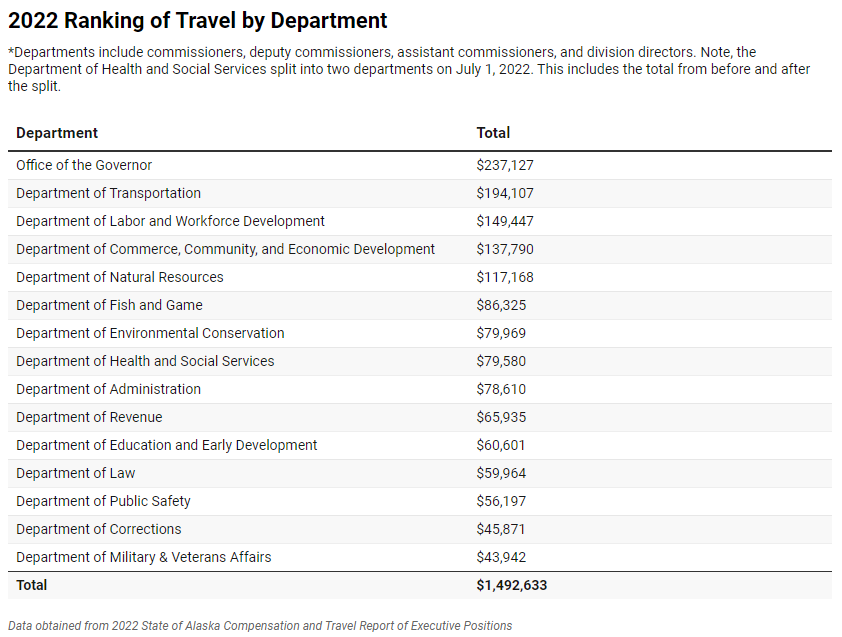 Other Happenings 
Senator Sullivan gave his annual address to the Legislature on Tuesday. He was here in Juneau and not in D.C. for President Joe Biden's State of the Union. It was a good speech, but definitely ran too long at well over an hour. A significant part of his speech was spent on the Willow project and how the Biden administration needs to approve it. He also touched on our strategic location and the importance that plays with Russia and China. After the speech, he held a press availability where he took questions from the media.
The Senate Finance subcommittee assignments are out. While the subcommittee meetings are fairly boring, this is where the Legislature starts crafting the budget before it hits the House and Senate Finance Committees.
The Senate Education Committee heard public testimony on the bill to increase the Base Student Allocation (BSA) by $1,000 – which would cost $257 million a year. There is significant momentum in the Legislature to raise the BSA. But it will be interesting to see how those who are in favor of both raising the BSA and a full dividend (which costs approximately $2.5 billion) act. Senators Bill Wielechowski (D – Anchorage), Donny Olson (D – Golovin), and Scott Kawasaki (D – Fairbanks) have long supported a full PFD, but they also support an increase to the BSA. Now that they are all in the majority, it's a lot harder to grandstand. Senator Bert Stedman (R – Sitka) told me this week when I asked how they will determine the size of the dividend, "It's every man for himself." It's going to be fun to watch how this all plays out.
Senator Cathy Giessel (R – Anchorage), who co-chairs the Senate Resources Committee, withdrew a bill, Senate Bill 50, this week after it was revealed it was aimed at benefiting a small oil and gas company operating in the Cook Inlet. HEX/Furie, owned by John Hendrix, has been trying to get their property taxes massively lowered for the past few years. But the state board who oversees this said no, twice. So he sued (the matter is still in court). But he also sought a legislative solution through this bill. This Landmine article breaks it all down. The bill was withdrawn the day after the article came out. There was also a lot of pressure from boroughs – who get half the property tax – to kill the bill. Very loose.
Former Representative Sara Rasmussen, who recently left the Legislature, has been hired as the new government relations director at GCI. Congrats, Sara!
The Mayor Dave Bronson bingo card does not have many spaces left… Keep in mind he has only been in office a little over 19 months.
It seems the utilities have had enough with the Renewable Energy Alaska Project (REAP). Check out this wild letter they sent informing them they are terminating their membership.
This Week's Loose Unit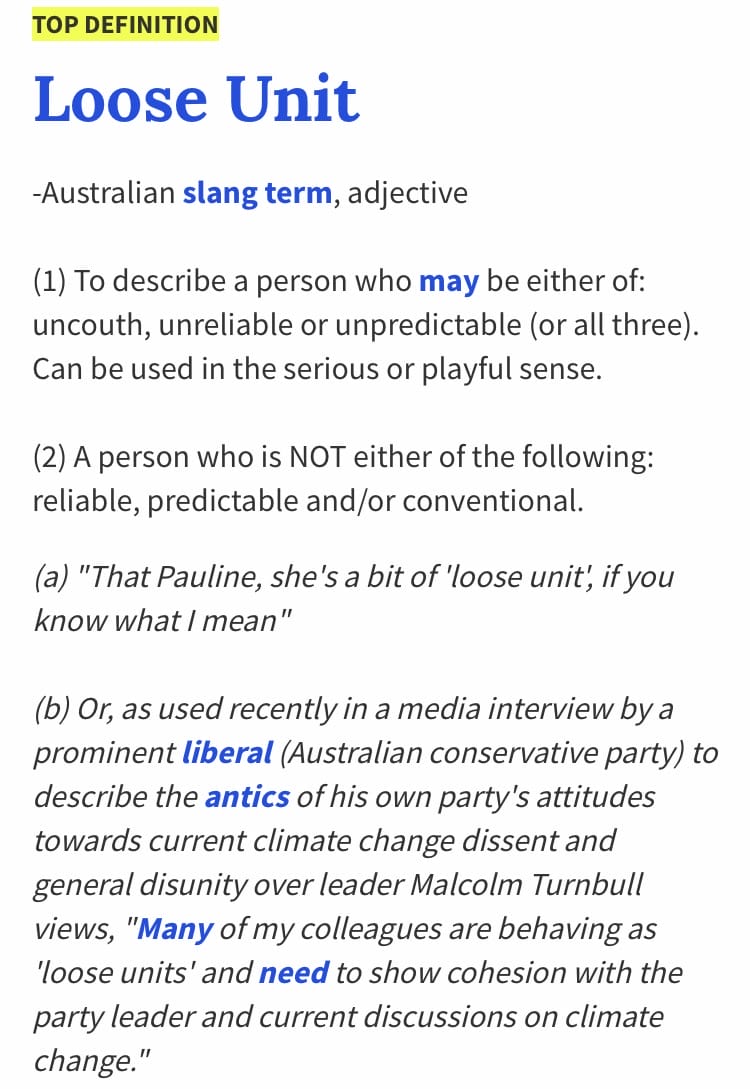 The whole SB50 oil property tax bill was definitely loose. But something that occurred earlier this week locked things up for this week's designee. This week's Loose Unit is a seven-way tie between Anchorage Assembly members Randy Sulte, Kameron Perez-Verdia, Robin Dern, Suzanne LaFrance, Felix Rivera, Meg Zaletel, and Pete Petersen. These Loose Units all voted to kill the proposed Holtan Hills housing development in Girdwood. So much for Randy Sulte (who said he was "thrilled" with the housing getting killed) for being a conservative, pro-business guy.
If you have not been following this, you can read this editorial ("From the Editors: Housing delayed is housing denied; approve the Holtan Hills development") by myself and Paxson Woelber about the whole thing. Basically, the Heritage Land Bank put out an RFP a few years ago about using some land in Girdwood to build homes. Only two developers responded. When it came to the Assembly debate on approving the disposal of the land, the entitled Girdwood NIMBYs came out in force. And these seven Assembly members balked and caved to their pressure. Perez-Verdia parrotted the misleading "public lands = public benefit" line from the Halt Holtan Hills NIMBY crowd. Well, if you live in Anchorage, you live on public lands that were dispersed to private developers so that you could have a place to live. That's what was happening here, nothing more. The NIMBY wackos (and Perez-Verdia) tried to make it sound like this housing was being put on public park land or something. Classic loose behavior.
In the case of the lefties on the Assembly (Sulte is another story), they decided to blame Dave Bronson, essentially saying "we think Bronson will screw this up, so we'll screw it up first." Bronson's Chief of Staff Adam Trombley has been a big advocate for the project and his work on this project has been well-regarded. None of the left-leaning members of the Assembly bothered to explain exactly what the Bronson administration actually would have screwed up. Yes, the Bronson administration is an absolute mess, but just saying you don't trust the mayor isn't good enough when you're depriving hundreds of Alaskans of housing during a housing crisis. Holtan Hills would have included a variety of housing types at different price points, including price points dramatically lower than what Girdwood homes are currently selling for. This is a huge loss for Anchorage and a guarantee that Girdwood's dysfunctional (and self-imposed) housing shortage will continue for many more years. One phrase comes to mind when I think of all the people who helped kill this: Fuck 'em.
One of the people who voted against Holtan Hills, Felix Rivera, is up for election in April. For those that live in his district, consider that when he claims he supports housing in our community.
If you have a nomination for this week's Loose Unit, or if you have any political news, stories or gossip (or any old pics of politicians or public officials) please email me at jeff@alaskalandmine.com.