It's been nine days since the big quake hit Southcentral Alaska. The aftershocks continue. In fact, we had two good ones this morning. At what point do they stop being aftershocks and start being just earthquakes? Check out this satire article from the Landfill about the aftershocks. I say satire because some people have a hard time differentiating between what's satire and what's not.
House Disorganization 
In addition to the rumblings in Southcentral, it's been a pretty busy week in Alaska politics. We are just over a month away until the 31st Alaska Legislature gavels in. The big news of the week is that Representative Gary Knopp (R – Kenai) has left the newly formed 21 member Republican House Majority. This effectively ends that majority as you need at least 21 members to have a majority in the house. I spoke to him yesterday to ask why he left. He told me, "A 21 member caucus cannot succeed. It's doomed for failure and I'm not going to be on that train. I'm not joining the Democrats either. I'm doing this to try and force a true coalition." Dude is honey badger status.
Knopp is smart and sees the writing on the wall. Since the Republicans announced their "majority" in a bizarre press conference the day after the election, they have added no new members and not made a peep. In a 21 member majority, any member has a veto. We all saw how tumultuous things got with the current House Majority, which had 22 members and then 21 when Representative Sam Kito (D – Juneau) bailed.
Well, this did not age well.
Press Conference for new House Majority

Posted by The Alaska Landmine on Wednesday, November 7, 2018
The other problem with the lack of organization in the house are the important tasks of organizing staff, office space, and committee assignments. With no clear majority, the legislative affairs people in Juneau do not know what house members will be in what offices, who they will hire as staff, and who will be on what committees. Normally, this is all taken care of when a clear majority is formed after the election. In contrast, the senate organized a majority and they are well underway of taking care of all of this. The senate has 20 members, the house has 40. So with just over a month until the session starts, 2/3 of the legislature does not know where their offices will be. Classic Juneau! Hopefully the adults will prevail and a sane and rational majority forms in the house.
Then there is the issue of the Kathryn Dodge / Bart LeBon race in Fairbanks. After a final recount, which took place in Juneau on the day of the quake, LeBon was up by a single vote. Funny enough, it looks like that vote was cast by a felon who was registered in the PFD voter registration initiative. Which was championed by mostly Democrats. Dodge has filed a lawsuit over four ballots. If the court rules and decides to count just one vote for her, we are back to a tie, which will be decided by a game of chance. In the past it's been a coin toss. However, I am advocating for three rounds of dice rolling. I am happy to provide the commentary and play by play, at no charge. Oh, and because Knopp left the Republican majority, the outcome of this race is not as important as it was before he left. Even if LeBon remains the winner, that still leaves Republicans with 20. If Dodge wins, that puts the other 19, mostly Democrats, at 20. It's about to get real interesting, folks.
Uh… and what the hell is up with this headline? Special master! Is there some kind of BDSM thing going on in Fairbanks???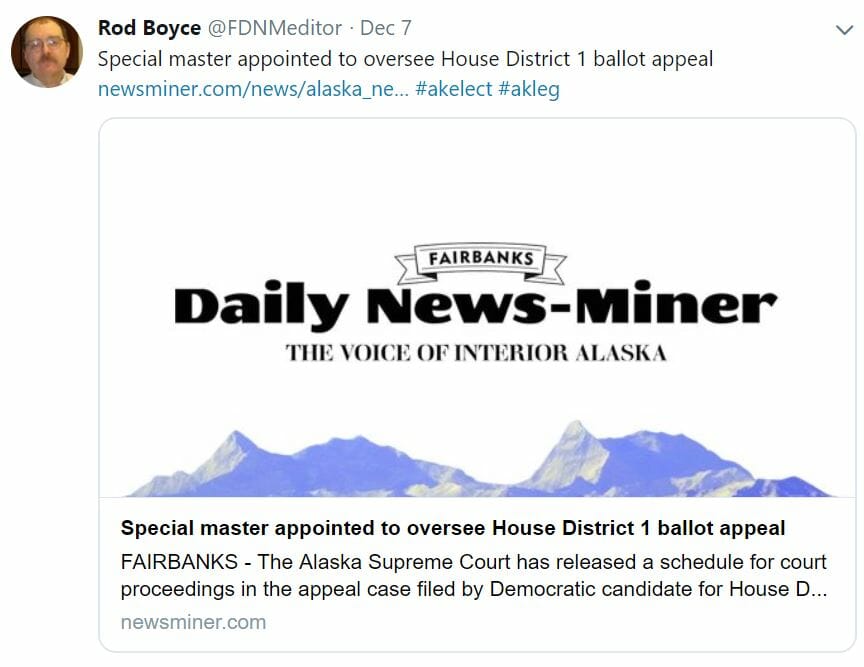 Governor Dunleavy
Governor Mike Dunleavy (R – Alaska) had a busy week as well. He made a bunch of public safety appointments at a press conference on Wednesday (12/5/2018). It opened with Jeff Turner, a former Republican house staffer whose nickname should be stone face, saying they will only be taking questions from journalists and added, "Sorry bloggers." Cool story, Jeff. I'm interested in his definition of blogger. We will know soon enough, trust me on that.
Most of the appointments were normal enough, but there were a few that stuck out as odd. Dunleavy appointed Amanda Price as Commissioner for the Department of Public Safety. Price worked for Bill Walker as a crime prevention policy advisor but was let go for not showing up to work. She also worked for Dunleavy's campaign but "left" to go run Edie Grunwald's campaign for lieutenant governor. I'm sure Lieutenant Governor Kevin Meyer is siked to have her on board! Maybe the third time will be the charm for Amanda.
Dunleavy also made an interesting appointment as his commissioner for the Department of Corrections (see this week's Loose Unit).
Dunleavy appointed Kevin Clarkson as Attorney General. Clarkson has a history working for the Alaska GOP and taking on religious liberty cases. He will fit in just fine. One of the first things he did as AG was send out an email to all the state lawyers who were asked to send in their resignations, as well as a letter saying they want to work for the Dunleavy administration. In the email he wisely stated that he was rejecting the resignations of all the rank and file, non-policy, lawyers. He included that some had already been let go. Word is several of the lawyers either did not include the loyalty pledge or changed it to say they would like to keep their job and that they serve the people of Alaska. Understanding that they cannot fire a bunch of state lawyers, the Dunleavy administration was forced to make it look like everyone did what they wanted. Way to boost morale!
It sounds like Dunleavy has chosen Suzanne Cunningham as his legislative director. Cunningham has a lot of experience in Juneau. She worked for Kevin Meyer for many years while he was in the legislature. She took a job a year ago in D.C. for Senator Lisa Murkowski (R – Alaska) on the Energy and Natural Resources Committee. Looks like she will be coming home. Juneau > D.C.
Word is that Dunleavy hired former Senator Bill Stoltze as head of his Mat-Su office. Go easy, Bill.
Governor Dunleavy had a big inaugural shindig last night at Anchorage Christian Schools. Rick Rydell was the emcee. Very high energy. It was a packed event with many of the usual suspects and a lot of fresh faces. They even had a roasted pig! One major fail was no booze. Jerry Prevo was pumped that our political system elected a guy like Mike. I don't think he would be so pumped if Begich would have won. Kevin Meyer made sure to tell everyone how much he loves Jesus.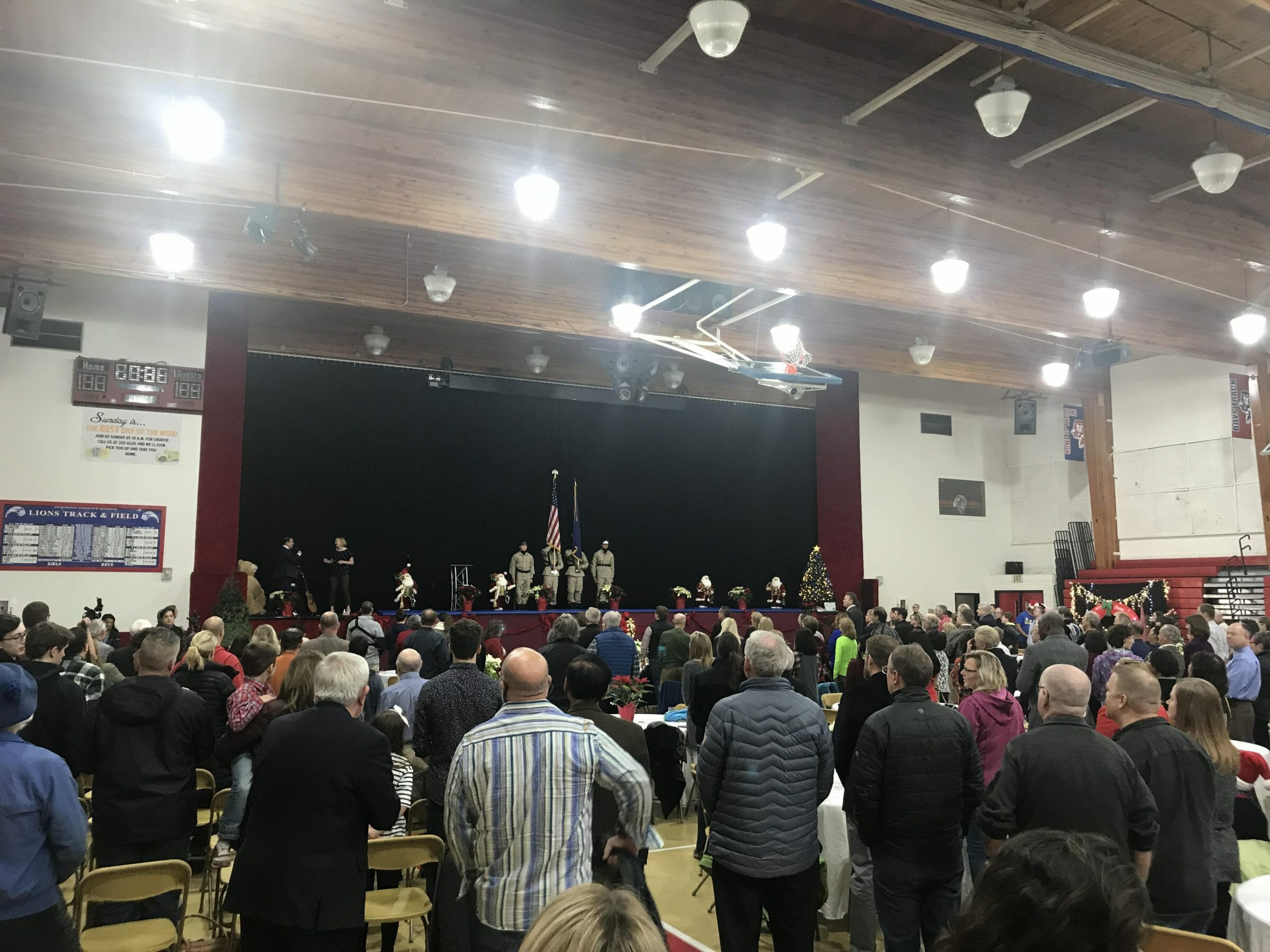 Other Happenings
A big Landmine shout out to Representative-elect Josh Revak (R – Anchorage) for graduating from Alaska Pacific University this week with both a bachelors degree and an MBA. Nice work, Revak!
Word is Senator Mia Costello (R – Anchorage) has hired Tom Wright as a staffer. Wright previously worked many years for Representative Mike Chenault (R – Nikiski) in the house. He also has a legendary radio voice. He's probably real excited to get out of the house.
Apparently there was quite the victory party this week for the Dunleavy independent expenditure, Dunleavy for Alaska. It was at Justin Green's house, you know the guy with the awesome rugby field on the hillside. I was NOT invited. I guess my invitation got lost in the mail… There were reportedly over 100 people there including Dunleavy himself, his wealthy brother and main group backer Frances Dunleavy, Tuckerman Babcock, Amy Demboski, Jeremy Price, the entire Dunleavy IE crew, and a lot more. I wonder how much that party cost. Not that it matters.
Word on the street is that the folks working for Stand for Alaska, the monied up group that opposed, and slaughtered, Stand for Salmon, got some REALLY nice win bonuses. The salaries of the workers are buried in their APOC reports to other organizations. So I don't know for sure how much, but I will find out and report back.
The Alaska Oil and Gas Association is hiring for an external affairs manager. Call me, maybe? Brandon Brefczynski previously held the job. I guess he was busy with the Dunleavy transition. He previously worked as a legislative staffer. My guess is, like the other loyalists, he got a job with the Dunleavy administration.
Update: It looks like the Dunleavy administration has hired Peter Caltagirone as special advisor to Corri Feige, the Commissioner of the Department of Natural Resources. Caltagirone previously worked for the Alaska Oil and Gas Association as their Regulatory & Legal Affairs Manager.
This Week's Loose Unit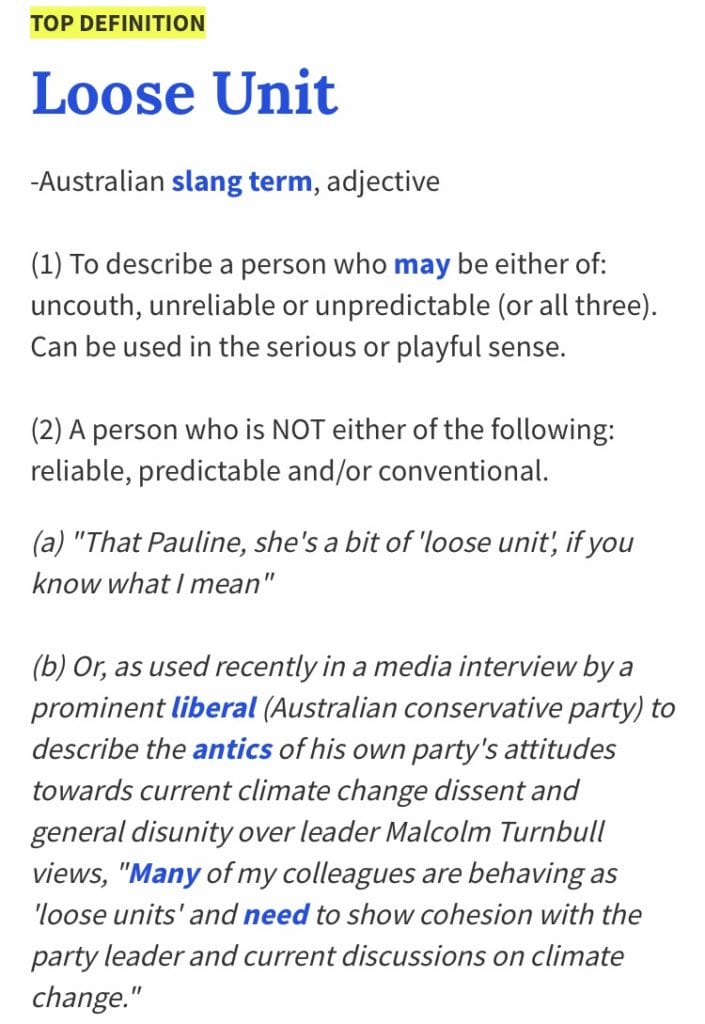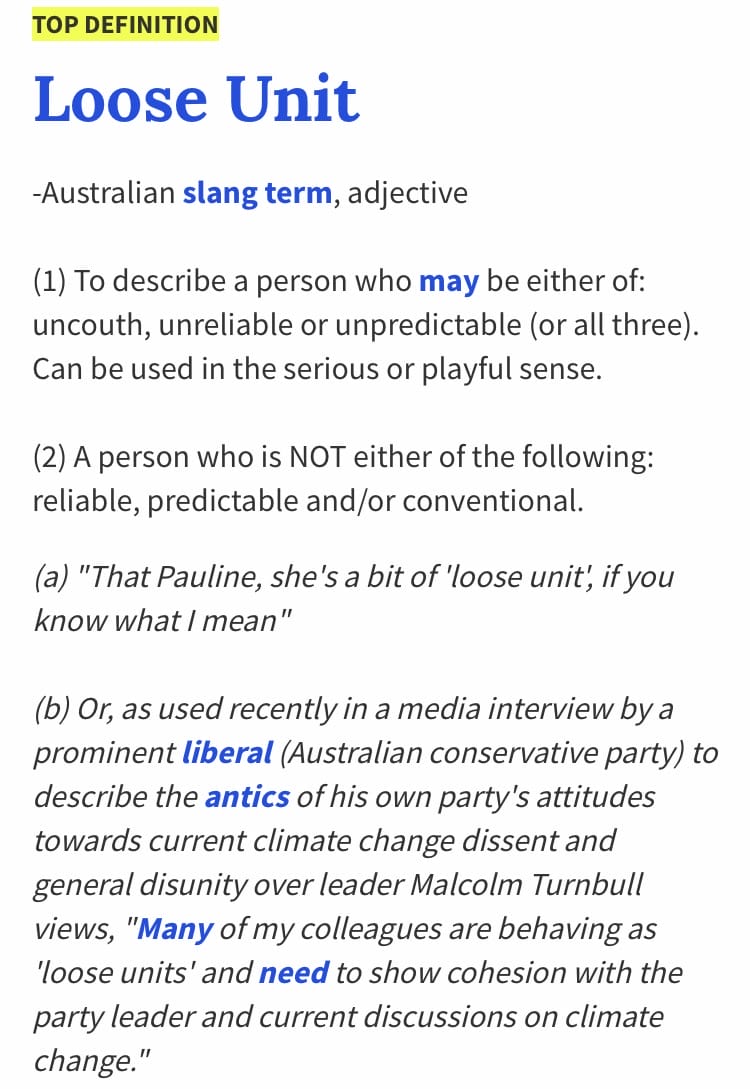 It was a tough call this week. Knopp leaving the Republican majority definitely made him a contender. And many people nominated him. But what he did was not really that loose, it was wise. This week's Loose Unit is Representative-elect (not really anymore) Nancy Dahlstrom. Governor Dunleavy named Dahlstrom his Commissioner for the Department of Corrections this week. This is interesting because Dahlstrom was just elected to serve in the house, again. She previously served in the house from 2003 to 2010. She won a contested three way primary in August. So much for serving the people who elected you. Very loose.
What makes this even looser is this is not the first time she has done this. She quit the house in 2010 to take a job with then Governor Sean Parnell, but had to resign a month later because the appointment was likely unconstitutional. This ADN article explains all of it. So loose.
The fallout from the bizarre appointment has been interesting. On Friday (12/7/2018), the person who currently holds the seat she won, Representative Dan Saddler (R – Eagle River) resigned to take a job with the Dunleavy administration in the Department of Natural Resource. What is really funny about that is his appointment may have the same kind of constitutional problems that the Dahlstrom one had when Parnell appointed her to a job. Saddler's job is technically a new position but it seems they have really just renamed an existing position. The whole thing is just really loose.
Anyhoo, Eagle River Republicans now need to send names to Governor Dunleavy to appoint someone to replace Saddler. But they will have to do it again when the new legislature is sworn in, to replace Dahlstrom. They are moving fast, applicants are due by Monday. Eagle River Republicans are meeting Tuesday to decide which names to send Dunleavy. So far four have applied including Craig Christenson, who ran against Dahlstrom in the primary, and Myranda Walso,  one of Tuckerman Babcock's lieutenants. This whole thing is about to get way looser!
Update: Myranda Walso has withdrawn her name from consideration. This leaves Christenson, Sharon Jackson, and Ken McCarty. If no one else applies, these three names will likely be forwarded to Dunleavy for consideration. However, he does not have to choose from the names sent to him, he can pick any eligible Republican in the district. Is something fishy going on? We will know soon enough.
If you have a nomination for This Week's Loose Unit, or if you have any political news, stories or gossip (or any old pics of politicians or public officials) please email me at jeff@alaskalandmine.com.