2021 is less than a month away. I think it's safe to say we are all happy to put 2020 behind us. This week high amounts of rain caused devastating mudslides in Haines. Ketchikan is under threat of high water levels and a possible dam break, although that threat seems to have ended. All of this while Alaska continues to see record numbers of Covid cases. Let's hope the rest of December is better.
A friendly message and reminder to all our readers, the Landmine is made possible by myself and a team of awesome Alaskans. It takes a lot of work to provide the content we do. If you enjoy the content we provide, please consider making a one time or recurring monthly donation. You can click here to donate. We have a donation system that makes it super easy. We would really appreciate  it. And thanks to everyone who has been supportive!
COVID-19
Saturday saw a record number of Covid cases in Alaska, 933. Today was 756. Anchorage Acting Mayor Austin Quinn-Davidson announced today that she has tested positive for Covid. I wish her a quick recovery.
Amid all of this Andy Kriner sounds like he is still thinking about opening up Kriner's Diner. The mayor's office told me they meet regularly with the hospitality industry, and Tuesday is one of those regular meetings. The worst part about these lockdowns is that the government (all levels) has done a piss-poor job of compensating businesses and working people who have suffered negative economic impacts due to COVID.
Hopefully the vaccine will be readily available to everyone by spring and we can all move on from this pandemic.
Other Happenings
The House or Senate have still not organized majorities. There is talk that the Senate Republicans could form a majority with Senators Lyman Hoffman (D – Bethel) and Donny Olson (D – Golovin) that would not include Senators Mike Shower (R – Wasilla), Shelley Hughes (R – Palmer), and Lora Reinbold (R – Eagle River). If that happened there would be 12 in the majority, plus any of the remaining five Democrats who might join. The deadline for Governor Mike Dunleavy (R – Alaska) to release his proposed budget is December 15. That will likely impact organization in both bodies.
A source reported that Senator Olson let his staff go this week, that includes his sister-in-law. Maybe he is gearing up for that Republican majority!
KINY reporter Greg Knight is going to work in the legislature. He starts tomorrow working for Representative Sarah Vance (R – Homer). Congrats, Greg! Of all 60 legislators, Vance is surely one of the most interesting to work for.
Now that Knight is leaving KINY, they are looking for a new reporter. "KINY News of the North looking for a solid news reporter for their SE Alaska markets. Background in broadcast a plus but not required. Apply at KINYradio.com or reach out to SE Alaska market manager Cherie Curry."
A recount of the District 27 House race this week did not change much. Representative Lance Pruitt (R – Anchorage) picked up one vote and Democrat Liz Snyder lost one vote. There were 17 write-in votes… Joe Biden beat Donald Trump in District 27 by 520 votes. And Alyse Galvin beat Congressman Don Young (R – Alaska) by 524 votes. It's incredible Snyder only won by 11 votes, especially considering how much money she raised and the third party groups supporting her.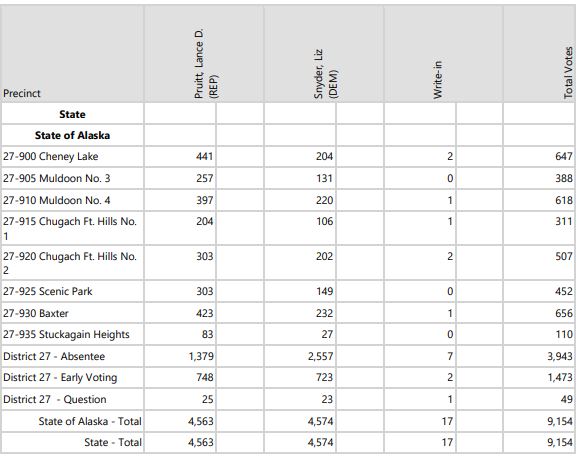 Eric Croft announced this week that he is dropping out of the Anchorage mayoral race. Some politicos speculate he might run for governor in 2022.
Anchorage mayoral candidate Dave Bronson held a fundraiser this week in Anchorage. The crowd did not seem to worried about Covid. Bronson stated that he and his family have had Covid so he's "good to go."
The FBI has reached out to several legislators, both in the House and Senate, requesting interviews. Looks like they have gone fully overt! I have a feeling my story this week had something to do with that.
The Air Force announced the six finalists for the US Space Command Headquarters. Anchorage did not make the list. This summer Governor Dunleavy and then-Anchorage Mayor Ethan Berkowitz expressed interest in Anchorage being the headquarters. This would have been great for Anchorage. We also make great geographic sense. Too bad.
The woke media seems to have moved on from writing about Dave Stieren's Facebook posts. Was what Dave wrote about going to bars before the shutdown very loose and unwise? Yes. Did it warrant an ADN expose? No. Even Newsweek covered it! Keep in mind, what Stieren suggested people do, while not the wisest thing, was allowed at the time he wrote and suggested it.
The Alaska Black Caucus is hosting a Zoom meeting tonight about equity in education. Check out all those white people! Even the cartoon kids are all white. Gotta love that diversity.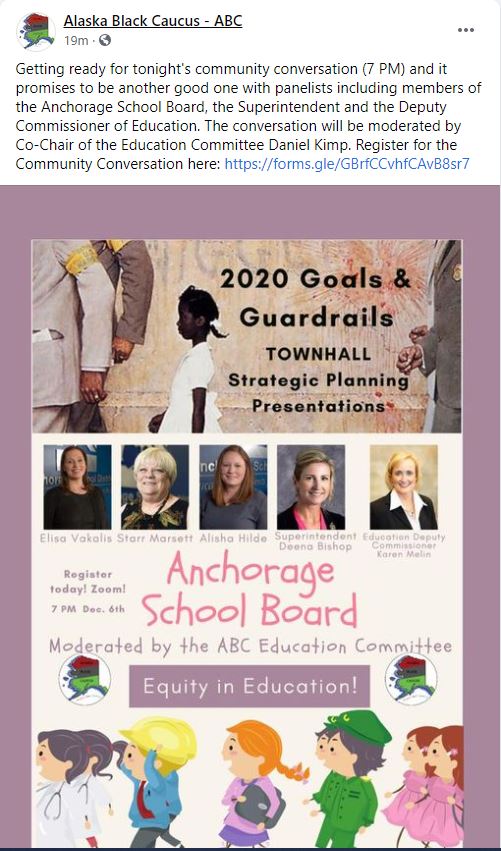 If you have never been in a sensory deprivation tank or salt water float tank, I'm here to tell you it is pretty amazing. Yesterday I went to Float49, a new business in Anchorage. Sondra Tompkins, the owner, put together an amazing business. It's like a spa. I did an hour in the tank. I was skeptical at first but after an hour in there I felt incredible. It's like your brain just totally shuts down but you are still awake. You float in the thing totally naked! There is so much dam salt in the water you could not sink if you wanted to. At first the pitch black was unnerving but after a few minutes it was fine. There are also lights you can turn on if you choose. Here is her website. With all the stress from Covid it's worth unplugging for an hour.
This Week's Loose Unit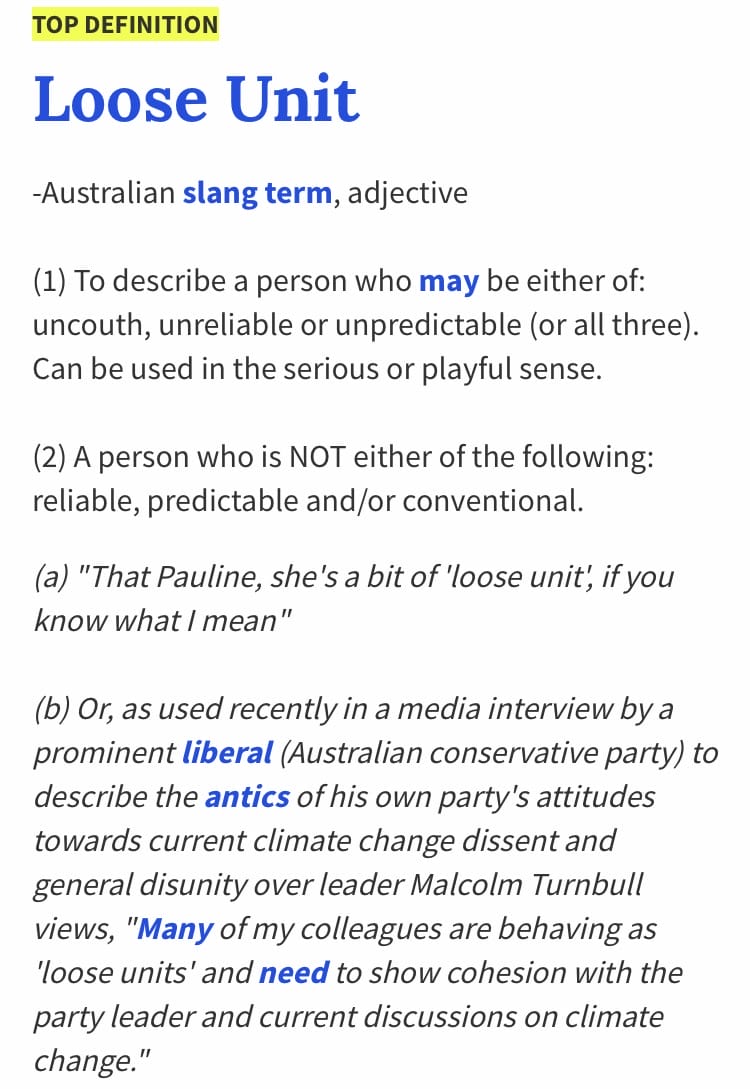 While there were many candidates this week, this week's Loose Unit became clear on Friday. Up until that point Dave Stieren was in the lead. This week's Loose Unit is a three-way tie between Dana Pruhs, Anna MacKinnon, and Bernie Karl. All three sit on the AIDEA board. And all three either received CARES Act grants or a family member did right before the program was oversubscribed. What great timing! An article I published on Friday tells the whole story. MacKinnon's brother-in-law got $100,000 for his laundry business in Juneau. Her husband John is a part owner. MacKinnon earns $135,000/year from the state, and her husband Commissioner John MacKinnon earns $141,000/year. A cool $276,000 a year. How nice. Pruhs, the AIDEA board chair, got $90,630 for his businesses Icy Strait Aviation and Quality Sand & Gravel. Maybe some of it went to service his private Falcon jet. The maintenance on those things is killer. And Karl got $100,000 for his business Chena Power. All three of those applications were submitted within a two day period from August 31 to September 2. Right before the state said it was unlikely future applications would be approved. I'm sure it was just a big coincidence. Super loose. These three millionaires are exactly the kind of people who need this money. Working stiffs affected by Covid would just waste it anyways. Talk about loose, with some impropriety to boot.
If you have a nomination for this week's Loose Unit, or if you have any political news, stories or gossip (or any old pics of politicians or public officials) please email me at jeff@alaskalandmine.com.