A records request sent to the Alaska Industrial Development Export Authority (AIDEA) revealed that businesses associated with three board members and one employee received over $400,000 in CARES Act grants. AIDEA has seven board members. AIDEA board member and chair Dana Pruhs received $90,630 for Icy Strait Aviation and Quality Sand & Gravel. AIDEA board member Bernie Karl received $100,000 for Chena Power. AIDEA board member and former State Senator Anna MacKinnon's brother-in-law Neil MacKinnon received $100,000 for Alaska Laundry. And AIDEA Commercial Loan Officer Leona Hakala's husband Steve Hakala received $114,069 for Canoe Bay Outfitters and Commercial Fishing.

All of the applications were submitted between August 27 and September 2. The applications associated with the three board members (Anna MacKinnon, Bernie Karl, Dana Pruhs) were submitted within a two day period from August 31 to September 2. According to the Alaska Department of Commerce, Community, and Economic Development website, anyone who applied on or after September 2 after the program was oversubscribed should "be aware that there is a high likelihood your application may not be funded." Applications were closed on September 15 after more than $100 million in excess of the $290 million allocated had been requested.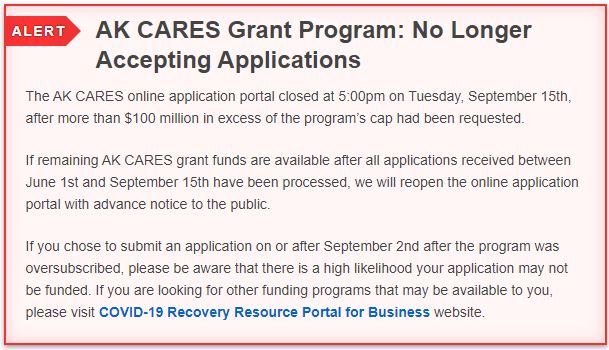 In May the AIDEA board unanimously passed a resolution that created AK CARES Funding Program. This was funded from the $1.25 billion in CARES Act money Alaska received from the federal government. According to their press release the program was created "to support small Alaska businesses that have been impacted by the COVID-19 pandemic. This program is in partnership with the Alaska Department of Commerce, Community, and Economic Development (DCCED), and Credit Union 1." The press release also included:
We recognize the serious harm that has come to Alaska's small businesses as a result of the COVID-19 economic crisis," said AIDEA Board Chairman Dana Pruhs. "With direction from DCCED and partnership with Credit Union 1 in this critically important effort, we are committed to helping bring relief to businesses throughout the state.
It concluded with, "The Alaska Industrial Development and Export Authority is a public corporation of the state. AIDEA's purpose is to promote, develop and advance the general prosperity and economic welfare of the people of Alaska."
A business license search showed the following breakdown in ownership for the businesses who received grants.
Alaska Laundry ($100,000)
Alaska Laundry has several shareholders. Neil MacKinnon is the president. John MacKinnon, who owns 23.2% of the business, is Neil's brother and the husband of Anna MacKinnon. John MacKinnon is also the current Commissioner of the Department of Transportation and Public Facilities.

Chena Power ($100,000)
Chena Power is 100% owned by Chena Holdings, Inc. Bernie Karl is the agent, director, president and treasurer of Chena Holdings.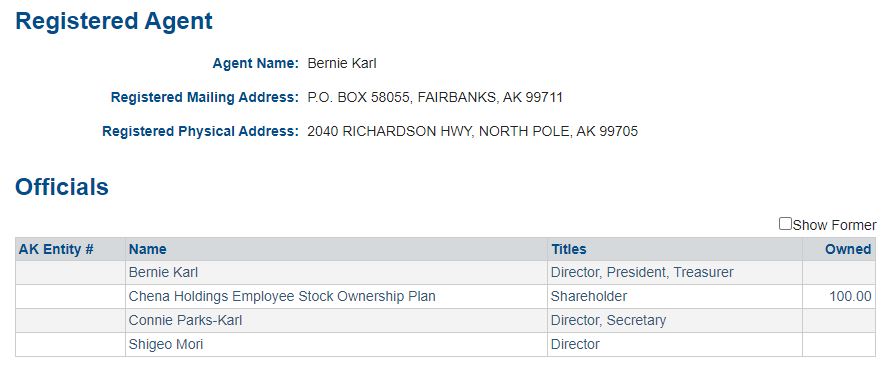 Icy Strait Aviation ($11,375)
Icy Strait Aviation is 100% owned by Meridian Investments, which Dana Pruhs owns 100% of.

Quality Sand & Gravel ($79,255)
Quality Sand & Gravel is 100% owned by Dana Pruhs.

Canoe Bay Outfitters ($81.723)
Canoe Bay Outfitters is 50% owned by Steve Hakala, husband of AIDEA employee Leona Hakala. Leona Hakala is listed as the business's agent.

Commercial Fishing $32,346)
I assume this was a for a commercial fishing permit.
An interesting legal question would be: Does Alaska Statute 39.52.150., Improper Influence in state grants, contracts, leases, or loans apply to these grants? In May the AIDEA board voted to create the AK Cares Funding Program and then, months later, board members applied for grants.