Hanukkah started today and Christmas is just three days away! It will be 2020 before we know it. I hope everyone is enjoying the holiday season with friends and family. The start of the next legislative session is less than a month away. I think we can all agree it's going to be very loose.
A friendly message and reminder to all our readers, the Landmine is made possible by myself and a team of awesome Alaskans. It takes a lot of work to provide the content we do. If you enjoy the content we provide, please consider making a one time or recurring monthly donation. You can click here to donate. We have a new donation system setup that makes it super easy. We would really appreciate it. And thanks to everyone who has been supportive!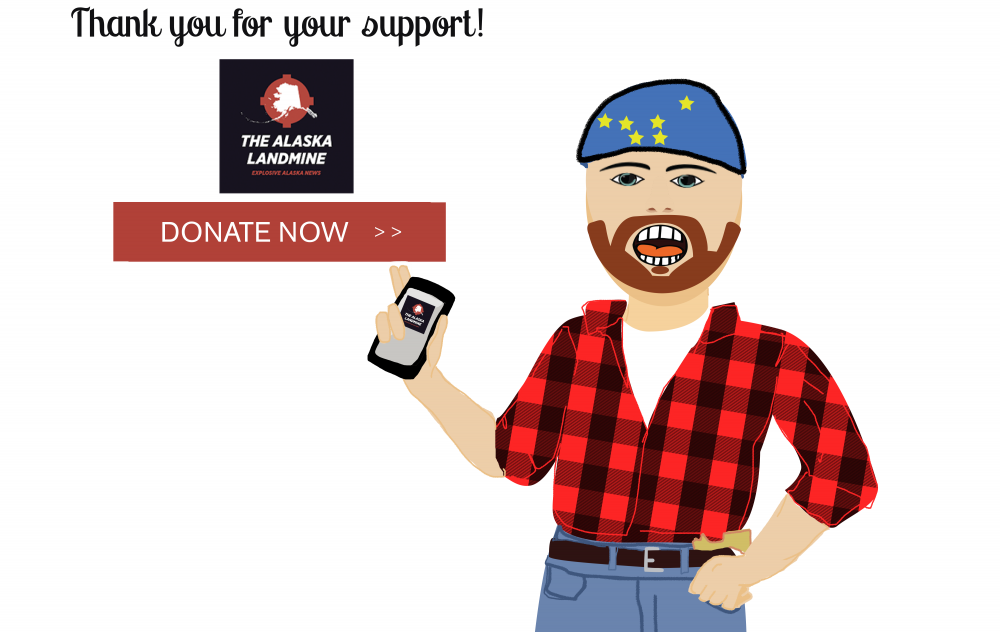 Advertisement. For information about purchasing ads, please click here.
The Roast of Jeff Landfield
I want to thank everyone who came to the roast last night and supported me. My 35th birthday could not have gone better. If you missed it just use your imagination for the type of content that would be at a roast of me. I would like to thank Sabrena Combs for being roastmaster emcee, as well as Allison Hovanec, Lee Baxter, Andrew Jensen, and Bryce Coryell for being the roasters. I would also like to thank Scott Jensen and Carolyn Hall for being so helpful with all of the technical stuff. And a big shout out to Assemblymember Christopher Constant for presenting me with this awesome gift and trophy – the Golden Landmine. It's an actual landmine! Decommissioned of course. This landmine was actually used to teach people how to disable landmines. The roast was a huge success. Thanks again to everyone who helped make it possible and everyone who attended.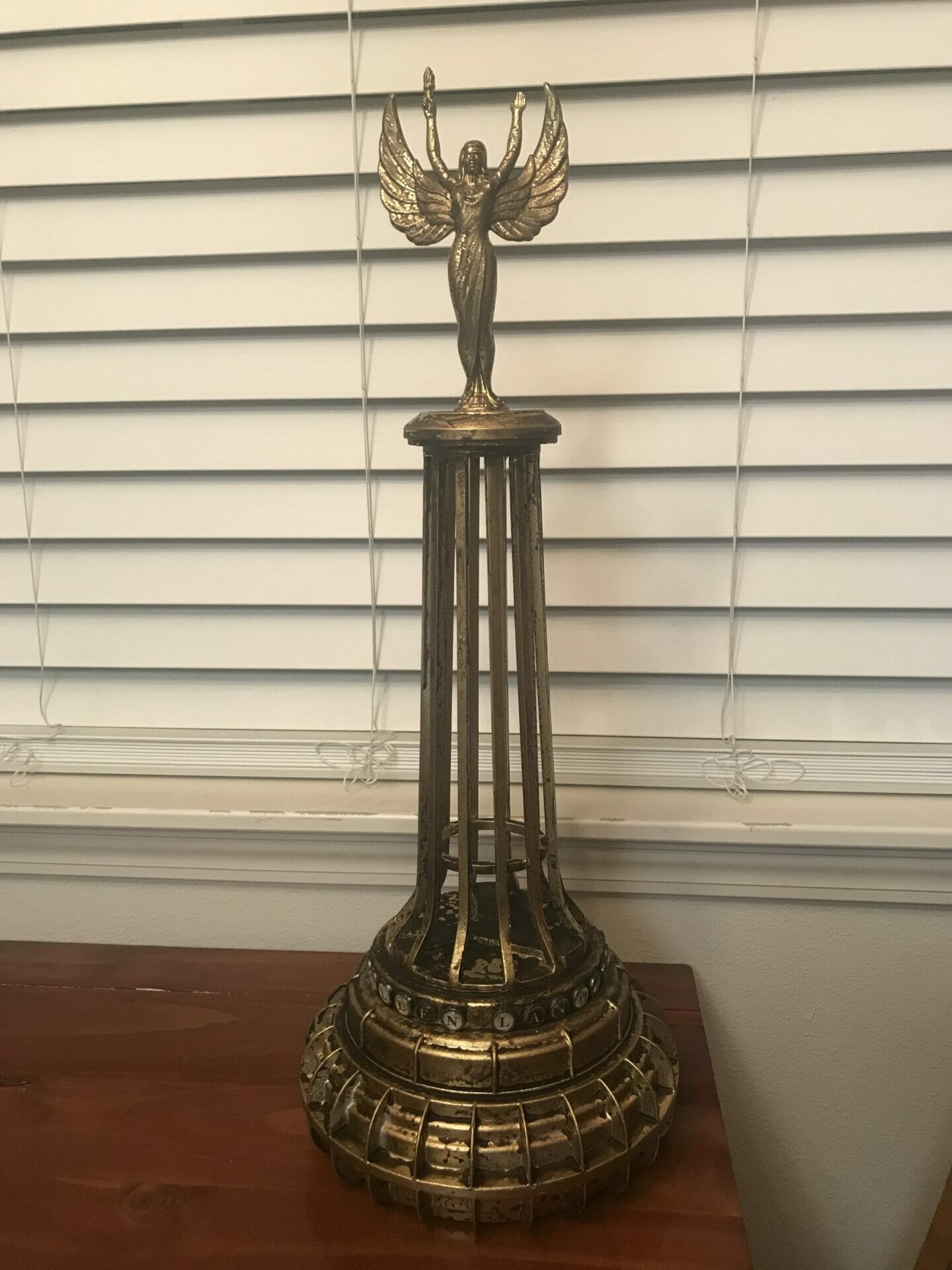 The sculpture was made by Anchorage artist Sheila Wyne.
Dunleavy back in D.C. 
Governor Mike Dunleavy (R – Alaska) spent the week in D.C. He spoke at an event the conservative Heritage Foundation put on. You can watch it here. Matt Buxton wrote a good summary on the Midnight Sun about it. Many wondered how Dunleavy had so much more time to talk about the budget in D.C. than he did to Alaskans during a press conference about the budget. Dunleavy and Education Commissioner Michael Johnson also met with Education Secretary Betsy DeVos.
Today Alaska Education Commissioner Michael Johnson and I met with @BetsyDeVosED about how we can partner with her to improve reading, increase charter schools, and compact with tribal entities in rural Alaska. pic.twitter.com/yc7XZr886h

— Governor Mike Dunleavy (@GovDunleavy) December 16, 2019
Other Happenings
President Donald Trump endorsed Senator Dan Sullivan (R – Alaska) this week on Twitter. It is a Complete and Total Endorsement!
Senator Dan Sullivan is doing a great job for the people of Alaska while supporting our #MAGA Agenda. He fights hard everyday to support our Veterans and the Military. Dan is Strong on the #2A and is 100% pro-jobs. I give Dan Sullivan my Complete and Total Endorsement!

— Donald J. Trump (@realDonaldTrump) December 17, 2019
Senator Sullivan released this statement after Trump's endorsement:
Senator Sullivan, President Trump and his administration have been working together to advance numerous critical priorities for Alaska, including approval of the King Cove road, rebuilding our Alaska-based military and Coast Guard, cleaning up our oceans, increasing access to federal lands, opening ANWR, combating domestic violence and sexual assault through increased resources for victims, and historic investments to public safety in rural Alaska. Senator Sullivan welcomes the President's endorsement and thanks him and his administration for their ongoing work with the Congress to make Alaska a stronger, more prosperous and resilient state.
I'm sad to report that Akis Gialopsos has decided to leave his role as Chief of Staff to Senate President Cathy Giessel (R – Anchorage). Akis has been a legislative staffer for more than seven years. He is one of the most knowledgeable and respected staffers in Juneau. Akis' family owns the popular Anchorage restaurant Little Italy. His father passed away earlier this year, leaving his mother to run the restaurant by herself. Akis felt it is better for him to focus on his family and family business. He will be missed by many in Juneau.
The Alaska Republican Party had some domain issues this week. They finally updated their Twitter account with the new web address. I had nothing to do with this one. Love the new .net address lol.
University of Alaska President Jim Johnsen was one of the people listed in this article, "People of the year: who mattered in higher education in 2019." It focuses on the cuts to the University and how Johnsen fought back to reduce the total cuts.
The U.S. Supreme Court has denied review of the 9th Circuit Court's Martin v. Boise decision, meaning that the 9th Circuit's decision in Martin is controlling precedent for states within the Circuit – which includes Alaska. The Martin decision held that the Eighth Amendment prohibited Boise from criminally punishing bona fide homeless individuals for camping on public property. This LA Times article, "Supreme Court decision on homeless case is a blow to cities wanting more policing powers" goes into more detail about it.
Shea Siegert will be leaving his job as a staffer to Representative Gary Knopp (R – Kenai) in January to be the campaign manager for Alaskans for Better Elections. Congrats, Shea! Alaskans for Better Elections is a ballot initiative that would remove dark money from Alaska elections, open primaries to all voters, and institute ranked choice voting.
Andree McLeod has a really unhealthy obsession with the name Alaska Stalker. This has been going on for months. She's definitely an expert on stalking, just ask Sarah Palin. She should familiarize herself with the multiple meanings of the word stalking, and the term Facebook stalking. As someone who actually stalked Sarah Palin, she should really consider some self reflection.
This Week's Loose Unit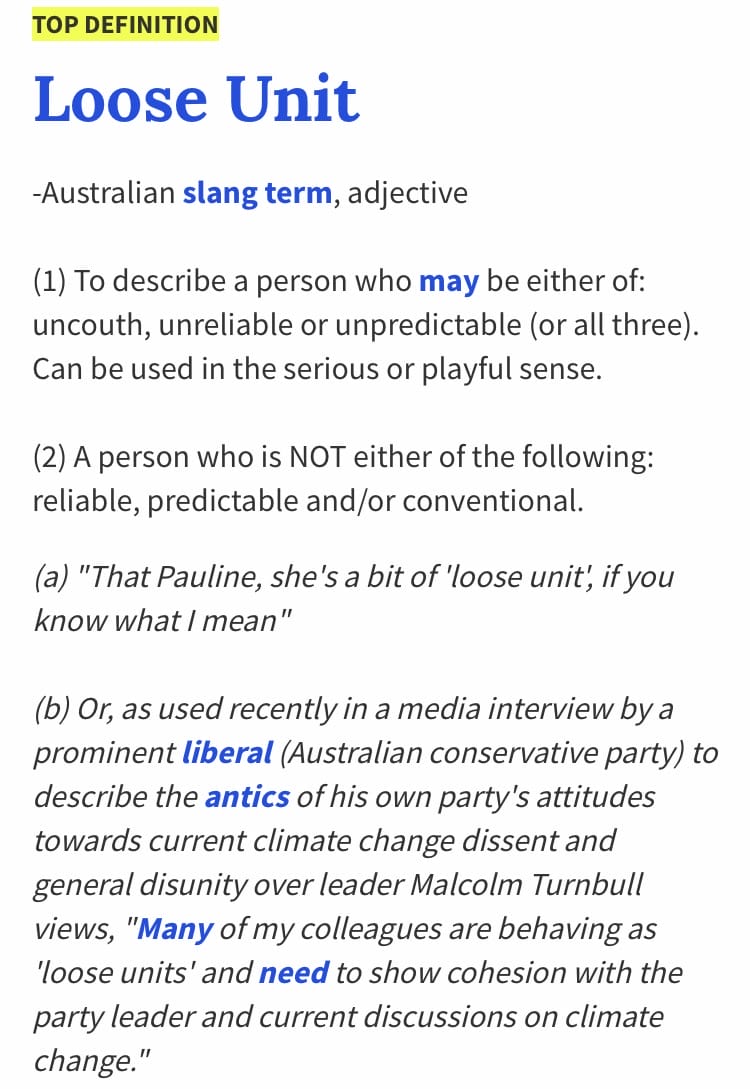 This week's Loose Unit is another no brainer. This week's Loose Unit is Commissioner Kelly Tshibaka (Chewie). She was actually the Loose Unit a month ago too! If you were paying any attention to the news this week you heard about Tshibaka's appeal to Alaskans to donate money to the DMV to assist with getting Real IDs to rural Alaskans. Let me repeat that, Tshibaka actually asked people to DONATE money to the DMV. Talk about loose! KTUU reporter Sean Maguire was the first person to report on it. Tshibaka made the announcement at a press conference.
This is super loose! When you are thinking about who to give to his holiday season think about some great non-profits, or the State of Alaska… #akleg https://t.co/U7FF1BrSMW

— The Alaska Landmine (@alaskalandmine) December 17, 2019
The comments on Maguire's tweet are awesome. Even the ADN wrote an editorial about how ridiculous this is. It was appropriately titled "GoFundMe government is no way to run a state." When I first heard this I thought it was a joke. I actually once thought about writing a Landfill satire article about doing the State running a GoFundMe for different state services. I really wish I would have done it. Talk about loose!
One more thing, it's so awesome and appropriate that Sean Maguire – who is Australian – is included in this week's Loose Unit.
If you have a nomination for this week's Loose Unit, or if you have any political news, stories or gossip (or any old pics of politicians or public officials) please email me at [email protected]