It's been another eventful week in Alaska politics. The Legislature passed some key legislation that included funding for the capital budget and a $1,600 PFD. Governor Mike Dunleavy (R – Alaska) announced a shake up for his senior staff. And a major effort to recall Dunleavy kicked off this week.
A friendly message and reminder to all our readers, the Landmine is made possible by myself and a team of awesome Alaskans. It takes a lot of work to provide the content we do. If you enjoy the content we provide, please consider making a one time or recurring monthly donation. You can click here to donate (or on the image below) via PayPal. We would really appreciate it. And thanks to everyone who has been supportive!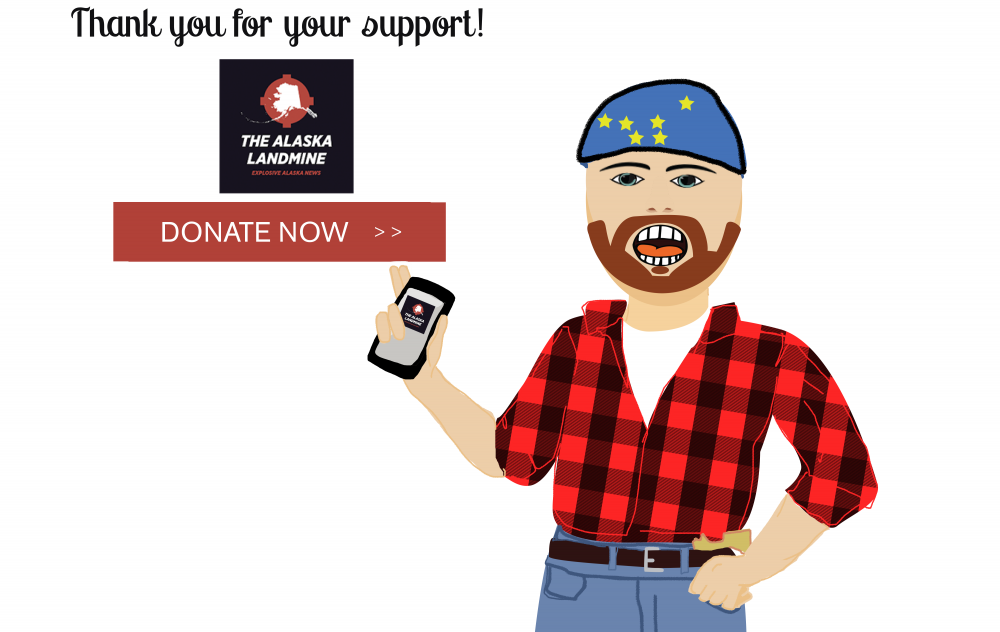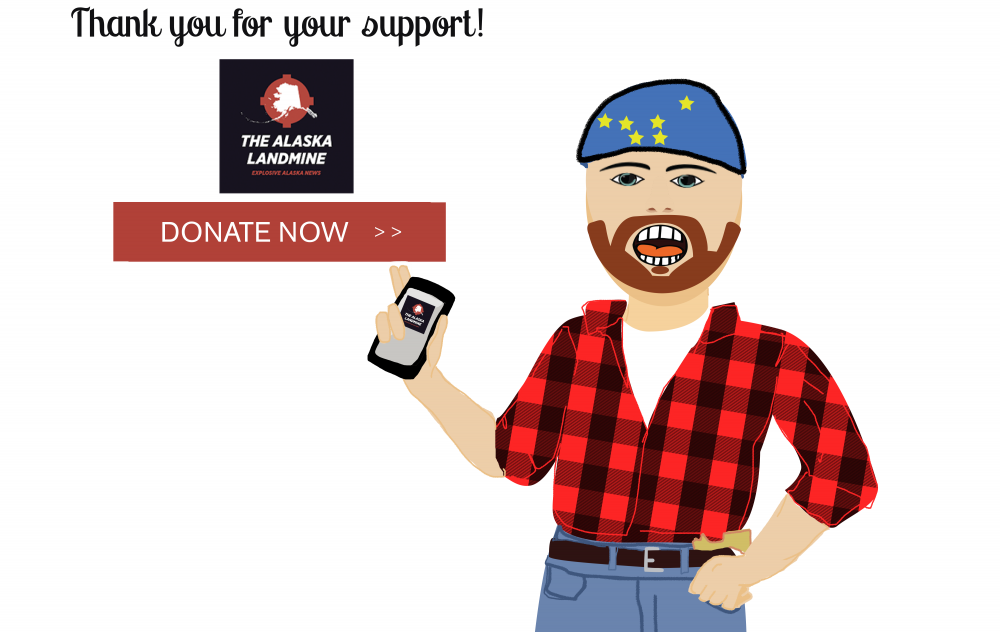 The Legislature
The House and Senate passed two important bills this week. The first, SB 2002, funds the capital budget, the new crime bill, and reverses the sweep of accounts like Power Cost Equalization, the Performance Scholarship, and vaccine program. It had previously passed the Senate 19-0 but could not get the required 3/4 vote in the House. On Monday ( 7/29/2019) the House rescinded their previous action on the vote and voted again. They were able to muster the 30 votes and the bill passed. Governor Dunleavy has indicated he will not veto the reverse sweep or funding for the capital budget. This is the statement he issued:
While months overdue, today's action represents an important step in the Legislature bringing this gridlock to an end," said Governor Dunleavy. "My team and I will be thoroughly reviewing the details of this bill, but believe it represents significant progress in moving Alaska forward, particularly for items like the Alaska Performance Scholarship, WWAMI, PCE, and efforts to capture more than $1 billion in federal transportation and infrastructure dollars – critical to keeping our economy growing and our communities moving. Somewhat lost in the political theater, this package also provides critical funding to implement HB 49, legislation that provides Alaska the tools and resources to improve public safety. While sentencing is one important aspect in addressing Alaska's public safety crisis, supporting our law enforcement agencies with the resources they need to do their job is a cornerstone of this administration. While I intend to sign SB2002, I will exercise my line-item veto authority where necessary.
The second bill was HB 2001. This restores about 75% of Dunleavy's vetoes and funds a $1,600 PFD. The process to pass this bill was pretty nuts. The House passed it as just a bill to restore the vetoes. They passed a separate bill to fund a $1,600 PFD. Both went to the Senate, where the Senate Finance Committee combined both things into HB 2001. They also passed an amendment 5-4 for a $3,000 PFD. It then went to the Senate floor, where things got real loose (See this week's Loose Unit). An amendment was introduced on the Senate floor to put the PFD back at $1,600. It passed 11-9. After a lot of debate, the bill passed 17-1. Senator Lora Reinbold (R – Eagle River) was the sole 'no' vote. Well, kind of. Senator Peter Micciche (R – Soldotna) also voted 'no' but then changed his vote to 'yes' during reconsideration. Because of the binding caucus rule he didn't want to get booted from the Majority but still wanted to say he voted no. Classic Micciche lol. After the vote, during special orders, he gave a long speech about his vote. It included a bizarre analogy about his marriage and bonding with other senators. Weird.
Dunleavy has indicated he will veto the money the Legislature funded to restore most of his vetoes. If so, the question is will the Legislature have the required 45 votes to override him? That's tough to answer. At least they will all be meeting in the same place if that vote happens. He has not been as clear on the PFD. Will he veto, call the Legislature back, and demand a full PFD? Will he sign it and require they pass another $1,400 PFD? Or will they make some kind of deal about a formula change? Your guess is as good as mine. One thing is clear – the Legislature does not support a $3,000 PFD.
As soon as the bills passed, most of the legislators darted to the airport. The Legislature did not adjourn after they passed these bills. So, they are technically still in the second special session. However, the 30 day second special session ends in two days on August 6. My bet is there will be another special session before the end of the year.
Here is a letter that Speaker Bryce Edgmon (I – Dillingham) and Senate President Cathy Giessel (R – Anchorage) sent to Governor Dunleavy requesting another special session this year to get the PFD issue resolved once and for all.
Other Happenings
Governor Dunleavy announced this week that Ben Stevens would be taking over as chief of staff and Tuckerman Babcock would become a senior policy advisor for strategic affairs. Babcock said it was his idea. Sure it was… The choice of Stevens to be the new chief of staff has really triggered folks on the left. Here is an article I wrote about the situation:
Is Ben Stevens the right man for the job?
The Recall Dunleavy group kicked off this week with events all over the State. They said they collected 10,000 signatures the first day. They need over 28,000 to be able to submit the recall petition. Then, if it is approved, they will need to collect over 70,000 for a recall vote to happen. The Anchorage event at Cuddy Park had a few hundred people show up. Pretty sure everyone in attendance did not vote for Mike Dunleavy. Representatives Ivy Spohnholz (D – Anchorage) and Harriet Drummond (D – Anchorage) actually spoke at the event, as well as Vic Fischer. Not sure how I feel about legislators actively speaking at a recall event of a governor. I hope they don't ever need anything from Big Mike. Also in attendance, but did not speak, were Representative Zack Fields (D – Anchorage), Assemblymembers Christopher Constant and Forrest Dunbar, and union boss Vince Beltrami.
Here is a statement from the House Majority I requested about the recall:
A few members of the House Majority are exercising their First Amendment rights and publicly supporting the recall effort as thousands of other Alaskans are doing, but the caucus has no official position and no intention of weighing in as an organization.
Sources report that during some kind of business meeting Mark Begich was asked if he was going to support the recall. He said no, and indicated he thought it was a bad idea, which surprised the people who heard it. When they asked why he said well if Dunleavy keeps messing up so much I can be governor in three years. Savage.
Update: Mark Begich contacted me and said he's skeptical of the recall. He says he wishes that people would spend that same energy on legislative races because then there could be veto proof majorities. But he says he has not said anything about it being related to him running.
The ferry strike finally came to an end this week. The Inlandboatman's Union and the State came to an agreement on their contract. The strike caused travel disruption for thousands of ferry passengers. Millions of dollars were refunded. Hopefully this does not need to happen again.
Rumor has it Terre Gales is considering challenging Representative David Eastman (R – Wasilla) in the Republican primary next year. Gales and his family moved to the Valley last year. Randall Kowalke has also indicated he will run. Could be a three-way primary!
Senator Dan Sullivan (R – Alaska) held a fundraiser on Friday (8/2/2019) night at a home in Ketchikan. I'm told about 50 very high level Ketchikan people were in attendance. I was not invited.
BP lobbyist John Boyle is no longer BP lobbyist John Boyle. He's no longer working there. Word is he may be going to Oil Search. They have been scooping up a lot of people over the past year. Not sure Boyle will fully embrace that Aussie culture.
Here's something kind of weird. According to Donna Arduin's financial disclosure, her listed name is Donna Kauranen, not Arduin. What's that all about?
There is something going on at the Denali Commission. I got a tip that the Department of Justice had raided their offices in Anchorage. I could not confirm so I called them to ask. I had a very bizarre conversation with someone over there who would not confirm or deny anything. He also asked me the names of the people who had told me about it, which I did not provide. If anyone has any information about this, please get a hold of me.
A friend recently sent me a post from the Anchorage Chamber of Commerce soliciting speakers for their Make it Monday lunch. She encourage me to apply to be a speaker. I applied with the title of my talk being "What it's really like in Juneau." I got the below email this week. I guess the Anchorage Chamber is not ready for my high energy! Having attended a lot of Make it Monday's, they could definitely use some more energetic speakers.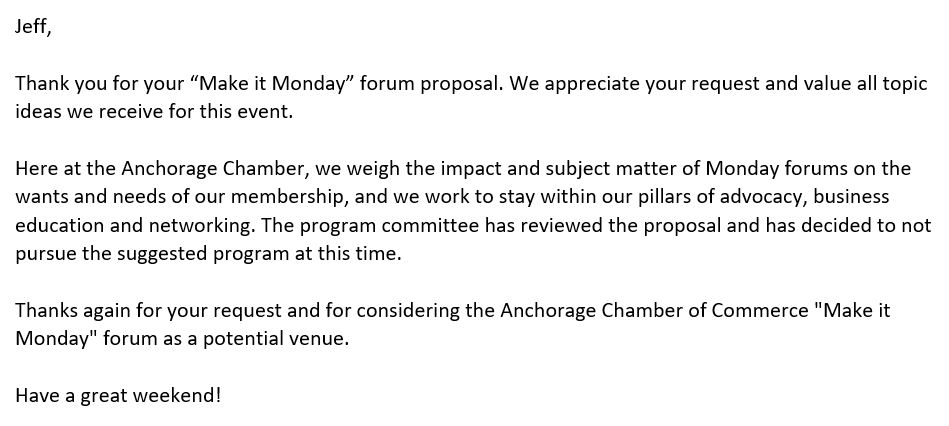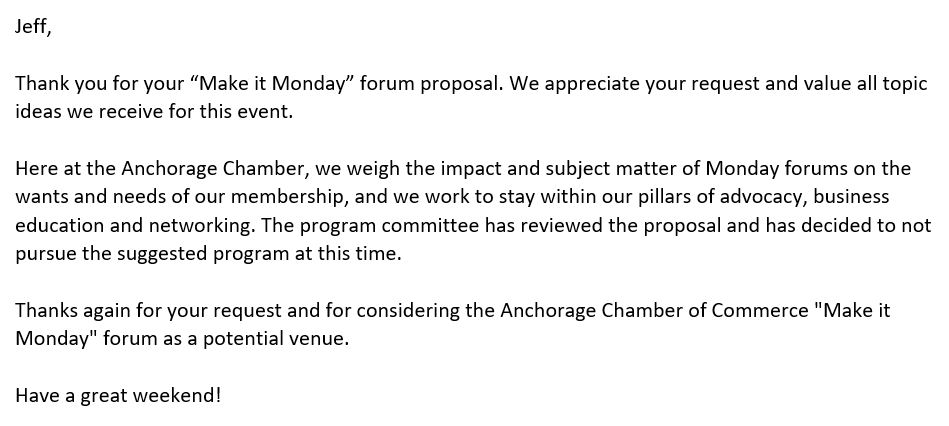 Good find from Casey Grove. Read the entire thread.
One of Governor Dunleavy's Facebook pages, Restore the PFD, shared a Must Read Alaska poll about the PFD and vetoes. Super reliable lol.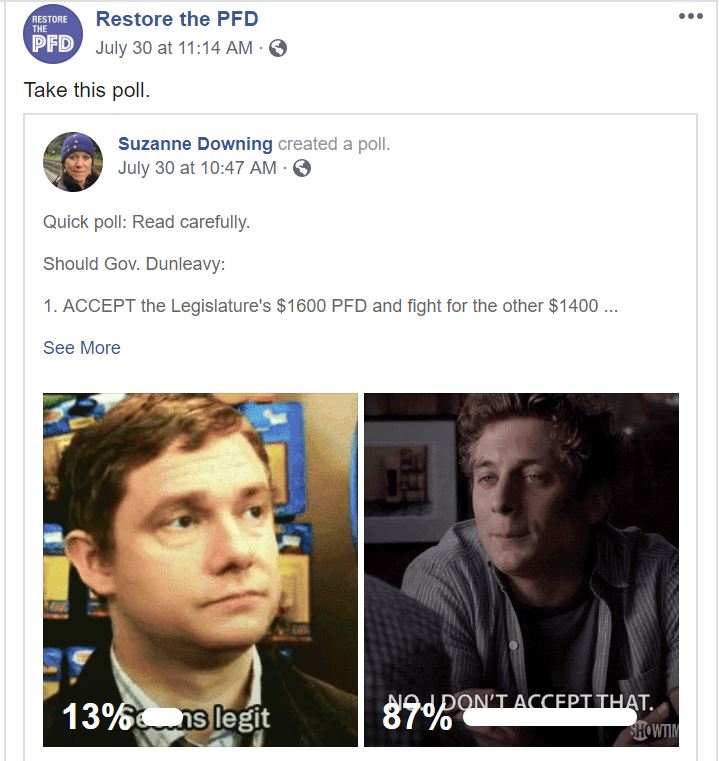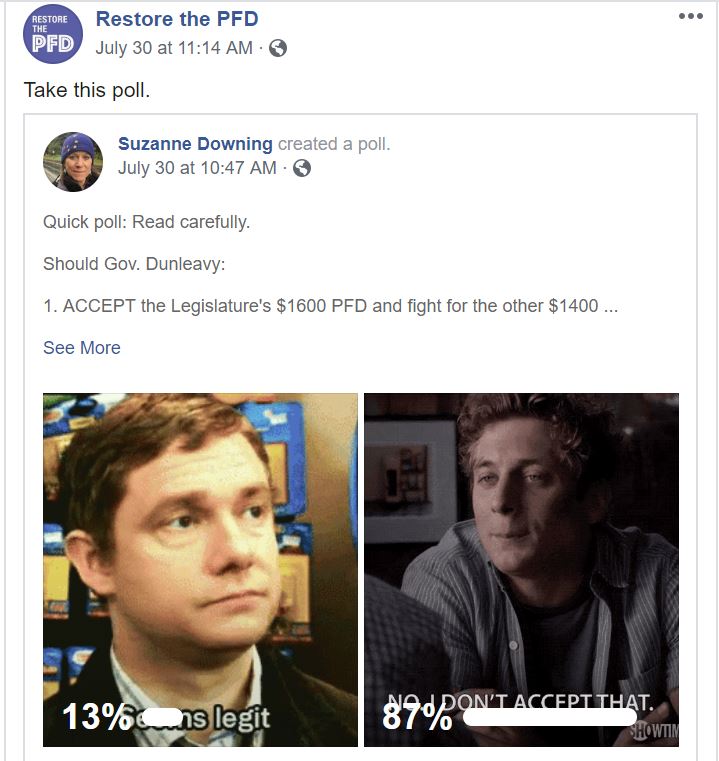 I'm sure you saw the super awkward "interview" of Governor Dunleavy by an eager and curious student. If you have not seen it, you can watch it here. It quickly came to light that the student in the video is in fact the son of Commissioner Kelly Tshibaka and her husband, the Congolese Prince, Niki Tshibaka. Both work for the State of Alaska and pull in over $250k combined. The fact he is their son was never disclosed in the video. Only that he reached out to Dunleavy and was surprised he agree to be interviewed! I wonder whose genius idea this was?
This Week's Loose Unit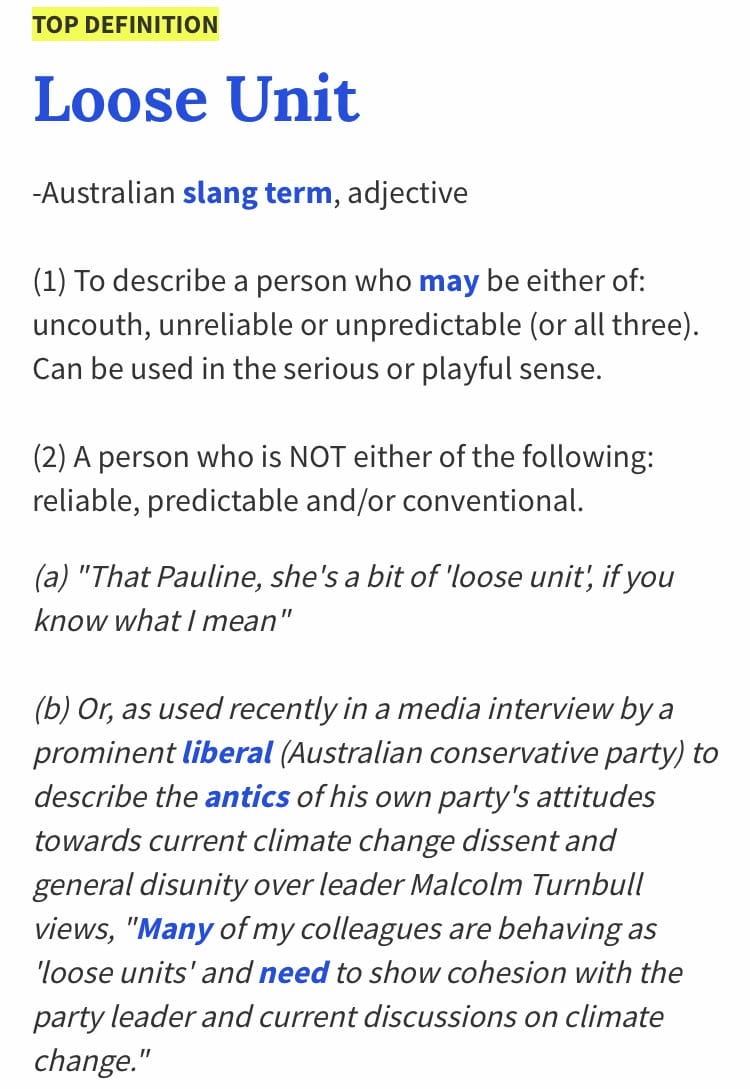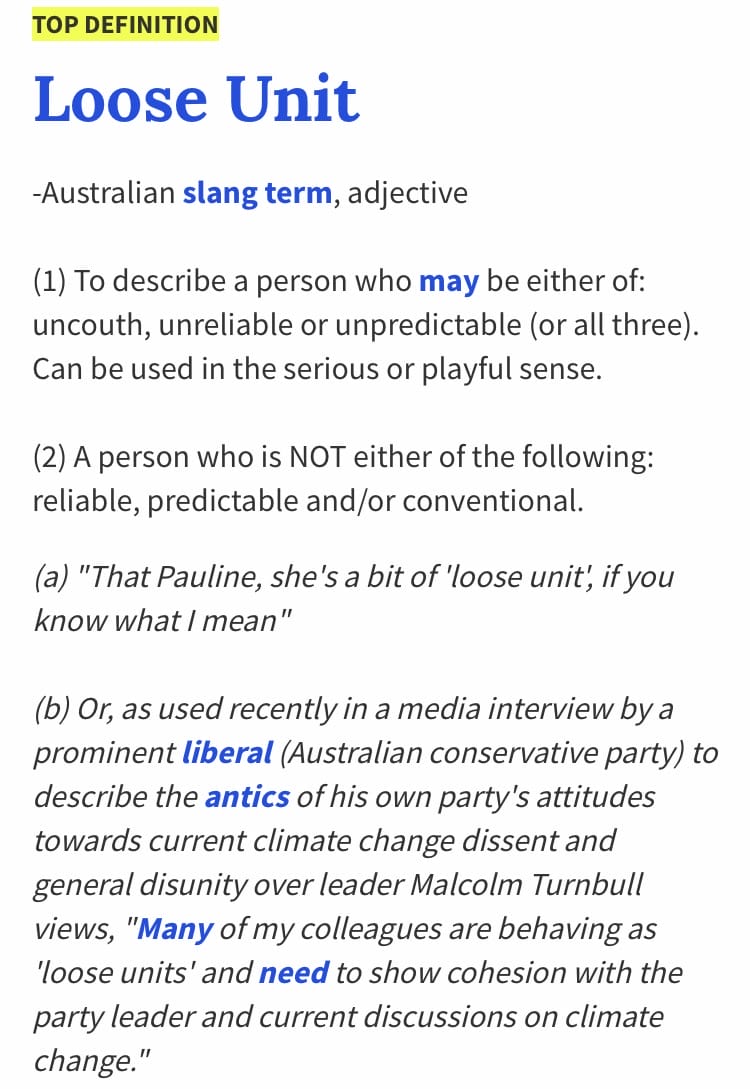 I love when the weekly designee is clear early in the week. This week was one of those weeks. The Loose Unit became extremely clear on Monday. This week's Loose Unit is a tie between Senators Mike Shower (R – Wasilla) and Shelley Hughes (R – Palmer). When the Senate came back to the floor to hear HB 2001, Shower and Hughes were nowhere to be seen, even though they were in the building. Sources reported hearing yelling between them and Senator Micciche in his office before the floor session began. I was there covering what was happening and was curious what was up. Some soon realized that there was the possibility their plan might be to not show up and be listed as absent. Then someone would have placed a call, stopping everything until they turned up or the troopers brought them back. That ended up not being an option because Senator Lyman Hoffman (D – Bethel) asked that they be shown as excused.
Everyone was wondering where they were. During the amendments, someone came in the gallery and told me Shower and Hughes had arrived! I went to see. They were in the area between the doors that lead into the Senate so I could not see them well. They eventually sat in their seats. They stayed to vote against the amendment to lower the PFD from $3,000 to $1,600. That passed 11-9. They hung around for a bit longer then left again! They were again shown as excused. Now it was getting very loose! I was told they were spotted leaving the building carrying suitcases. LOOSE! I was also told they may be at Heritage Coffee, so I ran down to check. This was in the middle of final debate on the bill. I arrived at Heritage, out of breath and on a mission to find the senators literally on the loose. The multiple tourists in the coffee shop seemed very interested in what I was searching for. I had my phone out ready to go live. I did not find them. I ran back up the hill, checking another coffee shop and a few restaurants. I was not able to locate the targets. At that point I thought it was likely I was sent on a wild goose chase, to the amusement of who told me where they were.
I got back to the Capitol, sweating and out of breath. When debate was finally over and the vote happened, Shower and Hughes were not there. So loose. Senator Reinbold, whose tactics and approach I rarely agree with, at least had the guts to show up and press the no button. Micciche did too, but then switched to yes. Also very loose.
Since this very loose display, Shower and Hughes have come out and said they were in a no-win situation. If they voted 'yes' they were voting for a smaller PFD. If they voted 'no' they would be kicked out of the caucus. So they went full Loose Unit and just didn't vote. There is loose, and then there is senators bailing from the Capitol with suitcases before a vote loose.
And there is even a bonus to all of this. When I got to the airport to fly back to Anchorage on Tuesday night, I saw several legislators. When I was in line I was next to Representatives Colleen Sullivan-Leonard (R – Wasilla) and Cathy Tilton (R – Wasilla). I showed them this meme we made.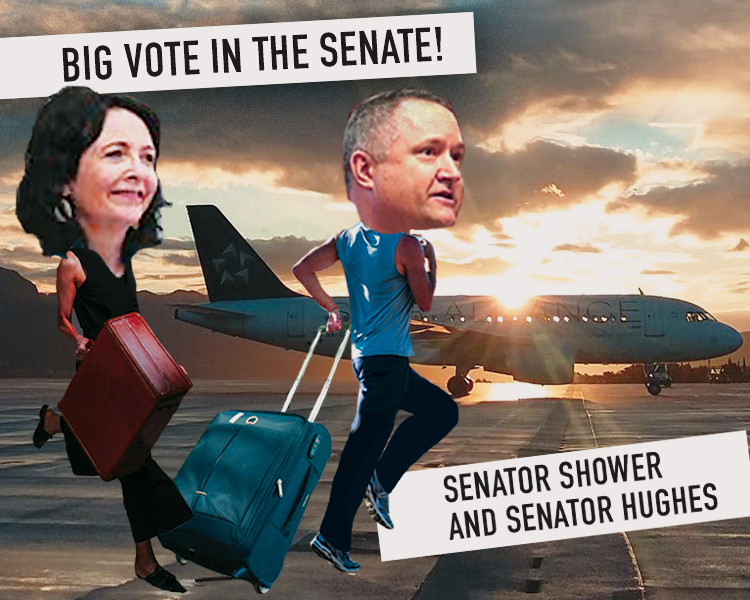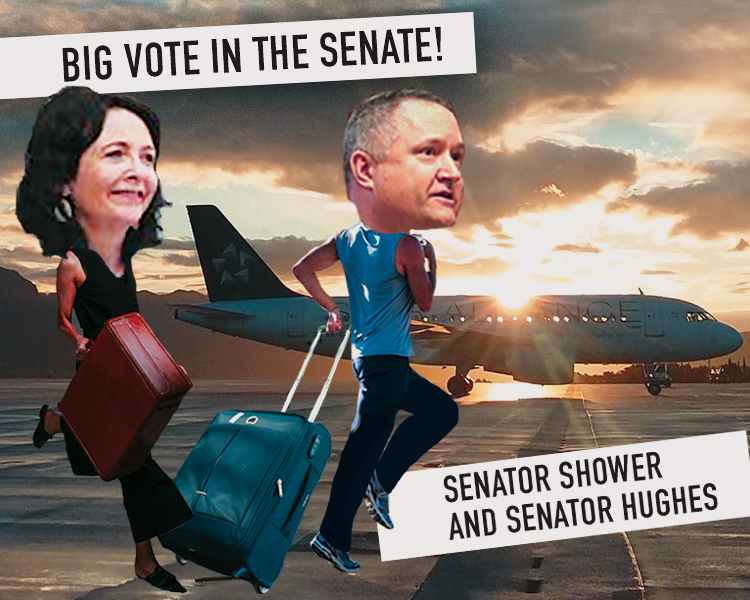 Senator Reinbold was nearby, so I showed her too. She was not amused. She then, very vocally, told me to show this other woman. Sullivan-Leonard and Tilton suggested I not do it. Reinbold pulled the woman over and insisted I show her the meme, which I did. She did not seem overly amused. I asked Sullivan-Leonard and Tilton who she was. They told me it was Shower's wife! I was like, "Oh great, is he on the plane?" They told me he was. Fuck. I get on the plane, which was totally full. I spot Shower a few aisles behind me. I'm in the middle seat. No one is in the aisle seat, so I sat there thinking maybe no one would be sitting there. Then, I hear a voice say, "Excuse me, you are in my seat." And guess who it was? Shower's wife! Only in Alaska. We ended up having a really nice talk. She's a really nice lady. As the Aussies say, Senator Shower is definitely punching above his weight.
If you have a nomination for this week's Loose Unit, or if you have any political news, stories or gossip (or any old pics of politicians or public officials) please email me at [email protected]