September is nearly here, which means snow will be on the ground in a matter of months. Enjoy what's left of summer while you can! The second round of tabulation for the special general election for U.S House will take place on Wednesday. Then we will know if Republican Sarah Palin or Democrat Mary Peltola will serve out the rest of the late Don Young's term. Kenai Peninsula Borough Mayor Charlie Pierce, a Republican candidate for governor, abruptly announced on Friday that he is resigning as mayor. And it's been a week for official letters from campaigns about their opponents.
A friendly message and reminder to all our readers. The Landmine is made possible by myself and a team of awesome Alaskans. We are working hard to provide in-depth election coverage for all of the ongoing races. If you enjoy the content we provide, please consider making a one time or recurring monthly donation. You can click here to donate. We have a donation system that makes it super easy. We would really appreciate it. And thanks to everyone who has been supportive!
Palin or Peltola
The most recent Division of Elections results show Democrat Mary Peltola up by 8.7 points to Republican Sarah Palin, with Republican Nick Begich in third place. While the percentages have shifted some, the rankings are the same as they were on election night. There's been a lot of speculation about all the ways Mary Peltola can win. But there is one number many people seem to be overlooking, 58.78%. That is what Palin and Begich, both Republicans, have combined. While I think the results will be close, Palin should easily prevail over Peltola after Begich's second choice votes are factored in. Yes, some percentage of Begich voters bullet voted for Begich. But for the ones who ranked someone second, very few of them would have ranked a Democrat second. They would have just left the second choice blank. Get ready for Congressman (she said that was her preferred pronoun) Sarah Palin. At least for a few months.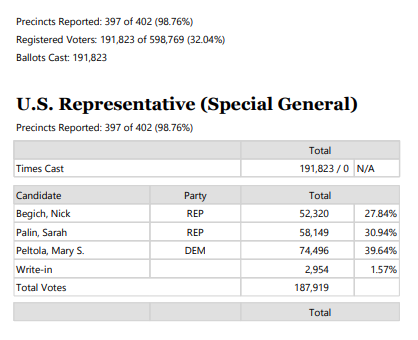 Mayor Charlie Pierce Resigned 
There's been rumblings about a scandal involving Kenai Peninsula Borough Mayor Charlie Pierce for weeks. On Friday, Pierce announced out of the blue that he is resigning as mayor to focus on his gubernatorial campaign. Pierce, a Republican candidate for governor, is currently in fourth place with his running mate Edie Grunwald with just over 6.5% of the vote. After his resignation, I published a story about an HR investigation involving Pierce and a Borough employee as the real reason for his resignation. Today, I published a follow-up story after I received a rather cryptic email from the Borough attorney. In the follow-up story I note that the Pierce/Grunwald campaign spokesperson announced today that he is resigning from the campaign effective September 1.
The whole thing is very odd. Pierce, who makes approximately $120,000 as mayor, has effectively zero chance of being elected governor. He, Edie Grunwald, and the soon to be former campaign spokesperson have not responded to phone calls and texts since Friday. Pierce, who is endorsed by the Alaska Republican Party (so is Governor Mike Dunleavy (R – Alaska) and his running mate Nancy Dahlstrom) has put himself into quite a pickle. If he were to step down from the ticket before September 5, the withdrawal deadline, Edie Grunwald would move up to the top of the ticket and pick a new running mate. If they were to both withdraw, Representative Christopher Kurka (R – Wasilla) and his running mate Paul Hueper would move up to the fourth spot. Establishment Republicans really don't want Grunwald or Kurka running as governor. Neither subscribe to norms and would be a thorn for Dunleavy with some Republican voters. My bet is Pierce and Grunwald remain a ticket but after the September 5 withdrawal deadline announce they are suspending their campaign and will ask voters to vote for Dunleavy and Dahlstrom. Alaska politics is never boring!
Other Happenings 
It's been a week for letters from campaigns about their opponents. First, Senator Lisa Murkowski's (R – Alaska) campaign had a letter sent to KTUU (addressed to Republican House candidate Craig Johnson's wife Nancy) saying that the Kelly Tshibaka campaign violated campaign law when they failed to issue a proper disclosure on an attack ad. They asked that KTUU stop giving the Tshibaka campaign discounted rates for campaigns. The Federal Elections Commission was copied on the letter. You can read the letter here.
Then, Andrew Jensen, Governor Dunleavy's official paid spokesperson and official unpaid campaign spokesperson, sent a letter to the owner and managers of the Anchorage Daily News demanding that reporter Sean Maguire start disclosing a "conflict of interest." Maguire is married to Juneau Assembly member Carole Triem. Triem has been a vocal supporter of Democratic gubernatorial Les Gara. The funniest part about the letter is Jensen used to work for the Journal of Commerce, which is owned by the ADN. So he sent the letter to his old bosses. I love how he signed it "Best regards" at the end. So much shade!
As noted above, the withdrawal deadline for the general election is September 5. Four legislative candidates have withdrawn so far, and I expect some more to withdraw before the deadline. Of the 59 legislative races, 34 have only one or two candidates (seven candidates are running unopposed). So ranked choice voting won't matter in those races. Nineteen races have three candidates and only six have four candidates. Many of the 25 races with three or four candidates will be decided on the first round because a lot of the candidates in those races will get more than half the vote on the first round. Unlike the statewide races, we should have a good idea about a lot of the legislative races when the results come out on the night on November 8.
1/ According to the @ak_elections, four candidates have withdrawn from the general election so far:

Shevaun Meggitt – HD1 (leaves 2)
Pat Sharrock – HD21 (leaves 2)
Timothy Huit – HD13 (leaves 2)
Drew Cason – Senate J (leaves 3)

The withdrawal deadline is 9/5.

Thread#akleg

— The Alaska Landmine (@alaskalandmine) August 23, 2022
This Week's Loose Unit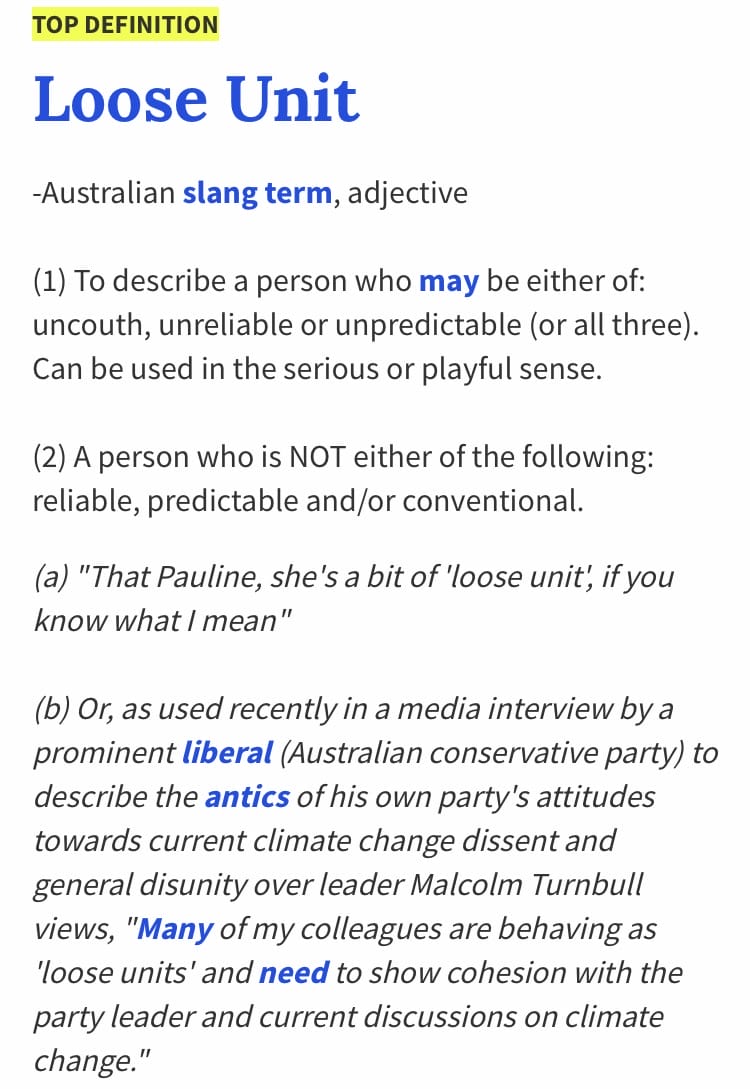 This week is real easy. This week's Loose Unit is Mayor Charlie Pierce. There is not much to say here. Dude abruptly announced his resignation as mayor on Friday via a Must Read Alaska podcast with Jonathan Quick, who has his own unique history playing fast and loose with the facts. Then, Pierce and his campaign ghosts everyone who has questions about why he resigned. Classic Loose Unit behavior.
If you have a nomination for this week's Loose Unit, or if you have any political news, stories or gossip (or any old pics of politicians or public officials) please email me at jeff@alaskalandmine.com.