The record heat and fires continue around much of Alaska. Hopefully this heat will soon come to an end. Luckily, next weekend is Labor Day weekend – the traditional unofficial end of summer. The Alaska State Fair also started this week. It has been a busy week in Alaska politics. Governor Mike Dunleavy (R – Alaska) announced a ton of new appointments to boards and commissions. Republicans held a bizarre meeting where they secretly chose three names to send to Dunleavy to replace the late Senator Chris Birch.
A friendly message and reminder to all our readers, the Landmine is made possible by myself and a team of awesome Alaskans. It takes a lot of work to provide the content we do. If you enjoy the content we provide, please consider making a one time or recurring monthly donation. You can click here to donate (or on the image below) via PayPal. We would really appreciate it. And thanks to everyone who has been supportive!
Also, if you have not noticed we launched a brand new redesign of the homepage this week. Your support allows us to continue to improve the site and deliver the content you want.
The Governor
On Monday (8/19/2019), Governor Dunleavy made a video announcement where he said he would accept the Legislature's $1,600 PFD and would uphold most of his original vetoes. He hinted at another special session this fall where he will ask the Legislature for an additional $1,400 PFD. If you missed the video you can watch here. It was rather awkward. He read from a teleprompter. One politico described it to me as "eerily similar to an ISIS video where they make a hostage read a prepared statement." Dunleavy said he will now be appealing directly to the people because the media does not fairly portray what he says or does. I wonder where he got that from?
Dunleavy issued a disaster declaration for the Matanuska-Susitna and Kenai Peninsula boroughs due to the fires. He held a press conference yesterday to update Alaskans on the situation. Pro tip – don't hold a press conference in front of an active helicopter fire fighting operation. Much of the conference could not be heard due to helicopters taking off and landing. #Communicaton
Dunleavy also announced a bunch of new appointments to boards and commission this week. He is keeping consistent with appointing Republicans who ran for office – and lost – to boards and commissions. Some notable appointments include:
Vivian Stiver to the Alaska Housing Finance Corporation Board of Directors. You may recall that Stiver was previously appointed by Dunleavy to the Marijuana Control Board. Legislators rejected her appointment due to controversy about her anti-pot views. Stiver was seen playing solitaire during a committee meeting in Juneau. Round two, Vivian!
Steve Strait to the Alaska Public Broadcasting Commission. You may recall Strait ran against Becky Gay in 2002 in the Republican primary for the west Anchorage House seat. It was dubbed the Gay/Strait election. It even made Jay Leno! Strait narrowly defeated Gay, but went on to get stomped in the general by Ethan Berkowitz! Anyhoo, Strait's appointment is interesting. He does a radio show in western Alaska – from Anchorage. He routinely describes public media as communists, in addition to other bizarre comments. I guess someone needs to get Stevie Boy a hammer and sickle jacket!
Bruce Schulte to the Marijuana Control Board. You may recall Walker sacked Schulte, who was previously on the board. There are mixed feelings in the pot industry about the appointment.
Jamie Allard to the State Commission for Human Rights. Allard, a Lora Reinbold disciple, ran for the House last year in the Republican primary. She was defeated by now Representative Kelly Merrick (R – Anchorage). Allard briefly worked for General Torrence Saxe, Commissioner of the Department of Military and Veterans Affairs. Not sure what happened there. The Human Rights Commission has been a real mess lately.
Marcus Sanders to the Statewide Suicide Prevention Council. Sanders was not long ago appointed to the Human Rights Commission, but resigned to take a job with the Department of Labor because of a conflict of interest. I guess there is no conflict with this commission! Bizarre.
Edie Grunwald as the Alaska State Director for the Selective Service. Grunwald unsuccessfully ran for lieutenant governor in the Republican primary last year. Dunleavy also appointed her to chair the Parole Board earlier this year.
Other Happenings 
There is definitely some drama going down at the Human Rights Commission. Several staff have recently left. Word is Marilyn Stewart is planning on suing over her termination by the board after only two weeks as executive director. She has retained lawyer Wayne Anthony Ross (WAR). YES! Also, sources report that Forrest Mcdonald was hanging out at the Commission offices when Stewart was ED. He was not an employee but was occupying the office of one of the Commission lawyers. So bizarre.
Republicans in Districts 25 and 26 met this week to decide on three names to send to Dunleavy to choose from to fill the vacant Senate seat in District M. It was a super bizarre meeting. This article I wrote describes the whole thing. Rumor has it that some Senate Democrats are considering changing their registration to Republican if Dave Donley is the pick so they can vote against him. That is gangster – and ironic. Donley switched from Democrat to Republican in 1998 when he was a State Senator. And word is that Bob Penney is no fan of Donley. Dunleavy has until September 7 to choose a replacement. This could get weird.
Michael Duxbury, who was the Deputy Commissioner of the Department of Public Safety, quietly retired on July 31. I wonder if it had anything to do with this? Leon Morgan is the new deputy commissioner.
DId you catch this? Talk about loose! I wish I was there to hear it.
Joe Balash sent President Trump his letter of resignation this week from his job as Assistant Secretary for Lands and Mineral Management at the Department of Interior. He has promised to do a podcast with me!
Ben and Mike need a TV or radio show. I would watch or listen.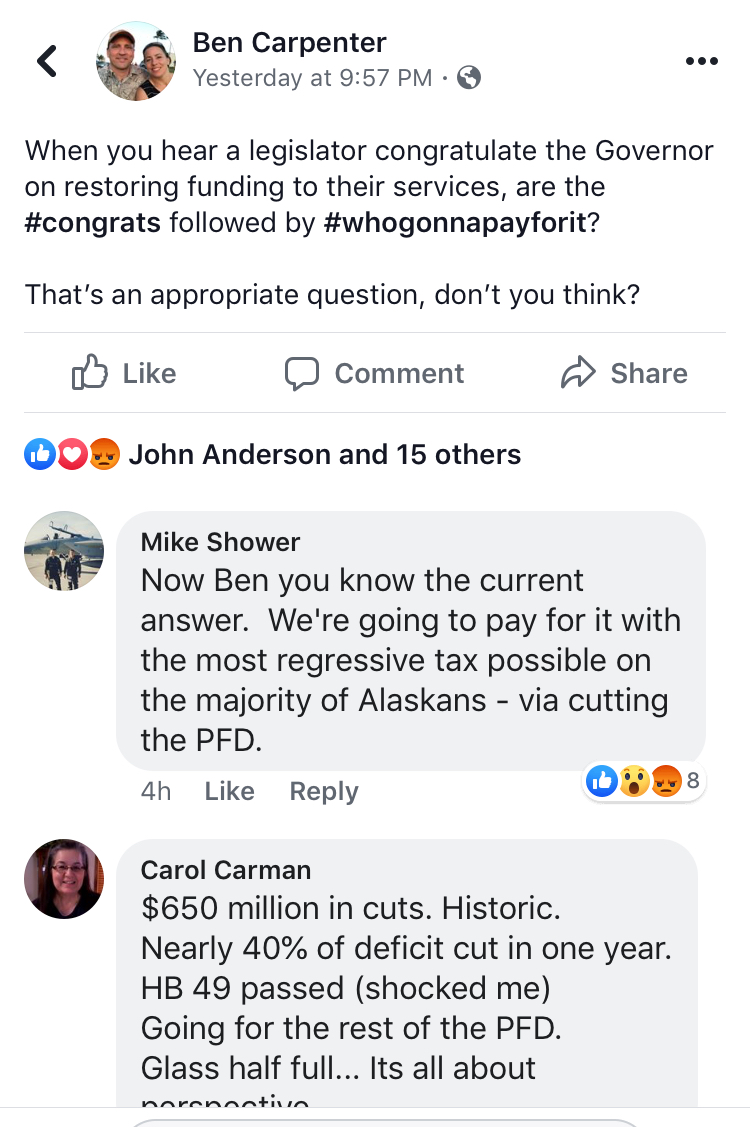 Word on the street is that Education Secretary Betsy DeVos will be in Alaska this week. I don't think she will be flying commercial on the way up.
Representatives Matt Claman (D – Anchorage) and Louise Stutes (R – Kodiak) are in Lexington, Kentucky this week as part of the Toll Fellowship. This is a part of the Council of State Governments.
A comment on Governor Dunleavy's new AKGovPress page. He seems nice. The best people.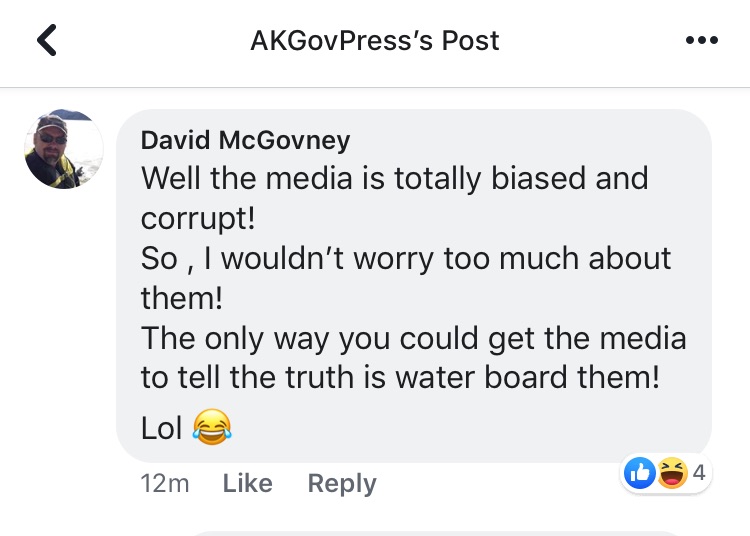 The group Justice Not Politics Alaska held an event this week in Anchorage about separation of powers. Senator Click Bishop (R – Fairbanks) and Representative Matt Claman (D – Anchorage) were the speakers. About 60 people were there including Vic Fischer, former Representative Les Gara, Bill Gordon, Mike Geraghty, Jahna lindemuth, Jack Ferguson, and Cliff Groh.
This Week's Loose Unit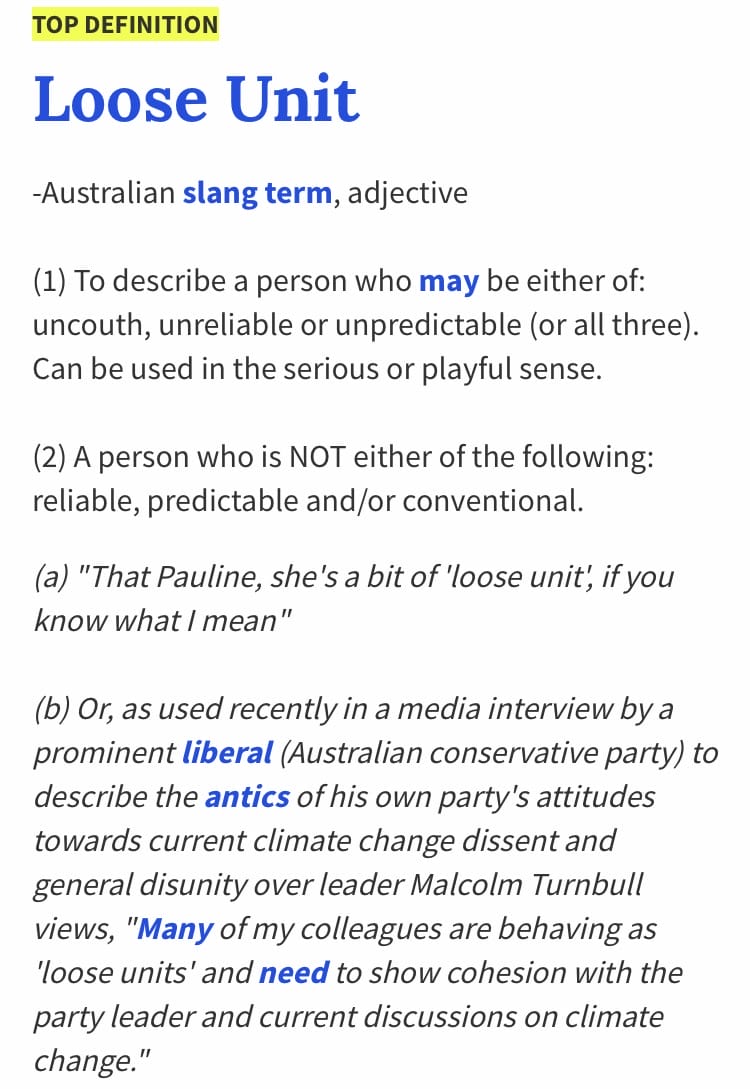 As usual, there were many deserving candidates this week. But one definitely stood out. This week we are heading back to the Valley. This week's Loose Unit is Nancy Driscoll Stroup. Stroup runs the Facebook group Mat-Su Valley News, which has over 28,000 members. She routinely deletes comments of those who dare disagree with or challenge her. Very loose. She recently posted about a teacher being hired at a Valley charter school. Sabrena Combs, who is on board and also serves on the Palmer City Council, was tagged in the post by a friend. Combs wrote a comment on the post and challenged what Stroup was saying. Stroup has long had an issue with Combs. Nick Kenshalo, who is running for the Mat-Su Borough Assembly, also commented on the post and challenged what Stroup was saying. Stroup made some nasty comments about him and his family, and then deleted his comments and blocked him! So loose.
Stroup also deleted Combs' comment and blocked her from the group too. Classic Loose Unit! But Sabrena is the wrong person to mess with.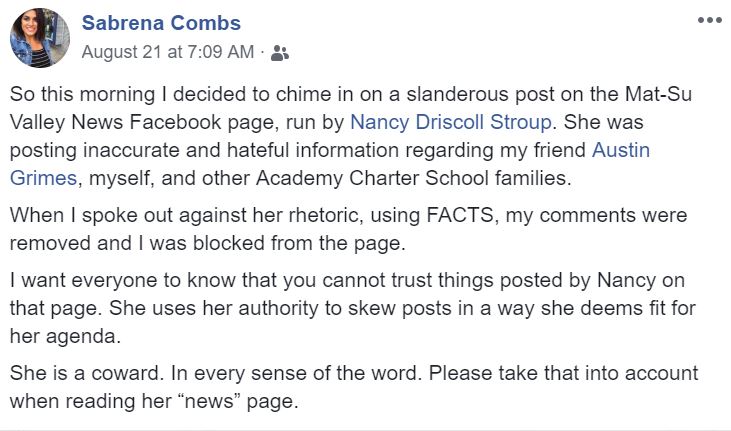 Stroup then decided to unleash maximum looseness on Combs and Kenshalo. Again, she is messing with the wrong lady. Full disclosure, Sabrena is a good friend of mine and co-hosts Landmine Love with me. She is also someone I would never mess with. #Savage
Stroup is so angry that someone would publicly challenge her for going after them, she actually insinuated she was going to file a defamation lawsuit. Talk about loose!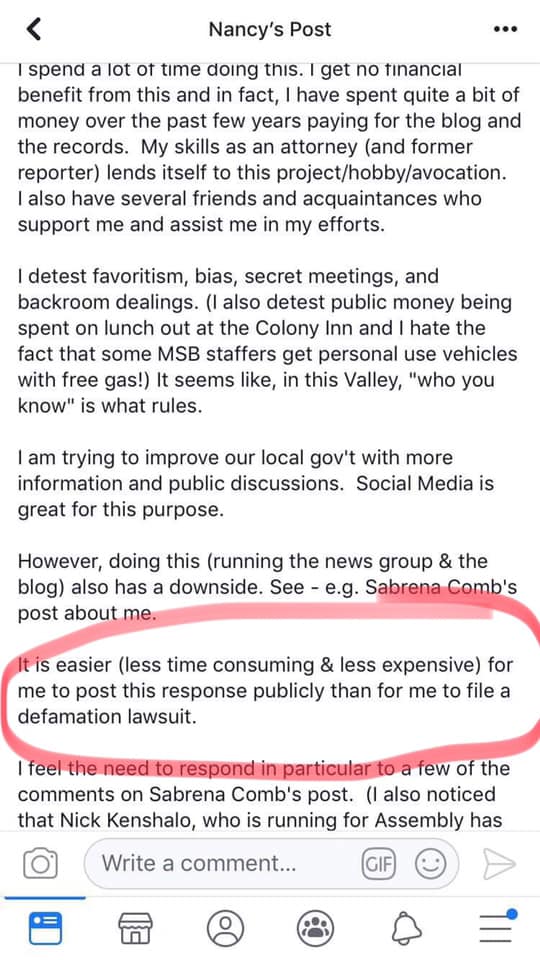 If you have a nomination for this week's Loose Unit, or if you have any political news, stories or gossip (or any old pics of politicians or public officials) please email me at jeff@alaskalandmine.com.