By now you have probably heard the three names that Republicans in Districts 25 and 26 sent to Governor Mike Dunleavy (R – Alaska) to choose from to fill the vacant seat in Senate District M. They are:
Albert Fogle
Dave Donley
Representative Laddie Shaw (R – Anchorage)
But, unless you watched my live stream from outside of the Alaska Republican Party (ARP) headquarters, you don't know just how bizarre their meeting was.
First, some backstory. Per ARP rules, they posted a notice of the meeting on Facebook and their website, and informed eligible people in the District that they could apply for the position. Eight people ended up applying. This Landmine article discusses all of that. The Party was being oddly silent about the entire process, refusing to comment. It took some digging and sources inside the Party to figure out who the last two applicants even were. This lack of transparency would prove to be the playbook for the meeting where the names would be chosen.
The day of the meeting, which took place on August 21, Suzanne Downing (ARP and Dunleavy administration de facto spokesperson) included this in her newsletter. Note the part about a "certain unlovely person" (me) and a "security detail."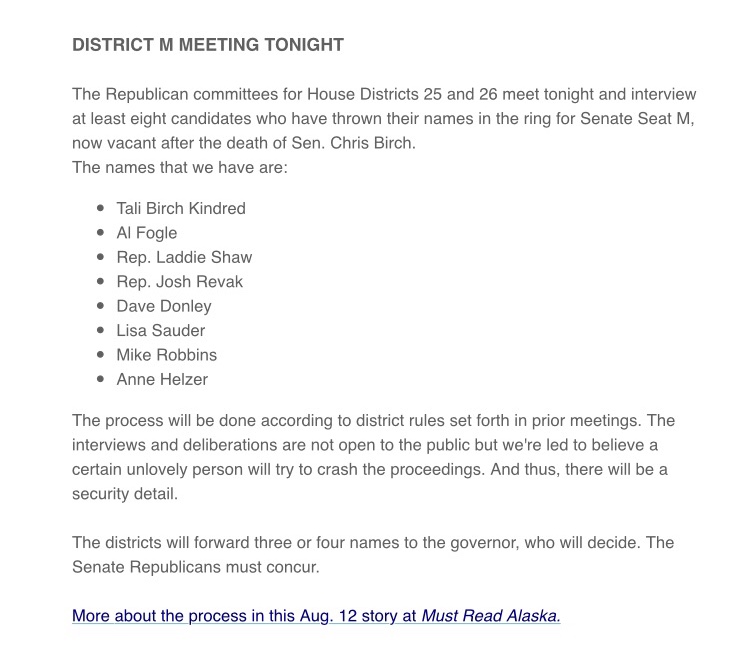 I have covered these kinds of meetings since starting the Landmine in October 2017. In January 2018, then-Senator Mike Dunleavy resigned to focus on his gubernatorial campaign. I was at the meeting at the Menard Sports Center where Republicans decided on the names to send to then-Governor Bill Walker. Ironically, recently demoted Chief of Staff Tuckerman Babcock was the chairman of the ARP then, and that meeting was far more open and transparent.
I also attended the meeting in Eagle River at Piccolino's last December where Republicans decided the names to send to Governor Dunleavy to replace Nancy Dahlstrom. Dahlstrom won the District 13 election but took a job as Commissioner of Corrections, creating a vacancy. That meeting, although very bizarre, was also open and transparent. The Loose Unit section of this article describes that mess. At that point, Glenn Clary had assumed the role of chairman of the ARP. I, along with Nick Coltman, also wrote this detailed investigative piece (A Drunken Mayor, Blackmail, Kivalina and District 40) about the Alaska Democratic Party's process to replace former Representative Dean Westlake in District 40. That resulted in John Lincoln being appointed to the seat.
The Meeting
I made it clear to people that I would be attending the meeting. I also spoke to a lawyer about what the statues and ARP rules say about this process. The ARP rules on meeting procedures are clear. I am a registered Republican and have twice run as a Republican for the State Senate. I have also attended ARP conventions as a delegate. Also, read carefully what the rules say about executive sessions and media.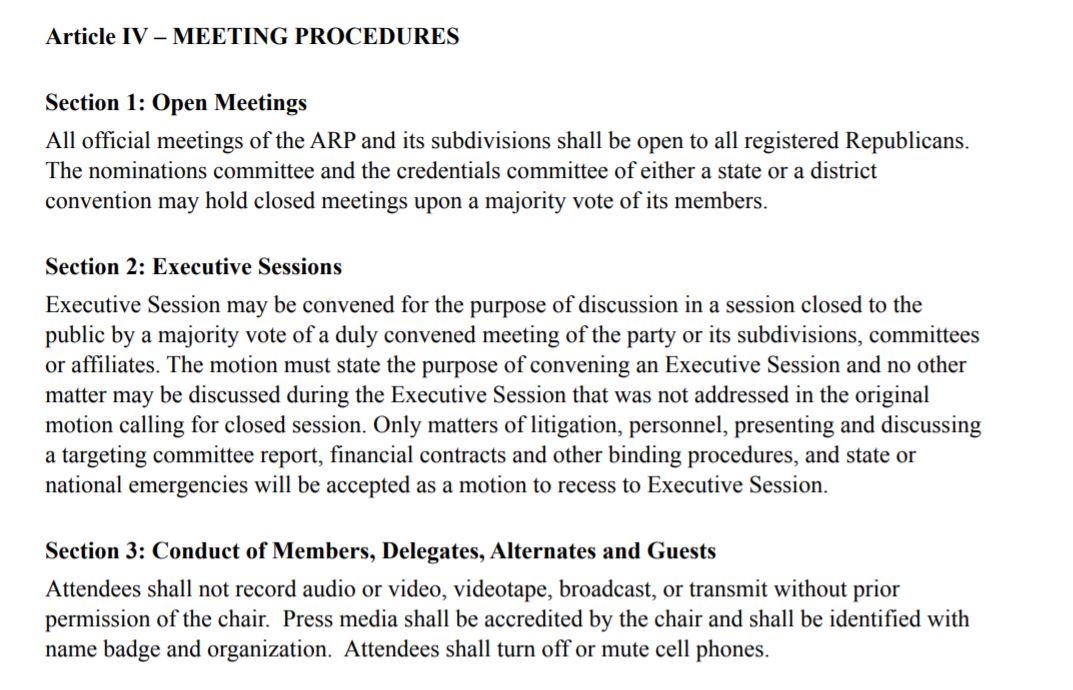 I expected the meeting to go into executive session for the purpose of interviewing the candidates. I did not expect the meeting to be reminiscent of a meeting of United Russia. When I arrived at ARP headquarters on O'Malley, everyone was gathering outside. As people continued to show up, no one went inside the office. I thought that was strange. Around 7 pm, Bethany Marcum announced the meeting would be called to order. She said she was selected as chair of the meeting. Marcum lives in District 25 but has no official role in the Republican Party. She also announced that Steve Strait would be the sergeant-at-arms.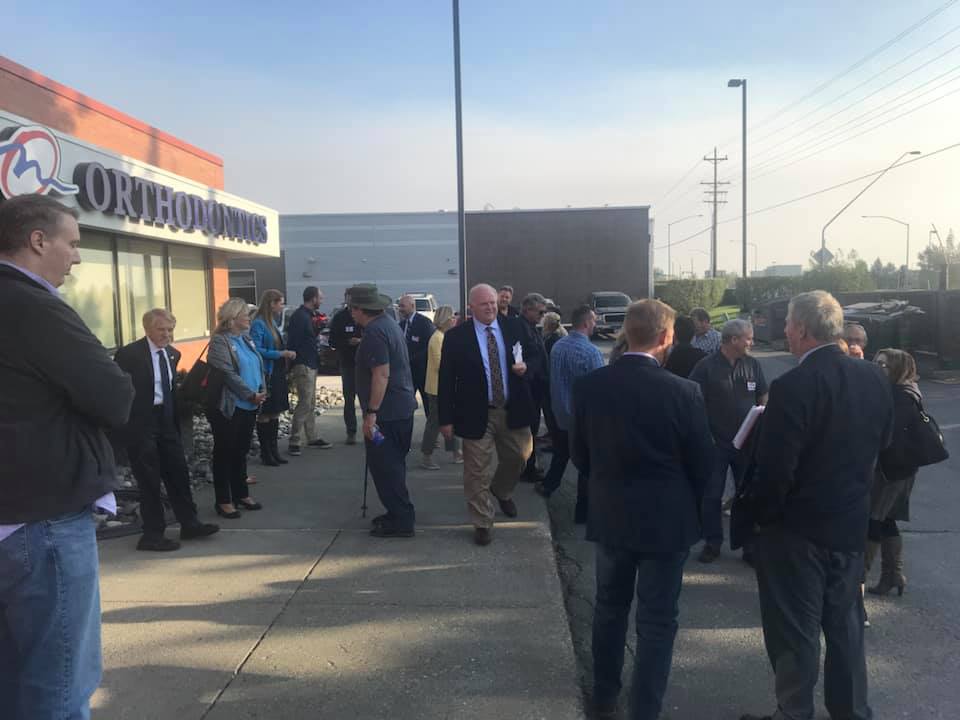 Marcum proceeded to do a roll call of both districts – all while we were standing outside. After that was done, Akis Gialopsos, the chair of District 25, made a motion to go into executive session. A woman seconded the motion. I stated that per ARP rules, the motion must state the purpose. Marcum did not acknowledge me and then proceeded to read a prewritten motion about going into executive session for the purpose of interviewing the eight candidates. Glen Biegel made it clear that anyone who talked about the goings-on of the executive session would "be breaking their word" and would be subject to punishment. Keep reading, Glen.
The motion passed unanimously. Everyone proceeded to walked inside the office. The door was then locked. Steve Strait and Cynthia Henry, the national committeewoman, posted up outside the door. There was also someone from Channel 2 outside. He later interviewed Cynthia Henry outside.
I asked if I would be informed when the executive session was over so I could go watch the open session. I was told 'yes' several times by Cynthia Henry and Glenn Clary. I wanted to watch how they would be voting and selecting the names to go to Dunleavy. As a registered Republican, per ARP rules, I should have been allowed to be there. Even if they argued that I was part of the media, ARP rules also allow media to be there if approved by the chair.
After some time of waiting outside I decided to setup a Facebook Live stream. This was to show what was happening, state the Party rules, discuss the process, and take questions. It ended up lasting nearly three hours. Glenn Clary came on at one point. He confirmed that once the executive session was over, the meeting would be open. As time went on, I asked several more times if I would be informed when the executive session was over and allowed into the office. I was told 'yes' every time I asked. At one point I was hanging out by the door. I could see inside the conference room where they were interviewing the candidates. The people inside then taped a Mike Dunleavy for Governor sign on the window of the door.
Later, Josh Walton and Tim Gould were also hanging by the door. Walton works for Representative Laddie Shaw, Gould works for Representative Josh Revak (R – Anchorage). Both were among the eight people applying for the position. This cool cat, Rick, was also there. He saw my live stream and came down. As a registered Republican from that District, he also wanted to check out the open session.
At one point, everyone started walking out of the office. They were all heading to their cars. I asked what was going on. Were they done? Had they voted? Why wasn't I informed that the executive session was over? Glenn Clary came over with a letter that showed the three names. I asked why I was not informed that the executive session was over. I was told I could have walked in. Really. Walked in through the locked door that was being guarded by two people? The people I listed above were also standing outside the door. No one was ever informed that the executive session was over. So much for following the rules and keeping their word.
As people were leaving, no one would talk to me about what happened or how the three names had been chosen. They all referred me to Glenn Clary. I've seen a lot of bullshit in politics. That meeting is up there as one of the worst examples.
So What Happened?
Short answer. A lot. As a reminder, here are the eight people who applied:
Representative Laddie Shaw
Representative Josh Revak
Dave Donley
Albert Fogle
Tali Birch Kindred
Lisa Sauder
Mike Robbins
Anne Helzer
All of this is compiled from sources who were inside the room.
Four of the applicants were members of the Committee who could vote. Revak and Shaw as representatives, Dave Donley as the District 25 bonus vote, and Mike Robbins as chair of District 26. Donley's wife, Jamie Donley, was also on the Committee as a District 25 precinct leader.
The four applicants, who were members of the Committee, were given a chance to recuse themselves from the interview process. The only one to do so was Robbins. So this means that Revak, Shaw, Donley (and his wife) sat in for the interviews of all of the applicants. Think about that for a second. They all got to sit in of the interviews of their competitors. This means they could not only hear the questions they would later be asked, they could also hear the answers their competitors gave, some in advance of their own interviews. No reasonable person would think that is ok. Good on Robbins for recusing himself. But the recusing was only for the interview process. Sources confirm that Robbins, as well as Revak, Shaw, Donley, and Donley's wife all voted.
My sources confirm the first round of voting went like this:
Albert Fogle – 11 votes
Dave Donley – 9 votes
Laddie Shaw – 7 votes
Lisa Sauder – 7 votes
Mike Robbins – 6 votes
Tali Birch Kindred – 6 votes
Josh Revak – 4 votes
Anne Helzer – 4 votes
Each person could vote for up to three names, or just one. Everyone voted using paper ballots. After the first round, there was a second round of voting between Shaw and Sauder, who tied for fourth in the first round. Shaw won that. But think about the first round, at least two of Dave's votes were almost certainly from him and his wife and one of Shaw's votes was certainly for himself. Clary justified it by saying people can vote for themselves in elections. That's true. But they aren't doing it as part of a committee that interviews and votes on names to send to the governor.
As far as how the interviews went, sources confirm that each candidate was given three minutes for an opening statement. Then each candidate was asked an identical series of questions. They were asked by Akis Gialopsos (District 25 chair) and Mike Dagon (District 26 vice-chair). They rotated between who went first. These questions included:
Have you ever been convicted of a misdemeanor or felony?
Have you ever been registered as anything other than Republican? (Dave Donley was a Democrat in the Legislature for years before switching to Republican in 1998)
Do you have anything you feel would be a conflict of interest?
Committee members were also given a sheet with suggested questions that included:
Would you caucus with anyone besides Republicans?
How do you feel about the percent of market value (POMV)?
If you had been in the Senate, would you have supported the vetoes?
Members of the committee could also ask their own questions. They rotated between people from District 25 and District 26. Some of the candidates were asked how they feel about red flag laws and the sanctity of life. Some were also asked about how they felt subsidizing rural Alaska.
Jamie Donley asked several of the candidates if they ever donated to someone who was not a Republican. Shaw said he had donated to Tony Knowles. Donley seemed concerned about this. Shaw explained they were friends.
When asked why they wanted to be in the Senate, most of the applicants mentioned Chris Birch as part of their answer. Revak said he didn't even want to be in the Senate. Bizarre. Based on conversations I have had, it seems likely that agents of Dunleavy convinced other people to apply for the position in order to avoid having Tali Birch Kindred, Chris Birch's daughter, be one of the names sent to Dunleavy. Getting her name sent to him and not picking her would be a real bad look. It seems they knew they had the votes going into the meeting.
Sources also confirm that before they were dismissed, Marcum emphasized that everything that happened was secretive and no one was to talk to the media. Clary would handle all media inquiries. This is exactly what everyone told me when I asked them what happened after the meeting. You can see it all on the live stream. This included Ann Brown, vice-chair of the ARP.
I'm not sure what the Alaska Republican Party was trying to hide, or if they had anything to hide. Regardless, that process was a joke. When you hear Republicans say things like "Follow the law" when it comes to the PFD, remind them that they should maybe start by following their own rules.
It's also worth noting that Dunleavy is not required by statute to pick one of these names. He can select anyone in the District who is qualified. The statutes include language about the role of political parties in the process, but does not mandate the governor select from the names sent to him/her. If the statutes required the governor to choose one of the names sent to him/her, then the argument could be made that the parties would be a state actor in this process. If that was the case, I would be filing a lawsuit about how this process violated my constitutional rights, and not writing this article.