September is less than two weeks away. Summer is really flying by. U.S. Transportation Secretary Pete Buttigieg visited Alaska this week, spending time in Anchorage and Southeast. Anchorage mayoral candidate Suzanne LaFrance spoke about her candidacy at a meeting of the Bartlett Club. Hamilton opened this week at the Atwood Concert Hall in Anchorage. And Anchorage School District Superintendent Dr. Jharrett Bryantt banned Dr. Ben Carson from speaking at Mountain View Elementary.
This week's column is a bit shorter than normal. I spent most of Friday at the large homeless camp on Third and Ingra. I then spent the weekend writing this article about what I witnessed.
A friendly message and reminder to all our readers. The Landmine is made possible by myself and a team of awesome Alaskans. I recently got back from Juneau for my fifth session in a row reporting on the Legislature. If you enjoy the content we provide, please consider making a one time or recurring monthly donation. You can click here to donate. We have a donation system that makes it super easy. We would really appreciate it. And thanks to everyone who has been supportive!
Week in Review
Transportation Secretary Pete Buttigieg visited Alaska this week. He toured the Port of Alaska with Anchorage Mayor Dave Bronson, members of the Assembly, and city officials.
He also took a ferry from Juneau to Haines with Senator Lisa Murkowski (R – Alaska). In classic Alaska fashion, weather prevented them from flying to Haines, so they got on a ferry. Murkowski posted this video of her and Buttigieg.
Anchorage mayoral candidate Suzanne LaFrance spoke at a meeting of the Bartlett Club on Thursday (8/17/2023) at the Anchorage Senior Center. She did not mince her words about wanting to oust Dave Bronson. She was not as overt about Chris Tuck, saying, "We can't afford to re-elect Dave Bronson and we can't afford to elect someone that will need on the job training." After she spoke she took questions from the audience. She was asked about homelessness, housing, the Fourth Avenue Theater, the Knik Arm Crossing, her pro-choice views, and various other topics. She was clear about her pro-choice views, but not as clear on the other answers. When I asked her about the attacks on Chris Tuck from her supporters, she said her campaign had nothing to do with them. She added that she does not know anyone who can control what Scott Kendall writes. I have a hard time believing that Kendall did not run the ADN opinion piece he wrote by her campaign. One thing is clear, these mayoral debates are going to be lit.
One of the Mat-Su Borough Assembly races is heating up. Check out this email Bill Gamble sent to Mat-Su Borough Mayor Edna DeVries about his opponent, Assembly member Mokie Tew. Not sure what Gamble expected DeVries to do. But Mew allegedly telling Gamble "fuck you" after a Big Lake Community Council meeting is loose.
Check out this ridiculous opinion piece Jennifer Pemberton wrote in the ADN, "I decided to give an Alaska cruise a try. Then I got fined." First, Pemberton admits to being part of a podcast about CRUISE SHIPS in Alaska. She also used to run KTOO in Juneau. I am by no means a cruise expert but I know what the Passenger Vessel Services Act (PVSA) is and that you can't just hop off a cruise ship willy-nilly. I also know that you can apply for a PVSA exemption before a cruise if you plan on getting off at U.S. port before the end of a cruise that begins from a U.S. port. This is nothing more than someone whining about a fine who should have known better.
This Week's Loose Unit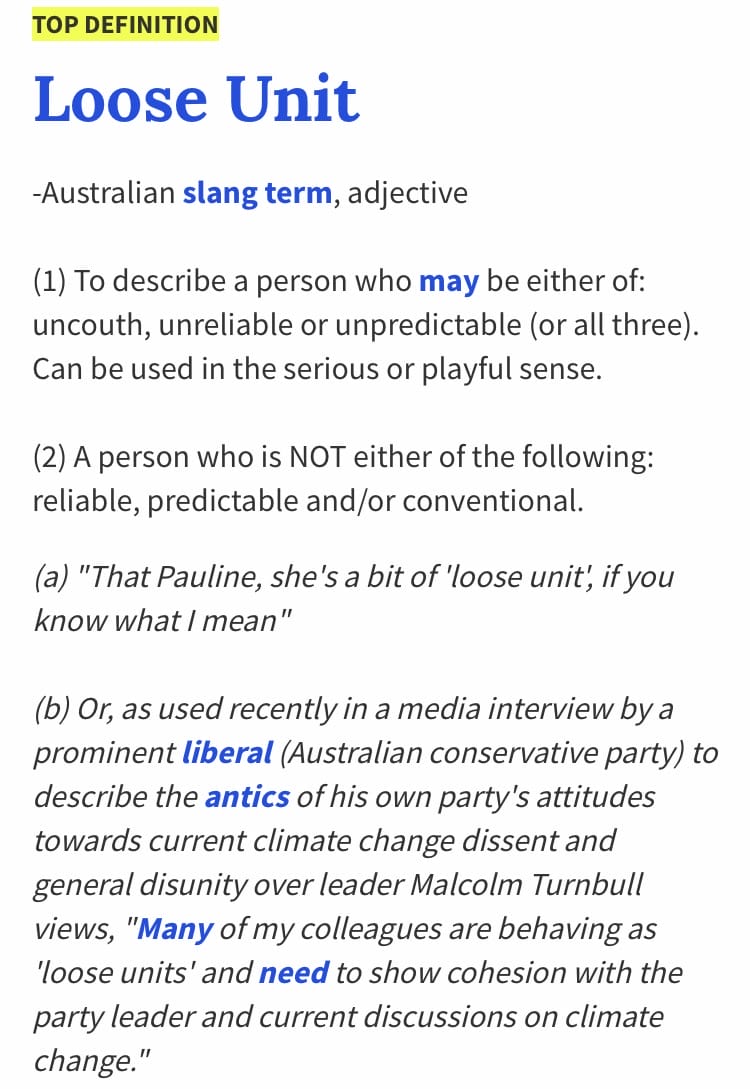 This week's designee became apparent on Tuesday. This week's Loose Unit is ASD Superintendent Jharrett Bryantt. On Tuesday I got a tip that Dr. Ben Carson, a retired neurosurgeon who served as United States Secretary of Housing and Urban Development in the Trump administration, was banned by Bryantt from speaking at Mountain View Elementary. Carson is in town to speak to the Anchorage Republican Women's Club on Tuesday (8/20/2023). At first I was skeptical about the tip. But it did not take long to confirm it. Carson overcame an extremely difficulty childhood, becoming a doctor and then serving in a cabinet position. But Bryantt doesn't want him speaking to a bunch of kids. And he has not said a word about why he banned Carson. Very loose. It was also reported to me that he threatened to fire the Mountain View Elementary principal if Carson speaks. Classic Loose Unit behavior.
Mayor Bronson issued a press release about it.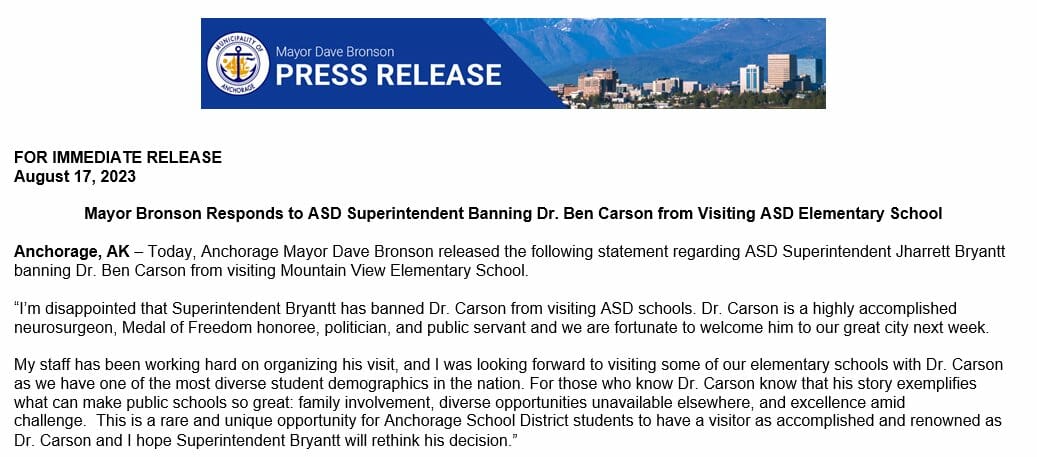 Governor Mike Dunleavy (R – Alaska) announced a press conference with Carson at Iditarod Elementary in Wasilla. I can only imagine the speech. Something like, "If Ben Carson is not welcome in Anchorage schools he surely is welcome in Mat-Su Valley schools." Good on Dunleavy and the Mat-Su folks for capitalizing on the extremally loose, and dumb, move by Bryantt.
If you have a nomination for this week's Loose Unit, or if you have any political news, stories or gossip (or any old pics of politicians or public officials) please email me at jeff@alaskalandmine.com.