Two years ago I spent a night at the Sullivan Arena mass shelter. It is still difficult to convey in words what I experienced in one single night. I put down what I could in this article, "A night at the Sullivan Arena mass shelter". The Sullivan was used as a mass shelter for three years, until Anchorage Mayor Dave Bronson announced that it would no longer be used for that purpose at the end of May. Since then, hundreds of homeless in Anchorage have resorted to camping all around the city.
There are now camps of various sizes throughout Anchorage, but there are three major locations: Midtown next to Cuddy Park, Davis Park in Mountain View, and on Third and Ingra. The camp on Third and Ingra has been growing since May and is now the largest in the city. There are well over a hundred tents, vehicles in various states of disrepair, and hundreds of people located at the site.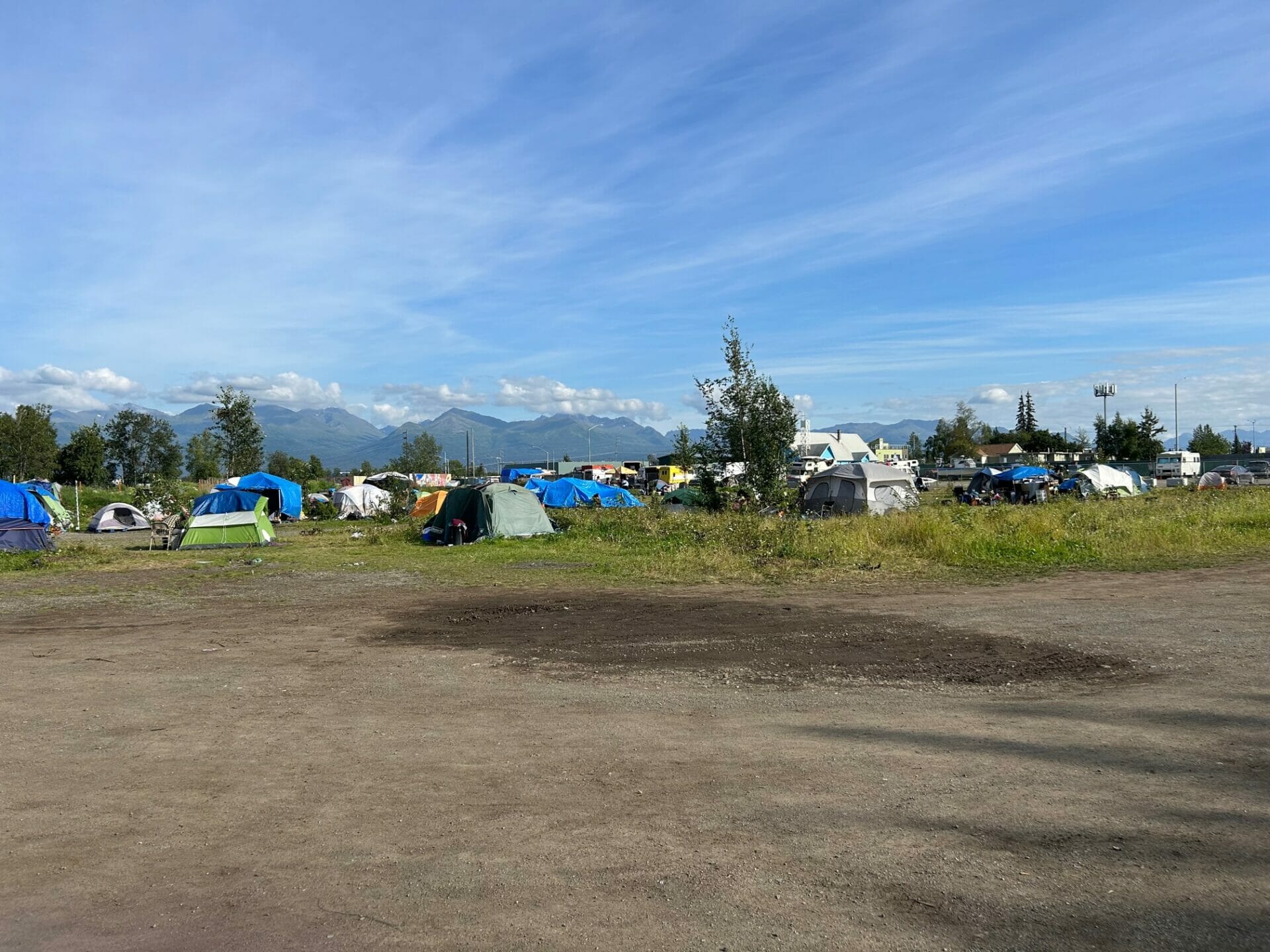 My plan on Friday was to stay the night at the camp on Third and Ingra, like I did at the Sullivan Arena two years ago. Rob Cupples, who owns several rental properties across the street, let me park on his property. Cupples has been dealing with the problems on Third Avenue for years. He's part of a group of frustrated business owners called the Third Avenue Radicals.
Unfortunately, my plan to stay the entire night did not work out. After spending several hours at the camp, some shady people began confronting me. Not long after a man on a bike rode by me, looked directly at me and said, "Take a fucking picture, it will last longer." He then motioned with his hand like he was shooting me.
Last week, a fight broke out at the camp. A man pulled a gun on another man who asked them to be quiet because his five year old daughter was in the RV. When the young girl walked out, the man pointed the gun directly at her.
After I was threatened, I decided it was time to leave. But the five hours I spent at the camp was enough to leave me with a lasting impression: that this encampment, near the core of our downtown, is a site of misery and horror beyond what most people understand. Whether through intention or apathy, Anchorage has created a functionally lawless environment where violent people rule and vulnerable people experience cruelty on a regular basis.
What is happening at Third and Ingra is a civic disgrace that no apologies, excuses, or other words can make up for. It is a sign of a city that has failed, and is continuing to fail, in its most basic duties.
No decent person would choose to live like this, encourage this, or even allow this to happen. And yet this is exactly what we've done.
I arrived in the afternoon with a backpack. I left my tent and sleeping bag in my car with the intent of first finding a spot to camp. The first thing I noticed when I was walking over was a man walking up and down Gambell Street across from the camp. He was alone, yelling and screaming profanity. The second thing I noticed was a man passed out on the sidewalk.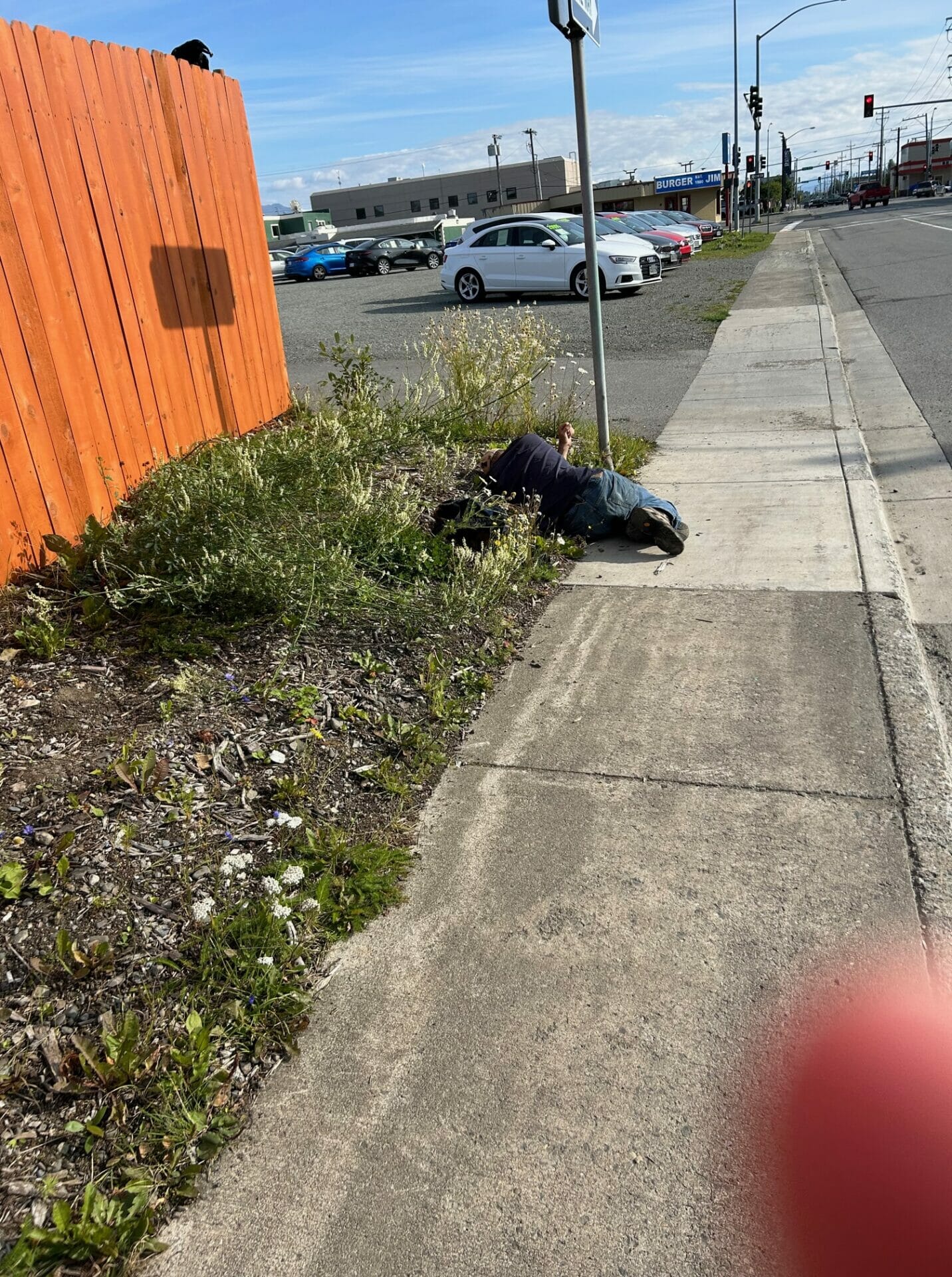 The camp takes up a large area that used to be home to the old Native hospital. I wanted to get a sense of what it all looked like. As I was walking around I could hear and smell several generators in use. I heard a man in a tent violently screaming. No one seemed to notice. There's a fence at the north end of the site with a large gully behind it. There are two large dumpsters in the middle of the camp, but people have been using the gully to dispose of their trash. The whole area smelled strongly of urine and feces.
As I walked around, I noticed something peculiar. A car was parked in the middle of camp with a small tent next to it. The tent had "FREE PHONE FREE SERVICE" written on it. I approached the man, thinking he was operating some kind of deal where people could make calls. The first thing he asked me was if I had an ID and government benefits, like food stamps. I said I just needed to use the phone. I then realized what he was doing. He was hustling the federal Lifeline program, which provides free or nearly free phone service and a free phone to those who qualify. He tried to get me to apply. I told him no thanks and walked away.
There are several portable toilets near the camp entrance. The foul stench was almost unbearable. I quickly realized that the toilets are a popular place for people to use drugs. I saw two women go into one and come out about ten minutes later, clearly high. Shortly afterward, a truck pulled up to clean them out. I talked to the guy whose job it is to empty them and hose them out daily. He told me these are by far the worst he has ever seen. He said he routinely finds tin foil, used for meth or heroin, and used needles. He also said he won't come at night because it's too dangerous.
By this point I had only been at the camp for a little over an hour. I was sitting on a concrete block, thinking to myself how glad I was to have a home to go to, and how desperate I would feel if this was my life. Then a man walked by, screaming to himself, "Bitch, shut the fuck up! You want to get shot?"
Not long after a man came out of one of the toilets. He announced to me, "They have toilet paper for once. So I took some." He appeared to have taken the entire roll. I asked him how long he's been staying at the camp. He told me two weeks. I then saw a woman walking around in some kind of stupor. That was not out of the ordinary. But what stood out was she wasn't wearing any shoes.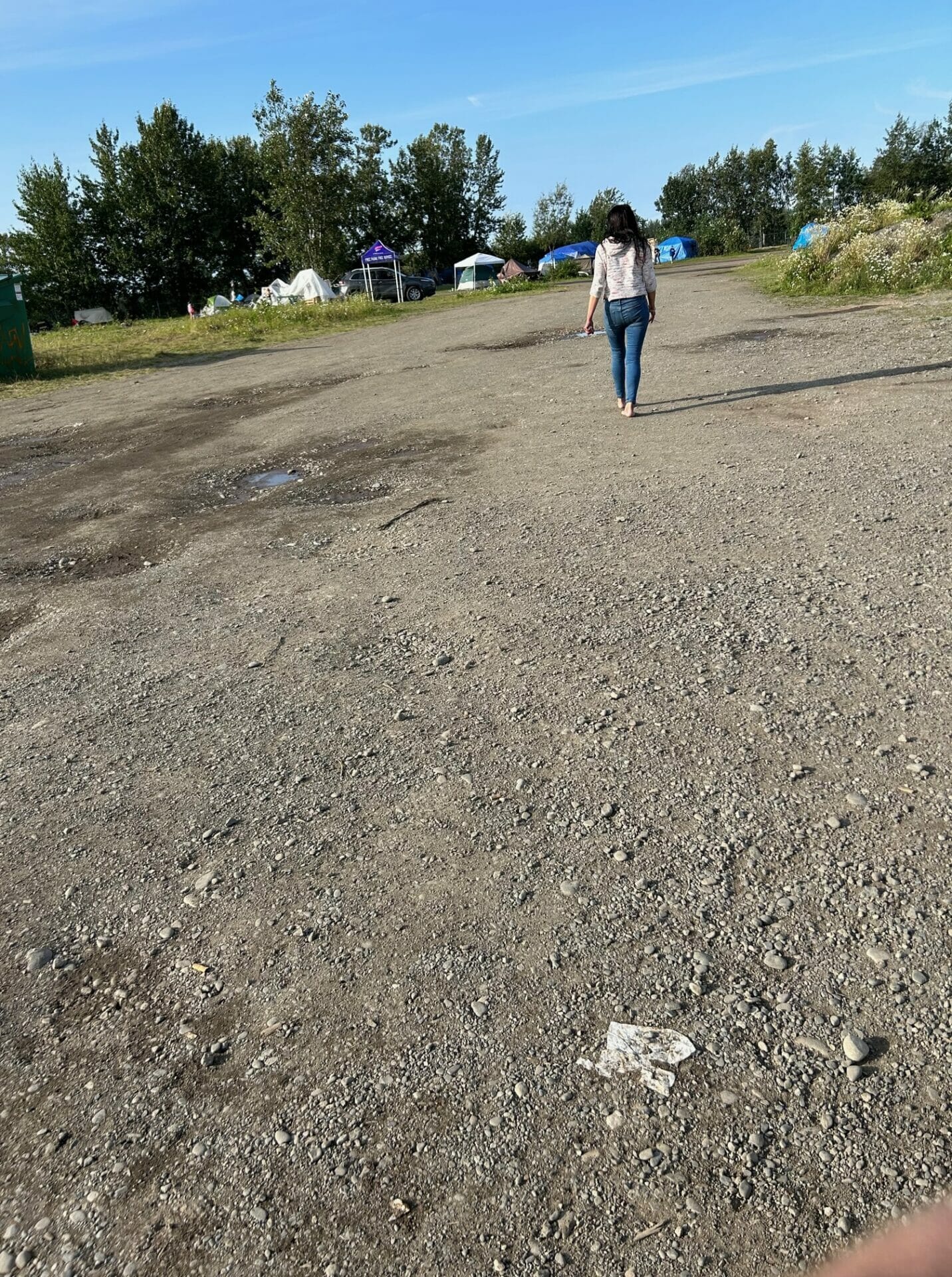 There was a car parked at the camp entrance with a sort of security guard sitting inside. I saw a few Anchorage Police Department cars pull up and talk to him for a few minutes. I wasn't sure if they were there for a specific reason of it it was just a routine check. The officers were not there long and never came into the camp.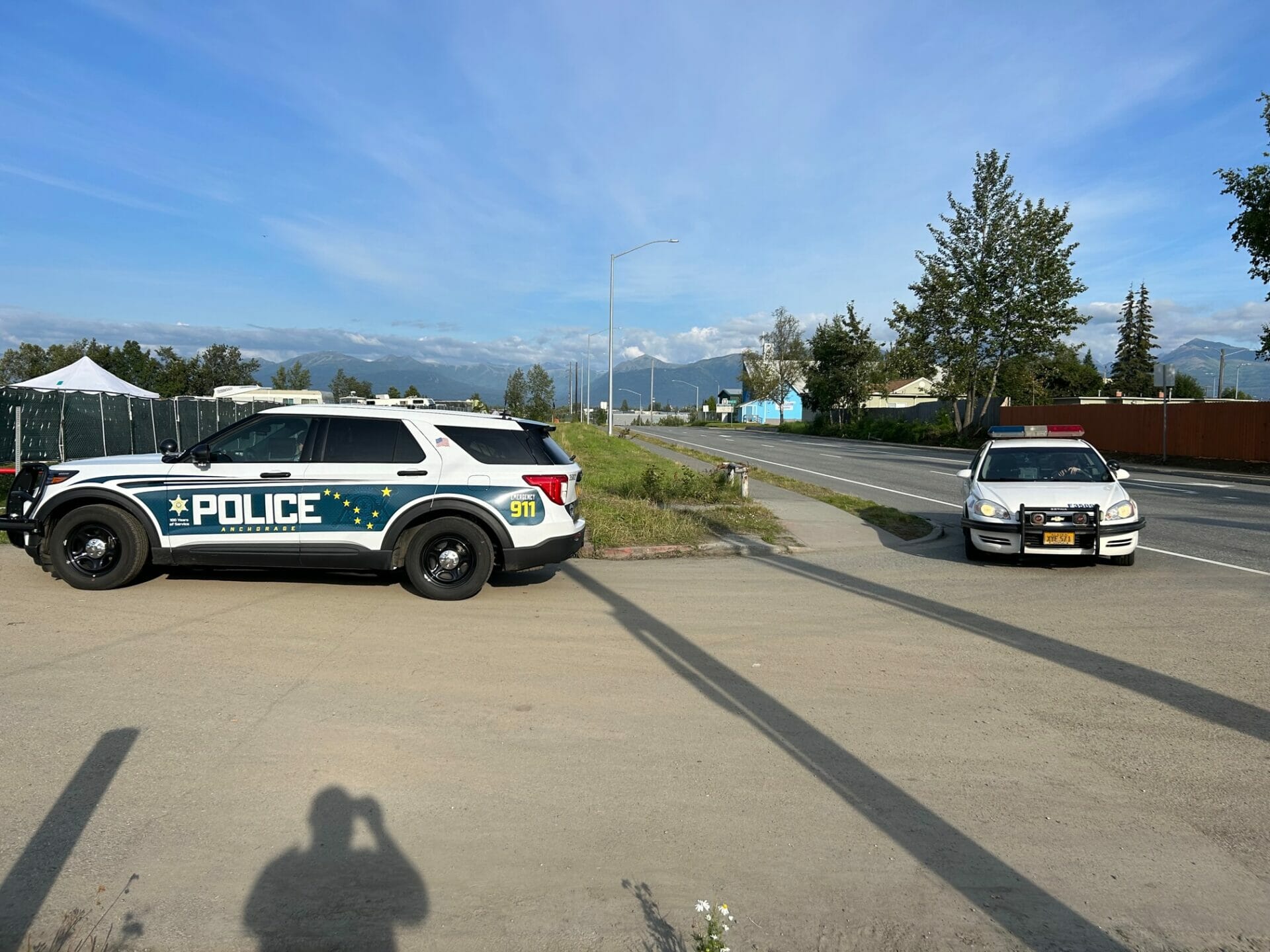 The entrance of the camp had been segmented into two entrances. One goes to the campsite and the other goes to a large area where all kinds of vehicles are parked. I observed dozens of cars coming and going. One was parked near the front. A woman on a bike would would go to the car then into the camp. That went on for a while. Others would get into vehicles that pull up and then get out after some time.
Both entrances have gates. The gate to the main camp was closed, but the gate to the vehicles remained open. I noticed something else: a metal fence had been installed on Third Avenue in front of the camp. It is covered in an opaque mesh to prevent people driving by from seeing the camp.
Out of sight, out of mind.
I'd heard that tents had returned to the area on Third and Karluk near Bean's Cafe and the Brother Francis Shelter. When the Sullivan Arena was open, the area – long known for its problems – had mostly cleared out. I walked over to find two full rows of tents and people.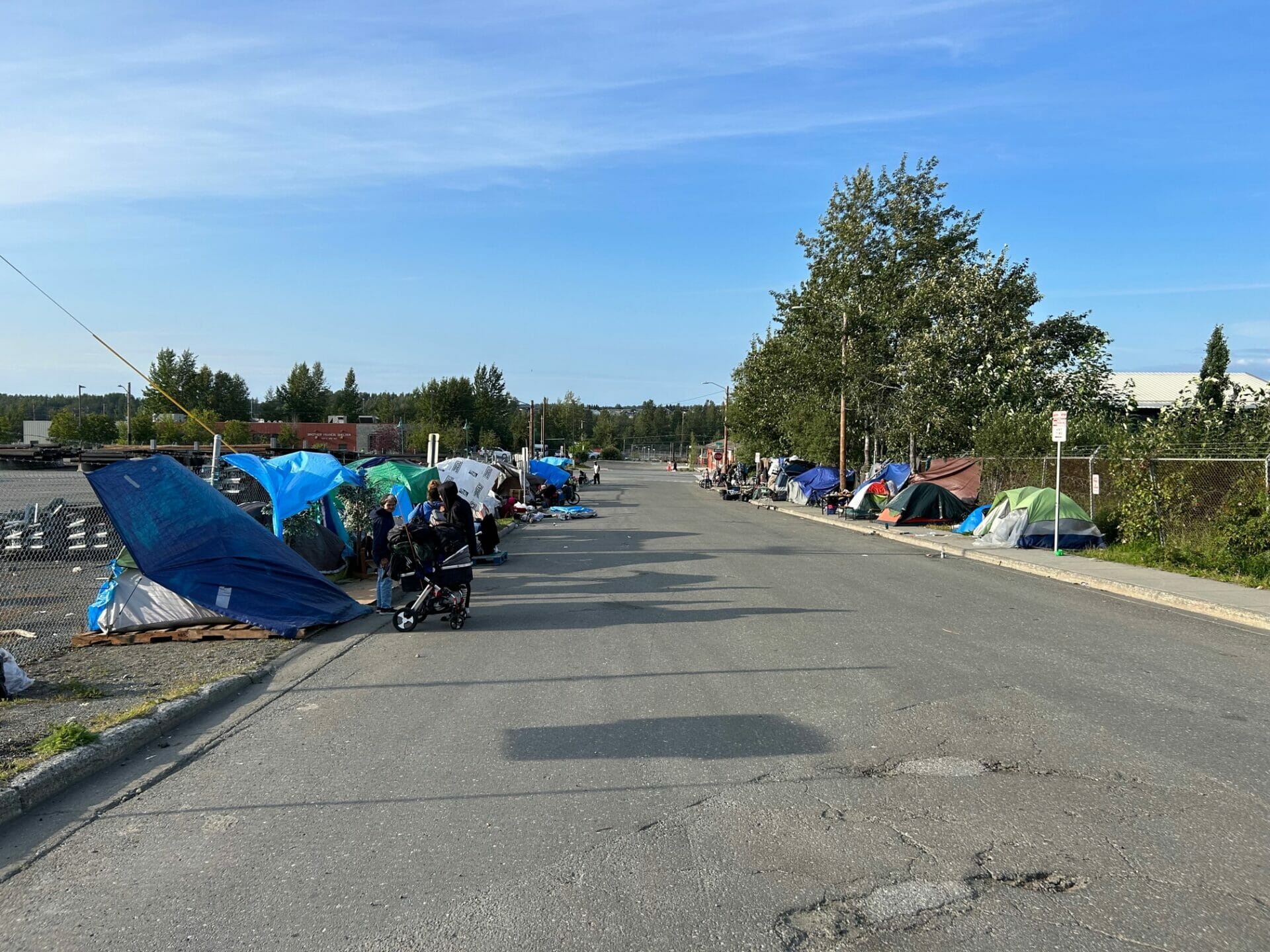 I recognized someone from a video we produced on homelessness two years ago, "This is Still Anchorage." The video was a follow-up to our 2019 video, "This is Anchorage." He stood out because of his missing leg. Bentley immediately recognized me and remembered the video. He told me he had been in rehab and was staying at the Henry House, but had to leave soon. A woman he was with, Goldy, told me she'd been on the streets for two years and had had a hard time finding housing. I asked them why they weren't staying at the large camp up the road. They told me it's too dangerous. They also brought up Mayor Dave Bronson's proposal to buy plane tickets for Anchorage's homeless. They found the proposal laughable, they said, and told me that few people they knew would take Bronson up on the offer.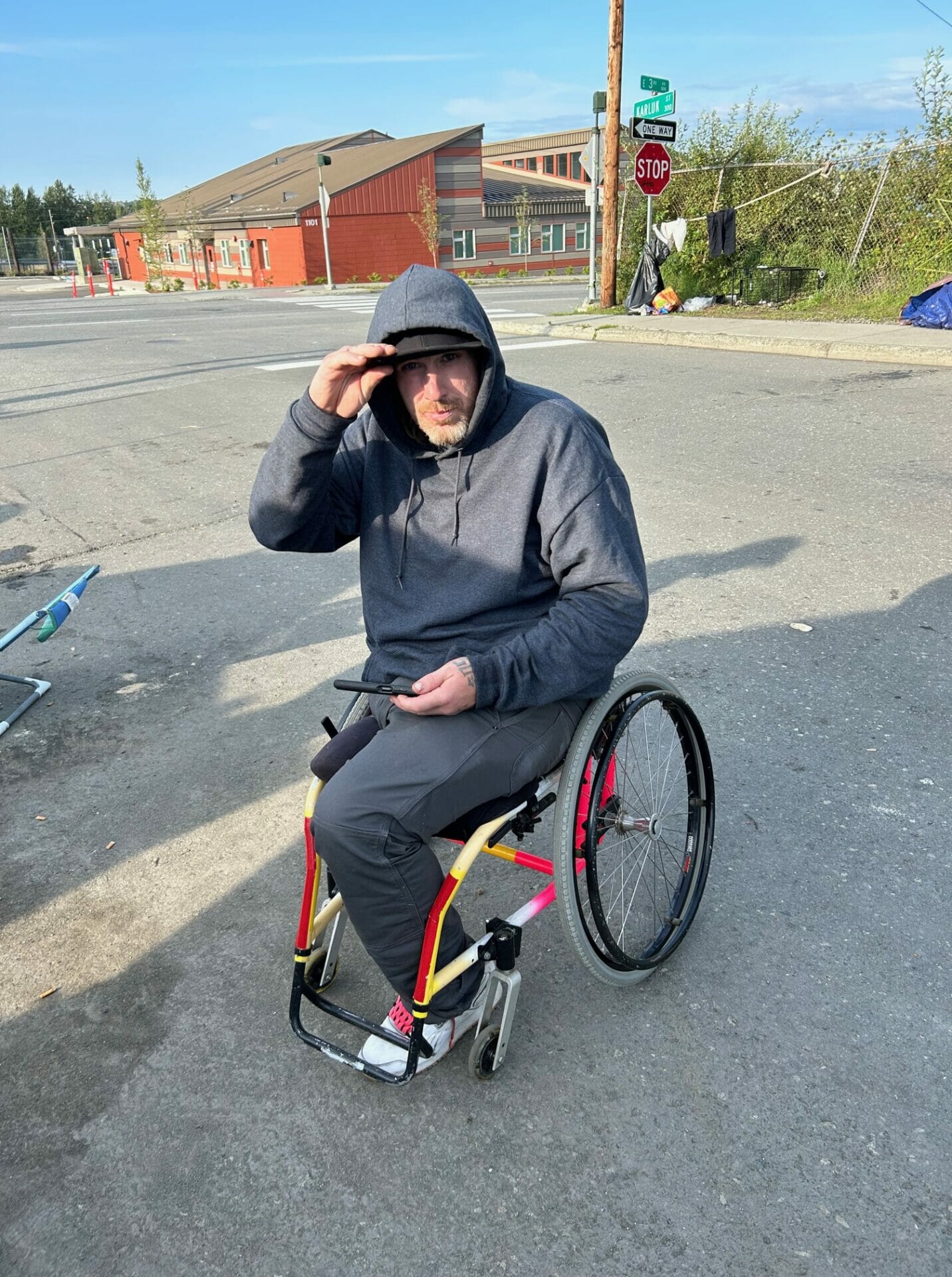 I talked to several people who all had the same concern: where they would stay this winter. Everyone was aware the Sullivan Arena closed and there is currently no plan for cold weather shelter. I asked about Brother Francis Shelter. They laughed, and informed me it is very hard to get in due to capacity. I decided to go see for myself. I walked across the street, where I discovered several people standing outside. The door was locked, but I was buzzed in.
I asked the woman at the desk if they had a bed. She told me no, and informed me that I needed to come back tomorrow at 8 am for a chance to get one. I then asked her if I could get something to eat. She told me no. A man standing near the desk overheard our conversation. He kindly encouraged me to go to the shelter on Tudor, saying I might be able to get a bed there. I asked him if he knew a way to get a ride. He told me it was not that long of a walk.
I would not have taken a bed if one were available. I wanted to see what options there were for food and shelter. There were none around Third Avenue. I went back to talk to the woman Bentley introduced me to. I asked about other housing options or treatment. Some unhoused people don't want help, and those who do have a hard time finding it, she said.
This experience reinforced to me that for people who do want help, it's not easy to get. This has been my observation since I started covering homelessness in-depth five years ago.
I said goodbye to Goldy and another man who had joined her. He was in a wheelchair and missing both of his feet. There was a sadness about him that I can't put into words. Bentley had left when I was at the shelter, so I did not get to say goodbye.
I walked up the street and back to the large camp. I was sitting down, observing the camp when an older man approached me. He asked me if I had seen his friend, who he described as a short man with a beard. I told him I had not seen anyone like that. He said his friend had passed out near the entrance and he had placed a sign on him that read "leave me alone," but when he went back he was gone. I asked the man how long he'd been at the camp. He told me since May. He said he had briefly been at the Sullivan Arena before it closed. When I asked him how long he has been homeless he told me he lost his house last year after his wife died and he started drinking heavily.
A female security arrived to relieve the male guard. I overheard him ask her if she needed his hatchet. I later approached her and asked her if she knew about any shelter options. She told me I was welcome to set up a tent anywhere, but cautioned me to stay away from the east side of the camp because of "lots of drama." I asked what she meant by that. She told me there is routinely shotgun fire from that side at night. She added that many people on the west side of the camp are older and often get angry about the conditions at the camp. As far as shelter options, she basically told me good luck. She mentioned the Golden Lion, but said that would cost me $800 a week.
I decided to walk around the camp more, and check out a wooded area to the north that I had not explored yet. As I was walking, I encountered a woman severely tweaking. She was rambling about her tent, and kept saying, "Get away from me you dumb ass bitch!" She was alone. A man on a bike rode by and yelled, "Suck a dick you dumb ass bitch!"
I went to the northern edge of the camp and went behind the fence, where there is a network of trails. I encountered a man siting in a burned out vehicle. I didn't seem him at first, and he startled me when he said, "Hey, big guy." There is an area lower down in the woods with more tents and people. This area has a much different vibe than the main camp. It was clear that I was not welcome there. I kept going.
As I was walking I saw the two women that I had seen numerous times since I arrived. They were the ones I had seen earlier both go into and come out of the portable toilet. One of them had dark glasses and a hoody. They had been walking around the camp visiting different tents. As they walked by me, the one with the glasses aggressively asked me, "You got a badge number?" I asked her what she was talking about and told her I was not a cop. "Well we've seen you hanging out all day," she said.
I walked back near the camp entrance. I was planning on getting my tent and sleeping bag, but I noticed several men looking at me suspiciously. I figured the two women had told them I was a cop. That's when the guy on the bike rode by me and said, "Take a fucking picture, it will last longer," and then did the gun motion with his hand.
The later at night it got, the more shady characters walked into the camp. I started reconsidering staying the night. Then a woman approached me. She had come from the area where all the vehicles were. She asked me if I needed a place to stay, and what kind of drugs I wanted. I told her no thanks. I saw another woman walk by wearing booty shorts and a bikini top. She was holding a screwdriver with a long neck. It was at this moment that I decided to leave.
When I stayed at the Sullivan Arena I encountered people suffering severe mental health issues. I saw a man who had overdosed be revived with Narcan. I saw what I thought was some of the worst of society. But at least we were inside with security guards, and where everyone was screened before entering.
Third Avenue is different. Third Avenue is, somehow, worse.
Anchorage is not a poor city, and Alaska is not a poor state. Third Avenue is third-world horror in a community with first-world resources. Drugs are being dealt and used in the open. People are defecating in the woods. Prostitution is clearly happening. Sanitary conditions are appalling.
As a city, we have spend hundreds of millions of dollars on "solving" this problem. Yet somehow it has worsened over the last several years. There is currently no plan for a cold weather shelter. The "sprung structure" purchased by the Bronson administration for use as a mass shelter is sitting somewhere in the lower 48. The city is currently paying to store it in a warehouse, as well as additional materials in a Parks & Recreation warehouse in Eagle River.
Access to drug/alcohol treatment or mental health treatment is essentially non-existent if you don't have resources or family with resources. We tolerate open public drug usage and prostitution. We allow the victimizers to operate openly and by doing so we demonstrate our indifference to the victimized.
The police are either powerless or unwilling to enforce the law. Many progressives who scream about "criminalizing homelessness" would never step foot in a homeless camp or allow anyone they cared about to spend a single hour living in one. Conservative rhetoric can sometimes veer into demonizing the homeless, while too many progressives are happy to put on rose-colored glasses and turn a blind eye to the violence, crime, and abuse that occurs every minute in these camps.
There are plenty of people loudly complaining about homelessness, but fewer advocating for raising the funds to pursue solutions. Part of me doesn't blame those who are skeptical about spending more money. We have already spent so much, but the problems have only worsened. At the end of the day it will take money to fix this. But it will also require a massive shift in mentality in how we approach the solution. Compassion is needed, but so is tough love.
When you leave the rhetoric at the gate and actually walk around these camps, you recognize them for what they are: a type of hell that we have created in our city and that we are subjecting real people to, day in and day out.
Before I stayed the night at the Sullivan Arena, I was there as part of an organized group of visitors during the day. At the time it did not seem that bad. When I stayed the night, I saw the unfiltered horror of that place. When media and public officials visit these places, they see a sanitized version of what is really happening. Mayor Bronson and several Assembly members have visited the camp on Third and Ingra. But they have not truly seen or experienced the reality of it. Maybe if they all did, things would be different.
I wish I could say I am hopeful or optimistic things will improve. But with termination dust already appearing on the mountains and winter fast approaching, it seems things are probably only going to get worse.