On Friday evening I walked into the Sullivan Arena mass shelter to spend the night. I had no idea what to expect. As I was getting checked in a staff member told me, "Get ready to see more mental illness than you have in your life." This proved, somehow, to be an understatement.
The first thing I noticed when I walked in was a horrible smell. As I was waiting in line, a man walked by and said, "Somebody shit their pants." A client–what people staying at the Sullivan are called–had defecated in his pants. Staff had to open the shower area so they could clean him.
Before entering, all clients must be screened by security in an attempt to prevent drugs, alcohol, and weapons from entering the arena. When it was my turn, a staff member searched my backpack and asked me to remove everything from my pockets. After going through my backpack, he asked me to lift my pant legs so he could see if anything was hidden in my socks.
The Sullivan Arena mass shelter was opened in March of 2020 in response to the COVID-19 pandemic. Prior to the Sullivan Arena opening, many of Anchorage's homeless stayed downtown at the Brother Francis Shelter. However, Brother Francis was so full it was impossible to adhere to social distancing guidelines, so the city authorized the use of the Sullivan to provide overflow capacity. It has been operating as an emergency mass shelter since.
All I brought to the Sullivan was a backpack with a book, a phone charger, and a jacket. I was provided a donated blanket after I checked in. The Sullivan Arena shelter is known as a "low demand entry" facility, meaning that if you can walk or wheel through the door, you can stay there. During the check-in process I was asked questions about my identity, where I had stayed the night before, and my race and ethnicity. You can choose not to answer. As I was responding to these questions there was a commotion in the arena and I saw several people run upstairs. This was followed by a burst of chatter on the radio. Someone had overdosed by the bathrooms. The woman checking me in asked if I wanted to see what was happening. We rushed to the outdoor patio on the second floor, where about twenty portable toilets for clients stand side by side. (The bathrooms inside the arena are closed). The woman told me overdoses are not uncommon at the Sullivan, and that some people have died. She showed me a bottle of Narcan she carries with her.
A man, probably around my age, had overdosed by the portable bathrooms and was unresponsive. Staff injected him with Narcan and were attempting to revive him. A staff member called 911 to report an overdose. You could tell she had made this phone call before. The staff member who had run upstairs with me had to meet the paramedics at the other end of the arena, so I joined her. As we walked through the arena we passed a group of tables where clients eat and relax. No one seemed to notice or care about the commotion nearby. Soon after, the paramedics arrived and rushed to the man. Staff had to tell other clients the bathrooms were temporarily closed. One man in a wheelchair said, "If you don't let me use the bathroom, I'm going to shit in this chair right now." Luckily, right after he said that the man who had overdosed was wheeled out in a stretcher. He had been lucky. The paramedics had been able to revive him.
I walked back downstairs to finish checking in. Once I was done, staff looked at a large board on the wall to figure out which cot I could sleep in for the night. They also put a wristband on me with my name and cot number: 110, right in the middle of the arena. All the men stay on cots in the main arena. Women, couples, and LGBT people stay on the second floor in a separate area.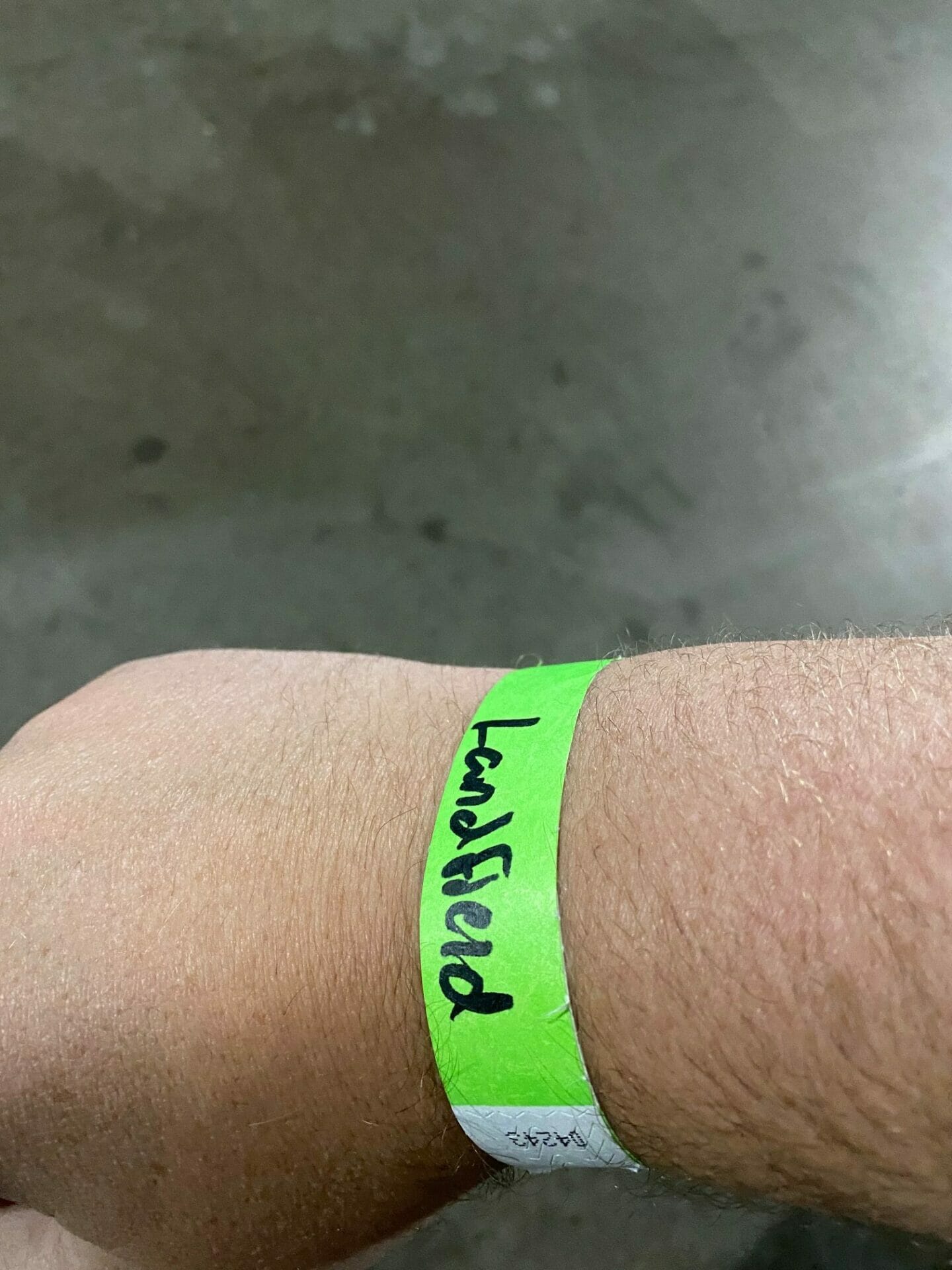 When I got to my cot it was turned on its side, meaning it had been available. I counted a handful of other cots still on their sides. The arena has room for 400 people. I was told at that point there were only seventeen other cots free. I saw an old man in a wheelchair on a cot near the entrance of the arena. I was told he was from Guam and that he was mute. A staff member was trying to communicate to him with gestures. He had a smile on his face, but seemed to have difficulty understanding what the staff member was trying to say. I asked why the man was staying here instead of a place where his disability could be accommodated. I was told that because Brother Francis, which has staff who are better trained to work with individuals with serious medical needs, was full they could not take anyone else. As I walked away, he was sitting in his wheelchair next to his cot watching a video on his phone. He was still smiling. It was sad and frustrating to see this disabled man in such an obviously inappropriate situation. I wondered how our city could allow this to happen.
I turned my cot over and put my blanket on it. I had been warned to not leave my backpack or any belongings, including my blanket, unattended as they would likely disappear. I lay down to just observe the arena. It was quiet until the man in the cot next to me showed up. He could not find his earbuds and was very upset. He said something like, "If I catch the mother fucker who took these…" I thought to myself, I hope he doesn't think I took them. Not long after he walked away.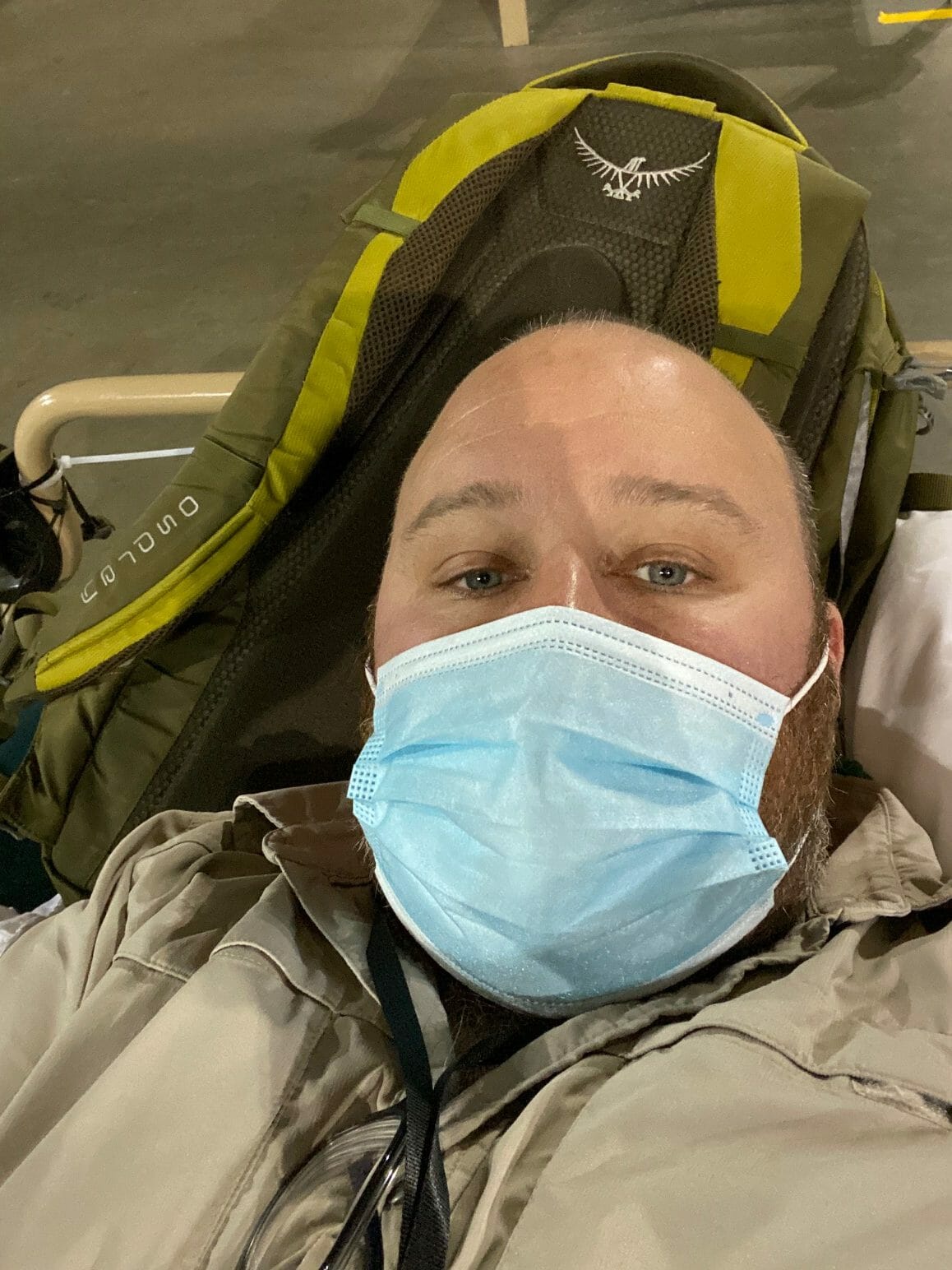 I started to hear laughter. A man in a nearby cot was watching a video on his phone. His laugh was hard to describe, but it struck me as laughter filled with confusion and sadness. I was later told the man had suffered a traumatic brain injury. He continued to laugh for probably thirty minutes. At one point another man shouted, "Shut the fuck up!" It did not have the desired effect. This laughter was something I would hear on and off for the rest of the night and into the morning. As this was happening, a woman on the second level started yelling. It was hard to make out what she was saying or determine if she was talking to herself or someone else. She yelled things like, "I will fuck you up," and "Get the fuck away from me." This went on for several minutes. No one seemed to notice or care. Staff periodically walked through the arena to check on people who were asleep.
I was getting hungry, so I grabbed my backpack and went upstairs to the cafeteria. There is only one cafeteria in the arena, so it becomes one of the few places where everyone at the shelter comingles. There is a long row of tables where clients can sit down to eat, and a big screen TV. I grabbed some raisins and nuts and sat down. After watching a Vin Diesel movie for a while, I grabbed my backpack to go to the bathroom. A staff member had told me earlier that if someone is in the bathroom too long, they knock to make sure they are ok. If they do not respond they open the door. The bathrooms are where people often use drugs, so they want to make sure no one overdoses and is forgotten about. The area smelled like any area with a lot of portable toilets: not great. Once you go back inside there are some portable sinks with a foot pump for water.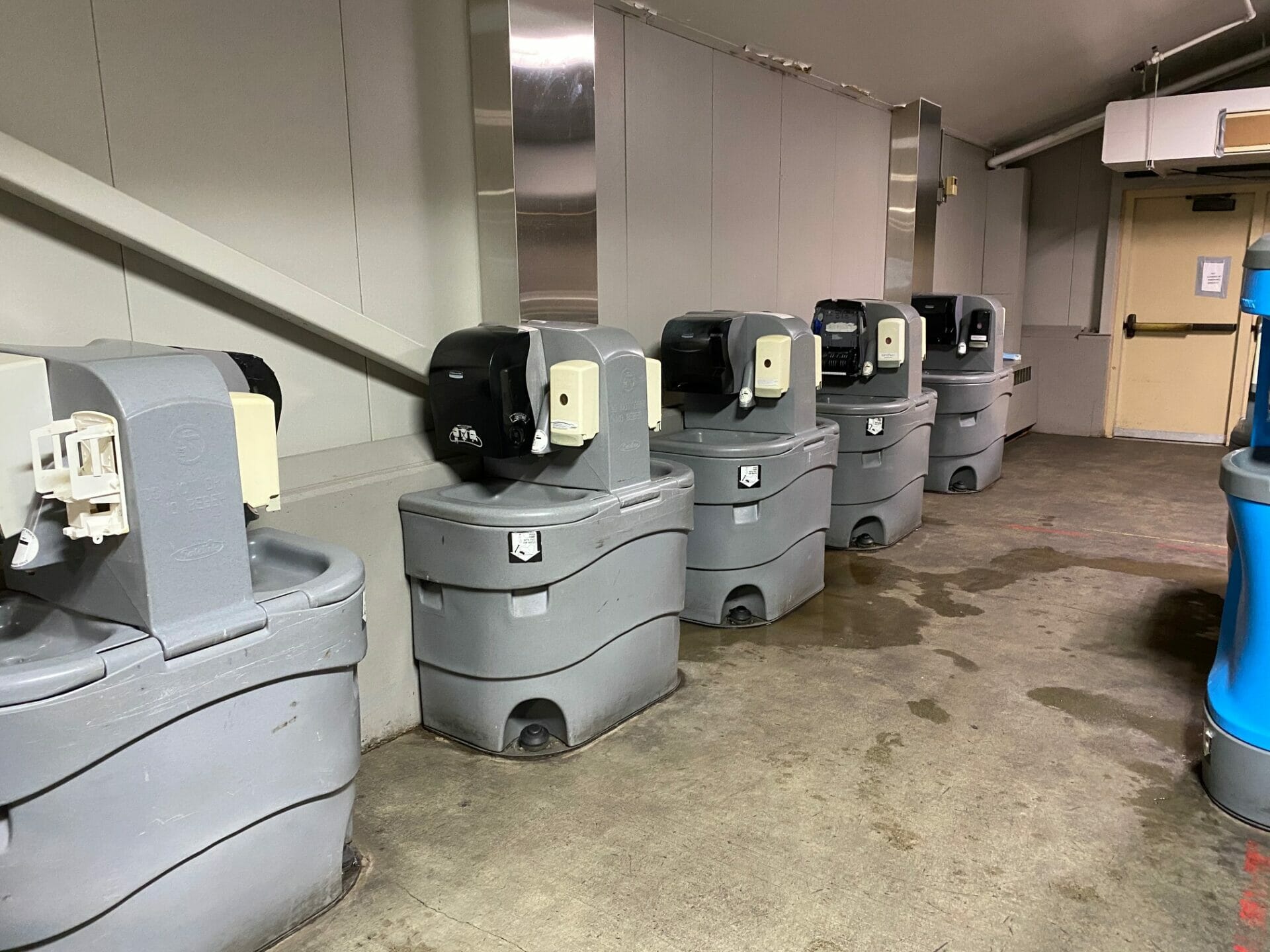 As I was walking back in the arena a man started talking to me. He said he had served in the Navy for three years but suffered a brain injury in a car accident in 2006. I asked him how long he had been staying in the arena. He told me the amount of time in months, days, hours, and minutes. It was about six months. He said the car accident had damaged his short-term memory but his long-term memory was ok. He told me he used to have an apartment in Wasilla but had recently lost it. He then told me how long it had been since he lost his place in the same fashion as the other dates. He told me how long he had been in Alaska and how long he had served in the Navy, and said he was trying to find a better living situation. He spoke with the kind of precision that made me think of Ray from Rain Man. I wished him luck and walked back to the table. Later that night I saw him again and he did not seem to recognize me.
At the food counter I grabbed a burrito and a cup of coffee for dinner. As I was getting my food, another man walked up. The staff asked him to please put on a mask. He mockingly placed it on his face with his hand but did not actually put it on. He was asked again to put it on, at which point he became angry and started yelling and cursing. Then he threw the mask on the floor and walked away. Others in line for food did not react. By this point I had learned that these kinds of scenes happen almost continuously.
After I was done eating, I continued to watch the Vin Diesel movie. Around 9 pm a staff member announced it was clean up time and that he was turning off the TV. This caused a disruption. Someone asked if they could finish the movie, but the request not granted. The simple act of turning off the TV had a major impact. With the flip of a switch, the atmosphere went from calm and relaxed to chaotic and unstable. A man in his 50s was sitting next to me. He told me, "I hate being treated like a kid." He told me he had suffered a broken ankle and had been struggling since winter. Before hurting his ankle, he told me, he had worked in mining. He said he had been trying to find work but transportation was a problem. He said his wife was staying in temporary housing, but he was not allowed to stay with her.
As they were cleaning up the common area, I saw a man walking around talking to himself. He was saying things like, "Get the fuck away from me!" and "I'll shut your fucking mouth for you." It echoed throughout the arena. As I was walking around I saw a table of six men talking. They were discussing football and the weather. One was on a laptop. I thought to myself they could be having this conversation anywhere, but they're here. Another man then walked by talking nonsense to himself.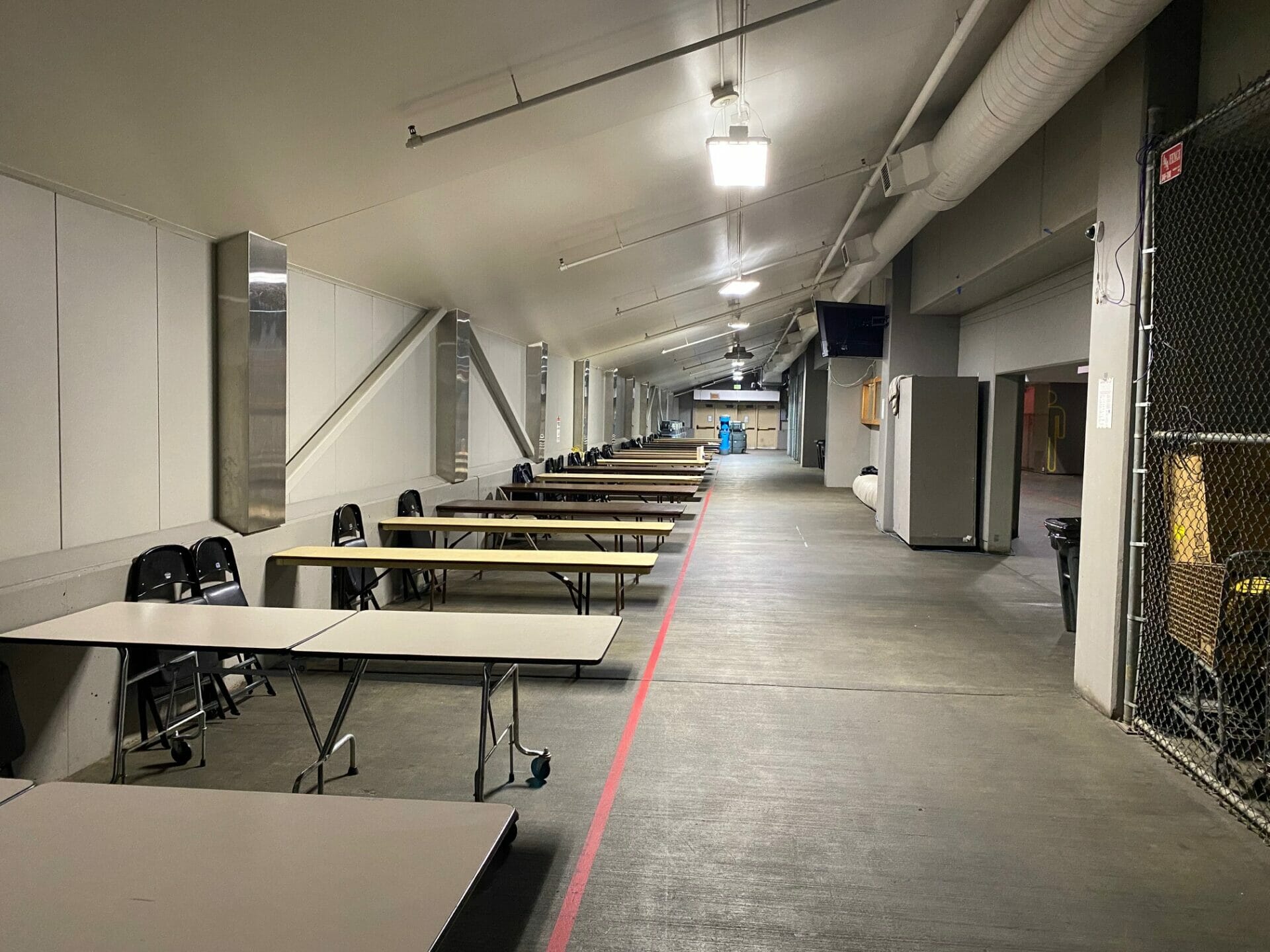 There aren't many electrical outlets in the main arena, so most people charge their phones upstairs. A Rhianna song was playing on the arena loudspeakers as I walked around. One of the men I'd seen earlier was still walking around yelling and cursing. Another man yelled, "Shut the fuck up!" The yelling continued. I walked back down to my cot to lay down. The arena started to fill up with people who had been outside. The doors close at 10:30 pm, so if you are not back by then you have to stay outside. A man near me read a book on his cot. I asked him what he was reading. It was "Triumph and Tragedy" by Winston Churchill. He said he liked reading about the British perspective of WWII. He had a bunch of other books in his tote. I asked him why he was staying at the Sullivan. He told me he was from Tennessee and had come to Alaska to fish. He said he had been mugged shortly after he arrived and his ID and credit cards had been stolen. He told me he had been trying to get a replacement ID but it had been challenging.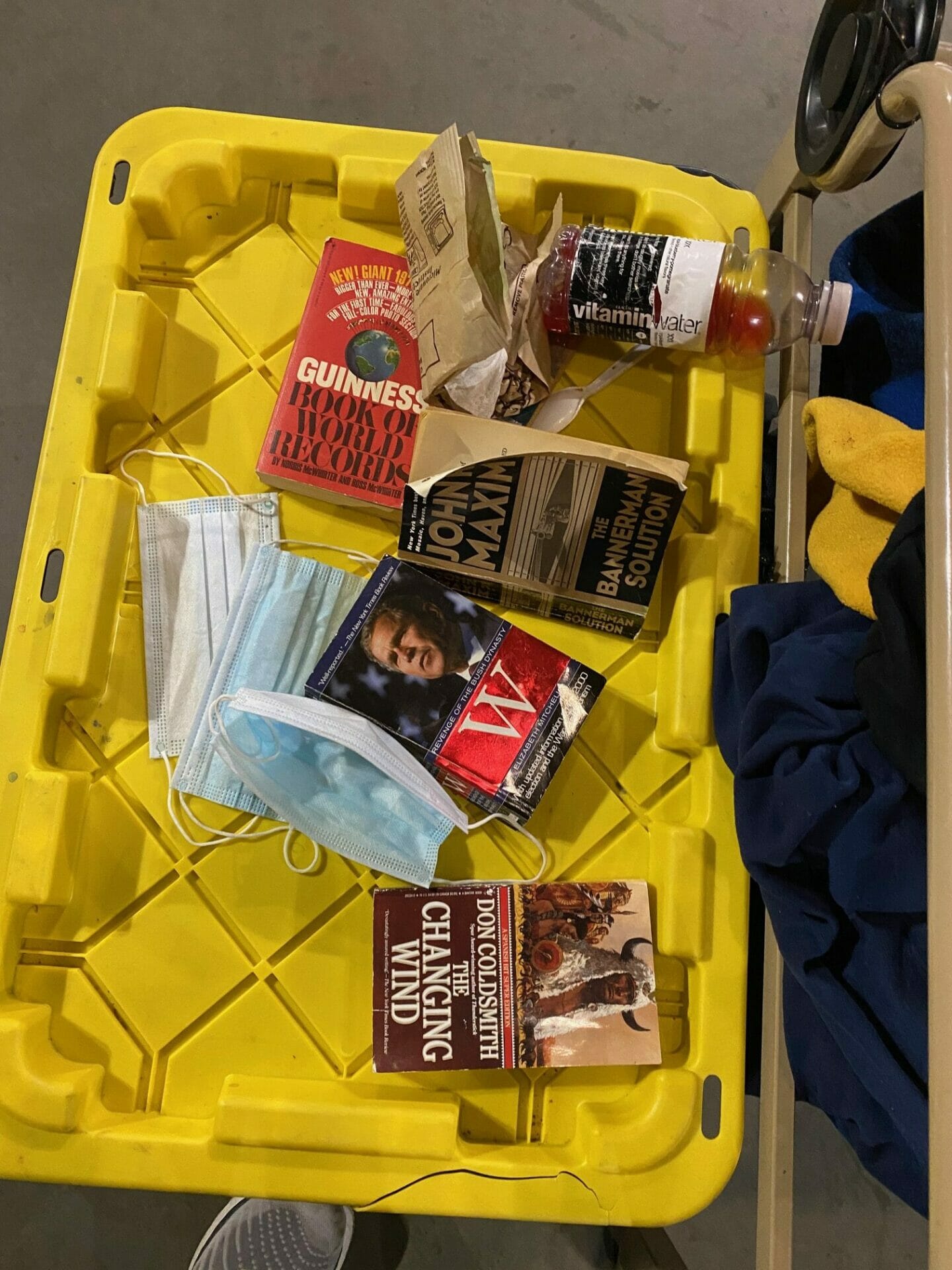 I lay in my cot, staring at a huge GCI logo above me, while the Tommy Tutone song "867-5309" song played over the loudspeakers. Soon after that the lights turned out. It was just after 10 pm. The music continued to play for a few more minutes, and then abruptly stopped. Now the arena was filled with sounds of phones, coughs, and people walking around. A man near me repeatedly hit himself really hard in the chest. The man who had been laughing before started laughing again. Another man nearby was listening to the BBC news. All of a sudden a man at the other end of the arena started yelling and saying "fuck" a lot. I could hear someone say, "I just want to sleep." I knew it was going to be a long night.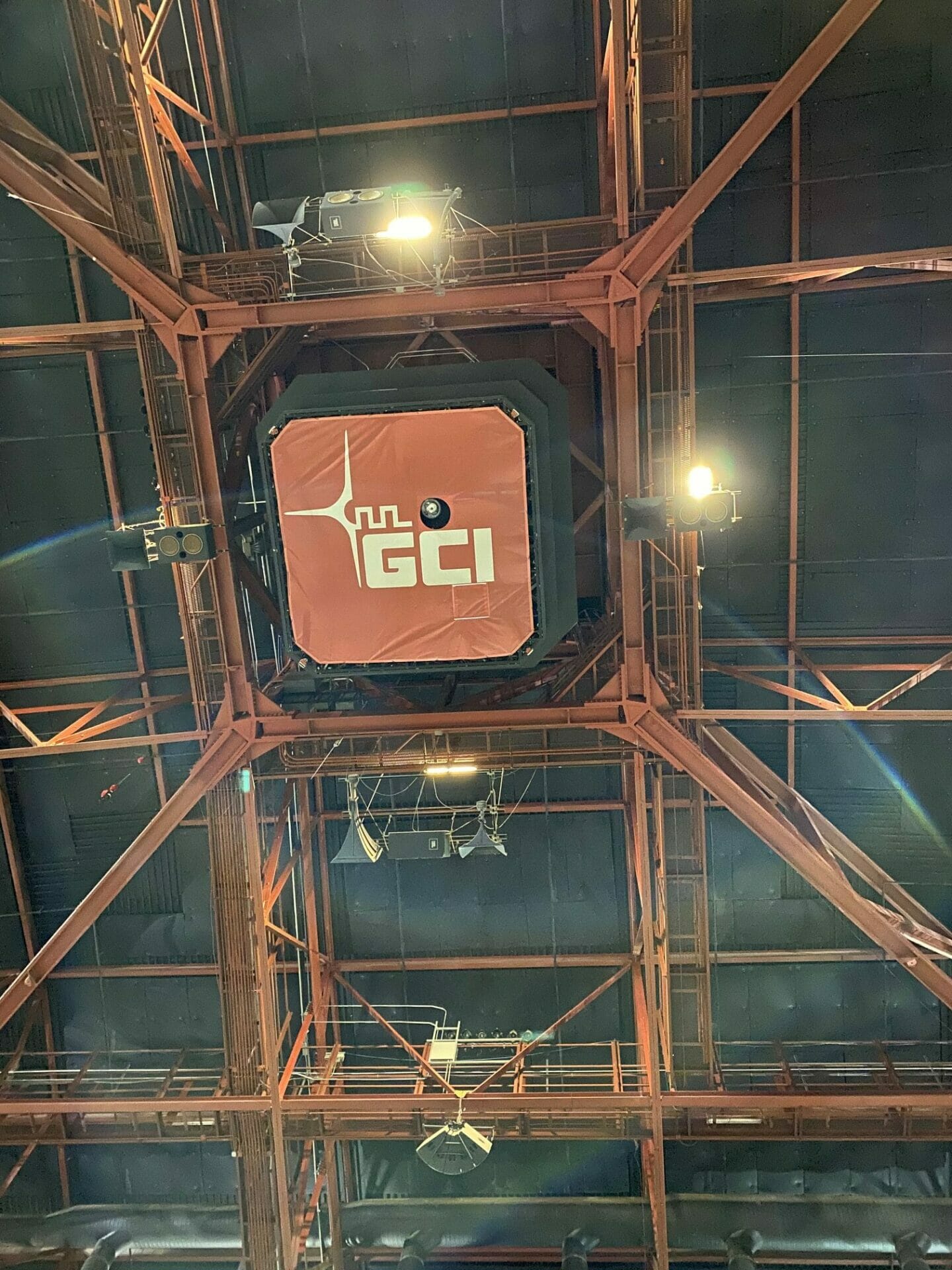 A bit later I heard a woman on the second floor screaming. It went on for several minutes. A man shouted, "Fuck you, bitch!" I was told the bathrooms outside closed at night, but a few toilets were brought inside for nighttime use. I had to pee, so I wandered over. There were three portable toilets, but they were the kind that were partially open. The stench was horrible. It was just after 11 pm. I was not tired enough to go to sleep, so I walked upstairs to sit down and charge my phone. Upstairs, I met a man who reeked of alcohol. He started talking to me in a stream of nonsense. I didn't want to engage with him, so I tried to end the conversation. He became angry, and then walked away and started yelling. I had a realization at that point: I wanted a drink. I tried to imagine how I would feel if I had been in this situation for a month, or even a week. The stress, anxiety, and feelings of insecurity would be hard to manage. A lot of normal people want to have a drink at the end of a hard day. Every hour here is a hard day. I can understand why so many people in this situation drink or use drugs.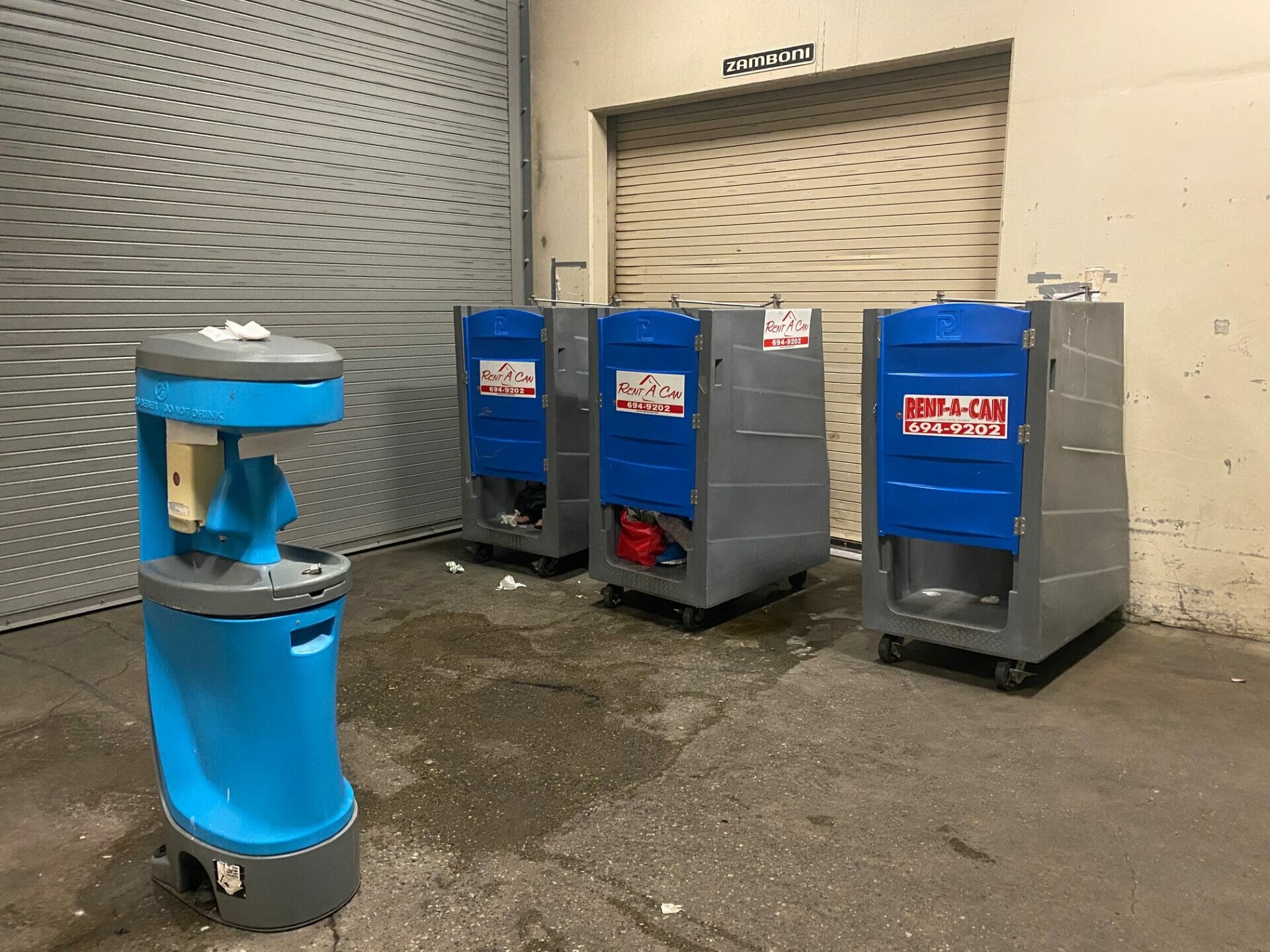 I was not upstairs for long before I was told that the area was closed, so I went back down to my cot. The arena was a little chillier now. I was glad I had a blanket. As I was trying to sleep a man walked near my cot. It looked like he was talking on his phone but there was music playing on it. He said, "I'm gonna fuck this bitch up." He continued walking around the arena talking to himself. He finally went to his cot, which was directly behind my head. He continued to say disturbing things, like, "I'm bipolar and I don't give a fuck. I will fuck any bitch up." He got back up and kept talking to himself. I had almost fallen asleep when he returned. He talked about the Super Bowl, the Philadelphia Eagles, how he was going to sue the shelter, how the place is filled with fucking rats—"snitches." A man at the other end of the arena started loudly laughing or crying. It was hard to tell. Several people shouted things like, "Shut the fuck up!" and "We are trying to sleep!" All of this was compounded by snoring, coughing, farting, and trash cans being wheeled around. I was tired but I had trouble falling asleep. When I finally managed to sleep I only drifted off for a few hours before waking up to more yelling. The arena was now noticeably cold.
The man near me was still yelling and talking to himself. Around 6 am the situation began to escalate when the man began arguing with someone. He had been arguing with staff earlier, but this was different. He threatened violence, and I thought I was about to witness an assault. Someone again yelled, "Shut the fuck up!" The man near me started yelling at the man who had been laughing all night. He said, "I will fuck your laughing ass up, feel me?" The laughing continued. This was the first time I was scared. What if they started fighting? What if he turned on me? The man next to me was eventually escorted out of the arena by staff, but he was back thirty minutes later. There is nowhere else for anyone to go.
By now, it was almost 7 am. The arena lights had turned on. I had given up on sleeping, so I headed upstairs for breakfast. The TV was on. There were probably a hundred people in the dining area, and it was a chaotic scene. A woman was repeatedly screaming, "Fuck you" to someone. Another man and woman nearby were arguing. I waited in line and was handed a cup of cereal and what tasted and smelled like powdered milk. A man I sat next to offered me instant coffee. Nearby, I overheard two men talking about how if they got in a fight and hurt someone they could "get out of here." I took that to mean they would be happier in jail. One of the men was on his fourth bowl of cereal. I jokingly said he looked hungry. He told me he was trying to warm up. He had missed the 10:30 pm curfew and had to sleep outside.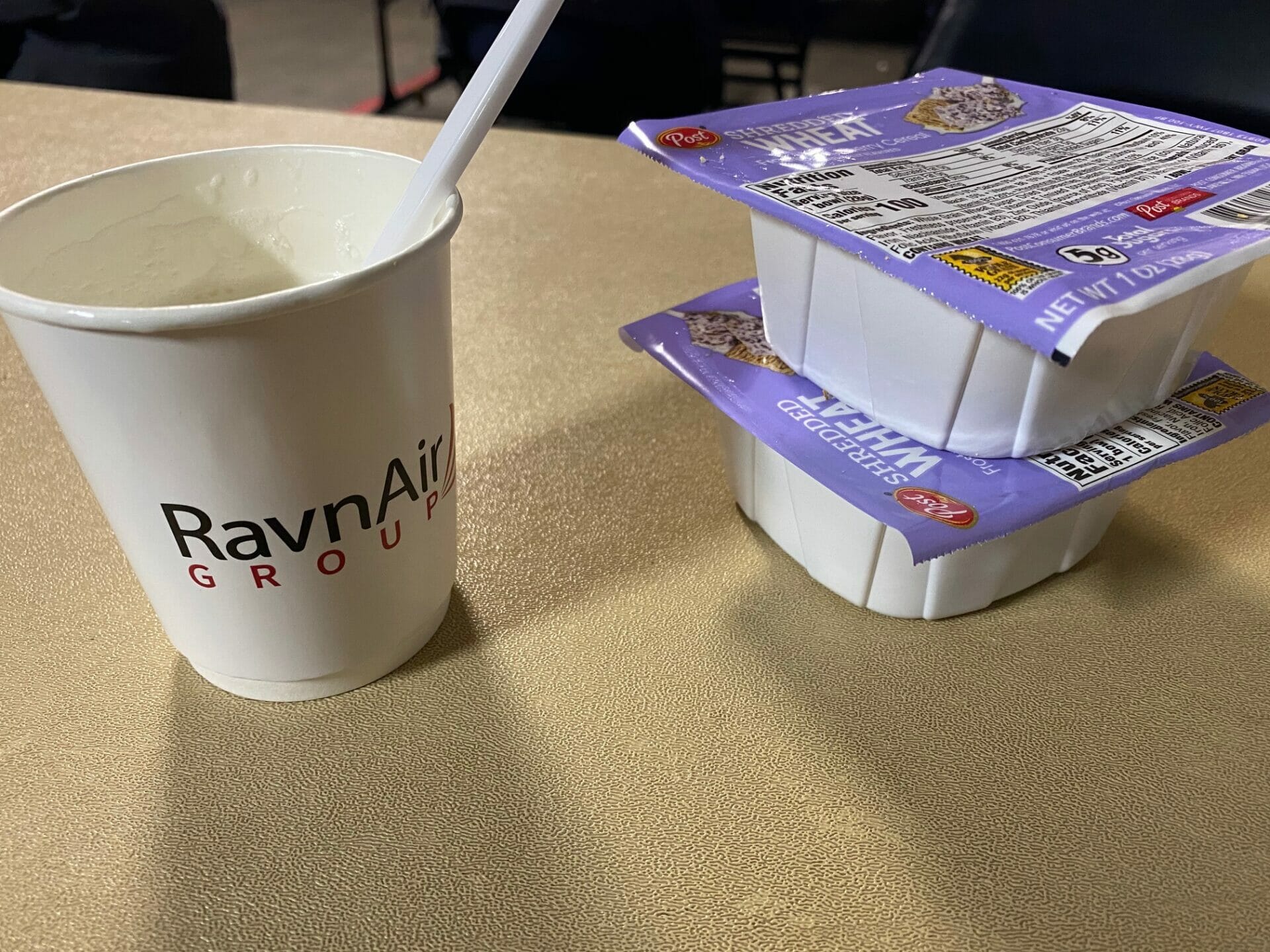 As I was talking with the two men, an older woman sat behind us and started yelling at them. This went on for the next thirty minutes. At one point, one of the men told her, "Shut up you stupid cunt." This made her angry, and for some time the man and woman went back and forth repeatedly telling each other to kill themselves. She said she had tried to at one point, and she could if she wanted to. She told him, "You dumb Natives can't even kill yourselves." As all of this was happening, another woman, probably in her mid-thirties, walked in a big circle around the dining area. She held a cup of milk and sang, laughed, and talked to herself with a huge smile on her face. She did this for as long as I was there. The older woman eventually walked away but left her bag on the table. The man she was arguing with went over and started going through it. I really hoped she did not catch him. He sat back down and said there was nothing good in it. She came back a few seconds afterwards. Later, she looked at me and said, "How was your night, sweetie?" She could have been my grandma asking me that. Before I could answer, she went back to yelling at the men I was sitting with.
I had never experienced anything like this before. It was all surreal. I had had enough of the breakfast scene, so I went back to the arena to take a shower. The showers are open at limited times throughout the day. I stood in line and waited for twenty minutes before I was allowed in. I was told they have to limit the number of people in the showers to avoid fights. The door opened and the staff member said, "Ok, three more." A man had cut in line a few minutes before. He begged to be let in so he would not be late for work. I offered him my spot but the staff member ushered all of us in. We were escorted down a hallway into an old hockey locker room. I had to sign in, and was then was given a towel and a cup of soap. I went to the locker room area to take my clothes off. I put my clothes and backpack in a wood locker below where players normally get ready for a game. There were several other men around me doing the same thing. I was a bit worried something would go missing, but I needed to take a shower. It was like many locker room showers I had been in before, but it felt much different. I took a quick shower next to a man around my age. When I was done, I went back and dressed.
I walked back into the arena. Many people were still sleeping. There was more yelling and shouting, but I was so tired I did not notice like I had earlier. I told the staff I was leaving and wanted to check out. They were a bit confused when I said I was not coming back. I thanked them and walked out. As I was walking out the main door a man who appeared to be in his late 20s was being told he could not come in. He was either drunk or high, or both. He staggered out into the chilly air and followed me up the ramp leading to the parking lot. I was glad I had a jacket. Some people were outside talking, others were shouting. I was so tired. All I wanted was to be in my bed.
My buddy Scott, who had dropped me off the evening before, was waiting there to pick me up. He had a hot coffee for me. I tried to describe what I had experienced as he looked at me with bewilderment. On the way home I thought about how so many people drive by the Sullivan Arena every day and have no idea what kind of world it is in there. The Sullivan Arena has been a homeless shelter for a year and a half. I had not thought much about it before I decided to stay the night. It is now a place I will never forget.
I have spent a lot of time interviewing people in homeless camps. I always ask people if they have stayed in the shelter or if they want to. The most common response I've heard is they do not want to stay in a place with "crazy people and rules." I used to think they just did not want structure. After spending a night in the Sullivan Arena, I understand why so many people choose to camp in the woods.
I do not know how to solve homelessness. But after spending just one night in the Sullivan Arena, I know that a mass open shelter like this is not the answer. I have sat through a number of meetings on this topic. They are always in comfortable conference rooms or the Assembly chambers. People dress in nice clothes and sip lattes while talking about the "homeless problem." Virtually none of these people have ever spent any significant time in a homeless camp or a place like the Sullivan Arena. Taking an hour-long tour of a shelter or observing a camp abatement is a good start, but does not begin to allow someone to truly experience the human tragedy that is continuing, apparently without end, in our city. Every member of the Assembly, the mayor, and all his staff who work on this issue should spend a night at the Sullivan Arena. If that were to happen, I guarantee the conversations would change and people would understand the urgency of this situation and the need for solutions.
—-
Thanks to Paxson Woelber for helping edit this.