As the 100th day of the legislative session has come and gone, things are starting to heat up in Juneau. It's anyone's guess when the session will end, but the conventional wisdom seems to be around day 121, the constitutional limit. That would be mid-May. The budget and crime are the main issues. On a non-political note, it's a beautiful, sunny day in Juneau and the first cruise ship of the season arrived today!
A friendly message and reminder to all our readers, the Landmine is made possible by myself and a team of awesome Alaskans. It takes a lot of work to provide the content we do. There are now additional costs that I have temporarily located to Juneau. If you enjoy the content we provide, please consider making a one time or recurring monthly donation. You can click here to donate via PayPal. We would really appreciate it! And thanks to everyone who has been supportive.
The Governor
Governor Michael J. Dunleavy (R- Alaska) held a press conference on crime in Anchorage on Monday (4/22/2019). He was joined by the Attorney General, Kevin Clarkson, and the Public Safety Commissioner, Amanda Price. You can watch it here. He basically said he wants the Legislature to take up and pass his crime bills. The problem is the House, specifically Judiciary Committee Chairman, Representative Matt Claman (D – Anchorage), has a different approach on how to deal with crime. With only a few weeks before the session is over, look for Dunleavy to call a special session to deal with crime. Maybe in Wasilla!
Governor Dunleavy was spotted meeting with Speaker of the House Bryce Edgmon (I – Dillingham) on Thursday (4/25/2019). They were likely discussing the budget and crime. I would have loved to have been a fly on that wall.
Governor Dunleavy was also spotted in his Juneau office on Friday (4/26/2019), with me! A big thanks to him for doing a podcast with me. You can listen to it here. You can also listen on iTunes or any of the podcast platforms.
The Legislature
The House passed House Bill 14 yesterday 36-1, with three excused. You can guess who the lone no vote was. This is Representative John Lincoln's (D – Kotzebue) bill to fix the Schneider loophole. Justin Schneider strangled a woman, and then ejaculated on her, which is bizarrely enough not considered a sex crime in Alaska. The bill now goes to the Senate. On a side note, I would love to see the search history on the computers of Representative Lincoln's staff while preparing and researching for this bill. #NSFW
Things got pretty loose in the House Finance Committee on Tuesday (4/23/2019). During a presentation on crime, Representative Colleen Sullivan-Leonard (R – Wasilla) was making a comment about how the House is not taking up Governor Dunleavy's crime bills. She was interrupted by the Finance Co-Chair, Representative Tammie Wilson (R – North Pole), who called an at ease and tried to get her to talk outside, which Sullivan-Leonard refused. Wilson then gaveled out the meeting! Very loose. Here is an article about it. And here is a satire article about how they will be fighting in a UFC style cage match!
You kind of had to be in the room, but this was hilarious.
House Republicans held a press conference on Thursday (4/25/2019) to discuss crime and other topics. It was attended by Representatives Lance Pruitt (R – Anchorage), Colleen Sullivan-Leonard (R – Wasilla), and Cathy Tilton (R – Wasilla). You can check it out here. One interesting point was when Pruitt was criticizing the forward funding of education. He said he agreed with the AG's opinion that he thought it was unconstitutional. I pointed out that he voted for that bill last year, and was even at the bill signing! He basically said he didn't understand what he was voting for. Weird. Best bill signing ever! This is how politics works, folks.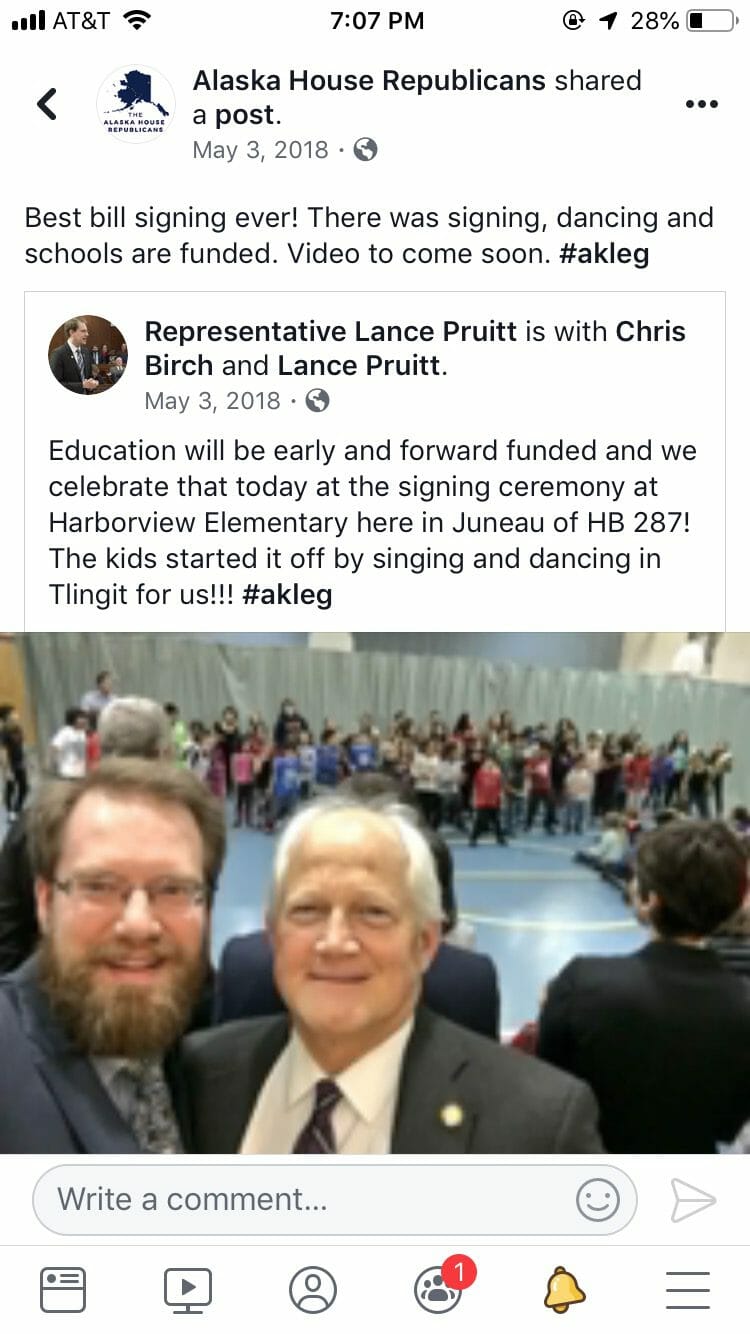 Senator Natasha von Imhof (R – Anchorage) got a little confused on Thursday during a Senate Finance Committee meeting. She kept referring to Nancy Meade, General Counsel for the Alaska Court System, as Mary. Apparently Nancy has a sister named Mary. Maybe Natasha knows her! Check out Senator Donny Olson (D – Golovin) point out that her name is in fact Nancy. Super funny.
Other Happenings
The Attorney General, Kevin Clarkson, suffered a heart attack on an airplane to Seattle. He was taken to the hospital for surgery. Here is a statement from the Department of Law. Wishing him a quick recovery.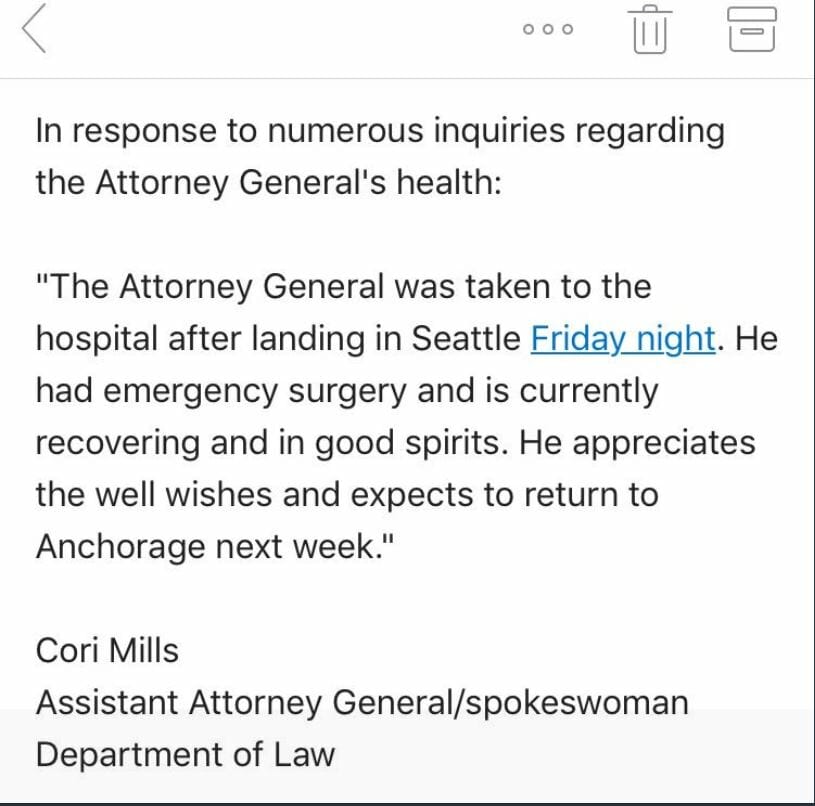 Trivia night got a bit contentious this week in Juneau. Apparently Budget Director Donna Arduin showed up. Her not giving a fuck level is 10. Her team name was the "Red Pens." Word is when her team was graded the judges reduced their score by 75% because there were not enough points to go around! In response, another team was named "Trivia Cancelled Next Week Due to Shortsighted Archaic Budgets." Savage.
Health and Social Services Commissioner Adam Crum held a press conference in Anchorage on Monday. He announced that the long term, no bid contract to Wellpath to manage the Alaska Psychiatric Institute was cancelled. It will be put out to bid through a competitive bidding process. Probably how it should have been in the first place. This decision came not long after a lawsuit was filed by the Alaska State Employees Association over the contract. My guess is State lawyers told HSS something like, "Yeah, you really messed this one up. There is no way you can win this lawsuit. Better to cut and run."
I finally found Tuckerman Babcock! I've confirmed that he did not trash the award and that it is on display in his house. Victory!
Here is a weird one. Remember how Lynn Gattis was hired to run Governor Dunleavy's Valley Office, only to later be reported by the Landmine that she was being paid 2.5 times less than the guy in Fairbanks doing the same job. Then she was cut loose. Now she is working for Tammie Wilson for the House Finance Committee. Anyhoo, apparently Gattis was originally offered the head of weights and measures with DOT. Talk about weird. I guess she was like, "Thanks, I'm good."
The Alaska Press Club held their annual conference in Anchorage this week. It concluded with their awards ceremony, which is basically a big circle jerk where they give enough awards away so everyone gets one. Seinfeld has a great take on awards ceremonies.
Ever seen the Handmaids Tale? I have not, but I guess I need to. Check out this sticker on Representative David Eastman's (R – Wasilla) desk on the House floor. "Nolite te bastardes carborundorum" is a bogus latin phrase from the show that translates to "Don't let the bastards grind you down." Who are the bastards???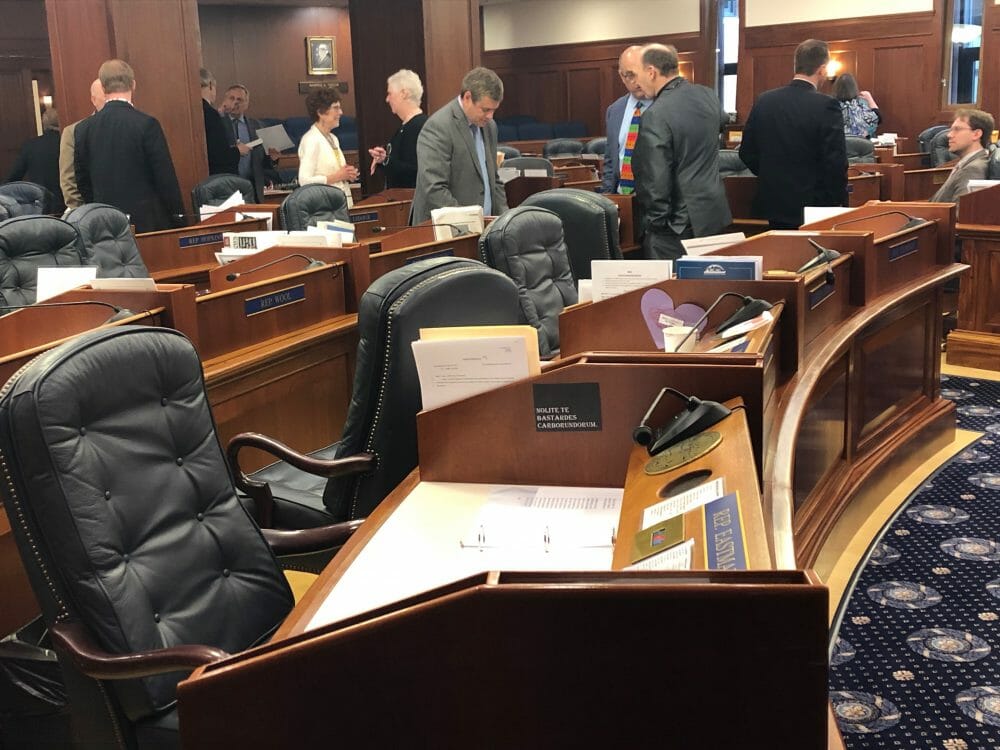 Morning Consult came out with some quarterly polling on senators and governors. Here is Lisa Murkowski, Dan Sullivan, and Mike Dunleavy:
Today is Workers Memorial Day. According to data from the Bureau of Labor Statistics, Alaska is the deadliest state to work in. Here is a reminder about all those Alaskans who have died on the job. Here is a press release from the Alaska AFL-CIO about it.
Make sure check out the first Mikey Monday tomorrow! This is a new feature about Mike "I think I am a really big deal" Porcaro.
This Week's Loose Unit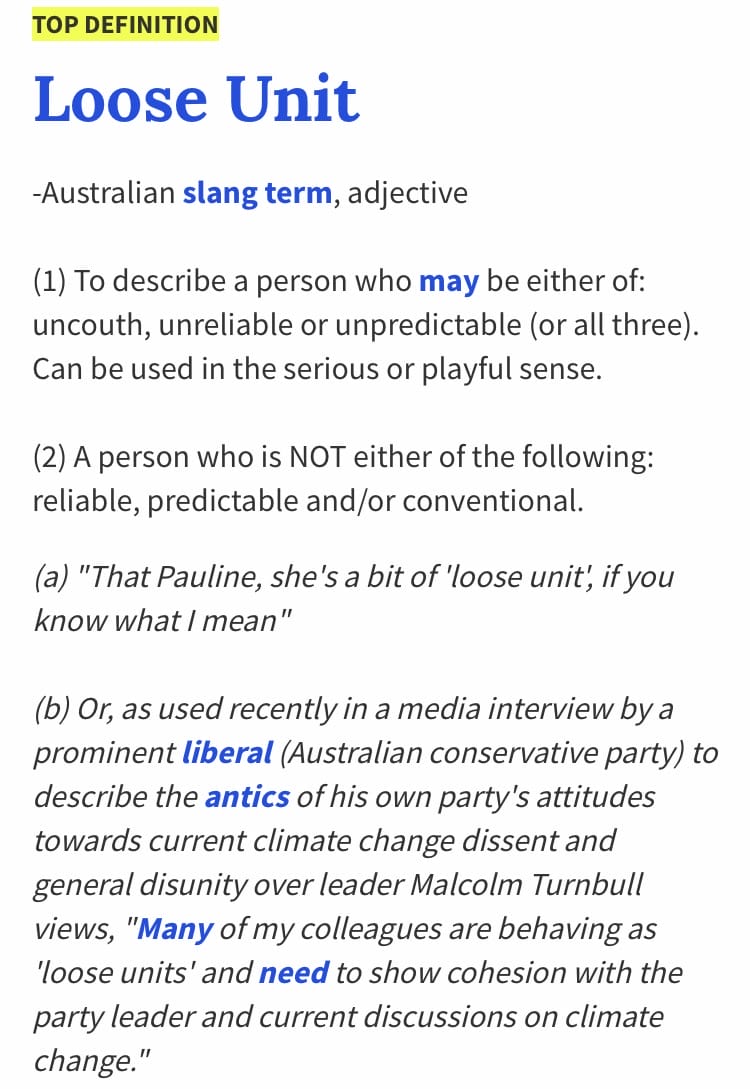 Tammie Wilson was definitely in the lead all week for cutting off Colleen Sullivan-Leonard and then gaveling out the House Finance Committee. But a last minute surprise made this week's winner clear. This week's Loose Unit is the Senate Finance Committee, specifically Co-Chairs Natasha von Imhof and Bert Stedman. On Friday, they got as loose as it gets and passed amendments to the budget with a $3,000 PFD and a $12 billion transfer from the earnings reserve to the corpus of the permanent fund. This is after months of talking about how fiscally irresponsible a $3,000 dividend is. Very loose. Why did they do this? Well, the Committee, made up of nine members, had six votes for the full PFD. Senator David Wilson (R – Wasilla) or Senator Bill Wielechowski (D – Anchorage) would have likely introduced the amendment. Stedman and von Imhof were not about to be embarrassed, so they jumped the gun on them.
This issue is causing big problems for the Senate Majority. They have 14 members, but when you factor in the three Valley members plus Senator Reinbold, who all want a full PFD, they didn't have the votes for the budget. A few problems with this budget. One, it includes a billion dollar plus unfunded deficit, which is unconstitutional. Very loose. Two, some, including von Imhof, say it's just a starting point for negotiation with the House in a conference committee. The Senate is playing hard politics. If there is a smaller dividend, which they expect to come out of a conference, they can just blame the House. But there is one potential problem. What if the House decides to call their bluff and just concur with the Senate's budget? If that happened there would not be a conference. That could get real loose. The budget goes to the Senate floor on Monday.
I was talking to a longtime staffer on Monday after the Senate Finance Committee got loose. The staffer was saying it's probably just a negotiating tactic. I said, "Well the public is not going to understand this. Everyone know thinks they are going to get a full dividend." The staffer responded, "Half the building doesn't even understand this." Loose!
If you have a nomination for This Week's Loose Unit, or if you have any political news, stories or gossip (or any old pics of politicians or public officials) please email me at jeff@alaskalandmine.com.