It's almost May! Summer is just around the corner. The sun is shining and Alaskans are getting outside as much as possible with the COVID-19 situation. The State and Municipality of Anchorage announced the gradual reopening of Alaska's economy this week but the rules seem unclear to many. It's sounding more and more like the legislature will be heading back to Juneau soon.
A friendly message and reminder to all our readers, the Landmine is made possible by myself and a team of awesome Alaskans. It takes a lot of work to provide the content we do. I'm in Juneau for session which adds additional costs. If you enjoy the content we provide, please consider making a one time or recurring monthly donation. You can click here to donate. We have a donation system that makes it super easy. We would really appreciate it. And thanks to everyone who has been supportive!
COVID-19
This week Governor Mike Dunleavy (R – Alaska) and Anchorage Mayor Ethan Berkowitz announced plans for the gradual reopening of Alaska's economy. As someone who watches most of the press briefings the governor and mayor hold, it's hard to know what is happening on any given day. Rules and mandates seem to change by the day, sometimes by the hour. Much of the enforcement of these new rules and mandates are being shifted on to business owners. For example, restaurants in Anchorage have to keep a log for 30 days of everyone who dines in a restaurant. They also have to make sure that the people dining in live in the same house. How are they supposed to do that? And Anchorage restaurants can only be at 25% capacity. I have worked in plenty of restaurants. You can't make money at 25% capacity.
There are many other rules and mandates on the city and state level. It seems that in the rush to make progress on reopening the economy a lot of decisions have been made that have not been fully thought through. My bet is a lot of businesses that can partially reopen will choose not to until the rules are much less restricted.
A bunch of folks held a reopen protest on Wednesday in Anchorage. They were at the Loussac Library and Downtown Anchorage. Many of them annoyingly honked their horns for hours while driving in a circle. Former KFQD radio host Bernadette Wilson appeared to be one of the organizers. Her trash trucks were prominently displayed. Senator Lora Reinbold (R – Eagle River) was also in attendance. Her poor blind dog seems thrilled about all the noise and honking…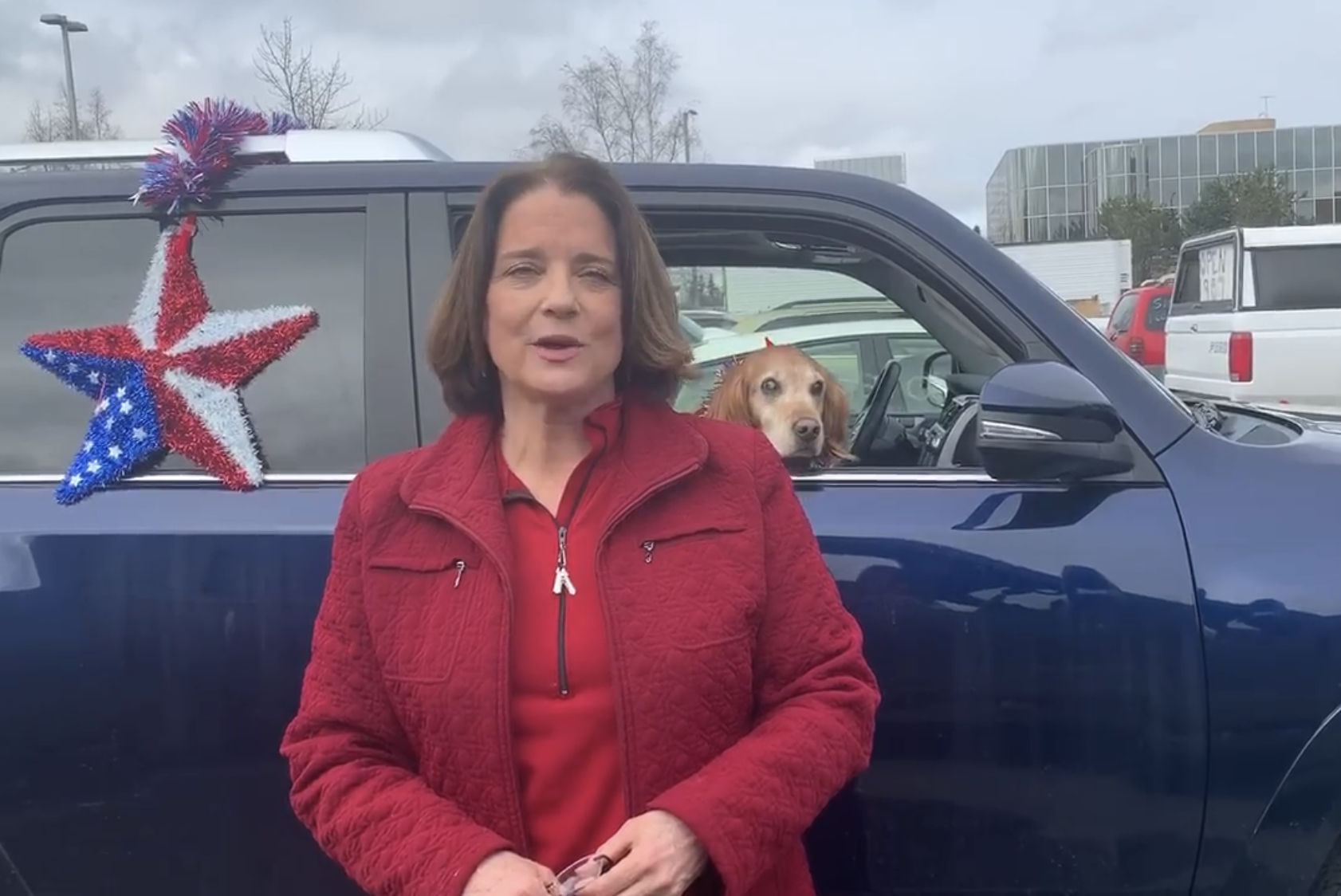 Alaska Chief Medical Officer Dr. Anne Zink jumped the gun on Twitter yesterday about no new COVID-19 cases. Check out her response, "My post got stuck in cyberland and when it was there." Ok. Maybe Dr. Zink is using a dial up modem in her yurt.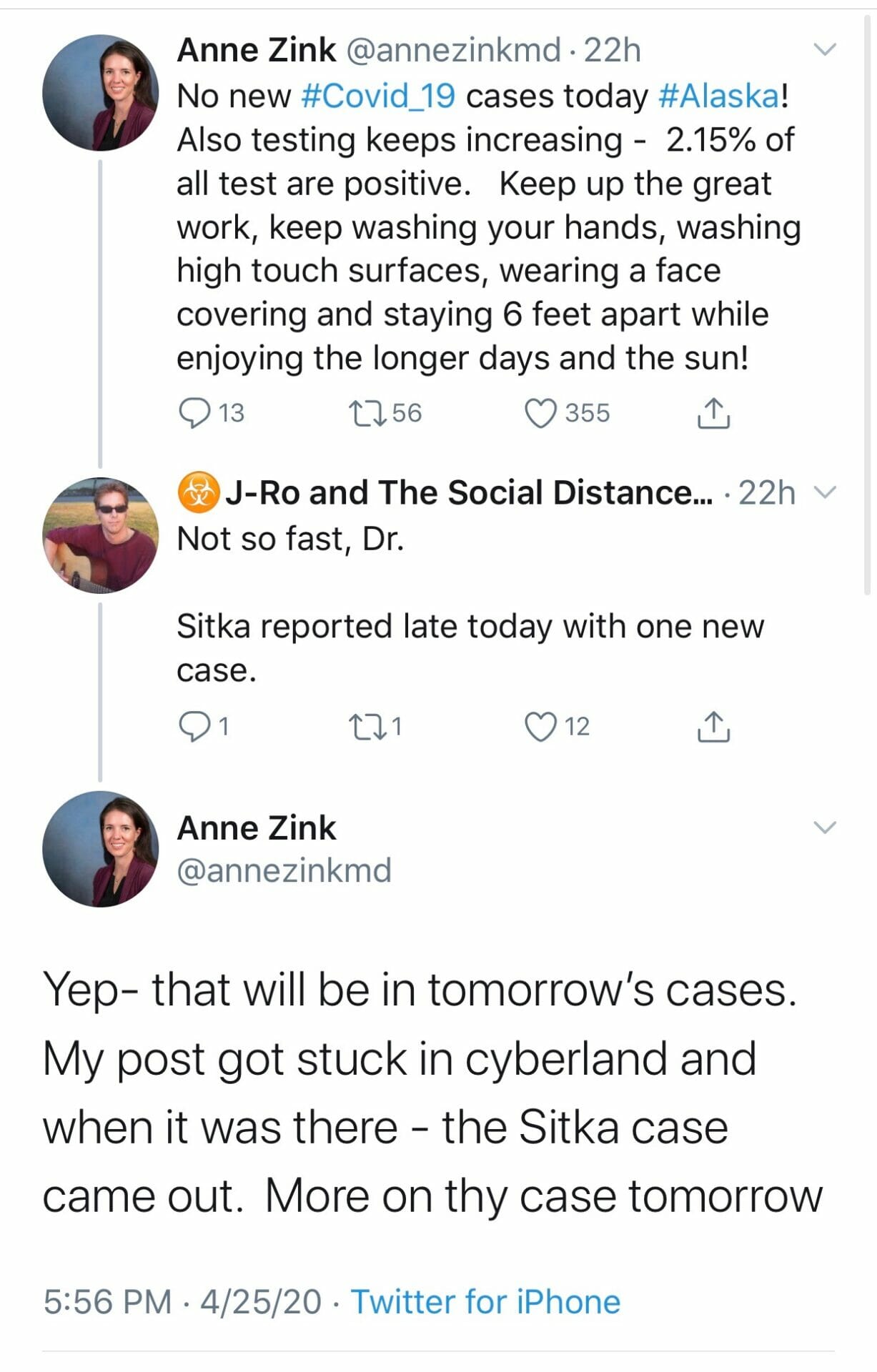 My good buddy Scott Jensen made this video for the Anchorage Downtown Partnership. The video is awesome but the music and narration makes it seem really sad. Maybe it's the monk Gregorian Chant.
Other Happenings
It's sounding more and more likely that the legislature will be reconvening soon in Juneau. Several sources are saying May 4 but others are saying it could be later. It seems the House and Senate are not as Kumbaya as they have been in the past. The main reason they need to reconvene is to deal with the $1.25 billion federal COVID relief money. This Landmine article breaks down the issue between the governor and legislature. Basically the governor has allocated the money but the legislature is questioning whether he can do that. They also want to have a say in it. My guess is they get together and it happens pretty fast. The public does not want to see a big fight on this.
The legislature is technically still in session but at an extended recess. The constitutional 121 day limit is May 21. They could extend ten days more but that requires a 2/3 vote of each body. After that the session is over. At that point they would need to call themselves into a special session or the governor could call a special session. While the legislature is in session legislators cannot raise money. So there is pressure to end the session so legislators can campaign. Candidates are going to have to get extra creative campaigning in the COVID world. Especially those who have a primary battle. Stay tuned for more info on this.
Oh, and if everyone is forced to wear masks on the floor I wonder how many of them are going to issue a mea culpa to Representative David Eastman (R – Wasilla)?
Governor Dunleavy appeared on the Ben Shapiro Show yesterday. He discussed the COVID-19 situation in Alaska and the plan to start reopening businesses.
Senator Shelley Hughes (R – Palmer) had an interesting anecdote in her recent newsletter. I wonder which group the cop and which group the drunk person represents in the legislature?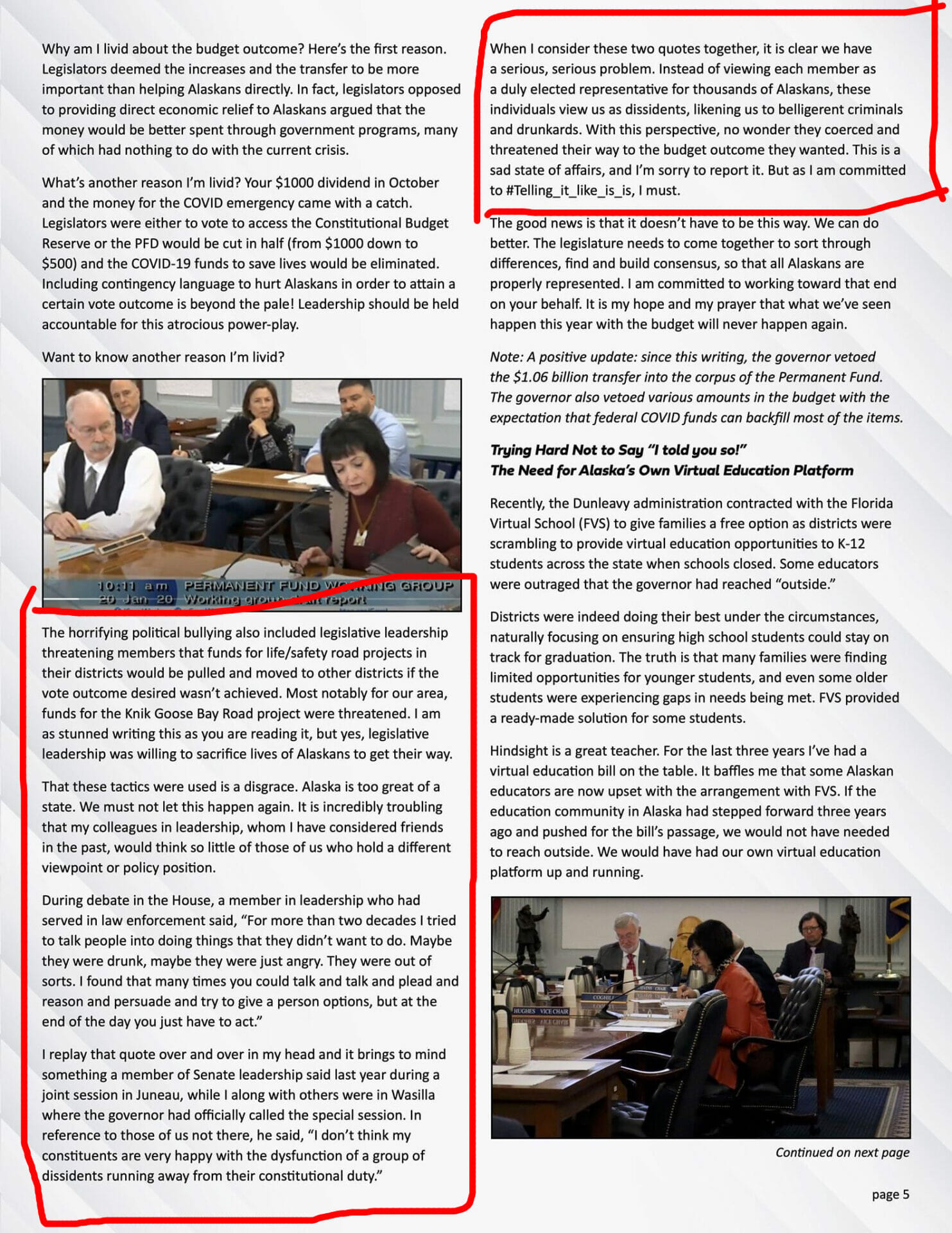 Check out this bizarre new website called RINO Safari. RINO is a term that stands for Republican in name only. There are RINOS and then there are RINO hunters on the site. The Windows 95 graphics make it obvious that Michael Chambers is the likely person behind it. There are links to the donation pages of the RINO hunters but there is no paid for by disclaimer on the website. I wonder if any of the RINO hunters are going to demand their names be taken off? The RINO hunters are John Cox (Remember he's the check the box for Cox guy), Stephen Duplantis, Roger Holland, Harold Borbridge, Tom McKay, Michael Sheldon, and Ron Gillham.
Considering Lynn Gattis liked this tweet I think it's pretty likely LG is going to be making a comeback! Lynn Gattis is definitely a Landmine favorite. And her campaigns are always fun and entertaining.
Rumor has it former Rep. Lynn Gattis is considering running for Rep. Sullivan-Leonard's seat. Sullivan-Leonard is not seeking re-election. Gattis used to have the seat. She lost the Senate race to David Wilson in 2016. She ran for LG in 2018. LG for LG was her slogan! #akleg

— The Alaska Landmine (@alaskalandmine) April 23, 2020
The Alaska Republican Party has no association with Suzanne Downing the same way the CIA had no association with MK-Ultra.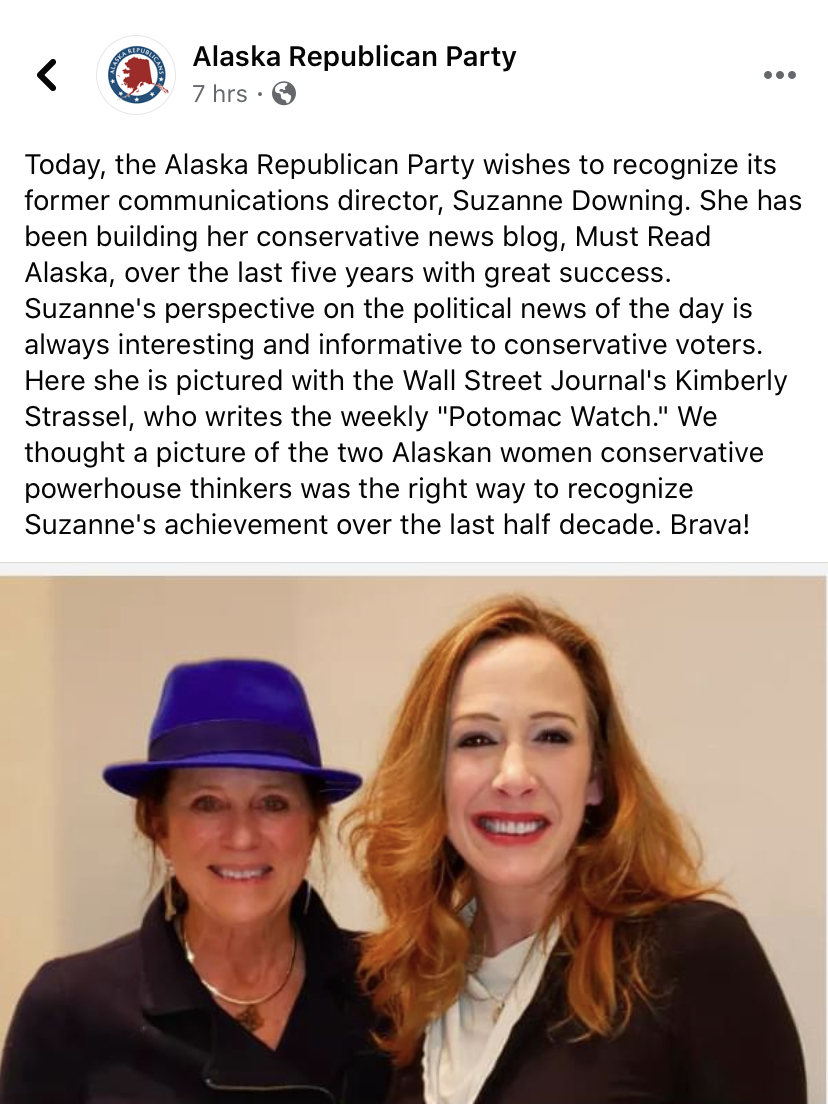 If you have not seen the winners of the #AKquarantine contest, click here to check it out. Thanks to all the Alaskans who submitted videos and thanks to GCI and our sponsors for providing the prizes.
This Week's Loose Unit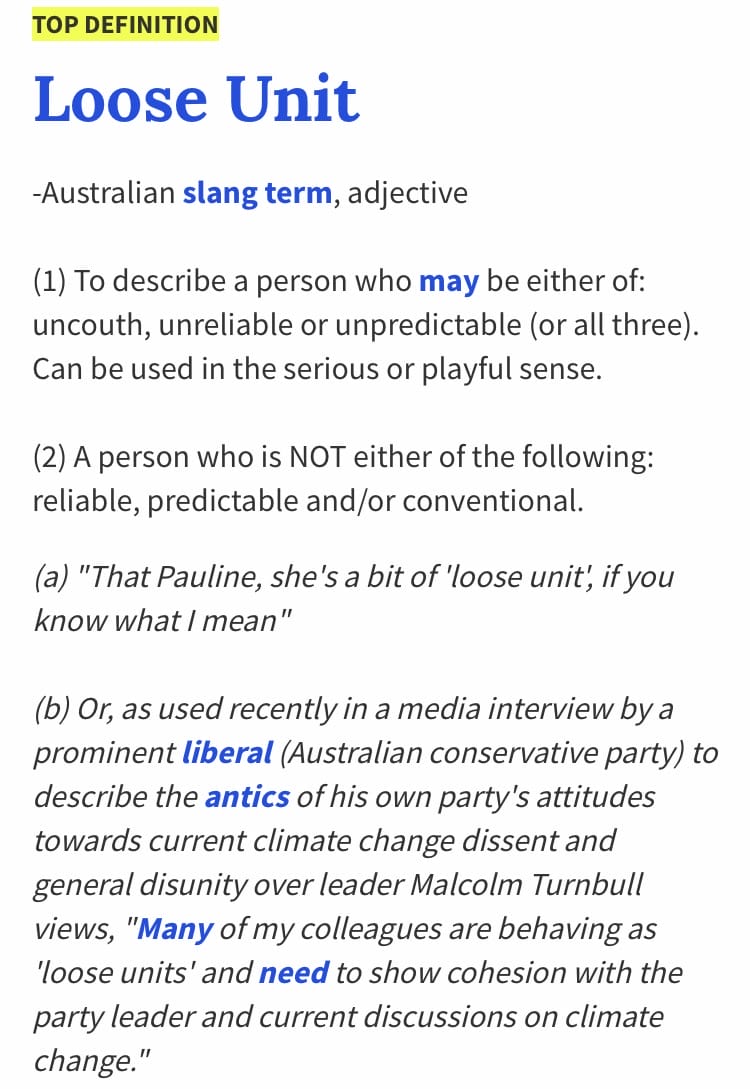 This was one of those week's where the Loose Unit was so loose that everyone knew who it was the moment the story hit. This one might now have the record for the number of nominations in 24 hours. This week's Loose Unit is the Mat-Su Borough School Board, specifically the five members who voted to remove five classic books from the curriculum. It all started with this tweet:
The Mat-Su Borough School District School Board voted 5-2 to ban 5 books from MSBSD schools:
I Know Why the Caged Bird Sings by Maya Angelou
Catch – 22 by Joseph Heller
The Things They Carried By Tim O'Brien
Invisible Man by Ralph Ellison
The Great Gatsby by F. Scott Fitzgerald

— Frontiersman News (@matsu_news) April 23, 2020
From there it got very loose. Every news and media outlet in Alaska reported the story. It was even reported by the Daily Mail. Banning books is about as loose as it gets. The funny thing is how woke some of the language is that they used to describe what was wrong with the books. For example, the challenge for Catch-22 was:
There are a handful of racial slurs, the characters speak with typical "military men" misogyny and racist attitudes of the time. There are scenes of violence both hand to hand and with guns, and violence against women.
Super woke! But then there was this challenge for I Know Why the Caged Bird Sings:
Sexually explicit material, such as the sexual abuse the author suffered as a child, and its "anti-white" messaging. Angelou's book, which is part autobiography, part literary fiction, details many real-life events the author experienced from her early life through adulthood. Many of these recollections have led to the book being challenged or banned.
What they are saying it strangely woke and not woke at the same time. Woke people love to silence or censor those they disagree with, so this meets that. But woke people would definitely embrace anti-white messaging, so there's also that. I have coined a new phrase for this – Valley Woke.
The vote was 5-2. Who the hell are these people! I mean do they not think about their actions or do they just not care? One of my favorite moments was at the end of a story Charlie Sokaitis did for KTUU. At the end of the story he says, "We did reach out to try to find some folks that agreed with the board's decision, but we were unable to do so by news time." So loose!
Here is one of the best comments I saw about the situation. Talk about loose!
If you have a nomination for this week's Loose Unit, or if you have any political news, stories or gossip (or any old pics of politicians or public officials) please email me at jeff@alaskalandmine.com.