Alaska has received $1.25 billion in federal aid under the Coronavirus Aid, Relief, and Economic Security (CARES) Act. Governor Mike Dunleavy (R – Alaska) is using a process called Revised Program Legislative (RPL) to allocated how the money will be spent. This process provides for a constitutional method to accept additional funds for items already approved in the budget from non-state sources that becomes available after the session ends. Technically the legislature is still in session. However, they voted to suspend uniform rules and go into extended recess due to COVID-19. Normally they must meet at least every three days during session.
Dunleavy is stepping into uncharted territory because the legislature is in an extended recess. He is essentially using his executive authority to bypass legislative appropriation by using the RPL process to get the money out. The legislature does not like this and are scrambling to find an alternative. But to do that they would need to pass an appropriation bill. Even if they were in session it would likely take weeks to figure out how to appropraire a $1.25 billion federal windfall. Dunleavy has scheduled the first distribution for May 1. Sources inform me the legislature is not planning on reconvening until May 4.
The House Finance Committee met last week and today to discuss this matter. The legislature's attorney Megan Wallace has questioned whether or not Dunleavy can do this. Senate President Cathy Giessel (R – Anchorage) and Senator Natasha von Imhof (R – Anchorage) sent a bizarre letter to Treasury Secretary Steven Mnuchin asking for clarification for how the money can be allocated.
In a press conference today Dunleavy said that Congress and President Trump want this money in the hands of local governments as soon as possible.
Here is a general breakdown of how the money has been allocated: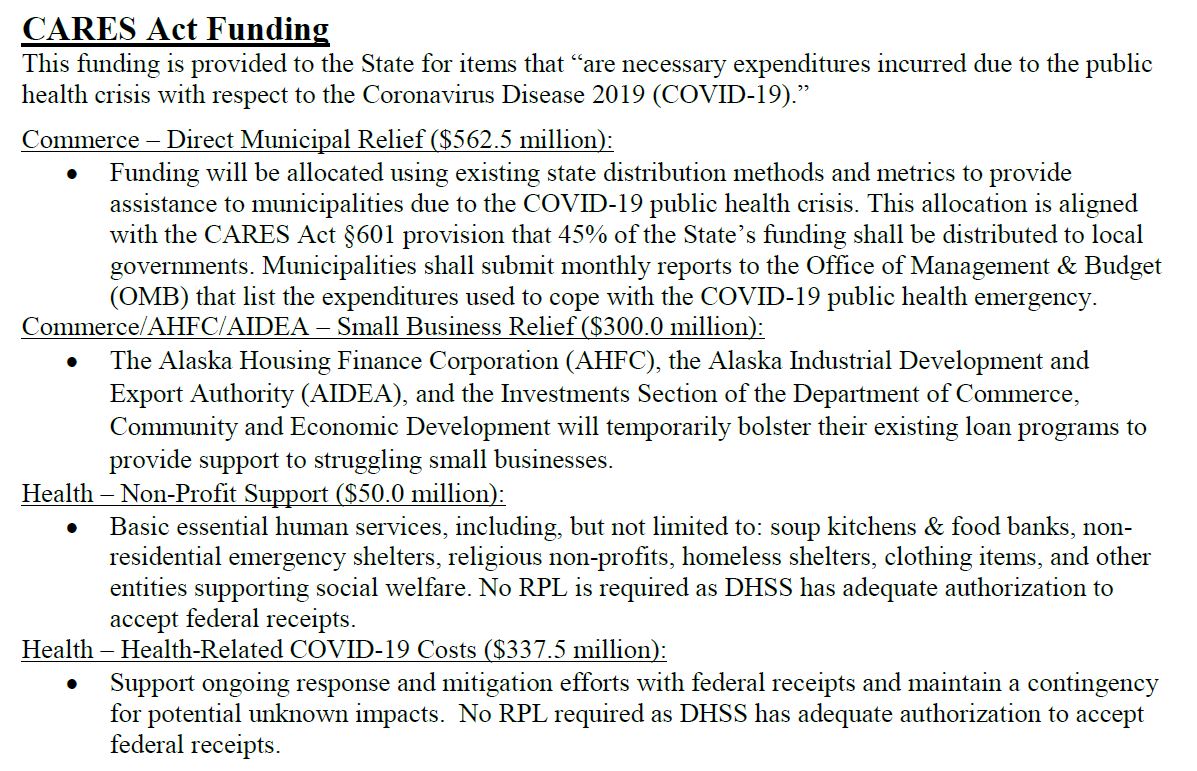 The money for Health and Social Services does not require RPL because the legislature gave blanket authority to accept federal dollars for COVID relief.
Here is a CARES Act summary sheet the administration has provided.
Here is a breakdown of the community assistance money. Under this Anchorage would get over $156 million, Fairbanks over $40 million, Juneau over $53 million, as well as money to every city and community in Alaska. The money is scheduled to be disbursed in three payments: May 1, July 1, and October 1.
Here is a letter Dunleavy sent to Representative Chris Tuck (D – Anchorage). Tuck chairs the Legislative Budget and Audit Committee, which oversees the RPL process. Dunleavy has requested the committee approve this by April 29 so that the May 1 distribution can happen. The committee is not required to approve this but if they don't do anything and refuse to meet, a 45 day clock starts before the money can be spent. If the committee rejects the money the governor can still spend the money, but he is required to send a letter stating why he disagrees.
We will know if there is going to be a showdown with the legislature over this money if the Legislative Budget and Audit Committee does not act by April 29.