The COVID-19 lock down continues to be the main topic on everyone's minds, but there is still other stuff happening. The House Finance Committee met this week to discuss federal COVID-19 relief for Alaska. New rules were approved allowing for delivery of beer and wine with food orders. And on a personal note, I am coming back to Anchorage tomorrow! I've had enough of being locked up Juneau.
If you have not seen our #AKquarantine video contest, click here for more info! We are accepting videos until the end of tomorrow. We are giving away some awesome prizes that include a new iPad from GCI and some cash!
A friendly message and reminder to all our readers, the Landmine is made possible by myself and a team of awesome Alaskans. It takes a lot of work to provide the content we do. I'm in Juneau for session which adds additional costs. If you enjoy the content we provide, please consider making a one time or recurring monthly donation. You can click here to donate. We have a donation system that makes it super easy. We would really appreciate it. And thanks to everyone who has been supportive!
COVID-19
The Anchorage Assembly met this week to discuss extending Mayor Ethan Berkowitz's emergency order for COVID-19. He wanted it extended until November. After debate the Assembly extended it to June 5. Mayor Berkowitz announced that his hunker down order has been extended until May 5. Frustration is growing from the public and business owners about the arbitrary nature of which businesses are deemed essential. Many wonder why pot shops have been deemed essential yet sporting goods stores have not. I have received several emails from business owners and members of the public on the matter. Here is one I received this week from a business owner.
I've followed your writing for some time now and have always appreciated the content and depth of your investigative journalism. I'm writing to you today because I am so pissed about seeing a line at the fast food restaurants, yet our local bookstores, art supply stores, toy stores and all the little retail shops can't even do curbside pick up. I've written our mayor and Dr. Zink, I've written letters to the editor. There has got to be a way to convince the state that allowing a no-contact curbside pick-up should be well within the rights of our small businesses to stay afloat.
I realize we are all in this together when it comes to COVID-19. It's also obvious that when these small businesses have to file for bankruptcy, they do it alone. Sure maybe they are offered some sort of loan eventually. But who the hell wants to borrow money to get out of debt? And this is a level of debt and loss of income that is preventable. It is reasonable and safe to allow curbside pickup. These small local businesses of ours do not have websites. They have never and do not rely on online sales because they depend on us, their community to take care of them. And we should. In sickness and in health.
My main question/concern is, who the fuck is deciding what businesses are deemed essential? Tell me how it is more safe to serve a cheeseburger through a window than it is to leave a bag of paints or books on the sidewalk? Maybe your skills can unearth the wisdom…
The House Finance Committee met this week to discuss the $1.25 billion in federal COVID-19 money that the state is receiving. The two co-chairs were in Anchorage and the other members were on the phone. Legislative Finance Director Pat Pitney and Legislative Legal Director Megan Wallace both testified. Long story short, it seems the legislature may need to meet to accept the money. And there are also questions whether Governor Mike Dunleavy (R – Alaska) can use the money to cover the vetoes he made. Sources confirm the legislature is looking into being able to host floor sessions remotely. This would require 2/3 of each body agreeing to suspend the rules. It's on the presiding officers of each body to try and make this happen. The ability to do this was discussed before they left Juneau but it never happened.
The Alcohol Beverage Control Board voted to allow delivery of beer and wine with food orders as well as pickup of beer, wine, and liquor in sealed containers from restaurants, brewers, and bars. This ADN article goes into more detail. Imagine when they try and pull this one back! That is going to get real loose. I remember as a kid in New Mexico when there used to have drive up liquor windows. The state decided to ban them in 1998. It was a major story at the time. I remember thinking, "Damn, adults really like to drink!" It got super loose.
Other Happenings
Alaska North Slope Crude remains below $20 per barrel. It closed at $16.33 on Friday. This is due to extremely low demand and storage reaching capacity. Because of the low demand, West Coast refineries, which refine Alaska oil, are well below their refining capacity. Hopefully this is temporary because these low prices are devastating for Alaska's oil tax revenues.
Check out this letter Representative Sharon Jackson (R – Eagle River) sent to her colleagues about a supplemental PFD. She went full Purge in paragraph three with "If we continue to withhold the PFD hostage at this most crucial time, we are going to find ourselves in a graver situation where people will steal and kill for survival." Ok.
Check out this email Scott Ogan, who works for Senator Mike Shower (R – Wasilla), sent to the Seldovia City Manager Cassidi Cameron. He threatens to go to Must Read if she does not "own this." What a nut. Check out her very professional response. It's so funny she has no idea what Must Read is. YES! Scott should familiarize himself with the term "Streisand effect."
The Alaska Public Offices Commission (APOC) has filed a complaint against Anchorage Assemblymember Christopher Constant for comic ads he was running for his recent reelection. Constant ran unopposed. They are saying because his cartoons included other Assembly candidates (they included all Assembly members), that counts as a contribution. Seems pretty ridiculous to me. You can see the complaint here. Check out those cartoons!
Vince Beltrami filed an APOC complaint against the Associated Builders and Contractors claiming that they ran ads for Assembly candidates without proper disclosures. You can see his complaint here.
I'm sure everyone saw the tweet from Senator Chuck Schumer (D – New York) calling out Assistant Secretary of the Interior for Indian Affairs Tara Sweeney. Sweeney was an executive for Arctic Slope Regional Corporation before taking this job. It did not take long for all three members of Alaska's congressional delegation as well as Governor Dunleavy to rebuke what Schumer said. It's clear the COVID relief package did include Alaska Native Corporations. However, there should probably be another conversation about whether or not for profit companies, who greatly benefit from the 8(a) business program, need a government bailout. This Politico article is a good read about the situation.
Pres. Trump's @ASIndianAffairs Tara Sweeney is diverting funds for tribal governments during coronavirus to for-profit Alaska Native Corporations.

We can't put these corporations before tribal governments & people.

Sweeney used to be an exec for an ANC, and she wants to profit!

— Chuck Schumer (@SenSchumer) April 16, 2020
The Alaska Press Club announced their 2019 awards last night. Because of social distancing ADN Opinion Editor Tom Hewitt did a Facebook Live looking very dapper in a tux. As usual, there were hundreds of awards given out in what I have referred to as a pay for play circle jerk. You can see all the awards here. Be prepared for a lot of reading! The Landmine even got an award this year! (I did not enter it or anything). We got second place in the Best Online Video Journalism category for This is Anchorage, which we made in partnership with Jensen Hall Creative. The best part is the judges comment:
Incorporated online platforms into the story. A story sparked by social media. Not a ground-breaking subject and lacked background reporting. Could have been told in a shorter video
Translation: Good job you pieces of shit.
To compare, here are the comments for first and third place:
Clear by the delivery that the video was edited for the web. Quick-paced and on the-ground. Narrator kept it exciting and competitive, like a sports announcer.
Awarded for good use of online/digital technology. Well reported and felt candid, as if the camera wasn't there.
If you have not seen any of the Alaska Watchman videos, check out this one. Super loose! Jake Libbey, the publisher, puts out some really bizarre and entertaining stuff. Don't forget, "Always on watch!"
If this is true I am really going to miss Mayor Dan weighing in on random Facebook posts. It was always funny and entertaining. Go easy, Dan.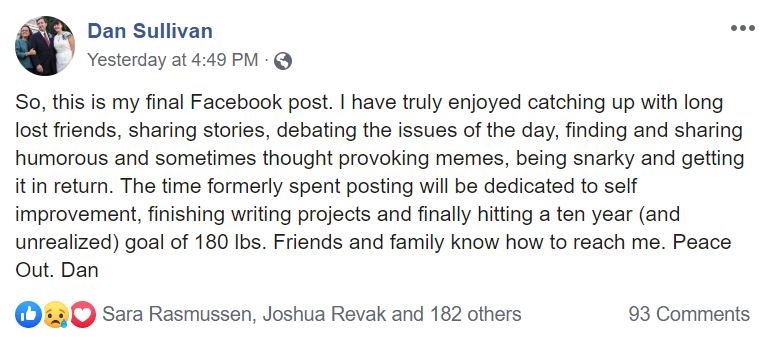 This Week's Loose Unit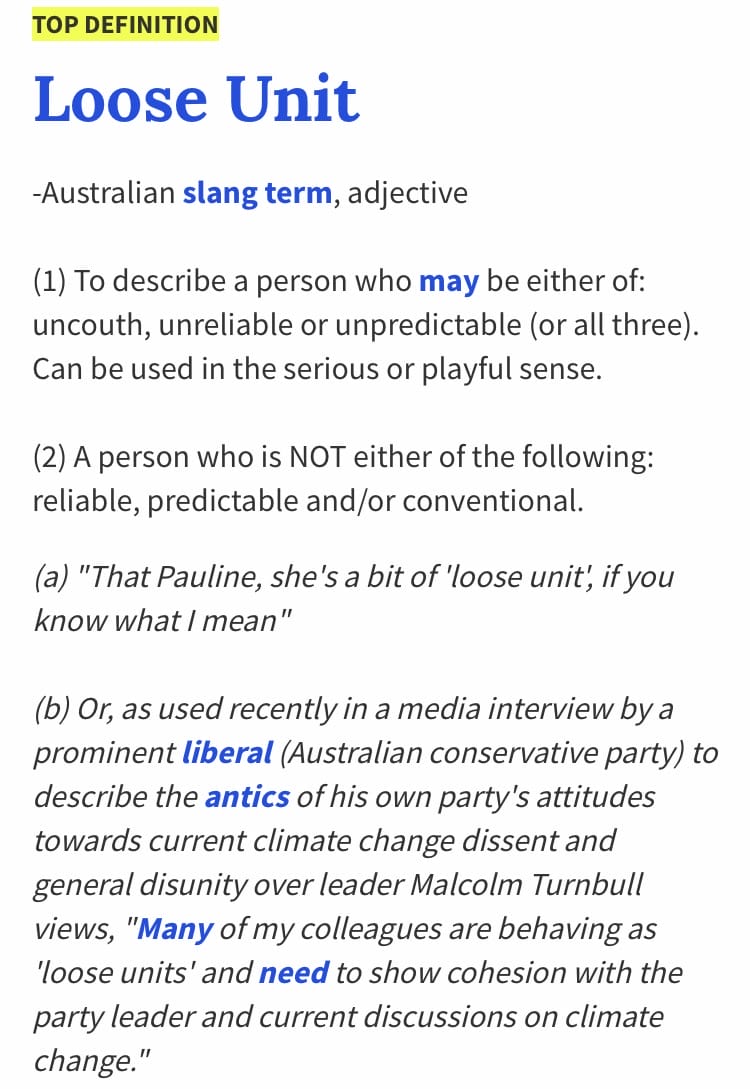 This is a Loose Unit first. While we have had several repeat Loose Unit designees, we have never had a back-to-back Loose Unit. That is until now. This week's Loose Unit is again North Slope Mayor Harry Brower. You may recall Brower was the Loose Unit last week for threatening to seize all of Ravn's assets in the North Slope Borough. Although Attorney General Kevin Clarkson came out and said that was not going to happen, Brower came to an agreement with the bankruptcy trustee to pay $100,000 a month for Ravn's hangar space. But then he got loose!
On April 15 Alaska Public Media put out an article titled, "North Slope Borough backs out of deal with Ravn, reaffirms right to commandeer assets in emergency." The first sentence reads:
The North Slope Borough is backing out of a tentative deal to rent RavnAir Group's Utqiagvik hangar and is reasserting its right to use Ravn's assets to support air service to its communities during the coronavirus emergency.
So loose! I mean there is loose and then there is backing out of a deal made after you threaten to seize someone's assets loose. The article went on to say:
On Monday, an agreement between Ravn and the North Slope Borough was filed in federal bankruptcy court in Delaware, spelling out that the borough would pay Ravn $100,000 a month in rent for use of Ravn's hangar at the Barrow Airport in Utqiagvik. But in a press release on Wednesday evening, borough mayor Harry Brower wrote that negotiations on that agreement were "not fruitful."
While I respect how Brower keeps it gangster, he is one hell of a Loose Unit!
Oh, and a quick note to DJ, you don't need to text me and tell me how pissed you are your boss is the Loose Unit again.
If you have a nomination for this week's Loose Unit, or if you have any political news, stories or gossip (or any old pics of politicians or public officials) please email me at jeff@alaskalandmine.com.