I apologize for the delay on this week's Sunday Minefield. I came back to Juneau on Friday and got my second Moderna vaccine. It hit me hard on Saturday and Sunday with a fever, chills, body aches and even some mild hallucinations about an ex-girlfriend and some legislative stuff! That thing was no joke. The big news this week was the Anchorage mayoral race. As expected, there will be a runoff on May 11 between Anchorage Assemblymember Forrest Dunbar and Dave Bronson. The legislature was pretty quiet, minus a manufactured scandal, as the Senate did not return from Easter break until Wednesday (4/7/2021).
A friendly message and reminder to all our readers, the Landmine is made possible by myself and a team of awesome Alaskans. It takes a lot of work to provide the content we do. I am now in Juneau for the session, which means paying rent for the place I'm staying at. If you enjoy the content we provide, please consider making a one time or recurring monthly donation. You can click here to donate. We have a donation system that makes it super easy. We would really appreciate it. And thanks to everyone who has been supportive!
Anchorage Election
If you missed our election coverage on Tuesday night, you can check it out here. A big thanks to our panelists, sponsors, guests, and Jensen Hall Creative for being such great producers. This was our first event in the new studio that the Landmine and Jensen Hall have partnered on.
The latest results show that there will be a runoff between progressive Assemblymember Forrest Dunbar and conservative Dave Bronson. This did not come as a surprise to those who pay attention. I predicted this result in my column last week. The runoff will take place on May 11. Ballots will be mailed out by May 3. What did come as a surprise was how well Bill Falsey did. He's in third with just over 13% of the vote. What does that mean? Even though the latest round of results put Bronson slightly ahead of Dunbar, the vote allocation paints a clear picture. If you add Bronson's total with Robbins', who was basically saying the same stuff Bronson was saying, you get just over 40%. This is what Amy Demboski got against Ethan Berkowitz in 2015 and what Rebecca Logan got against Berkowitz in 2018. But what about Bill Evans? Evans, a more moderate conservative, was brutally attacked by Bronson and his supporters. That is even when they knew Bronson was almost certainly going to make it to the runoff. Not a great strategy when you need all the votes you can get to beat Dunbar in the runoff. I expect Evans' votes will split between Bronson and Dunbar. Now, add Dunbar's total with Falsey and Martinez, progressives whose votes are not going to Bronson, you get over 48%. Add in 4.5%, half of what Evans got, and you get 52.5%. When you factor in the coming campaign, which is going to be expensive and savage, Bronson has an uphill battle. Bronson will benefit from the frustration with the Assembly, that Dunbar is a part of, but that probably won't be enough. I predict Dunbar will beat Bronson 55%-45%. But you never know what will happen! A month is a long time in politics.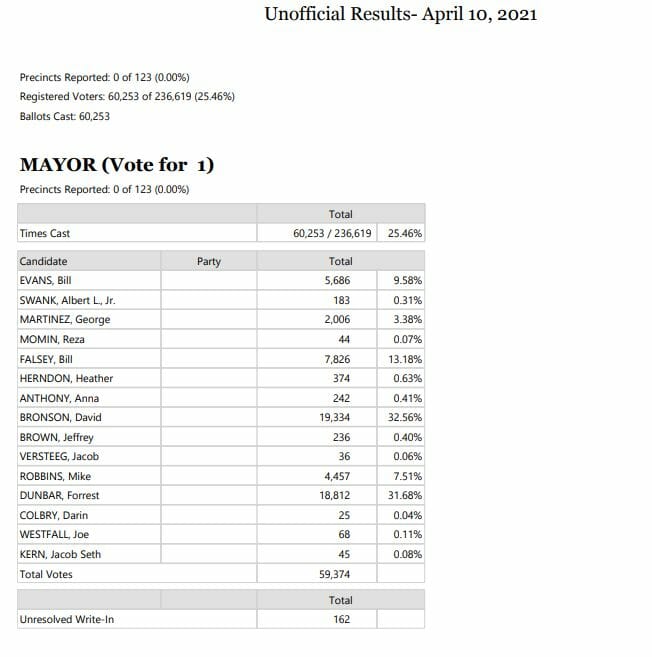 The other noteworthy result is Assemblymember Felix Rivera is handily beating the recall attempt against him. Maybe if the group supporting the recall mailed their ballots to the right district, the results would be different. What is interesting about this result is that after all of the yelling and screaming from Save Anchorage and other groups about how bad the Assembly and Rivera are, the recall attempt did not even come close. Keep that in mind for the runoff for the mayoral race.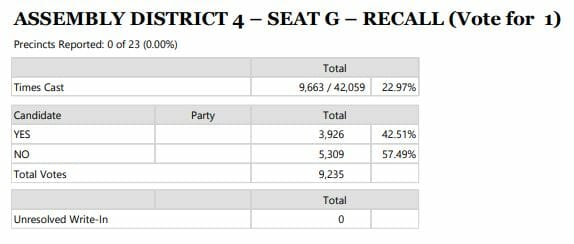 Conservatives have done it again. Two of the four Anchorage School Board races could have easily been won by a conservative. But the conservatives ended up splitting the vote, resulting with the progressive getting elected. In Seat F, conservatives Kim Paulson and Marcus Sanders split, resulting in progressive Dora Wilson winning. In Seat B, conservatives Judy Eledge and Marilyn Stewart split, resulting in progressive Kelly Lessens winning. They never seem to learn.
Manufactured Scandal 
I'm sure most of you heard about the manufactured scandal from Suzanne Downing about the gathering in the gym in the Terry Miller building on March 31. I can't imagine how excited she got when she heard about it! There was no beer pong and there was no mess. There may have been some leg wrestling. It is pretty incredible how much power she has. She can write an article that is 80% bullshit and 20% true. Then, the next day the three largest news outlets in the state do stories about it. Here is what happened. After work on Wednesday Representatives Sara Rasmussen (R – Anchorage) and Kelly Merrick (R – Eagle River) invited me and some other people to go play ping pong in the gym. I invited a few other people. No one thought it was a big deal. There was some beers. The horror! Ask anyone who has been around the Capitol for a while about the infamous Friday at Foster's, which took place in former Representative Richard Foster's office. Very loose, and fun I hear. Or the basketball league in the same gym we were in that included legislators, staffers, lobbyists, and lots of booze. Or all the legislators who have alcohol in their office. Which, by the way, is not against any legislative policy. Legislative leadership tells staff not to go out to bars, yet many of them do. Like when Buddy Whitt, who works for Senator Shelley Hughes (R – Palmer), was out bowling on Friday night with a bunch of staffers. And then was at a packed Narrows after with even more staffers. He even offered to buy me a drink! And many legislators go out as well, including ones in leadership. Juneau is one big hypocrisy. The Capitol is the most toxic building in Alaska. There is little to no HR protection for staff. They don't have one boss, they have 60. They can be let go for any reason at any time. Legislators can do nearly whatever they want with full impunity.  Everyone is trying to screw everyone else and the truth is as hard to find as gold nuggets are in the street. So to cope with it people socialize and drink, and do other stuff too. Now that is a weapon for people like Suzanne Downing and certain House Republican members and their staff. Some of these legislators and their staff seem to be unaware they are living in glass houses. Rasmussen and Merrick apologized. We all admit it was wrong for people to be there who aren't part of the legislative Covid testing protocol. But so many people go out every weekend. And everyone who was there is regularly tested. And all but one person is vaccinated. This is why so little gets done in this state. Because so many people choose to focus on meaningless things like this for political gain. God forbid people from different political affiliations hang out and play ping and basketball and have some beers. This is something the partisans want no part of and will fight like hell to prevent from happening.
Other Happenings 
Former Mat-Su Valley State Senate candidate Huhnkie Lee was featured on our election live stream doing some amazing karaoke. But he also dropped a little announcement on us. Huhnkie Lee announced that he is running for the U.S. Senate next year! He will be an excellent addition to the lineup. The Landmine is a big fan of Huhnkie Lee!
Governor Mike Dunleavy (R – Alaska) announced Jim Cockrell as his new Commissioner for Public Safety at a press conference on the Kenai Peninsula. According to the press release, "Jim Cockrell has served several assignments with the Alaska State Troopers and the Alaska Wildlife Troopers, starting in 1983 and retiring as a Colonel in 2017. Most recently he was working for Marathon at the Kenai, Alaska refinery as their site security supervisor."
This Week's Loose Unit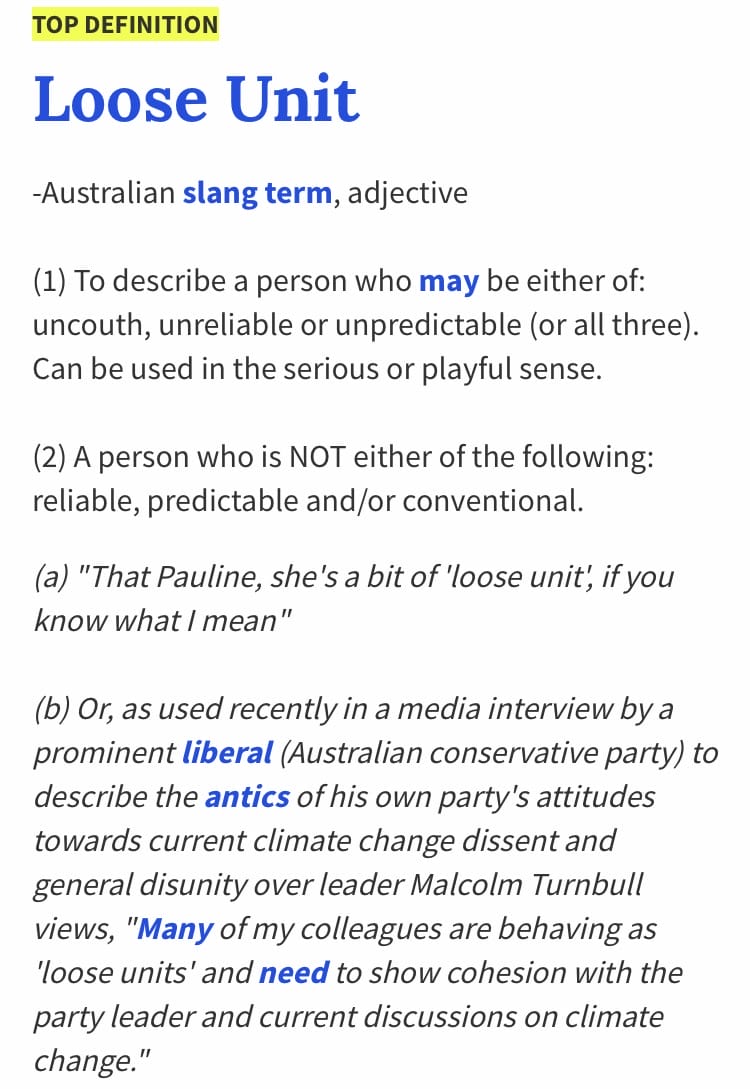 I will be honest. I was nominated by a LOT of people this week. It was pretty loose. After careful consideration I have decided to make myself runner-up. Because this week's Loose Unit is way looser than hanging out in the gym and having some beers. This week's Loose Unit is Recall Rivera. This Landmine story, Recall Rivera group mistakenly sent campaign mailers to House District 4 in Fairbanks, breaks down just how loose they got. They accidentally sent anti-Rivera mailers to House District 4 in Fairbanks instead of Assembly District 4 in Anchorage. That is loose! And one of the mailers even lead with, "Don't flush your money down the toilet." Super loose.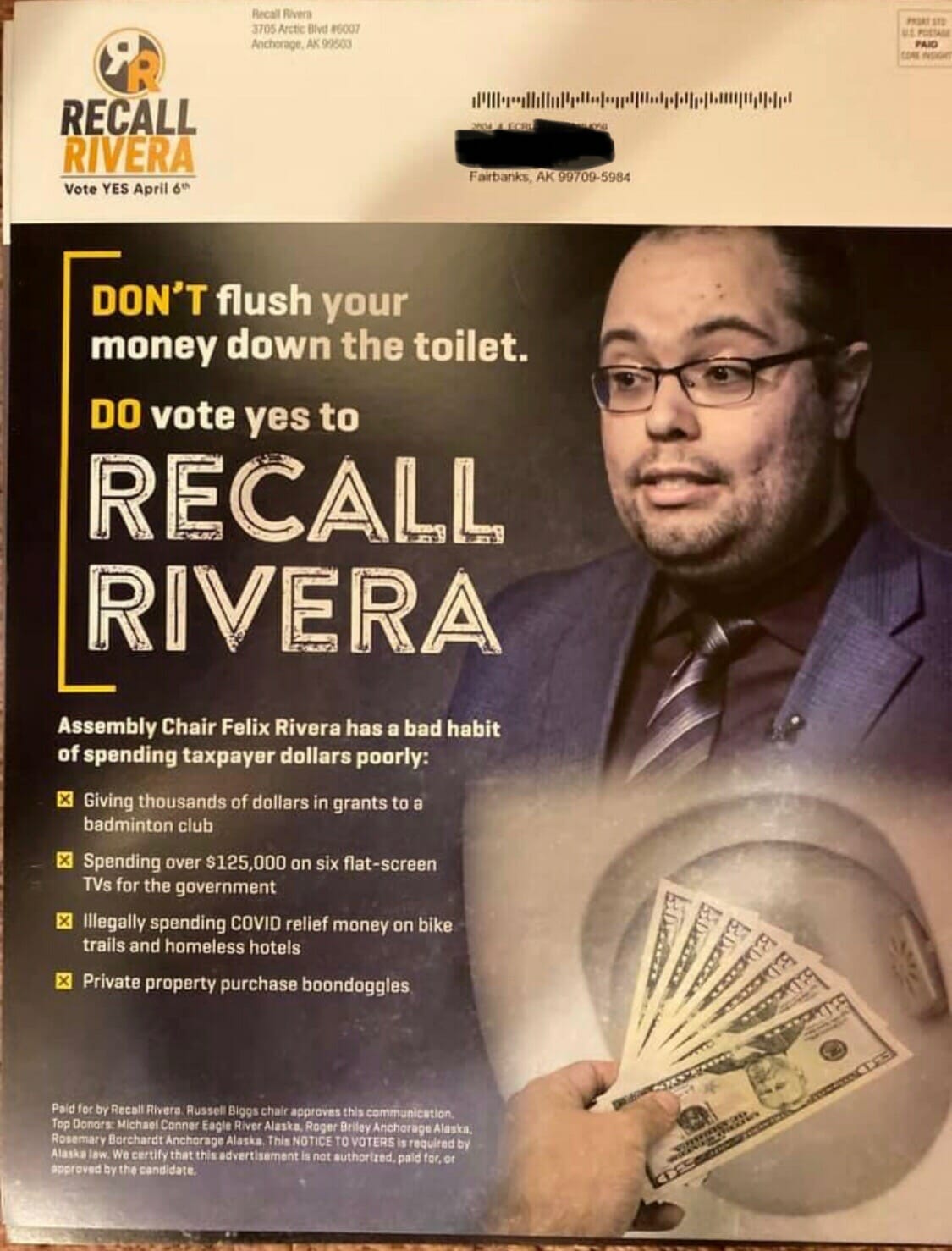 If you have a nomination for this week's Loose Unit, or if you have any political news, stories or gossip (or any old pics of politicians or public officials) please email me at jeff@alaskalandmine.com.