Welcome to this week's edition of The Alaska Stalker, a lighthearted round up of the best and worst of Alaska's social media landscape. Have you sent us a hot tip yet? Email us at akstalker@alaskalandmine.com and, as always, thanks for reading.
---
We hope our readers had a safe and enjoyable Labor Day weekend. Don't forget to heed the advice of Anchorage's resident fashion guru and put those pastels away until spring.
---
??? BREAKING ???
Look mom! I think I've made it!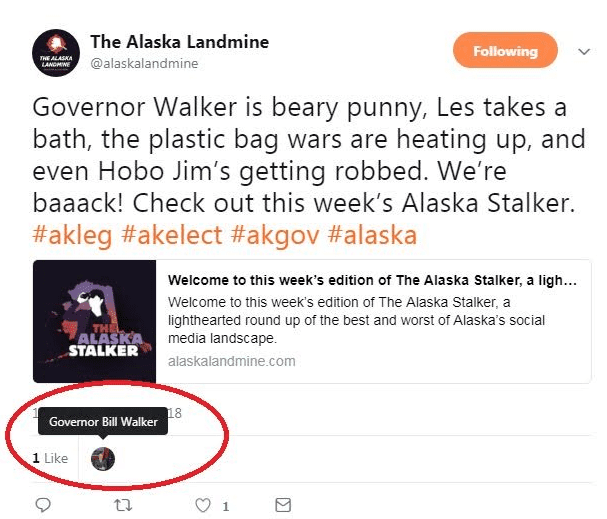 ---
I don't know about you, but I want to hang out with Representative Stutes' cat. With Mayor Stubbs gone (RIP) I see a real political future ahead for this little guy. As Jeff Landfield, Editor-In-Chief of the Landmine, always says, "Home is where your cat lives."
---
Beam him up. Please.
Also, Ross, thanks for reading and please CLEAN UP YOUR DAMN SIGNS ALREADY.
 
---
Speaking of District 28, here's a post from someone we presume is a Bieling supporter. If you're from Anchorage and haven't already joined the Facebook group Anchorage Scanner Joe, you probably should. It's like Nextdoor but next level.

---
Maybe it was duck hunters. Or maybe it was just Don Jones, murderous sign vandal hunter… ? #loose
 
Is he joking? You guys. I don't think he's entirely joking…
---
Several tipsters received this email invite from Senator Tom Begich, but the email address is actually from former Senator Johnny Ellis, all on behalf of Anchorage Mayor Ethan Berkowitz. And they have to tell their folks who support the military what an MRE is? Sheesh.
---
The Representative Harriett Drummond profile pic plot thickens. Senator Begich? Is that you?
---
Have the Dunleavy PAC meme kings been out-memed?
Now we want to know what are Bill and Mark bringing to the BBQ?
---
Strong "fiscal conservative" and former candidate for Lt. Governor, Edie Grunwald, has a sponsored Facebook ad up asking for donations to help cover campaign costs. ?‍♀️
Is it just Alaska that has the spending problem, Edie?
---
In addition to winning the Republican nomination for Lt. Governor, Senator Kevin Meyer also has some winning hair. Check out this TBT! Dang. While it's not Kowalke level hair, it definitely makes us rethink our Odo comparison.
---
While most people use tape to cover their computer cameras, Assemblymember Amy Demboski uses currency. With an American flag on it, natch. #MERICA

---
Did any other candidates get the same bizarre letter from Representative (and candidate for Senate) Scott Kawasaki?
I'm sure libertarian candidate "Mr." Cean Stevens is just as confused as her opponent, and Representative Kawasaki's colleague, Representative Geran Tarr.

---
You heard it here first folks. A group of Loose Units is henceforth known as a gaggle. Don't forget to nominate your favorite Loose Unit of the week by emailing jeff@alaskalandmine.com.

---
Here's our top pick so far this week: The Stalker's favorite alt weekly, The Anchorage Press! The Press inexplicably posted this #fakenews on their social media for several minutes during the Mark Begich press conference. If you didn't know that Begich was staying in the race before that presser started, then you're not paying attention.

Speaking of the Anchorage Press, while @BURGOONM isn't actually the editor, this is one of the funniest things we've seen on Alaska Twitter all week. Poor John.
---
I mean, we have to admit (begrudgingly) that wacky blogger @swensonmember has a point: of all people, John Aronno probably shouldn't be a prominent feature in the Press' new conservative(ish) venture, The Eagle. The plain ole Press is a much better fit for Aronno, and we enjoy reading his point of view there every Thursday.
---
Shout out to KTVA reporter Liz Raines for keeping it real. Looks like she was not impressed with Mark's dog and pony show press conference. Savage. ???
---
Deep thoughts by Jack Handy Governor Bill Walker.
---
Thank you for all the material John-Henry. And, thanks for reading!

---
If you like reading the Alaska Stalker, watching Alaska Landmine videos, and reading our articles, feel free to support our work or purchase an ad. You probably won't agree with everything we report, but at least our site is secure!
---
2020's gonna be lit!
---
Oh, never mind. Looks like Michael Sheldon is having a hard time deciding which race he wants to lose.
---
IDK if this actually happened or not, but it is wild. Could you imagine if Senator Dan Sullivan did this to a reporter? ??

---
Spotted at the Chugiak vs. Wasilla game:
Former Senator Bill Stoltze, Republican Candidate for Governor Mike Dunleavy, and Tom Huffer Sr. (who the stadium is named after). Word is Dunleavy got a shout out by the PA guy and then gave an awkward on the fly statement that was filled with disfluencies. We heard the recording. It ummmm didn't uhhhh go errrr that great. ?
Spotted at the Alaska State Fair:
Bristol, Willow, and Piper Palin!
Republican Candidate for Governor, Senator Mike Dunleavy.  Those comments tho…
---
Spotted at Serrano's:
Representative Lance Pruitt (R) sharing a booth with Representative Jason Grenn (D I). No word on if they were playing footsies or not.
Spotted at Steam Dot in the Midtown Mall:
Senator Shelley Hughes with staffer Buddy Whitt and candidate for House, Ceezar Martinson. And, at a table right next to them but
not

 with them, Representative Ivy Spohnholtz and Trevor Storrs.
---
Spotted at the Mark Begich presser: Senator Bill Wielechowski, Senator Tom Begich, Representative Chris Tuck, Representative Harriett Drummond, Jay Parmley, Assemblymember Christopher Constant, Assemblymember Eric Croft, Willie Hensely, Jeanne Devon, Steve Lindbeck, Pat Higgins, Former Senator Johnny Ellis, and many more high level Dems.
And then there was this high level spotted in tip sent to the "Stocker" via Snapchat. We'd recognize that bald head anywhere. <3
---
That will do it for us this week folks. Don't forget to send your favorite social media and online goofs, gaffs, memes, dust-ups, "Overheard in Alaska," "Spotted in Alaska," or whatever else you got to akstalker@alaskalandmine.com Our DMs are always open. Remember: pics or it didn't happen!
---
The Alaska Stalker was born and raised in Alaska, and lives in South Anchorage with her husband, daughter, and baby on the way. She is not Jeff Landfield.