Welcome to this week's edition of The Alaska Stalker, a lighthearted round up of the best and worst of Alaska's social media landscape. Have you sent us a hot tip yet? Email us at akstalker@alaskalandmine.com and, as always, thanks for reading.
---
Last Thursday, Anchorage Downtown Partnership held a forum for candidates for Governor and Lt. Governor. Props to ADP for streaming the event. Although, here's what it looked like…
Unfortunately ADP ran into some AV issues. Good thing fellow blogger Matt Buxton, of the Midnight Sun, was there to live Tweet it instead. Check out this exchange, which was more exciting than anything that happened on stage. The Senator Begich paid staff Twitter cheerleaders were out in full force. #Savage

---
The most interesting thing that happened at the actual forum was that Republican candidate for Governor, Mike Dunleavy, didn't show up. Social media got all riled up, and even came up with their own hashtag: #wheresmike.
---
Yes, we are aware that not all the #wheresmike tweets are related to candidate Mike Dunleavy, but they are hilariously relevant. Unfortunately incumbent candidate Governor Walker was not on the same hashtag page.
#wheresmike > #ShowUp
---
Maybe attending yet another candidate forum in the second most liberal district in the state wasn't that appealing to Republican candidate Senator Dunleavy. Or maybe it was all a set up for this sick burn.
---
We'd like to share with you a never before seen ad for Lynn Gattis for Lt. Governor. Pretty sure not releasing this ad is why she lost.
---
Checking in with another former candidate for Lt. Governor, Edie Grunwald. Looks like Edie has launched what we assume is a media company called, The Wire with Edie Grunwald. We'll give her a pass until she actually publishes something, but after that it's open season on my never ending The Wire jokes and references.

---
Looks like Representative Chris Tuck's Facebook got hacked! ? Friendly reminder: Don't click on links from people you don't know. And change those passwords folks!
---
Speaking of Representative Tuck, he was hired by Senator Tom Begich as the contractor for his addition. Tom says his master builder shows up on time, is ahead of schedule, and under budget! Chris, why can't you take these skills with you to Juneau?!
---
After a squeaker of a primary, we predict Senator Peter Micciche will be doing A LOT of listening in the weeks to come. Although there's a write-in campaign against him, Senator Micciche is technically running unopposed. We suspect he'll be working harder than several candidates with actual opponents listed on the ballots.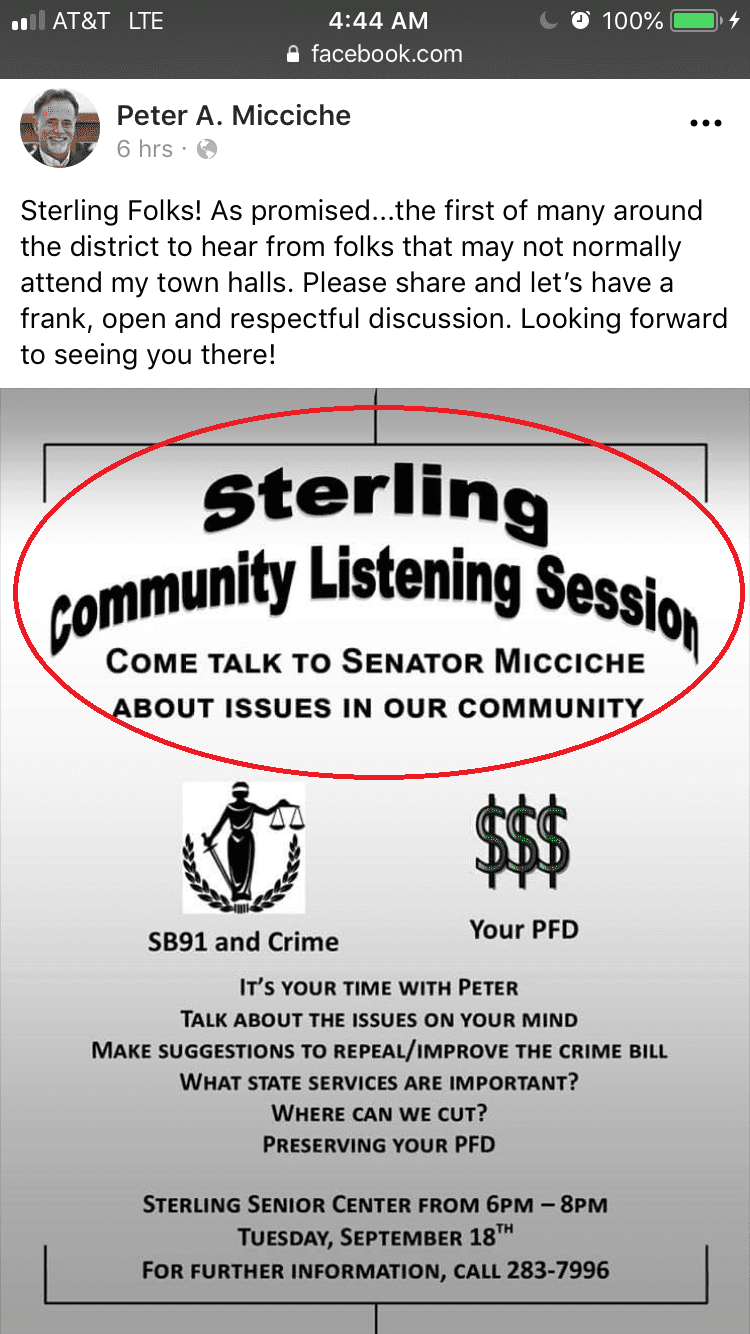 ---
New blood to help reelect Governor Walker or 57 year anniversary cover of Stranger in a Strange Land?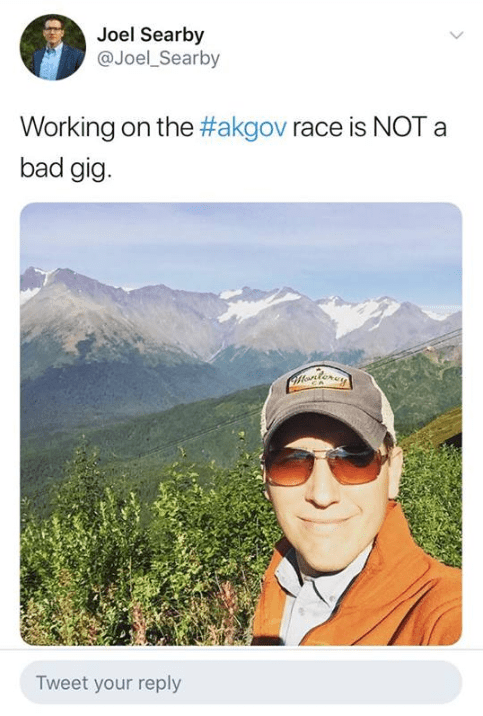 ---
What about fellow veteran newbie candidates Josh Revak, Laddie Shaw, and Stanley Wright?
Speaking of veteran candidates, why is no one talking about Stanley Wright? We see a lot of Republican groups, especially women's groups, promoting Republican candidates in far left districts they simply cannot win, or candidates with serious criminal pasts. ? Stanley is the 13th floor of Alaska politics: least talked about, smart, thoughtful, hard working, a veteran, and in case everyone forgot, he won "most handsome husband" at this year's Mrs. Alaska Pageant. We took a look at his district. I'm far from an election math wizard, but on the surface this looks a district that both Republicans and Democrats could win. Right? Poor Stanley! In addition to no one talking about him, he also has a tough opponent. Representative Spohnholz is well spoken, smart, and one of the most polished local politicians I've seen in a long time. This should be a must watch race. Instead…. ¯\_(ツ)_/¯
---
Did Representative Geran Tarr take this little guy's PFD too? Stock photo fail, "Mr. Cean."
---
Yeah I bet you're interested, Assemblymember Constant. TBH, we are, too. ?

---
Senator Pete Kelly gazing adoringly up at… Bart LeBon for State House? Someone could really have some fun with some strategic sign placement in Fairbanks.

---
Why is the Alaska Republican Party sharing pro "kill the commie" jokes on their official Facebook page? Yeeesh.
---
Sent to the Stalker ?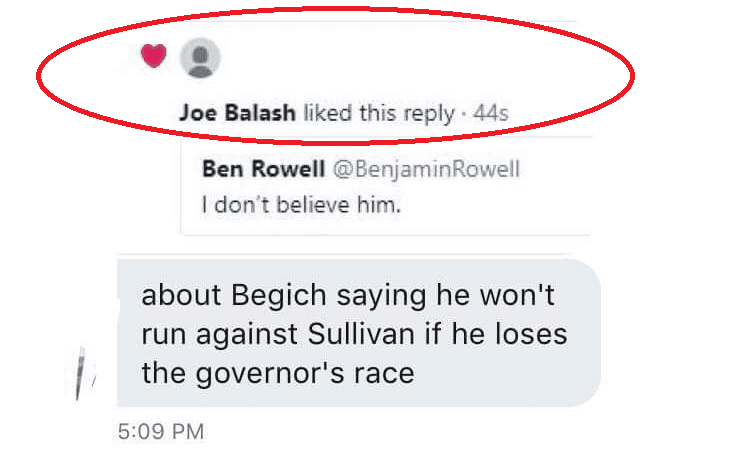 ---
Fish tales aren't the only thing Halcro's telling. He also told me I could start paying my Easy Park bill online in September. Tick tock… It's been two years, man! But please, build another rooftop farmers market instead. ?
In all seriousness, we are glad to see some positive changes happening at the transit center. I work downtown and used to park at that garage. Things really do seem to be getting better. Check out this KTUU article on the pop-up art exhibit/used Spanish language book store.
---
They say tourism is the bright spot of Alaska's economy…
---
Maaaaarrrrrk Begich sailing the mean streets of Anchorage in search of Alaskan's missing booty, stolen by the dread Pirate One Term Walker. ?‍☠️
  
---

---
Is Amber hiring Vinnie to take out Jennifer?!
---
On Monday the Anchorage Chamber of Commerce held a candidate forum for the Congressional candidates and several local senate races. Congressman Don Young called his opponent Alyse Galvin, who is a woman, nasty.
That was very sweet of Congressman Young to say something so nice about his opponent. At least, I'm pretty sure being called a nasty woman is a compliment these days.
---
After the forum we started seeing an uptick in Alyse Galvin ads for Congress on our Facebook. Notice anything funny about this one? I wasn't planning on donating to Congressman Don Young, but if she insists…

---
At least
someone

was able to own Don Young this week.
---
Somebody *really* wants that Presidential attack Tweet…
---
A reminder that Anchorage Assembly races are just around the corner, coming in spring of 2019. Meg Zaletel is getting a head start on claiming Dick Traini's seat (he's termed out).
---
Guess which high level politico's wallet this is? Pretty sure even gale force winds wouldn't budge that sucker.
---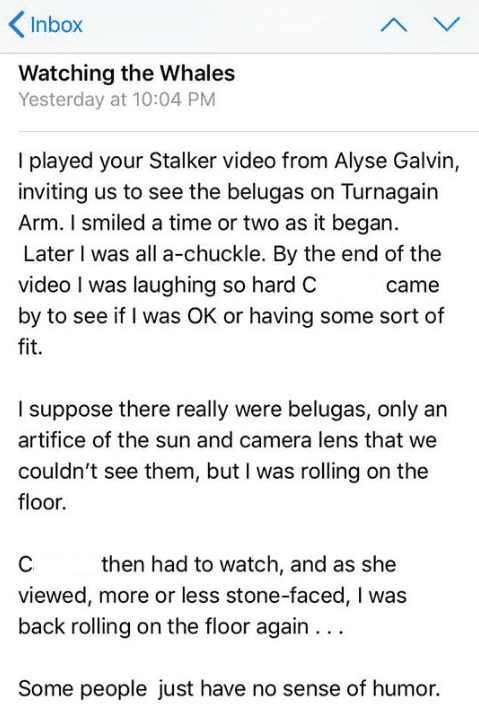 ---
Spotted in Anchorage:
If they both win reelection, let's hope Representative Matt Claman's office is far away from Representative George Rauscher's BDSM free zone office. Things could get very awkward…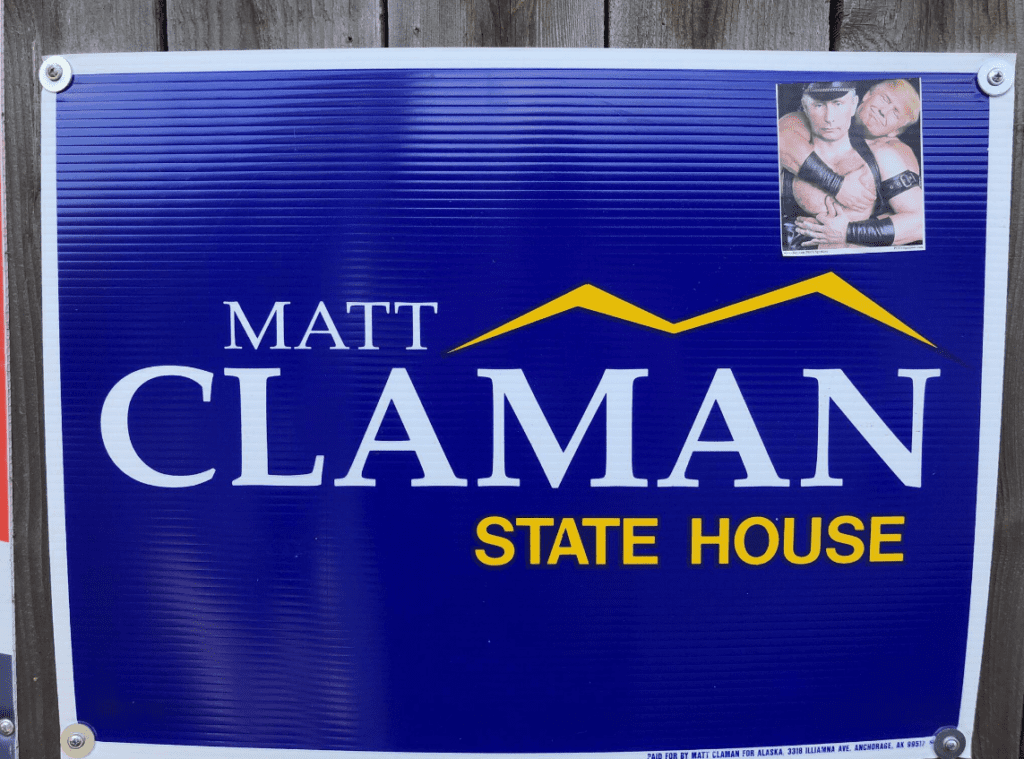 ---
Representative Jason Grenn driving for Uber in between high level meetings.
---
Spotted at the second of four Anchorage Chamber Candidate Forums. Apostrophe fail. ?‍♀️
---
Spotted at Wells Fargo on C Street:
Former Anchorage Mayor Rick Mystrom in a tight muscle t-shirt looking "real fit" on the way in, and Former Governor Bill Sheffield on the way out.
---
Overheard at a candidate for house, Sara Vance, event on the peninsula:
Person A: "I guess only media like David Duke gets invited to these things…"
Person B: "WTF are you talking about?! Oh, you must  mean Michael Dukes. Whewwww."
---
That will do it for us this week folks. Don't forget to send your favorite social media and online goofs, gaffs, memes, dust-ups, "Overheard in Alaska," "Spotted in Alaska," or whatever else you got to akstalker@alaskalandmine.com Our DMs are always open. Remember: pics or it didn't happen!
---
The Alaska Stalker was born and raised in Alaska, and lives in South Anchorage with her husband, daughter, and baby on the way. She is not Jeff Landfield.