Welcome to this week's edition of The Alaska Stalker, a lighthearted round up of the best and worst of Alaska's social media landscape. Have you sent us a hot tip yet? Email us at [email protected] and, as always, thanks for reading. Hope you have a few minutes  hours – we have two weeks worth of material to catch up on.
---
It's good to be back! But, guess who else is back? ?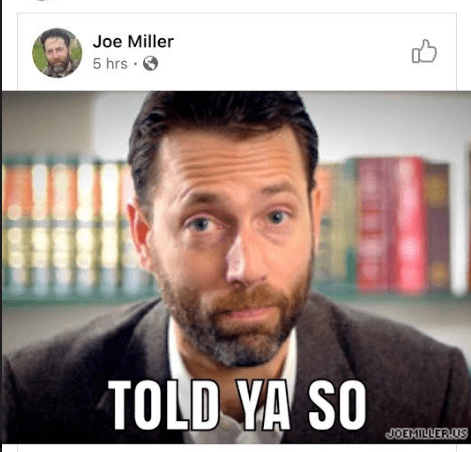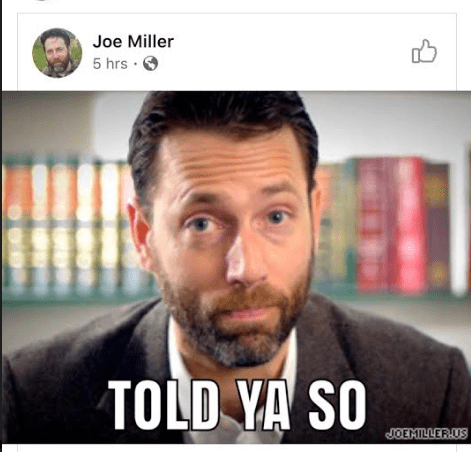 ---
This is how you do it, folks. Bipartisan besties, Assemblymembers Amy Demboski and Christopher Constant, went shooting together last week.
*LAST WEEK*

 Sounds like they both had a great time.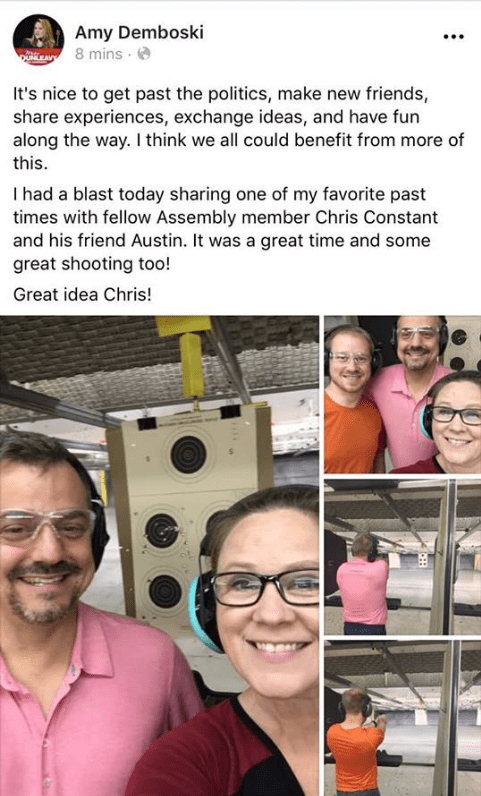 ---
Let's quickly get through the bad behavior from "the week that shall not be named." If anyone gets #triggered reading this week's column, I would just refer you to the Chris and Amy bestie photo. If they can do it, we can too. Together.
---
The Mayor of Fairbanks, Jim Matherly, posted this meme.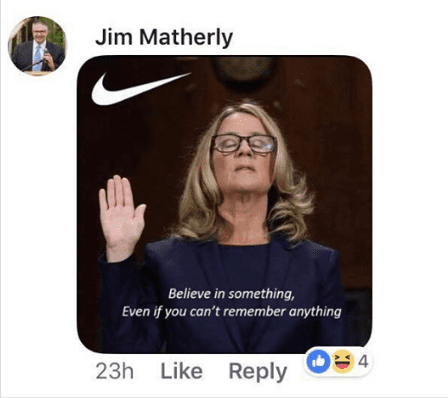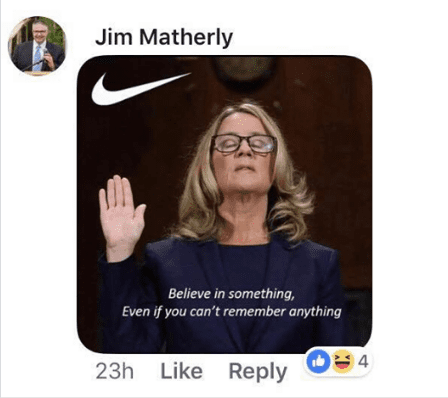 Followed by this explanation: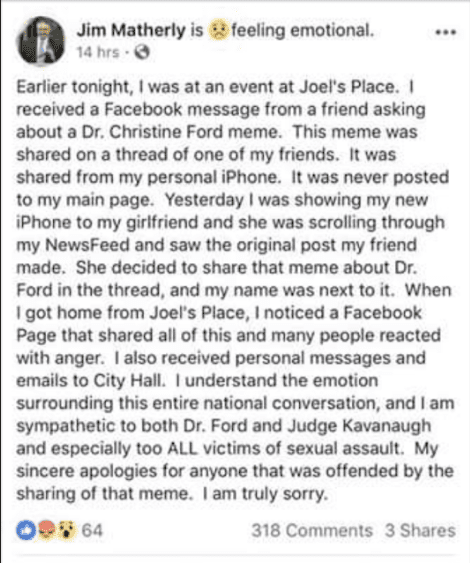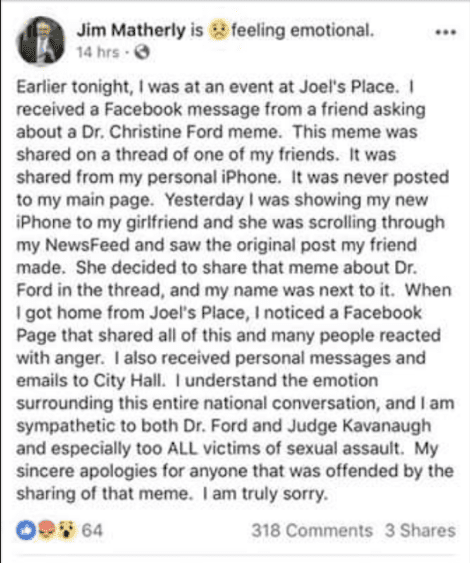 Looks like he has some more 'splaining to do, because this was the scene at the most recent Fairbanks City Council meeting.

---
Joelle Hall, Director of Operations for the Alaska AFL-CIO posted this on the day of the hearing. She seems nice.

---
Former Anchorage Mayor Dan Sullivan posted (then deleted) this doozy on his Facebook.


---
100 women flew, on the ACLU's dime, to D.C. to meet with Senator Murkowski, share their stories, and object to Justice Kavanaugh's confirmation. Funny that the photo on all the news stories was of aging white guy, Casey Reynolds, and zero women. ¯\_(ツ)_/¯

---
But it was this tweet that got the most attention.

---
It caused such a stir, even the locals weighed in.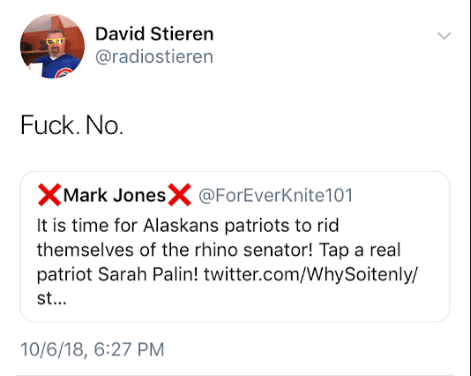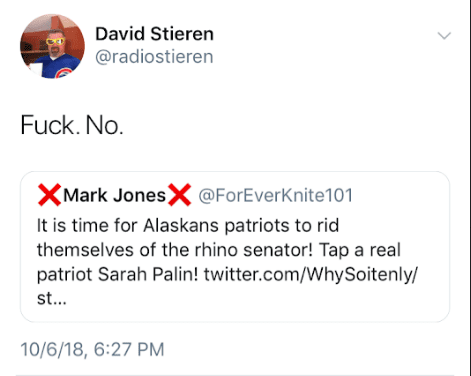 ---
Okay. Now on to the good stuff. In South Anchorage, it's still August. #ThatsSoBieling Come on man, take them down already!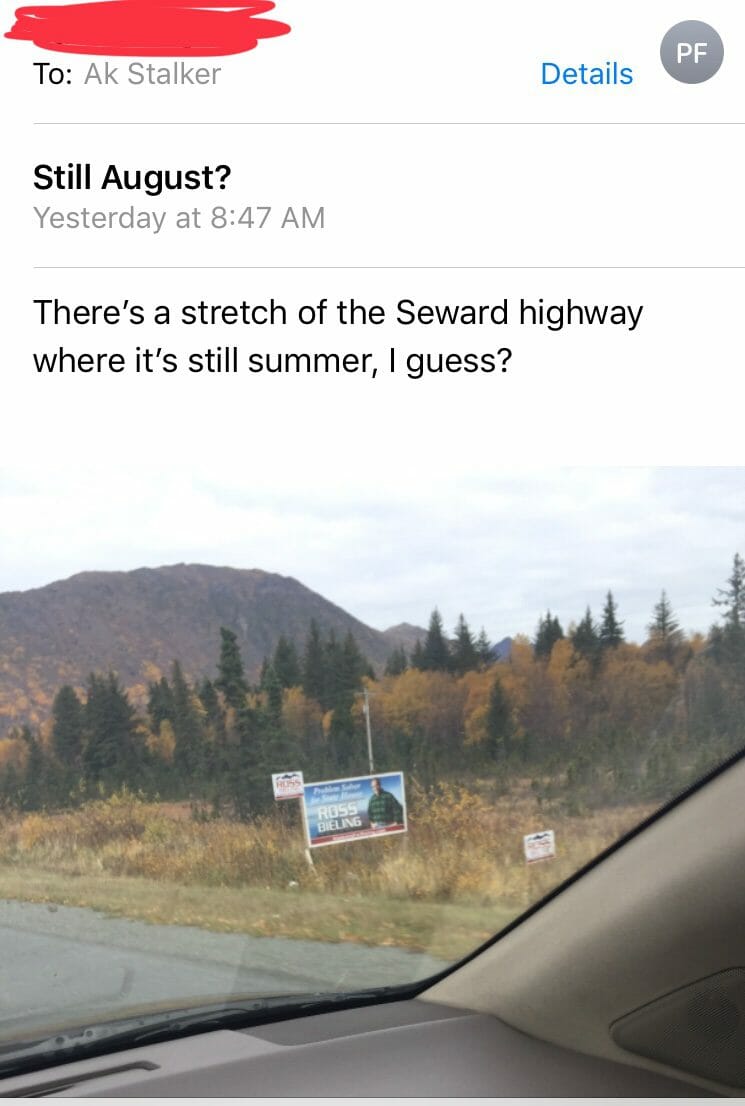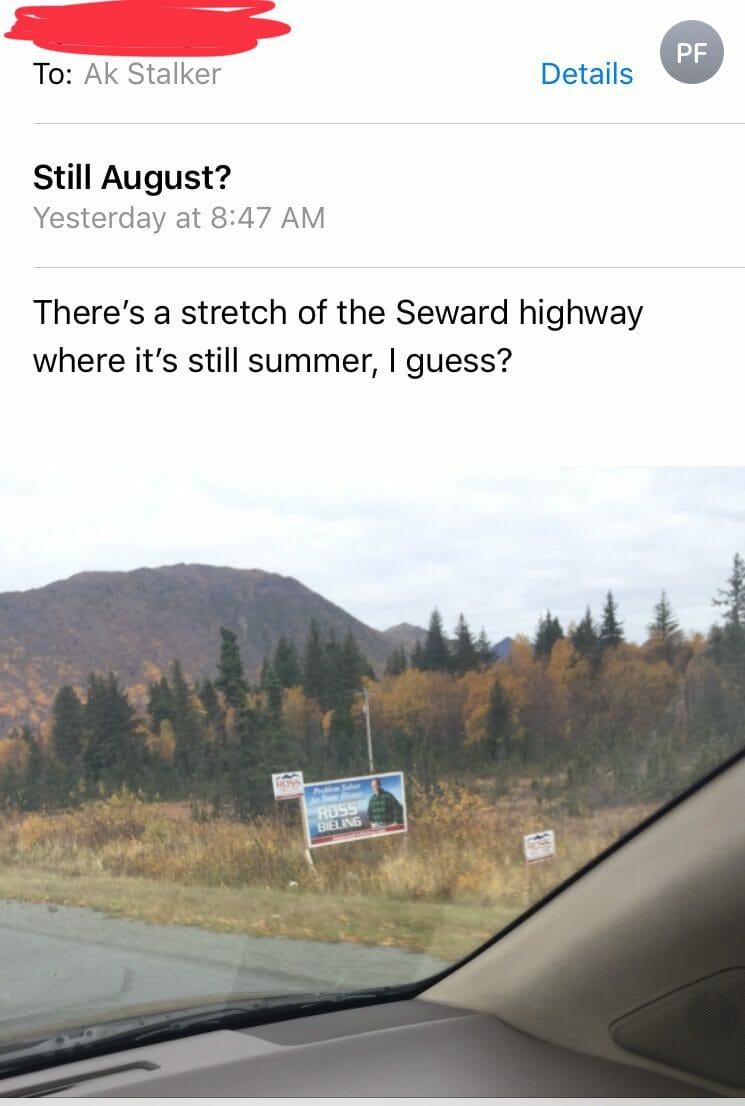 ---
Representative Lora Reinbold accidentally linked to an ad for a better posture device on one of her anti-SB91 rants. We're not sure if was a subtle reference to those so-called spineless legislators that still support SB91, or an accidental reference to her posturing on the subject. We checked, she finally deleted it.

---
Meanwhile Lora's staffer, Donn Liston, never fails to impress. ? Thanks for being a decent, normal person, Sam. I wonder how you and Donn are going to get along as colleagues in Juneau?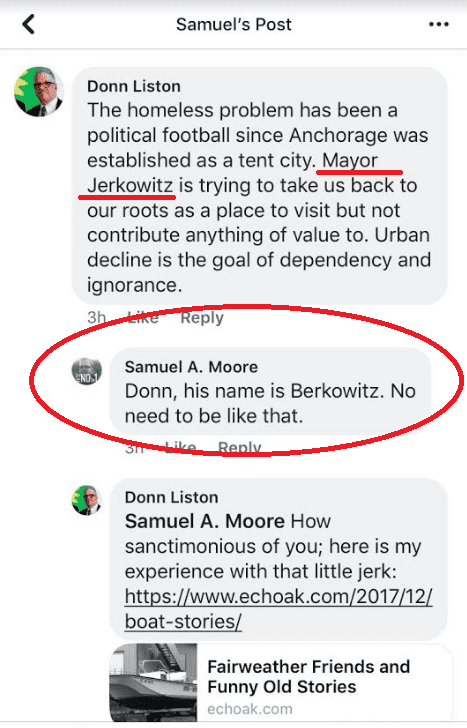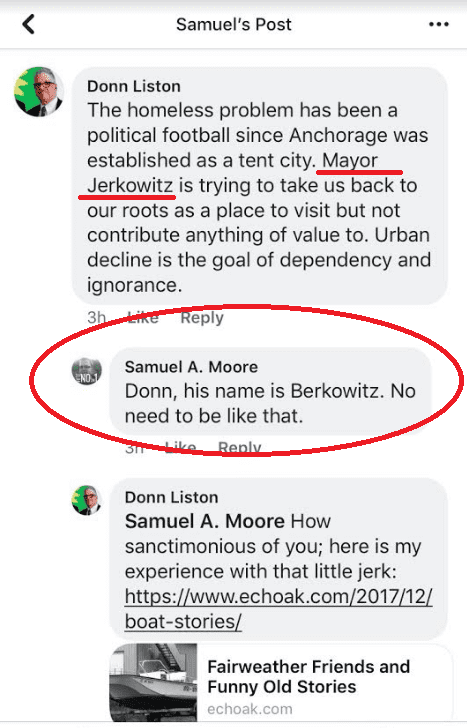 ---
Everyone? What about Libertarian Gubernatorial Candidate Billy Toien? Tsk tsk Senator Begich. Do you think #WheresBilly will start trending on Alaska Twitter now?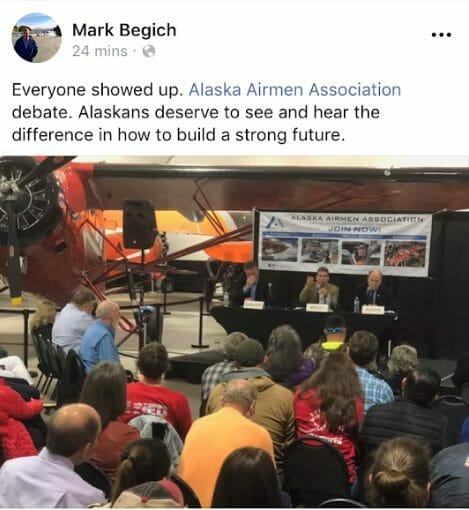 ---
Senator Begich posted a photo of him on the campaign trail at Diamond Jim's this week. No word on if he purchased any panties or hardcore Alaskan gifts.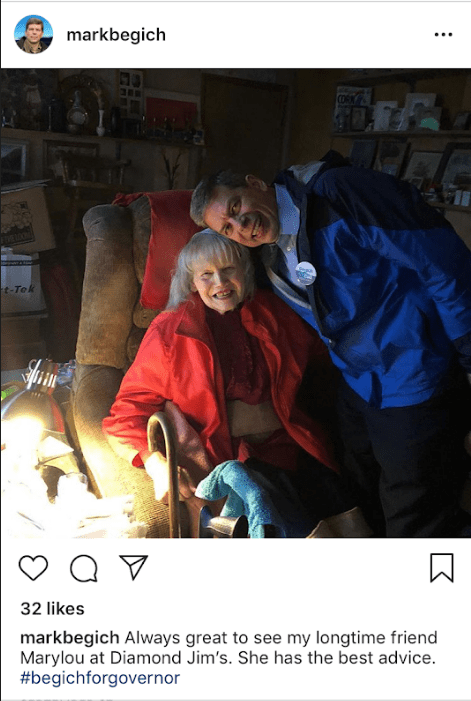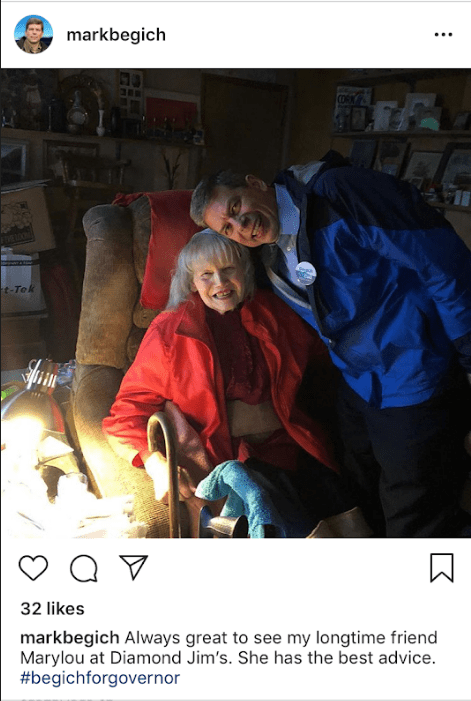 For those of you who aren't familiar…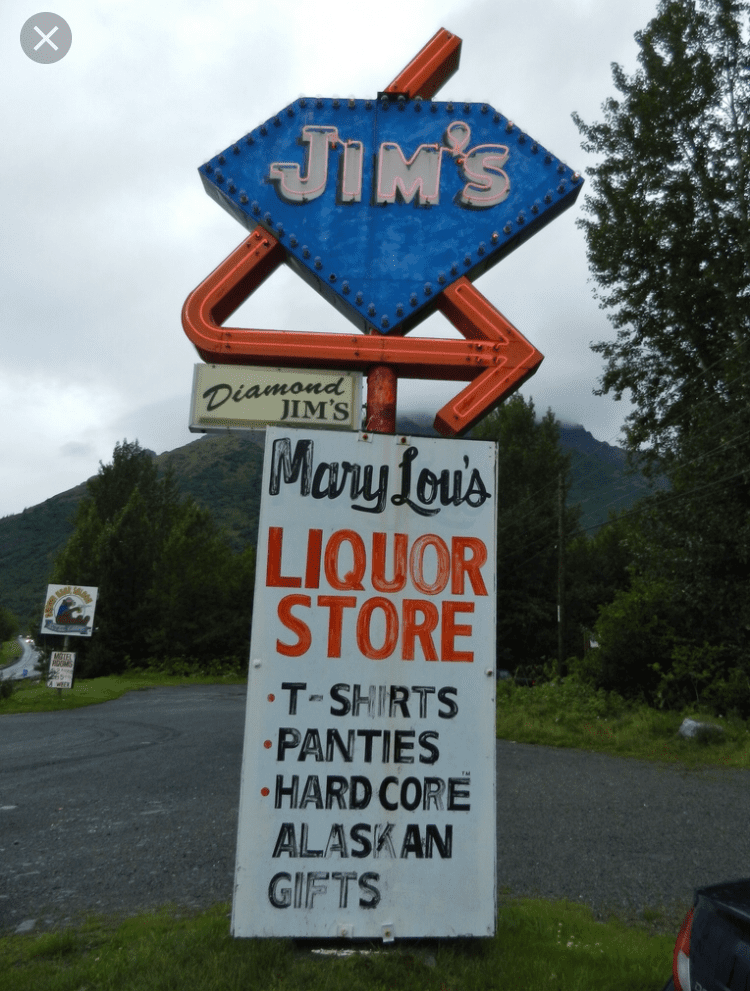 ---
Happy 41st Anniversary to Governor Walker and First Lady Walker. The Stalker's parents also celebrated 41 years of marriage this week. 1977 was a good year to get hitched I guess.  Quite an achievement to both couples. We'll even forgive you, Governor, for the cringe-worthy phrasing in the beginning of this post.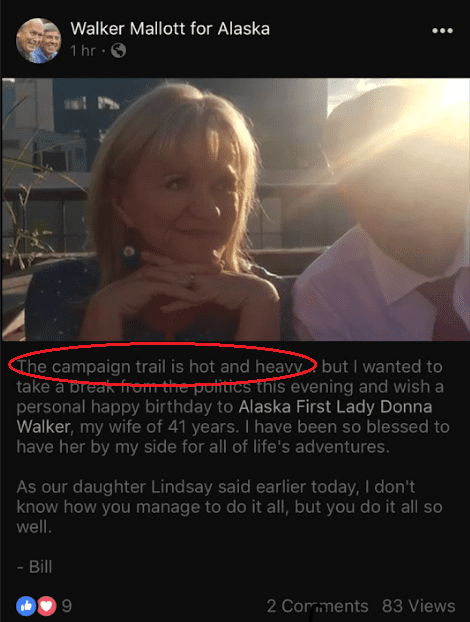 ---
On second thought, things do look a little hot and heavy out there. Or maybe this is just what it looks like when you actually like your running mate for Lt. Governor. I don't think you could pay Senator Mike Dunleavy and Senator Kevin Meyer to do that. No question Bill and Byron have a bit of a bromance going on. Will they last 4 more years?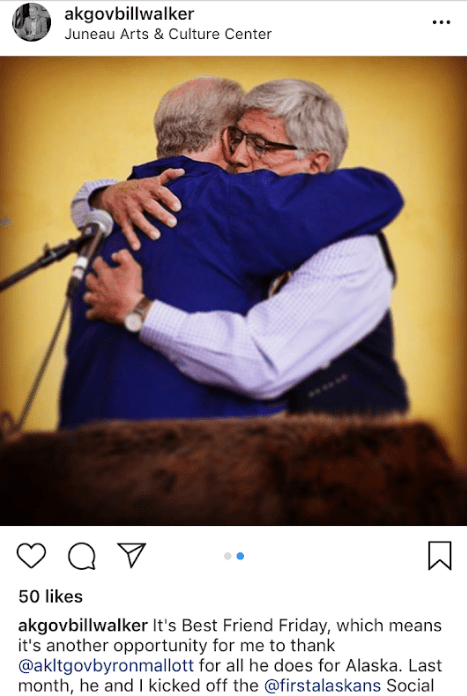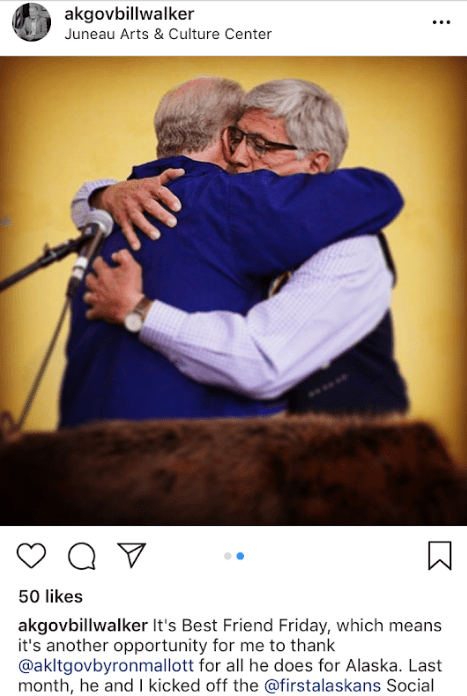 ---
Speaking of Lt. Governor candidates, Kevin Meyer never misses an opportunity to post a #ThrowbackThursday. That hair tho.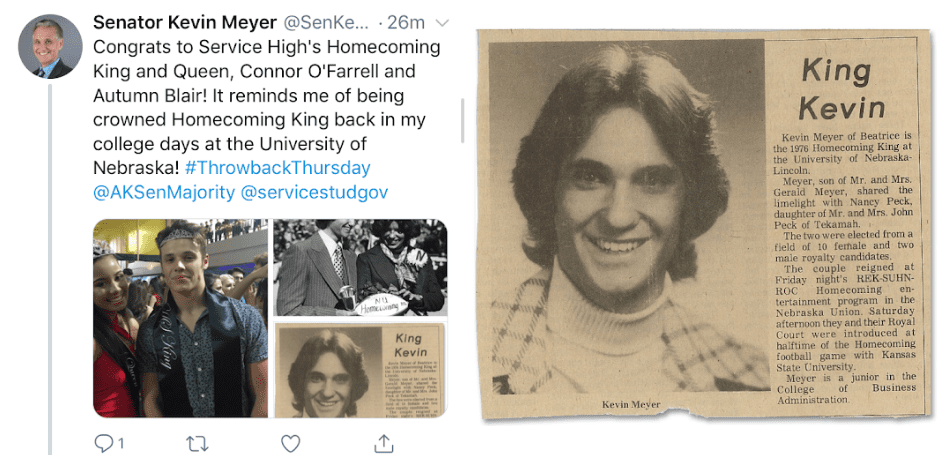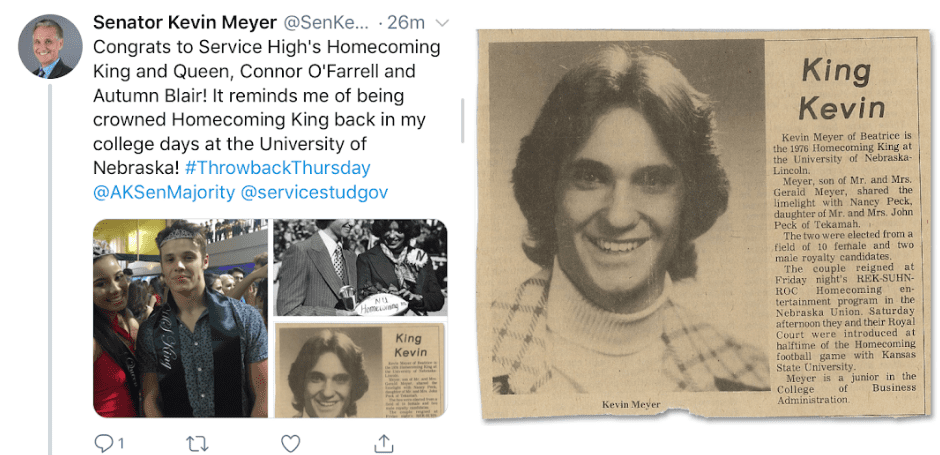 ---

We're glad to see someone on the Kenai being nice to Senator Micciche. I wonder if anyone else in the history of Alaska politics has had to campaign this hard to keep their seat while running, technically, unopposed. You could almost call it a marathon. Ba Dum Ching! (Sorry, sorry… after a week off I'm a bit rusty!)

---
Candidate for House, Bart LeBon, landed his "Chili in October" joke much more successfully. I have to say, I am extremely jealous of all the outlets in that counter top.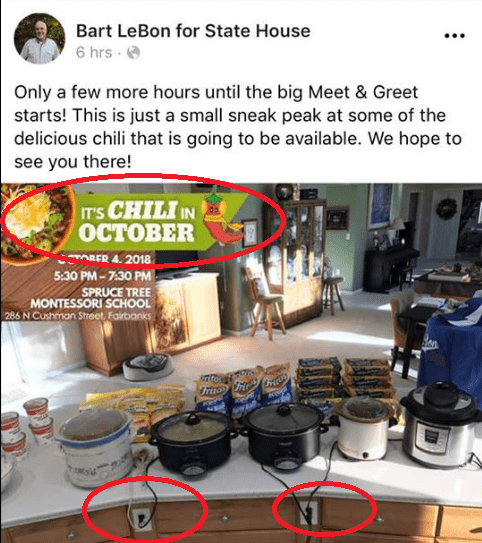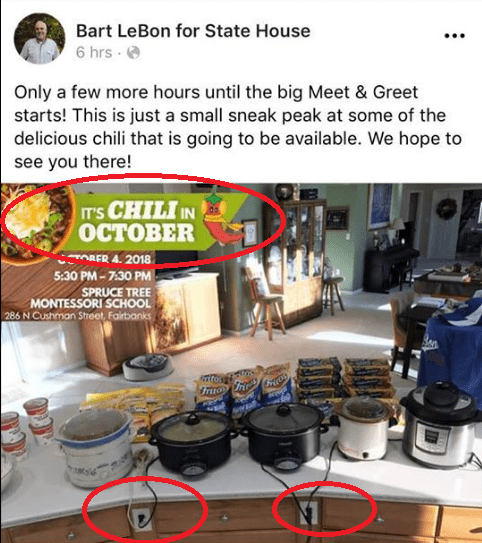 ---
In case you don't know what a chicken coop is, candidate for House, Marilyn Stewart, has got you covered.

---
A warm Stalker congratulations to Representative John Lincoln and his family for their recent announcement. Maybe we can plan a play date for our newborns in the spring. Meet up in Juneau? And, I can totally relate to those first trimester info leakers (I'll never forgive you Jeff Landfield! ???).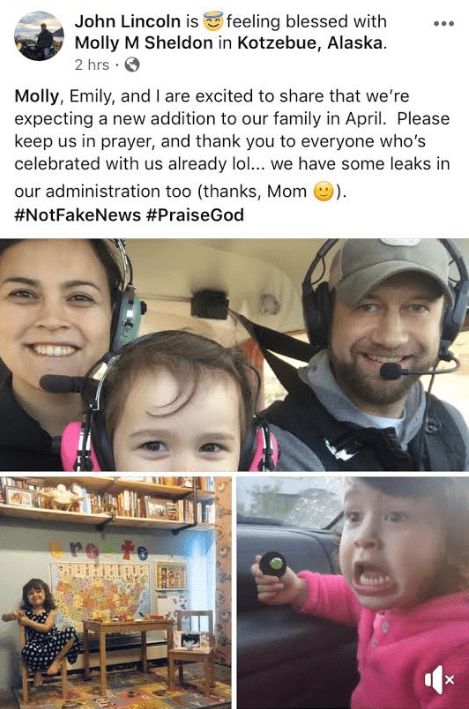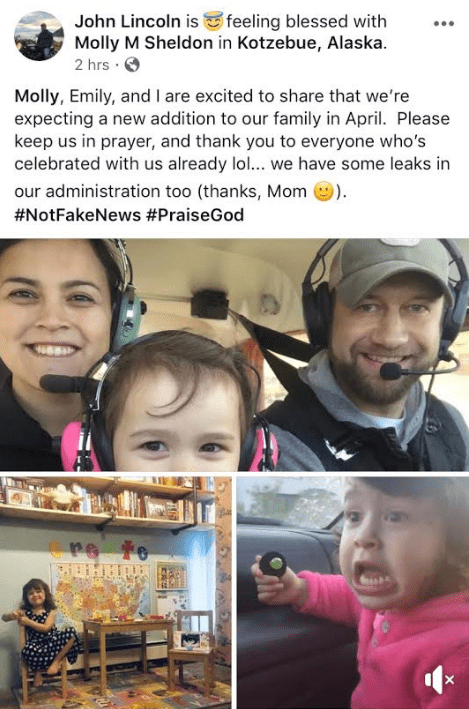 ---
Looks like there's a battle of the bear posts going down in District 28. First, Representative Jennifer Johnston posted this photo of a bear at the Capitol that's been circulating.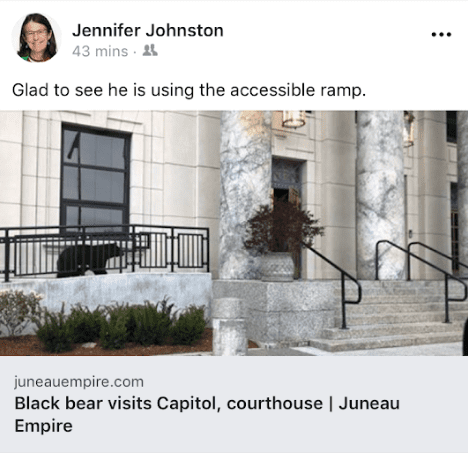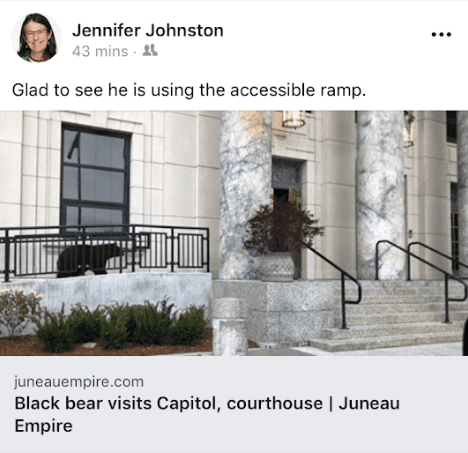 ---
Not to be outdone, her opponent Amber Lee posted this little guy. Bonus points to Amber for keeping focus on the bears in her district. And for the uproarious "it's not high bear season" joke. We're in D28 and have had over a dozen bear sightings since our last column. Please, whoever wins, do something. They are a big problem.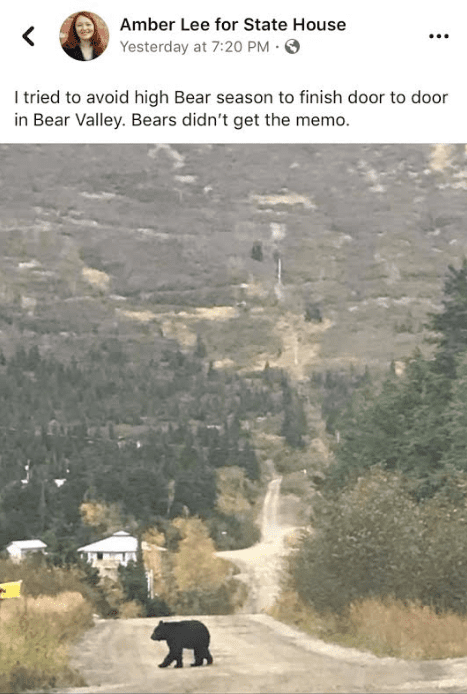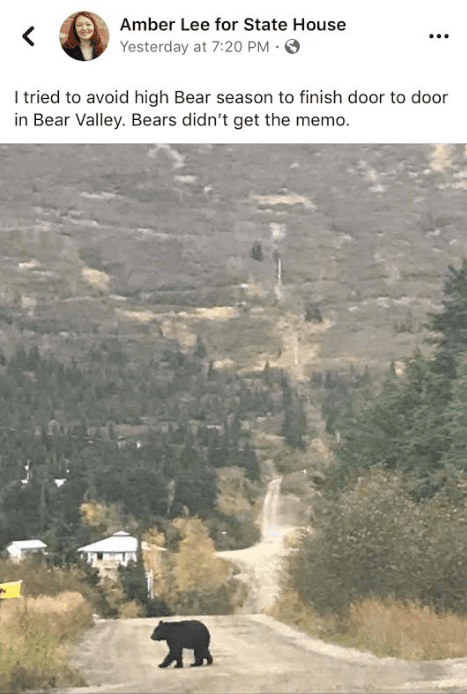 ---
While I don't believe bears belong in Alaska's largest city, I'm a big fan of the bears of Katmai National Park. Have you heard about Fat Bear Week? Governor Bill Walker is a fat bottomed bear fan.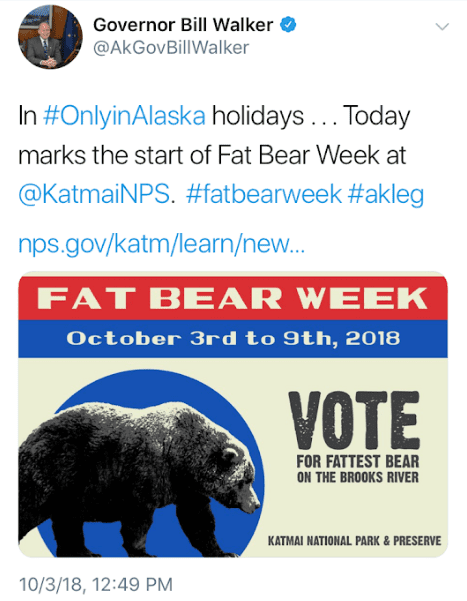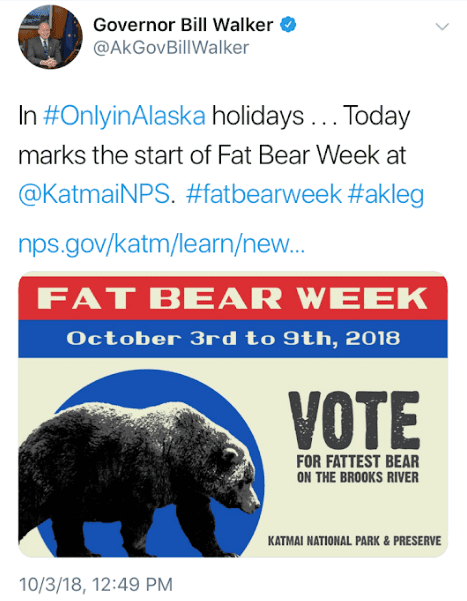 ---

---
Felix really missed out on an opportunity to post cute dog photos and get some actual engagement on his social media page. Here are some great examples. Governor Bill Walker is all about the animal body acceptance this week. Good boy, Teddy!

---
Congratulations to Representative Matt Claman and family. Good girl, Lacey!

And our sincere condolences to candidate for House, Stanley Wright, for his loss. What a good dog. ?

---

I mean, where do we even begin? How about, what's your birth name?
---
Joseph Lurtsema made his first Landmine appearance in this week's Sunday Minefield. Joseph is the Alaska Republican Party's recently hired Social Media Director.

Some of the stuff he posts is WAY out there, even by Landmine editor-in-chief Jeff Landfield's admittedly low standards. Jeff reported on one of his recent posts, which Joseph immediately took down. Then this happened:

YIKES! Good ole Joey must have gotten a call, because he deleted that post, blocked half the Landmine team on Facebook, and posted this message instead. We've been monitoring his page ever since. Things haven't gotten better. Who the hell hired this guy?

We'll just leave this here… We shit post, you decide.

---
Also, Joseph, pretty sure Suzanne could use some tips herself. ???

---
If Michael Chambers could only post one sentence for the rest of his life on social media, this would more than cover it.


---
Spotted in Fairbanks at ATIA's (Alaska Travel Industry Association) annual convention – a very high level table.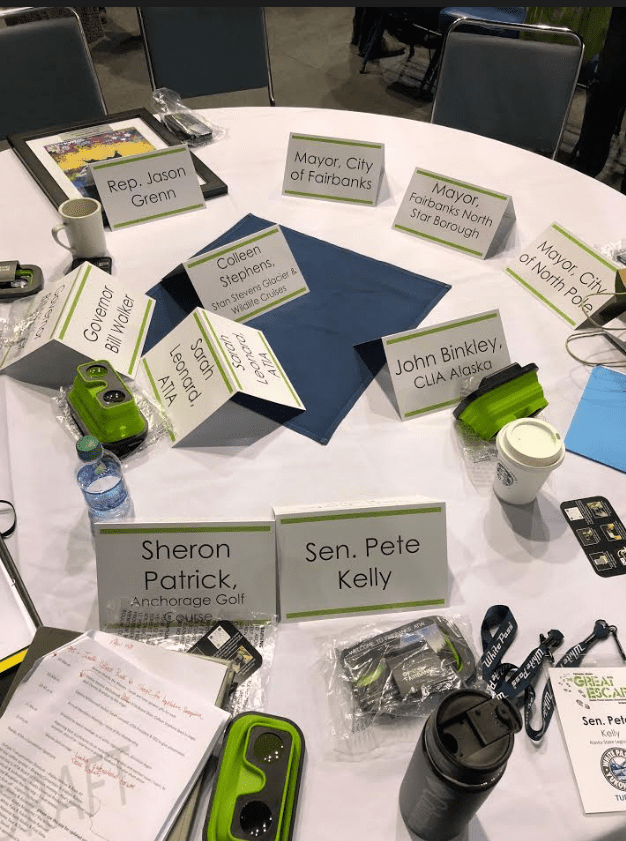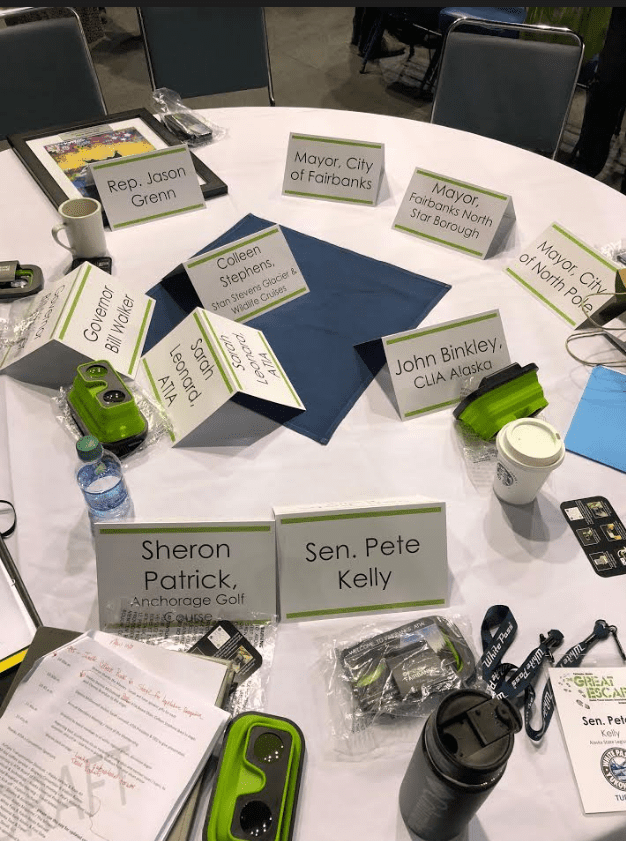 ---
Overheard at the induction ceremony for the Alaska Chapter of the National Academy of Inventors at UAA:
"I'm Shelly Hughes. I work in the Alaska State Legislature and spend a lot of time in our state Capitol in Juneau. Which means I feel a little awkward tonight, as I am really not used to being in a room with so much brain power."
---
Door-to-door story:
We really hope Representative Andy Josephson has seen the movie Jackass: Number Two. Otherwise, he might be reporting the guys that opened the door for him during the infamous "horse penis" scene to the authorities.
---
Spotted in:
Aaron Schutt having a high level meeting over breakfast at The Diner in Fairbanks.
---
Brandon Brefczynski from AOGA having dinner with Craig Richards at Sullivan's Steak House.
---
Local conservative radio talk show host Dave Stieren at Cabela's.
---
Assemblymember Austin Quinn-Davidson having lunch at Bear Tooth with Sand Lake Community Council President, and applicant for the open Anchorage School District Board seat, Nikki Rose.
---
***Alaska Stalker Bonus Content***
Over the past few weeks, the Anchorage Chamber of Commerce hosted three lunch forums for Congressional, State House, and Senate races. Even though the same questions were asked at each forum, they couldn't have been more different. The Stalker attended the last two luncheons and here are some thoughts.
Week 1:
The candidates seemed to be segregated by party at two tables. At the Republican table there was Representative Chris Birch, Representative Jennifer Johnston, and candidates Stanley Wright, Marcus Sanders, Ceezar Martinson, Marilyn Stewart, Sara Rasmussen, and Connie! Doughtery.
At the Democrat table there was Representative Andy Josephson, Representative Harriet Anagnostis Drummond, Representative Ivy Spohnholz, Representative Jason Grenn (I-ish), candidate Zack Fields, and, much to the chagrin of the rest of the table, self-proclaimed Democrat Dustin Darden. We found out later this wasn't the intended arrangement by the Chamber. Some of the Republicans got there early and claimed a table. It made for an interesting us vs. them vibe.
Here are some of my takeaways:
Good to see only one old white guy at the Republican table.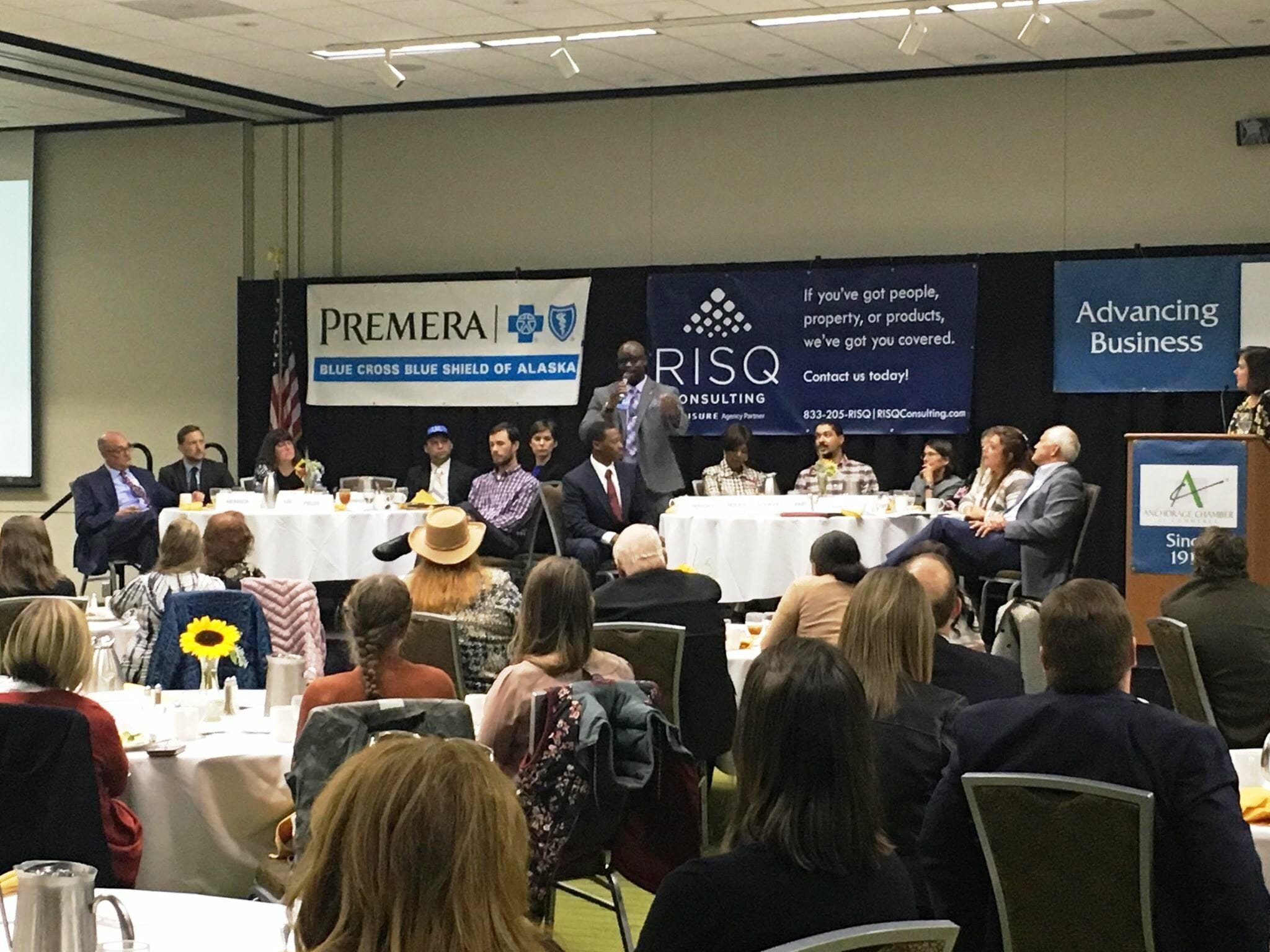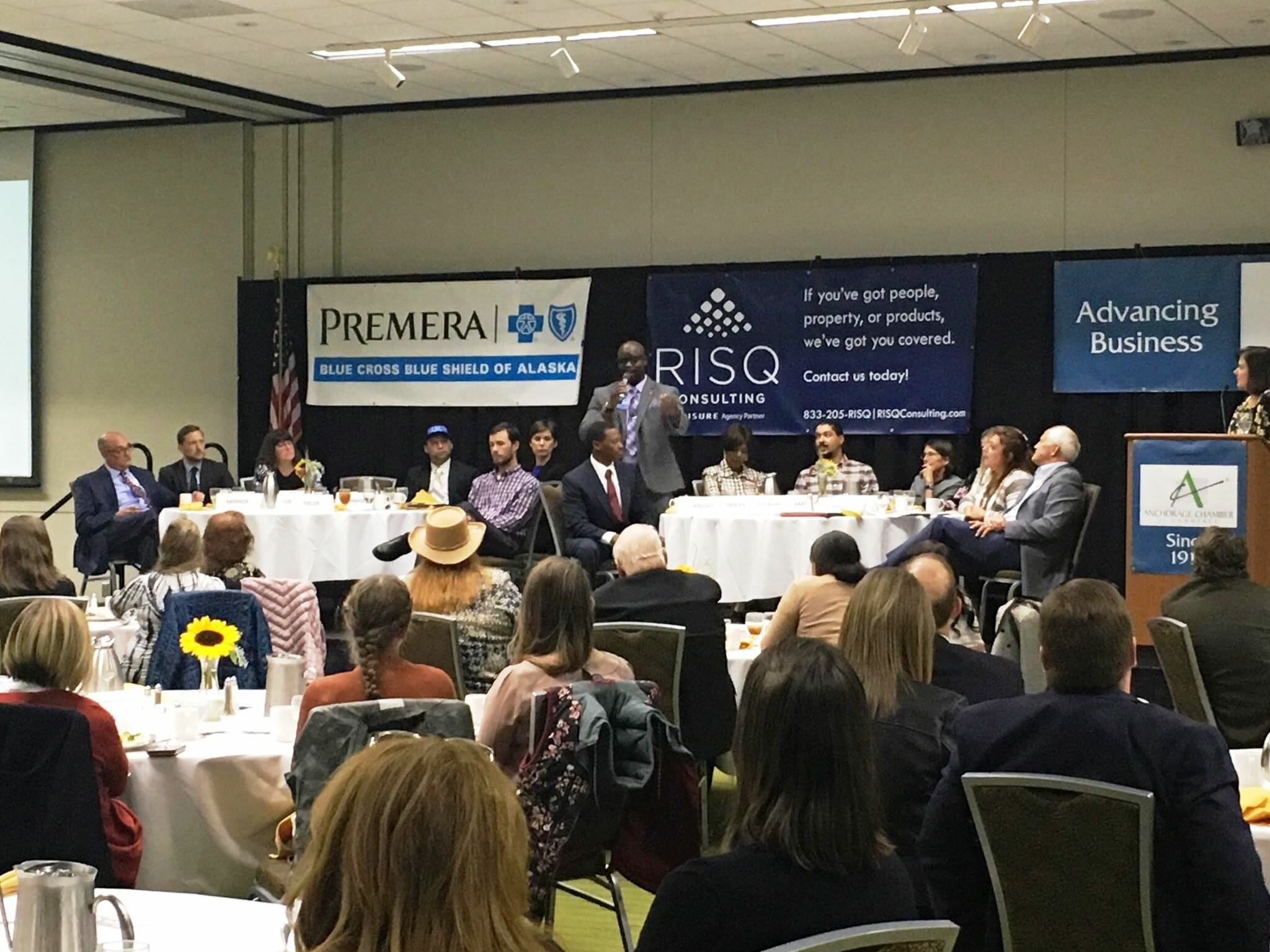 Speaking of Chris Birch, he said, "every other state envies Alaska's financial position: we have 65 billion in the bank!"

Moderator asked, "What is your plan to combat crime?" All the Republicans spent their time telling crime stories, while most of the Democrats attempted to explain their plans.

Jason Grenn reminded everyone, twice, that he wasn't in the legislature when SB91 was passed. FOR THE RECORD, GUYS!!!

Zack Fields is still blaming former Mayor Dan Sullivan for Anchorage's crime wave. Also specifically told people to not vote for Mike Dunleavy.

Can someone start a Go Fund Me to get Zack Fields a pair of pants that fit, please? A couple of shirts, too. Maybe he can ask the Stalker's legislative style icon, Ivy Spohnholz, for some advice.

When Andy Josephson was a prosecutor in Kotzebue he only dismissed one case in two years. Apparently we need Andy to retire from the legislature and become a prosecutor again!

Sara Rasmussen brought up Judge Corey, who seems to be in a bit of trouble for what would normally be a guaranteed yes on retention vote, and then teared up after talking about a 5 year old rape case that happened in Spenard.

Jason wasn't alone: both Jennifer Johnston and Chris Birch brought up how they ALSO weren't around when SB91 was passed.

Jennifer said, "For the first time in my life I'm thinking about it." re: increased crime and exercising on the trails alone around town. We'd add bears, too, Jennifer!

Connie! who is very low energy for someone that uses an exclamation point after her name, sat the entire time. Most of the other candidates stood when they spoke.  She told this story when asked about her crime plan:

Dustin Darden plans to vote yes on Ballot Measure One.

The Spenard Road decimation revamp is Harriet's "crowning achievement" of her year.

Andy said he's "always on the floor, always doing the job."

Ceezar wants a state RICO act. Also, his voice! ? Someone get that guy a radio show ASAP!

Marilyn Steward absolutely slayed. She was the best at speaking in short, easy to understand talking points, and was just so likable. 10/10.

Zack Fields spotted biking away from the forum, living his message and best life.

And then there was Dustin Darden… I try not to talk about him too much. I think he should focus more on himself, his health, and his family. But here we go….

He told all the legislators in the room the budget deficit was fake and they should be ashamed of themselves

He then got off the stage with the microphone and started yelling at all the Dem legislators he was sitting next to, and people clapped.

An old friend texted me during this exchange asking what the hell was going on. I filled him in. I'm always surprised when someone doesn't know who Dustin Darden is. This is a fear of mine leading up to November. No matter what party you belong to, Sand Lake deserves better.

Because people clapped, he got riled up and then mentioned the zipline nonsense again.

He mentioned "the globalist agenda."

He said fluoride in the water caused the Port of Alaska's pilings to corrode.

This comment caused Ivy, who spoke on the Port next, to momentarily forget herself. Her usually perfect mask slipped, just for a moment, when she snapped "For the record,

salt

corrodes steel."
---
And then there was week 2:
The tables were not split Republican/Democrat this time. There wasn't really enough Republicans there to form a separate table.
At one table sat Representative Chuck Kopp, and Candidates Amber Lee, Liz Snyder, Sue Levi, Pat Higgins, Laddie Shaw, and Anita Thorne.
At the other table we had Representative Matt Claman, and candidates Danyelle Kimp, Joe Hackenmuller, Lyn Franks, and Rick Phillips.
Here are our takeaways:
Opponents Laddie and Anita, Lyn and Rick, and Chuck and Sue sat right next to each other!

Anita, a first time candidate, admits she's new at this, doesn't know everything, and then trailed off mid sentence. Guess those rumors of the Dems thinking they have a shot to take Laddie out are unfounded. We suspect they're just fine with Laddie lol!

Sue Levi used the term "bad hombres."

High level hat wearing Republican woman overheard saying, "He's too liberal!" re: Kopp after he said he'd be open to considering a small sales tax.

Claman threw some shade: "I'm one of the few members of the legislature that has an actual job!"

Laddie was in charge when Chuck went through the Police Academy over thirty years ago and he "made Chuck twice the man he is today."

Forget Bill and Byron, there's a new bromance in town: Matt Claman and Chuck Kopp! They are working together to take back our city from crime. Kept referring to one another, tenderly, in their answers.

Sue said we need, "I'll just say it: the "evil income tax."

The guy sitting next to me, who is clearly a FAR RIGHT Republican, started hyperventilating when all but two people started espousing the virtues of an income tax.

Kimp says he's worried about a tsunami taking out the Port of Alaska.

But my favorite was, by far, candidate for House, Liz Snyder.

We're usually more of an Ivy Sponholz/Amber Lee style type of gal, but Liz's outfit was rad. She looked like businesswoman Peter Pan, but in a good way. The picture doesn't do it justice.

When Joe talked about how we need to stop vilifying the other side and come together to work towards common goals, Liz was almost out of her seat nodding her head in agreement. Alas, that attitude seemed to be short lived once it involved people and ideas she disagreed with. 

Liz said, minutes later, "I like this group's answers on crime a lot more than last week!" (Note: week two had all Democrats plus Laddie and Chuck, which might add up to a full Republican between the two. So, no duh, Liz. 

Made a not very nice face when Laddie said, "We spend a lot on medical and education, maybe we can shift some of those funds to the Port."

Threw some shade at her opponent, Representative Lance Pruitt, in the above Facebook post for not attending the Forum.
All in all, the Chamber did a pretty good job hosting the forums. There were a lot of candidates who had confirmed attendance, and then no showed. SAD! The questions asked were solid. Unlike Liz Snyder, we preferred week 1 to week 2 because there was more variety and contrast in candidates and ideology, and more fireworks! We would also rather see the opponents face each other. Candidates had the choice to pick one of the two dates depending on their schedule. It wasn't as helpful when opposing candidates attended different forums.
---
That will do it for us this week folks. Don't forget to send your favorite social media and online goofs, gaffs, memes, dust-ups, "Overheard in Alaska," "Spotted in Alaska," or whatever else you got to [email protected] Our DMs are always open. Remember: pics or it didn't happen!
---
The Alaska Stalker was born and raised in Alaska, and lives in South Anchorage with her husband, daughter, and baby on the way. She is not Jeff Landfield.