It's October. Which means two things – playoff baseball and election season going into fifth gear. The 2018 general election is just a month away. Look for things to really heat up all over the state. And on that note, I have some great news. The Alaska Landmine is again partnering with the Anchorage Daily News to bring you Election Central! We are going old school and taking it back to the Egan Center. It's going to go down in the books as one epic party. Everyone is invited. A big thanks to GCI for sponsoring the event. Stay tuned – more info to follow this week.
The Kavanagh Ordeal
Brett Kavanaugh was confirmed by the Senate yesterday (10/6/2018) on a vote from 50-48. This comes after protestors from all over the country, including 100 women from Alaska courtesy of the ACLU, swarmed on D.C. to protest his conformation. This account was sent to the Landmine a few days before the vote from a person who works in D.C. I guess some people see harassing staffers as an acceptable form of protest.
Update: To clarify any confusion, this account was about the general behavior of protesters in D.C., not of the Alaskan women who went with the ACLU. Is this to your liking, Casey?
With the pending vote on the confirmation of Judge Brett Kavanaugh, the halls of Hart, Dirksen, and Russell Senate Buildings have become their own venues for harassment. Groups are staged outside of the offices of Senators who have indicated that they will vote in the affirmative for Judge Kavanaugh's confirmation. As staff come in and out of offices, they have to negotiate through crowds of people screaming and chanting. Smart phones are thrust in their faces and they are followed down the hallway, with Facebook Live streams and video capturing them trying to negotiate the crowds with people yelling at them, "How can you work for a Senator that protects sexual predators?", "Why does your boss hate the women victims of sexual assault?", "What does your boss have against the truth?", and "You work for us, represent us!" Staffers are walking out of the buildings, in pairs, some have requested a Capitol police officer to escort them to their vehicle if they are parked in an outer lot, because of safety concerns. It leaves a lot of us wondering, with how quickly this has escalated in the past 24 hours, what may still happen leading up to a confirmation vote.
Senator Lisa Murkowski (R – Alaska) has once again been in the national spotlight over the conformation. In a Senate floor speech (click here to watch it) she explained why she ultimately decided to vote "no." Well kind of. She ended up voting "present" so Senator Steve Daines (R – Montana) could attend his daughter's wedding and not have to return to D.C. to vote. I didn't understand why this was necessary so I looked it up. It's called paired voting, a once common practice that is not used that often anymore. This article explains it. Here is a video of Senator Ted Stevens doing the same thing back in 2005.
In what has become the new normal, extreme partisans on both sides have been going nuts over the process. Many Republicans are losing their minds over Murkowski's vote. She has been labeled a RINO, traitor, turncoat, and much worse by many conservatives all over Alaska and the country. The pro-life crowd is probably the most triggered group of them all. Alaska Republican Party Chairman Tuckerman Babcock posted this on the ARP Facebook page after the vote. It's about to get real loose, folks.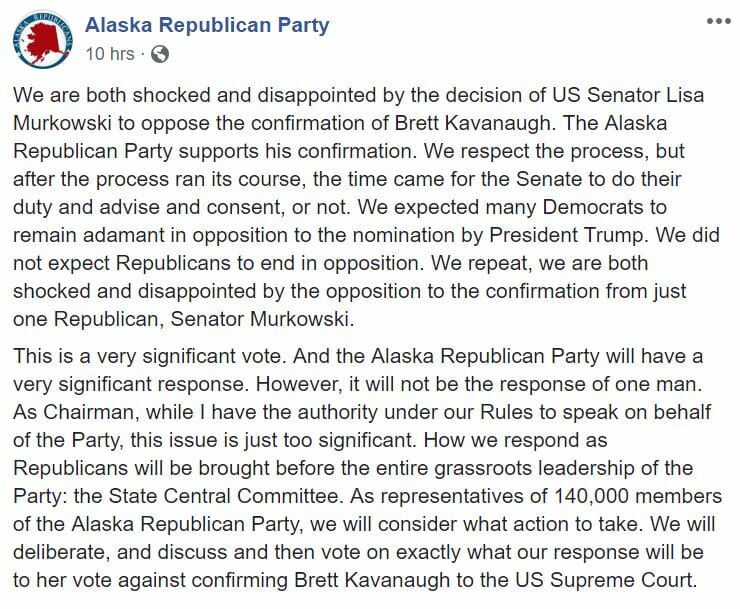 If she would have voted "yes" it would have been the same deal from Democrats. She would have been accused of supporting rape or rape culture or the patriarchy or fill in the blank. One must ask where we are as a society when a Senator faces either being called a baby killer or being a supporter of rape based on a vote for a Supreme Court nominee. The partisan division in this country has got to a pretty disgusting point. Lisa Murkowski should quit the Republican party and switch to Independent. Maybe more will follow her.
Senator Dan Sullivan (R – Alaska) voted "yes" on the Kavanaugh conformation. This got Republicans, especially the pro-lifers, very activated. Democrats are, no surprise, not happy at all with him. Which doesn't change how they feel about him. One person who is definitely not a fan of Sullivan is Representative Harriet Anagnostis Drummond (D – Anchorage). Check out her comment tho. Damn.
Other Happenings
There were a whole bunch of city and borough elections all over Alaska on Tuesday (10/2/2018). I'll be honest. I didn't follow these that closely. There is only so much Jeff Landfield to go around. Women did really well. Check out this great analysis from our friend Matt Buxton at the Midnight Sun:
Women absolutely dominated Alaska's local elections this week
It looks like the Mat-Su Borough voted to approve a ballot initiative that moves the date of their election from October to November to coincide with the State's general election. Supporters say it will increase turnout and make it easier to run the election. With a 14% turnout in this election, they are definitely right about improving turnout. Opponents say it will make it harder for local candidates to get airtime and attention because of all the legislative and statewide races. I guess we will see how it works out in 2020!
The North Pacific Fishery Management Council is meeting in Anchorage this week. Fish and Game issues aren't really my thing but it sounds like I need to meet some of these fishing folks. As one lobbyist told me about these council meetings, "Those guys know how to have a good fucking time!"
The Alaska Republican Party recently hired this cat Joseph Lurtsema as their Social Media Director. No word if they are actually paying him anything or just giving him a title and some business cards. If you check out his Facebook page you will discover that the title Social Media Troll would be much more fitting for him. Some of the stuff he posts is WAY out there. Below is a recent example. The post appears to have been removed. I'm guessing a reasonable Republican (yes, there are a few left) told him something along the lines of, "What the hell is a matter with you."
And for a last minute bonus. #Loose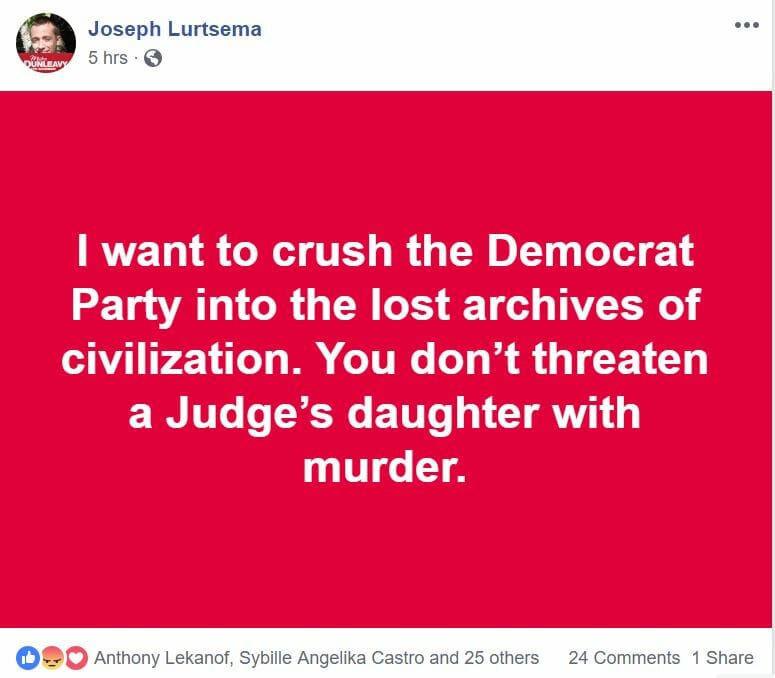 Former West Anchorage Assembly candidate and President of the North Star Community Council, Sam Moore, has been hired as a legislative aide by Senator Mia Costello (R -Anchorage). He is taking over for another staffer who is moving out of state. Congrats Sam, and take it easy in Juneau, mate.
Forrest McDonald, who recently lost to Connie Dougherty in the Republican primary in District 23, just bought a house and moved into District 25 with his family. He wasted no time. At the last meeting of the Abbott Loop Community Council he made a move and tried to take over the council! Like he literally just moved there. I'm told he was unsuccessful but the vote was close. I wonder if he knows about the open Anchorage School Board seat???
This Week's Loose Unit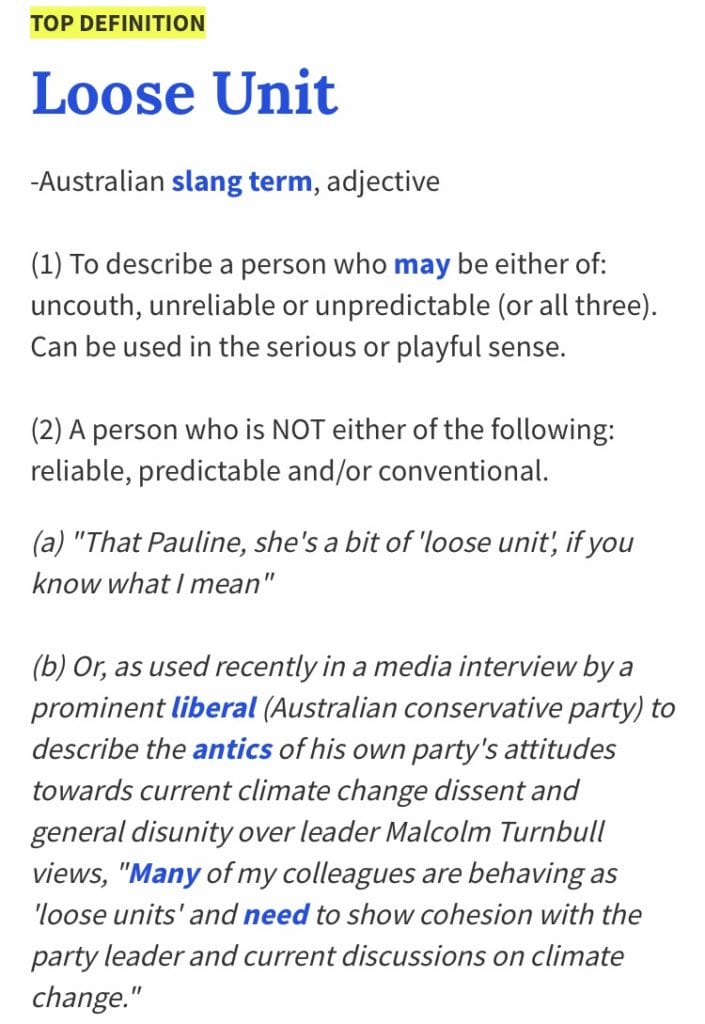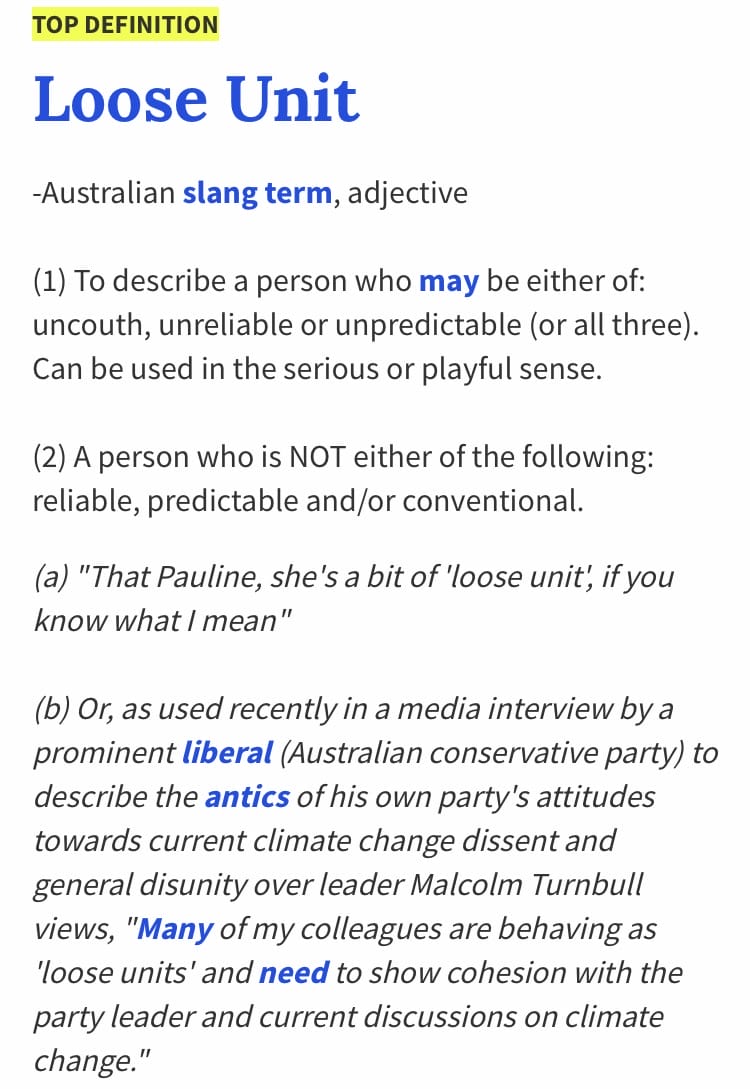 I'm not going to lie, it was going to be Track Palin for obvious reasons but a last minute submission made the choice much easier. This week's Loose Unit is a tie between Michael Gatti and Nathan Wallace. Who are Michael Gatti and Nathan Wallace you may ask? Gatti is the attorney for the City of Palmer and Wallace is the City Manager. And they got real loose recently.
You may recall the ACLU filed a lawsuit in March against the City of Palmer Police Department for detaining a man in August 2017 based off his immigration status. The detention resulted from police responding to a bar fight that the man was trying to break up while helping a female bartender. He is married to a U.S. citizen but did not have status. The officers asked him if he was from Alaska and then called federal immigration officials. That is pretty loose in itself. That cop sounds like a real asshole.
The lawsuit was recently settled by the City of Palmer and the ACLU. The City of Palmer agreed to pay the man $50,000. $40,000 was covered by their insurance and $10,000 was paid by the city. They also agreed to give him a written apology and make changes in the policy for how their officers handle immigration detainers and warrants. There is just one problem with all of this. Wallace signed the agreement that Gatti agreed to but never ran it by the Palmer City Council! Talk about loose. I'm no lawyer but don't you have to run shit like this by your client? The client being the council in this case.
The council was not happy the settlement was not run by them. Wallace included it in his report at a recent council meeting. Palmer Mayor Edna DeVries said "I don't know who gave the authorization to settle this case because it certainly wasn't this body sitting around this table. I can't say that it would've been any different but I think you have an obligation to us as the policy makers." Very loose.
Gatti told DeVries, "In hindsight we should have come to the council," to which DeVries responded, "Absolutely you should have!" The meeting got real loose.
Deputy Mayor Richard Best said, "It's unfortunate we did not have the chance to have that discussion. With that being said, I think this sets a dangerous precedent in the state. I think other municipalities are going to be subjected to lawsuits like this and it is, in my mind, this lawsuit going after our officers, I felt was inappropriate." This was a classic Loose Unit move. I guarantee this will never happen again in Palmer.
If you have a nomination for This Week's Loose Unit, or if you have any political news, stories or gossip (or any old pics of politicians or public officials) please email me at jeff@alaskalandmine.com.