Welcome to this week's edition of the Alaska Stalker, a lighthearted round up of the best and worst of Alaska's social media landscape.
***
If you enjoy the Alaska Stalker, please consider supporting working moms like me by sending in hot tips, overheards, and spotted ins. You can reach me at [email protected] As always, thanks for reading.
***
Two weeks until the big day! ? I hope everyone is looking forward to seeing politicos dressed up in their Halloween best. Or, my personal favorite, folks in politically themed costumes. The more hyper-local the better! Until then, please enjoy Rep. Kelly Merrick dressed up as a cat for "Boo at the Beach." ? Meow!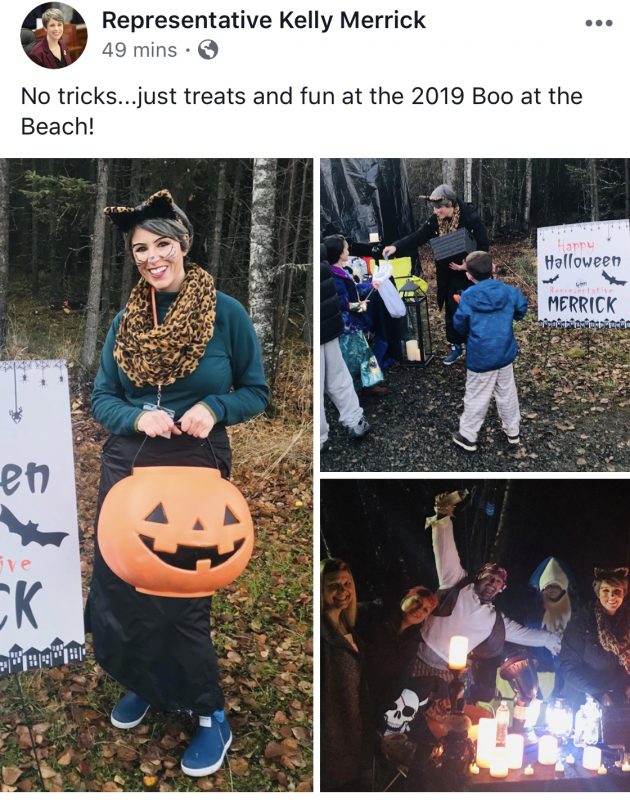 ***
I've heard of "forking" and "you've been flocked" but secretly decorating a whole neighborhood for Halloween? That's just bootiful. Glad Assemblymember Austin Quinn-Davidson is being a gourd sport.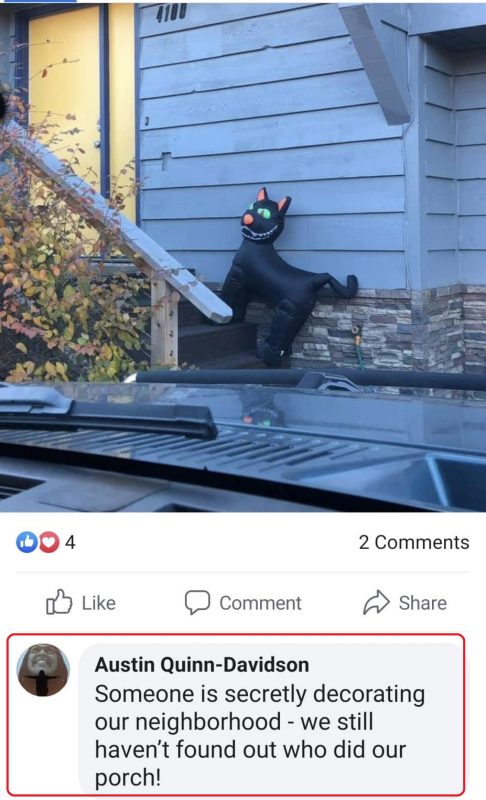 ***
Take it from Rep. Ben Carpenter, Oktoberfest in Sterling is lit. ??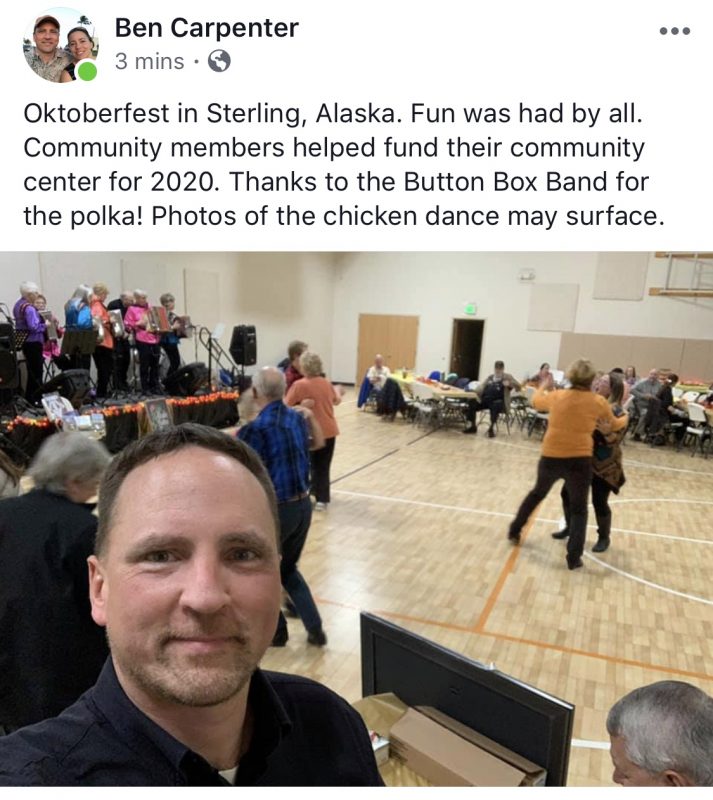 ***
In case you missed it, Sen. Lisa Murkowski was a clue in a recent LA Times Crossword. I got a good chuckle over Alaska Public Media reporter Liz Ruskin's reply to folks asking her what the answer was: 7 letters … starts with an A ….. ????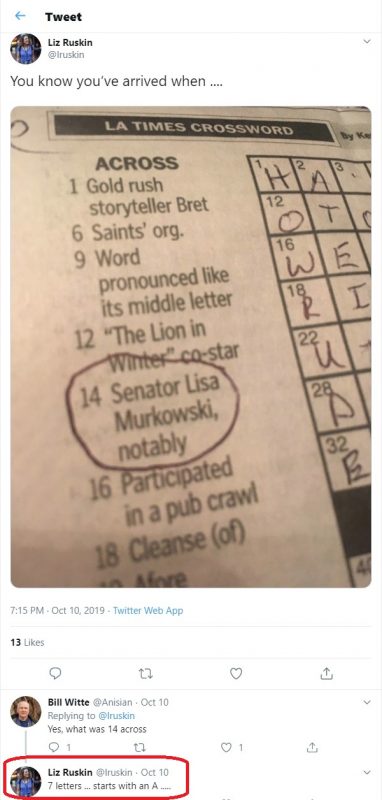 (The answer was Alaskan. Get your mind out of the gutter!)
***
Congressman Don Young has had quite the busy week. From fat bears…
***
If you've been wondering what Gov. Mike Dunleavy is up to, Alaska Public Media reporter Nat Herz has you covered. Every month or so, he files a records request for the governor's public correspondence. Sometimes it pays off. That Betsy Devos granola tho.
***
A tipster sent in the agenda for the upcoming Alaska Municipal League Conference. I'm REALLY excited about this jam session. Tom on guitar, Cathy on drums, Bryce on keyboard, all while Lance meekly sings, "I'll do it!"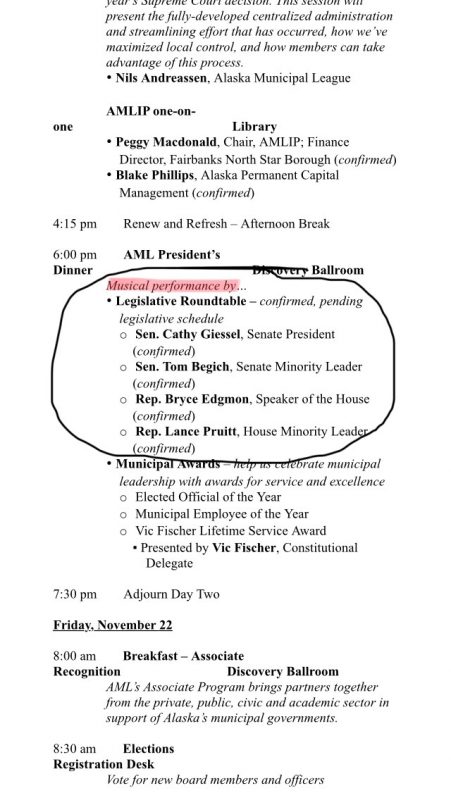 ***
Congratulations to Sen. David Wilson for taking home 1st prize at the Valley Republican Women's Club annual chili competition. Stalker readers may remember his homemade honey won two honorable mentions at this year's State Fair. He seems to have quite the flair for culinary arts. Perhaps David should get his own cooking show. The Barefoot Wasillian? The Pioneer Senator? Valley Meets Juneau?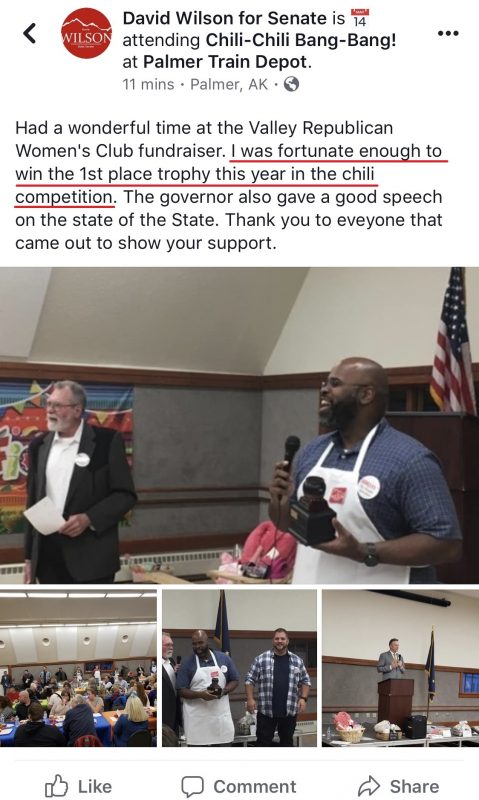 ***
It's no secret Sen. Jesse Kiehl has the best named newsletter in the Legislature. In addition to some good information for constituents, it contained this little tidbit about Jesse's new work shoes – his first in 10 years!!! Glad he knows how to buy a pair worth repair. Jesse: pics or it didn't happen.
***
A very "bunny" story, in two acts. This one goes out to all the girl dads out there.
Act 1: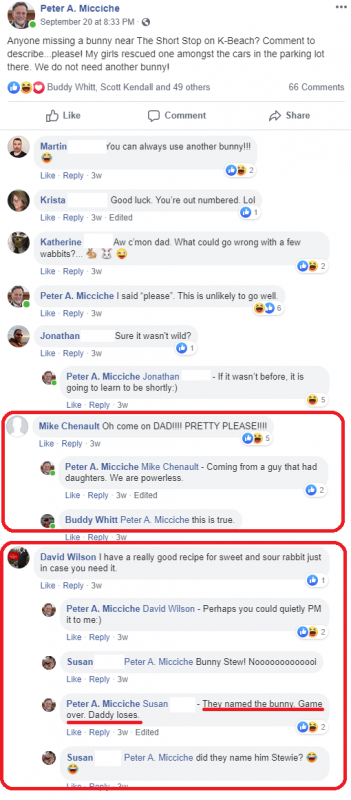 ***
Act 2: Oh Peter… ???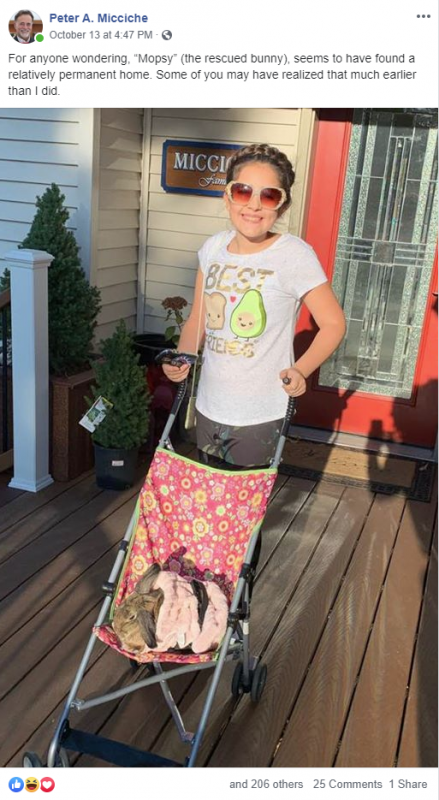 ***
Is there anything more Rep. Sharon Jackson than Sharon having a conversation with herself in the Facebook comments of her official Representative page?

***
OMG, is Assemblymember Meg Zaletel really getting her own radio show?! As a local talk radio
connoisseur

I am so here for this. Meg, please keep me updated! ?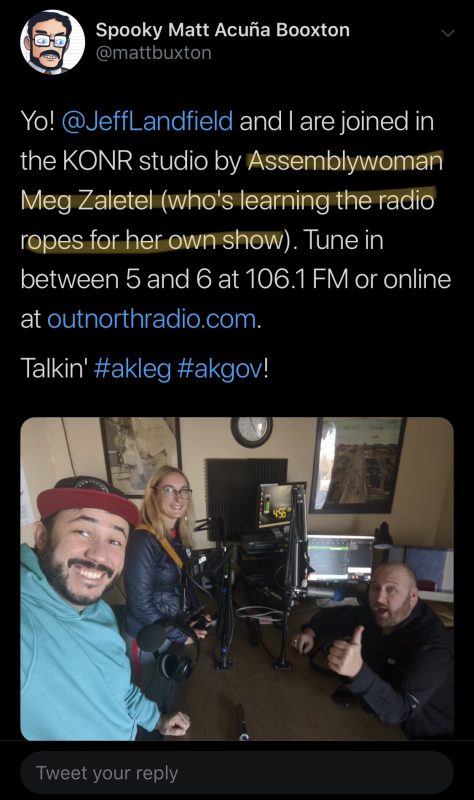 ***
Last weekend was the Mayor's Charity Ball in Anchorage. Politicos of all stripes came out to raise money for four local charities. Congressional Candidate, Alyse Galvin, traded in the yellow blazer for some bling, and Rep. Geran Tarr sported what appears to be a fancy, tiny hat.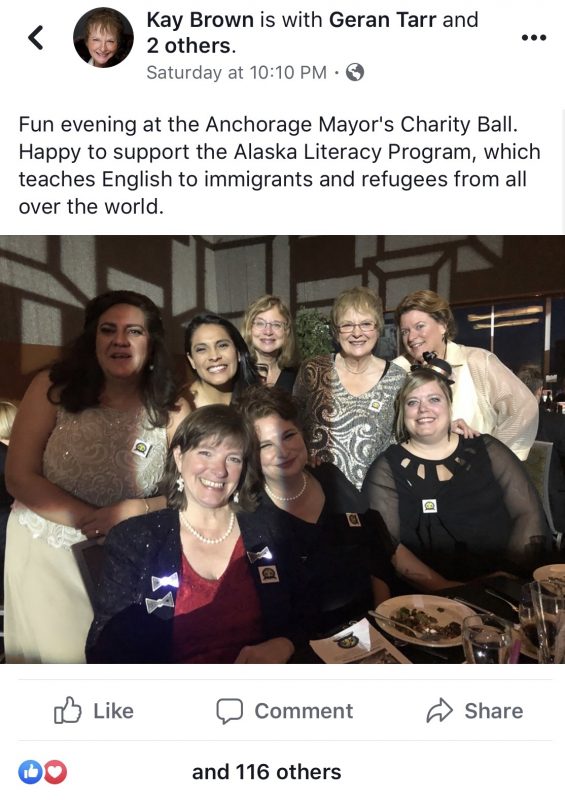 ***
It may be a tiny hat, but it's for a good cause. Thanks to Geran for posting about My House's thrift store in Wasilla. With Alaska SPCA thrift store closing it's doors in Anchorage, it's good to know there are still local places to go for one's vintage/thrift/tiny hat needs.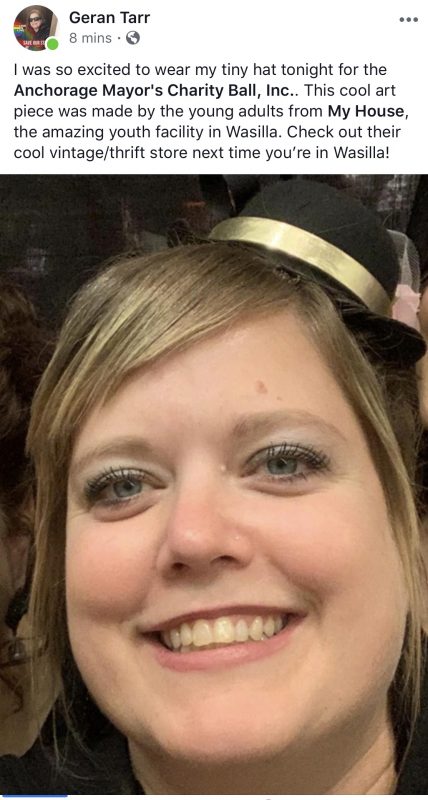 ***
Looking good, Assemblymember Christopher Constant! Love the pink bow tie and cummerbund. ?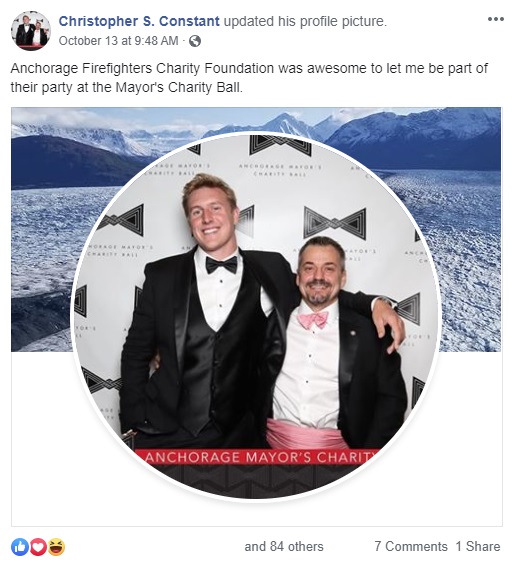 ***
Newly re-elected Fairbanks Mayor, Jim Matherly, might be a conservative, but he seems to be pretty liberal with the tattoos. Dare I ask him what ink he got for winning his first term?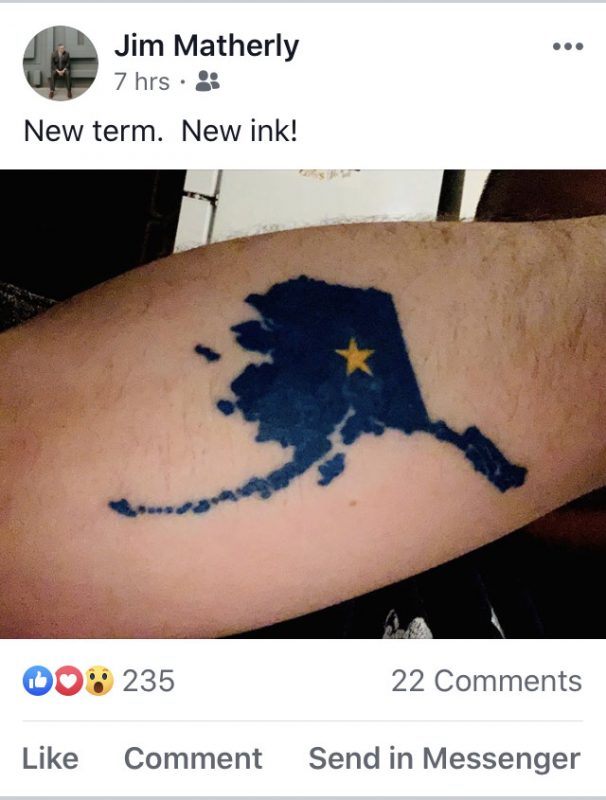 ***
While the Stalker has a low-key ban on Anchorage bag ban related posts, we're gonna let this one fly. ?
***
Okay, since we're talking about bag bans… Has Assemblymember Christopher Constant ever heard of inneroffice email? Curiously, the post has been updated and Chris' comment deleted. If the Clerk's Office hasn't already chosen Chris for the #knowyourassembly trivia contest, might I suggest "Which Assemblymember has a bit of a temper?" ?

***
The warmest Stalker congratulations to former Gov. and grandfather of six, Bill Walker. Baby Rose is just precious. ??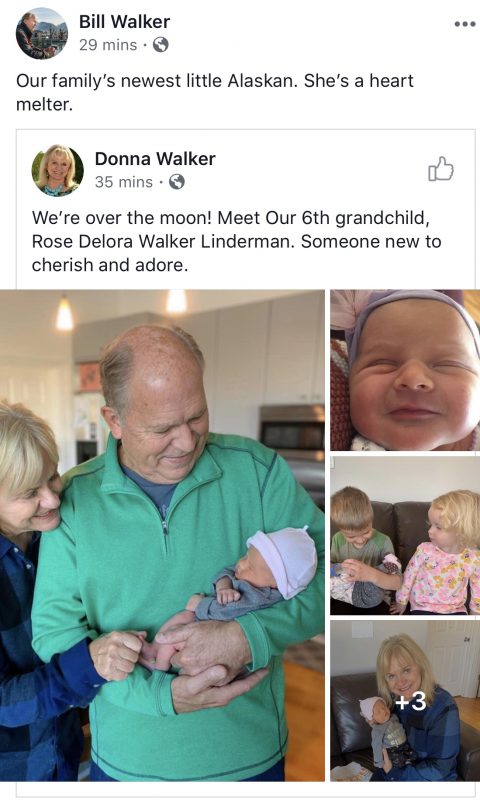 ***
Bill, I know you're enjoying "retirement" and all, but it might be nice to get an updated group photo for the Brena, Bell, & Walker website. Hey there, AG Kevin Clarkson!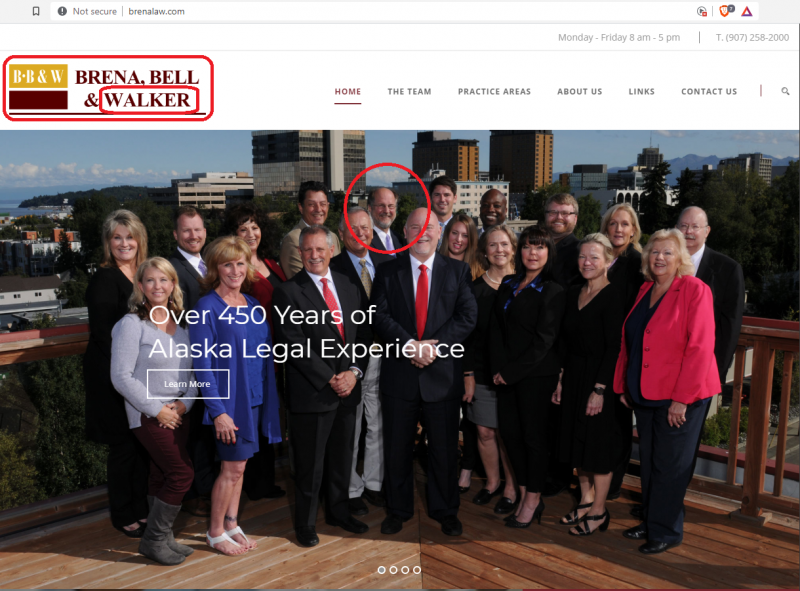 ***
Spotted at Alaska Public Media breakfast for Educators and Workforce Development: Sen. Tom Begich.
***
Spotted working on her fitness: Sen. Elvi. According to our source, "Elvi rarely misses a workout and never sets off the lunk alarm."
***
Spotted this week at Steam Dot (not together): Senate President Cathy Giessel, Rep. Tiffany Zulkosky, and Anchorage Assemblymember Felix Rivera.
***
Also spotted at Steam Dot: Former Alaska Chamber President, Rachel Petro. No word if she was selling essential oils as she likes to do on LinkedIn.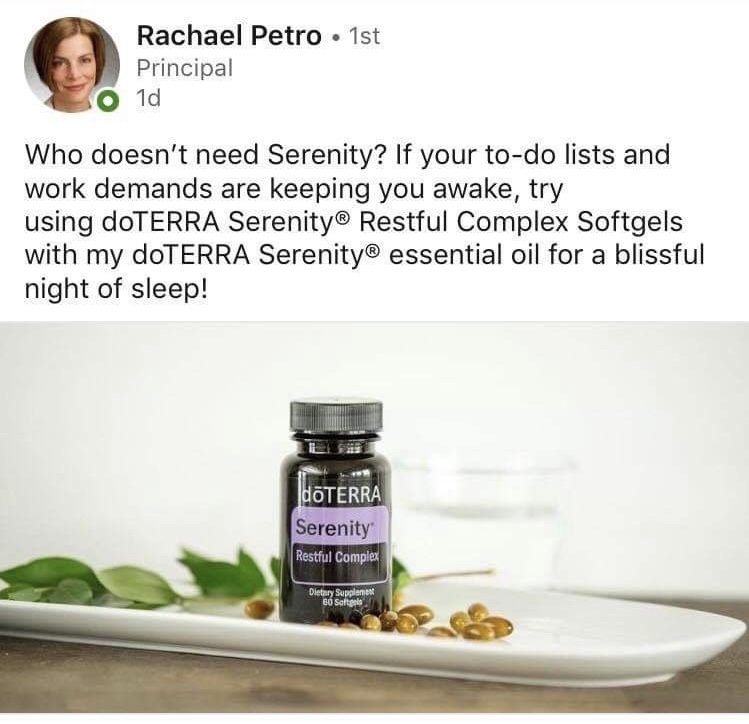 ***
Spotted at Crossroads Lounge – Where Friends Meet. AWWU coasters?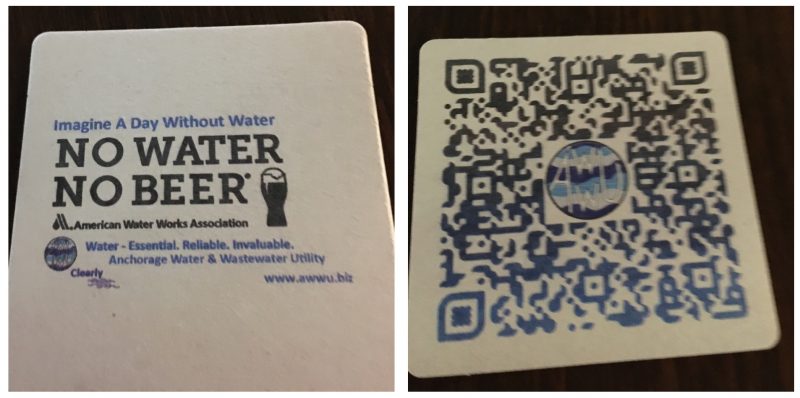 ***
Spotted in the Valley. Where do they come up with this stuff?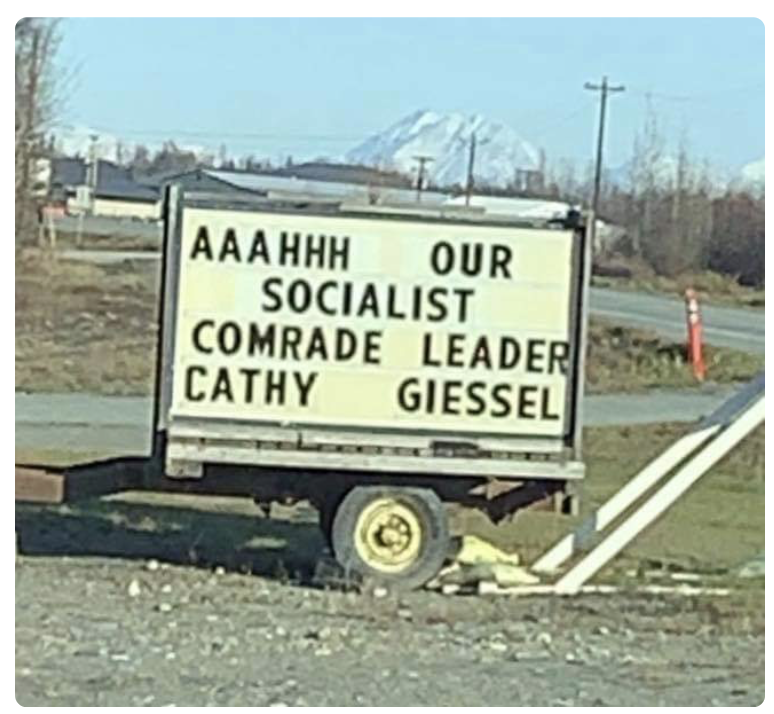 ***
Overheard: "Have you noticed that the Governor hasn't put anything out about Indigenous People's Day? The conspiratorial part of me thinks he wouldn't want to piss off his base who supports Columbus Day."
***
The Alaska Stalker was born and raised in Alaska, and lives in South Anchorage with her husband, daughter, and son. She is not Jeff Landfield.