Welcome to this week's edition of The Alaska Stalker, a lighthearted round up of the best and worst of Alaska's social media landscape. Have you sent us a hot tip yet? Email us at [email protected] and, as always, thanks for reading.
---
In case you haven't heard, Lt. Governor Byron Mallott resigned yesterday following unknown "inappropriate comments." Not good. Full details aren't yet known, and we may never know them. I guess the bromance is officially over. Here's a throwback – to happier times. And a note to the Walker/Mallott Davidson team, better buy up those urls and get those social media accounts quick. Omar's coming.

---
???BREAKING???
The Alaska Stalker has obtained a copy of the Dunleavy October surprise. Oh, wait. Guess this is more of an Ocktoberfest surprise. We have to give it to the Dunleavy PAC meme lords – layers on layers of awesomeness. Hat tip to Veronica Campbell for posting this!

---
Maybe this now deleted Facebook post, from 2009, is the Dunleavy October surprise. Someone sent this to us recently. Yes, people really do hold on to stuff this long. A friendly Stalker reminder – the internet may not be real life, but it is forever. ???

---
Well whatever it is, the Dunleavy camp is preparing by posting back-to-back family values posts for the past three days. Oh man. Can't wait for Monday!

---
In other Gubernatorial Candidate news, Eagle River's very own Jitters is cheating on its target conservative customer base with Senator Mark Begich. Steamy!

---
Meanwhile Governor Walker isn't so lucky with the personal messages. ?

---
It's okay Casey, Governor Walker is getting used to being the 3rd person.

---
#WheresMike LOL!

---
We are enjoying the new vibe at Midnight Sun. It seems as though Matt might be dropping the veil of neutrality and inserting his personality a little more. Nothing wrong with that. We hope this means he'll start adding more of his spicy memes, too!

---
Some of us received this VERY URGENT REQUEST from Senate President Pete Kelly last week.

To his credit, Pete issued an email warning recipients of the phishing scam fairly quickly.

---
If you're looking for Pete to issue a warning about climate change any time soon, don't hold your breath. The Alaska Democrats have proposed a creative solution.

---
It's Representative Hairy Anagnostis Drummond to you, Senator Tom Begich.

---
Speaking of Senator Tom Begich, can you spot him in this throwback via Alaska Republican Party Chair, Tuckerman Babcock?

---
Candidate for House, Eileen Patterson, has an ill advised timeline photo. But we love her profile pic. ??

---
Okay, we have to talk about bike-fine-gate. For those of you who blinked and missed it, Anchorage Assemblymember Christopher Constant proposed an ordinance requiring residents and business owners to register bikes on a free online database or face fines.

A few hours and one brutal Facebook post later, he pulled it.

---
The Facebook post is still up, and is full of lots of gems. Including this one.

---
While bike-fine-gate appears to be over, it continues to inspire others.
DO IT, FORREST MCDONALD. DO IT!

---
Just picture an Anchorage Assembly with two polar opposite dueling Forrests. Apparently one of them thinks about this a lot…

---
At the end of the day, both Chris and Forrest gave their constituents what they wanted – fewer fines and more dog pics. Good dog, Eli. But guys, next time can you please invite Felix? I think he needs a friend.

---
On second thought, maybe not. #noclapsforyou ?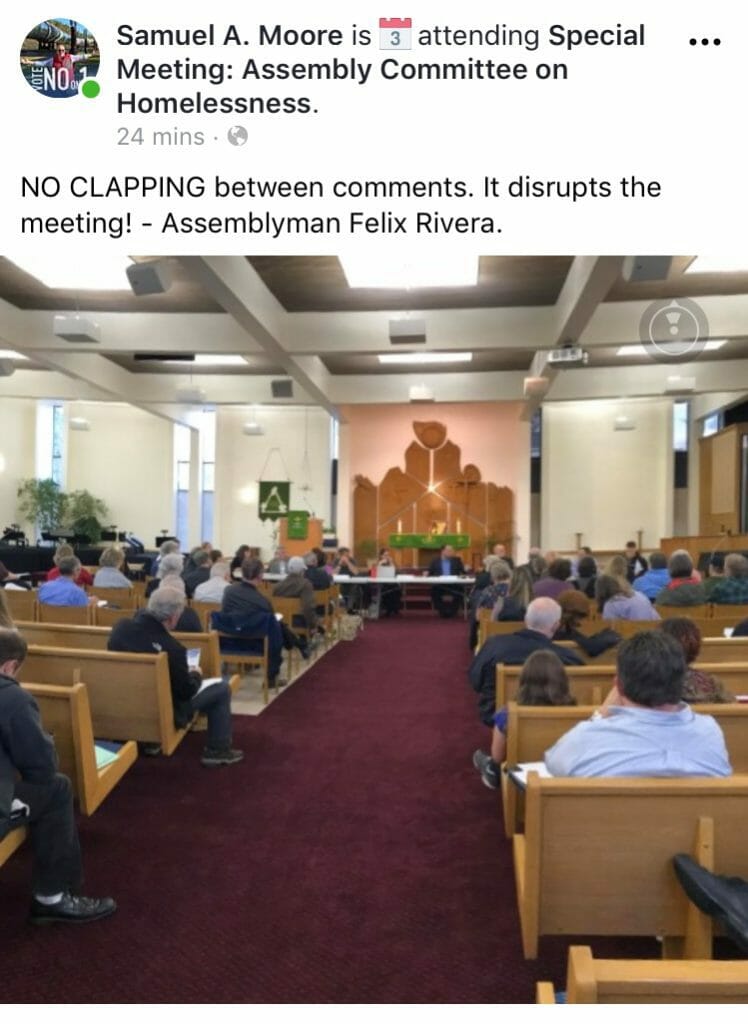 ---
The Stand for Salmon folks were asked to move their sign to a safer location. Yeah, we can see why this placement would be deemed unsafe — too close to the road and bike path. Better safe than sorry.

*Slow blinks* Ummm pretty sure that's the antithesis of an improvement. Try again guys! ?

---
Who did this?

---
Is Zack Fields running for State House or Governor?

---
Those new Chris Dimond for House signs are sure looking "sharp."

---
Speaking of creative signs, someone made this one for Candidate for House, Josh "no bull?" Revak. Apparently Josh approves! Look for yard signs coming soon. ?

---
Looks like Candidate for House, Sara Rasmussen, wins the "I've got deeper AK roots than you" contest against her opponent, Jason Grenn, by one generation. We're only a measly third-generation Alaskan. Pretty impressive guys. (Unless you weren't born here, and then you don't care. Funny how that works…)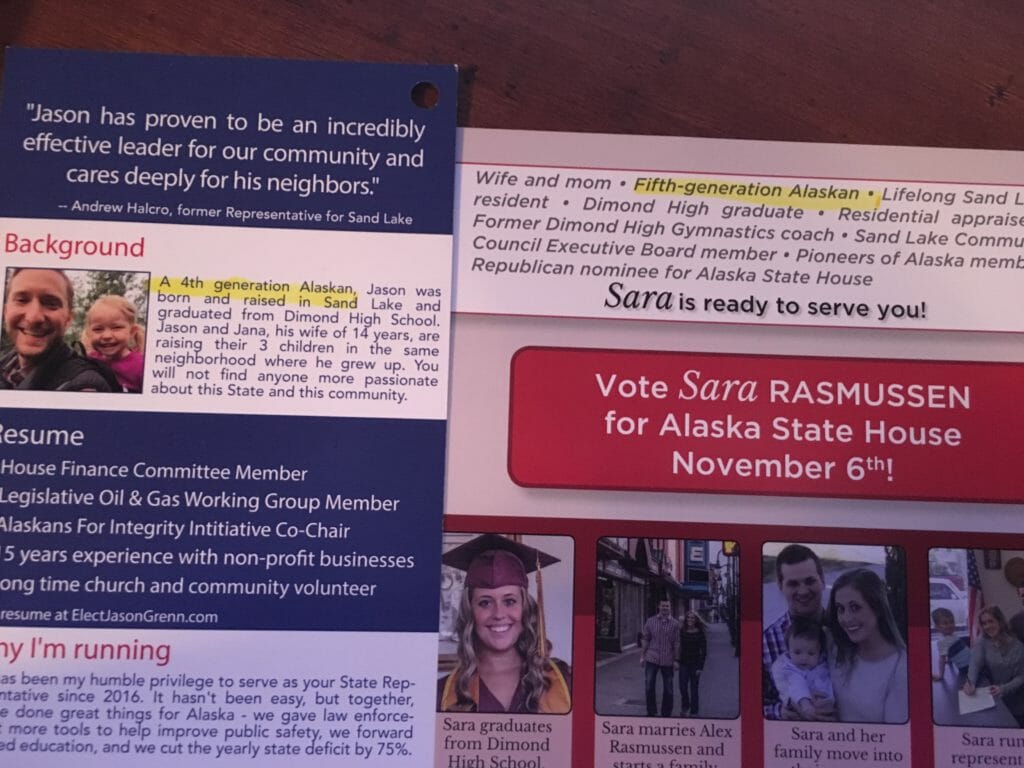 ---
While I have no doubt Candidate for Senate, Elvi Gray-Jackson, would like to revisit SB21 (oil taxes), we're pretty sure she meant SB91 (crime). Whoopsies!

---
Apparently former Vice President Joe Biden is the Dem's top choice to take on President Trump in 2020.

Oh. Whenever we see the name Biden, we can't help but think of this creepy clip featuring none other than Senator Dan Sullivan and his lovely family. Scroll to 00:50 for a prolonged cringe worthy moment. What the heck, Joe? It wouldn't be that bad until you realize there are dozens of montages of this type of behavior.
---
As we begin the slow slide into winter we're starting to see lots of fall and Halloween themed posts on our favorite (and not so favorite) politico's social media pages. Here's our collection.
Can we get an update on Kelly's sunflower Representative Gara? We fear it has seen better days.

---
Even the homeless camps "bike chop shops" are getting into the Halloween spirit.

---
Love this holiday themed PSA via Candidate for House, Liz Snyder. Send us your election themed jack-o-lanterns and we'll be sure to post them.

---
Meanwhile, in a resource friendly house across town, the spook-o-meter is a bit different than the Snyder family.

---
We chuckled at this anti-Dunleavy meme from the Alaska Democrats. General BS is especially clever.

However, they missed an opportunity to go with a limited Halloween edition of the Lucky Charms. Maybe instead of the magical unicorn they could have had spooky "Mike ghosts the debates" marshmallows.
 
---

We don't think it's that big a deal. In fact… How's this?
The task will likely end in confetti
If your name is Dunleavy
And to aid in his ascent
He avoids unfriendly debate events
It seems, if he appears,
He will get it in both ears
They attack him 'cause he's so far ahead
Why not meet voters one-on-one instead?
---
Looks like Candidate for House, Stanley Wright, has been knocking on enough doors to wear out his soles. If only there was a place in town where he could go to get them resoled… ? Anyone have any recommendations? ? Don't forget to buy a pair worth repair next time, Stanley!

---
Have you seen this new video series yet? Is Congressional Candidate Alyse Galvin following in the footsteps of Ross Bieling? Yikes. Take them down, Alyse! Not good.
How can she protect our rights in Congress when she doesn't respect private property rights in Fairbanks?

Posted by Seth D. Church on Sunday, October 14, 2018
---
Political campaigns should respect private property. If they don't have permission from the land owner they should not put a sign up. If they put a sign up without the land owners consent, when the owner calls them, they should take it down. Alyse Galvin's campaign did not take their sign down when called, they actually put it back up after the land owner took it down!

Posted by Seth D. Church on Sunday, October 14, 2018
---
Yes, Joelle! Way better. Taking the Power Back is a much more appropriate level of rage compared to How I Could Just Kill a Man. Thanks for being such a good sport. Good taste in music, too.

---
Fan Mail:

Speaking of Terre, the Stalker has obtained an exclusive new Dunleavy for Alaska sign. ?

---
Have a personal note to a politician? Send it our way and we'll be sure to post it. This arrived in our inbox last week. Next time, we need NAMES!

---
Spotted in:
Kevin, is that you? If you win, will you have to get new plates as Lt. Governor?

---
A 4 x 8 vote YES on Judge Corey sign in West Anchorage. Is this the first Judge retention 4 X 8 in Alaska history?
---
Representative Tammie Wilson a long way from home at the Anchorage YMCA off Lake Otis. Tammie, did you know about the new southside location in the Dimond Center? It's really nice!
---
Overheard on the interwebs
"Walker is going for runaway bride status after Fleener and now this."
---
That will do it for us this week folks. Don't forget to send your favorite social media and online goofs, gaffs, memes, dust-ups, "Overheard in Alaska," "Spotted in Alaska," or whatever else you got to [email protected] Our DMs are always open. Remember: pics or it didn't happen!
---
The Alaska Stalker was born and raised in Alaska, and lives in South Anchorage with her husband, daughter, and baby on the way. She is not Jeff Landfield.