The 2018 general election is just over three weeks away. A ton of absentee ballots went out this week and early voting starts on October 22. If there are going to be any October surprises, look for them soon.
Governor's Race
Ivan Moore released a poll this week that shows that Bill Walker in second place and Mark Begich in third. A previous poll showed Begich in second and Walker in third. The switch is consistent with other polling that I have heard about. But it does not seem to matter much as the polls shows Mike Dunleavy with a commanding lead. Barring some kind of catastrophic event for Dunleavy, he will very likely be our next governor.
Dunleavy's campaign strategy has been one of waiting out the clock and avoiding any group or media that he (or his handlers) perceive as hostile. Not exactly inspiring leadership. His campaign has barely integrated Kevin Meyer, who won the Republican primary for lieutenant governor. There are no Dunleavy/Meyer campaign signs and his website has no mention of Kevin Meyer other than the "Alaskans for Dunleavy and Meyer" disclaimer. Maybe Mike is still mad at Kevin for taking his office and staff when Mike quit the caucus.
Mike's campaign had agreed to an interview in August. Since the primary his campaign has told me repeatedly they would get back to me with a date, which they have not. I've known Mike since 2011. We both ran for the senate in 2012. He won and I lost. I really like him but I have lost a lot of respect for him over the last two months. He has selectively attended debates and forums and avoided media. It's clear he does not want to be asked questions that require more than a soundbite answer. I understand the logic and strategy but I have no respect for it. I have done video interviews with Governor Bill Walker and Mark Begich. Both were fair with no gotcha questions. Governing will prove to be much harder than getting elected. I hope he takes a different approach if he wins. I'm not holding my breath.
On a more positive note, I also interviewed Libertarian gubernatorial candidate, Billy Toien, this week. You can see the interview by clicking here. It was one of the most fun and bizarre interviews I have ever done. Very high energy and very Libertarian! Thanks for being so cool, Billy.
ACLU and Dunleavy for Alaska Lawsuit
Remember the lawsuit the ACLU and the Dunleavy IE group filed against the state over removing political signs? Well the judge made a decision. As a result of the ruling, it is lawful for individuals and businesses who own property adjacent to a highway right-of-way to displace political signs, but it is still illegal for politicians to place signs within a right-of-way. Thank god for that! The following analysis is from a lawyer and friend of the Landmine:
Recently, the Alaska Civil Liberties Union of Alaska, Dunleavy For Alaska, and a property owner Eric Siebels sued the State of Alaska. The ACLU, Dunleavy For Alaska and Siebels asserted in the lawsuit that the Department of Transportation's confiscation of political signs within a highway right-of-way and issuance of cease and desist letters to property owners who had put up signs on their private property adjacent to a highway right-of-way violated the First Amendment's prohibition of laws that infringe on freedom of speech. Specifically, the case revolves around Alaska's Outdoor Advertising Law, which was passed by citizen initiative in the 1990s. That law is very broad, and prohibits the public from: (1) placing signage within a right-of-way, and (2) placing signage on private property within 660 feet of the right-of-way if the sign is viewable from the roadway. Because it is widely perceived that Alaskans approved this bill to prevent billboards in the state, many refer to it as the "billboard law." Judge Herman Walker of the Anchorage Superior Court presides over the case.
On September 10, 2018, Judge Walker issued a temporary restraining order and ruling that the portion of the Outdoor Advertising Law that prohibits signage on private property next to a right-of-way is unenforceable. Judge Walker noted that the State had agreed in its briefing that that portion of the law as applied to political signs violated the First Amendment. However, he deferred ruling on the portion of the law involving signs within rights-of-way, until the litigants had provided additional argument.
On October 2, 2018, Judge Walker issued a lengthy ruling that the plaintiffs had not met their burden of showing that the portion of the Outdoor Advertising Law prohibiting signs within a highway right-of-way violated the First Amendment. The case will proceed, but it is unlikely that Judge Walker will change these rulings.
House District 15 Update
Things are getting weirder in District 15. The Alaska Republican Party is doubling down against Representative Gabrielle LeDoux (R – Anchorage). They have been dropping this letter off to voters.
Word is write-in-candidate Jake Sloan has been going door to door with Hmong people. I guess this is intended to send some kind of message to LeDoux. And there are actually two other write-in-candidates registered with Division of Elections for District 15. Loose. There is also a rumor that the FBI has been hanging around District 15 going door to door to see what's going on. Weird. And then there is the Democrat candidate Lyn Franks. It looks like the Alaska Democratic Party is not too excited about her and is not doing much to help. My bet is they are going to stay out and are hoping LeDoux wins. With the way the Alaska Republican Party and Chairman Tuckerman Babcock has been treating her it is very unlikely she will have much to do with them in the future anyway. And the icing on the cake for LeDoux is the Anchorage Police Union endorsed her this week. One would think if she was facing criminal charges the police would not be supporting her. Looks like Gabby the Honey Badger got this one.
Other Happenings
In a rather bizarre comment, Mark Hamilton, head of external affairs for Pebble Mine, told people at a Chamber of Commerce luncheon in Juneau that he was not worried about Ballot Measure One, known as Stand for Salmon. This Juneau Empire article provides more detail. The weird thing is the ballot measure is targeting Pebble Mine but because a measure can't target an individual project it is designed to be statewide. Word is the Stand for Alaska, the group opposing the ballot measure, were not at all happy about the comment.
The Alaska State of Reform Health Policy Conference was held this week in Anchorage at the Dena'ina Center. There were a lot of people in attendance, including many legislators. Yours truly was invited to speak on a panel about the consequences of the elections on healthcare. It was a lot of fun. I would like to thank the organizers for inviting me to speak! Contrary to what some people thought, it didn't get that loose.
A note to politicos and staffers – if you post stuff on the internet or say stuff in public of a political nature, especially advocating for the defeat of elected officials, you will probably end up in this blog or others. If you don't want to be in a blog – don't do or say dumb shit. And emailing me asking me to take something out of my column won't work. Thanks!
This Week's Loose Unit
A Saturday surprise made this one real easy. This week's Loose Unit is Representative Lora Reinbold (R – Eagle River). I'm sure you all heard of the campaign event, masked as a legislative meeting on crime, she organized yesterday (10/13/2018) "Danger is Still Lurking in SB 91." The event took place at the Anchorage LIO, on a Saturday, and was nearly five hours.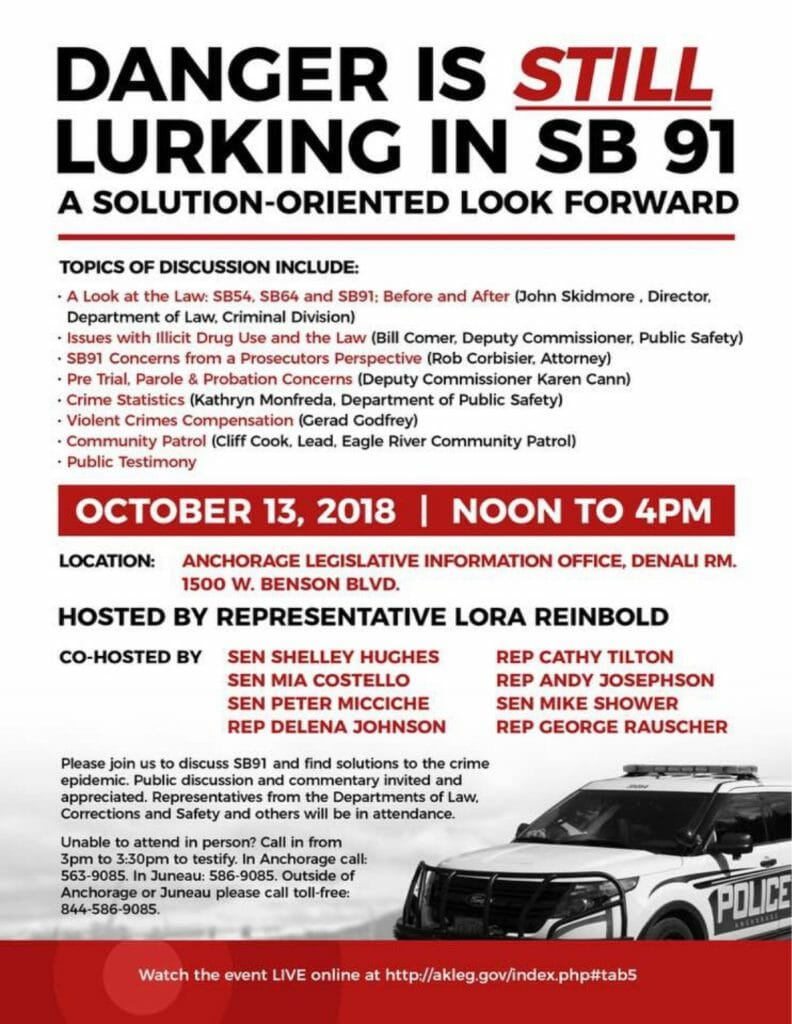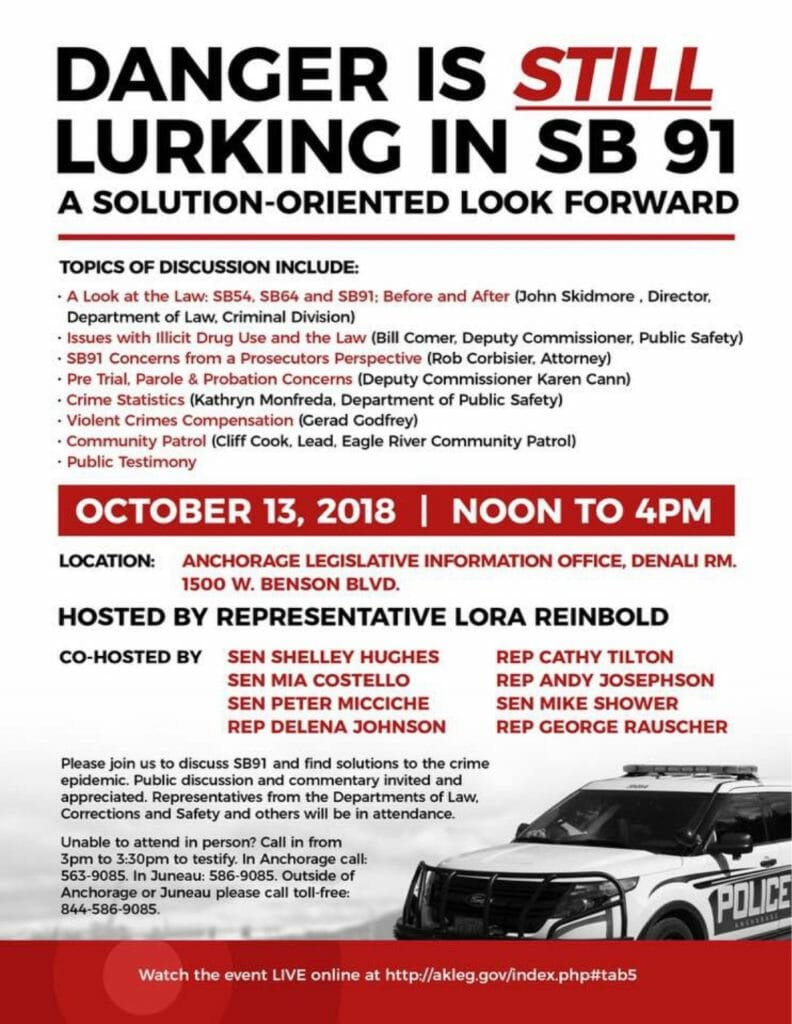 Before I get into the event itself some context is needed. Word is Reinbold asked the Anchorage Police to participate but they declined because it was so close to the election. Smart move, APD. Then she asked the administration to participate. They were told it was just going to be about crime, and not SB 91. They agreed to send some people, but they were misled. After they agreed, in a classic Reinbold move the flyer came out. So loose.
The event was something else. I highly recommend watching it if you want some entertainment. I will add the link later. The Alaska Troopers guy and admin officials were not allowed to talk about their budget or resources, only Reinbold and her posse were. She had her neighbor testify about a commission he is on that compensates victims of violent crime. She had her staffer, who founded the Eagle River Community Patrol, testify. His presentation included a how to guide for what ladies can do to avoid being victims of crime.
During invited testimony some woman came up and said, "I'm just going to go ahead and invite myself up because that's how I roll!" She really went off. At one point she said the law is better in Arizona because you can "shoot people in the face!" if they mess with you. One guy went off on Governor Bill Walker. Another guy said SB 91 is like a poop stew, and no amount of spice can make it taste better.
Then I went up to testify to say that this event was nothing more than a campaign event. Not long after I started, Reinbold cut me off and told me I could not talk about that. My testimony ended up being an argument with Reinbold about the event. It seems if you agree with her you can say whatever you want and if you don't you get cut off. Very loose.
If you have a nomination for This Week's Loose Unit, or if you have any political news, stories or gossip (or any old pics of politicians or public officials) please email me at [email protected]