Welcome to this edition of the Alaska Stalker, a lighthearted round up of the best and worst of Alaska's social media landscape.
***
If you enjoy the Alaska Stalker, please consider supporting working moms like me by sending in hot tips, screencaps, overheards, and spotted ins. You can reach me at akstalker@alaskalandmine.com. As always, thanks for reading.
***
As a gal with lots of children, I'm no stranger to the dreaded Two Week Wait (TWW). If ya know, ya know. But, daaang. Mary. You okay?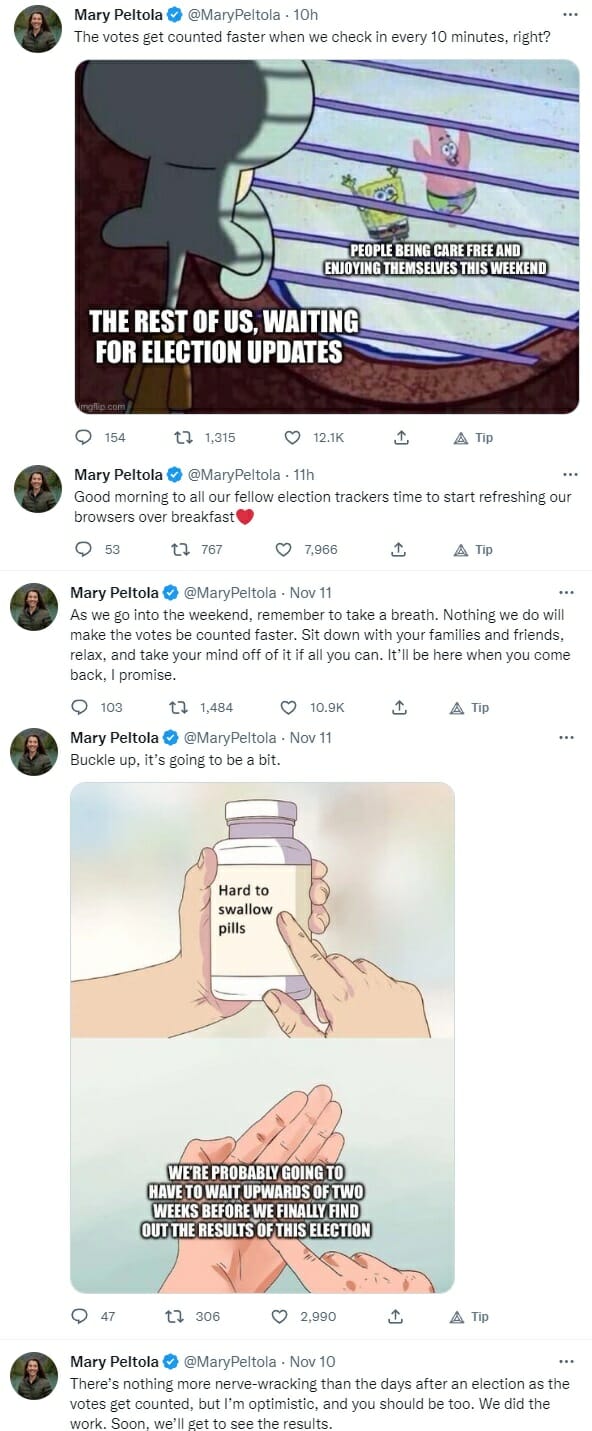 ***
Up in Fairbanks, Jim Matherly seems more excited about John Wick 4 than the results in his race. And he worked so hard. 🙄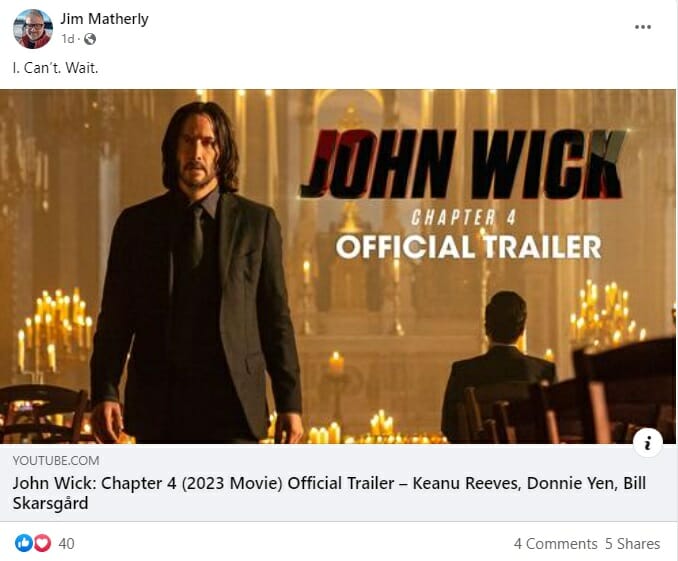 ***
Ranked choice voting made election night very different this year. Over at the Landmine, we put on quite the show. We were tickled to hear that several election night watch parties tuned into our livestream. Thanks, everyone!
***
As for Election Day itself, everything was fairly low key. Sen Scott Kawasaki's mom tried to vote for Mary Peltola four times. 😮
***
Cliff Groh's wife started sign waving at 5:30am. I hope she's not still out there!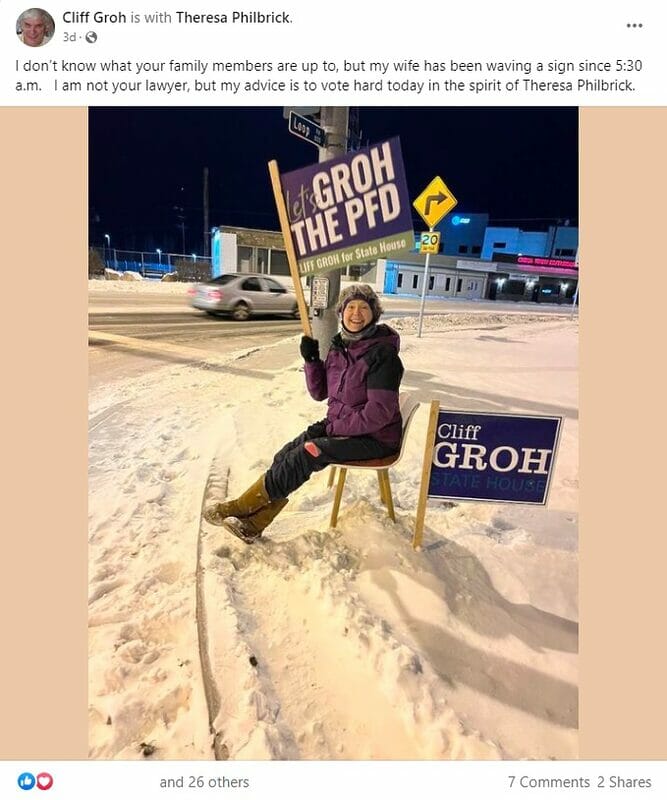 ***
Kelly Nash reminded her supporters to rank only her, and not rank Rep. Bart LeBon, the only other Republican in the race, second. Should Democrat and current vote leader Maxine Dibert send Kelly flowers or a fruit basket? The Landmine saw this coming a mile away. We predicted this race would "lean Maxine."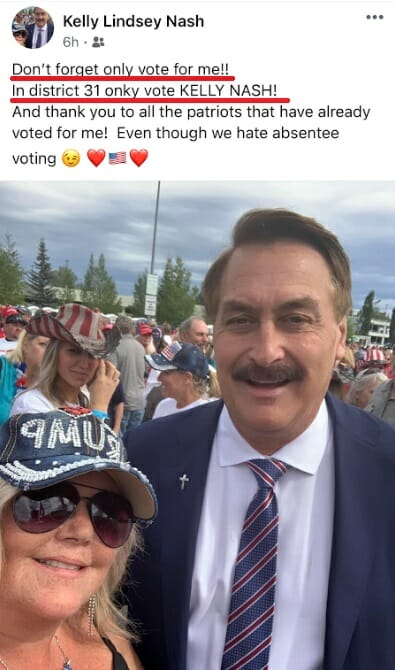 ***
The days after an election are always hectic. The Alaska Stalker issues a heartfelt thank you to every candidate who got up early to take down their campaign signs on November 9th. Thank you, Rep. Schrage!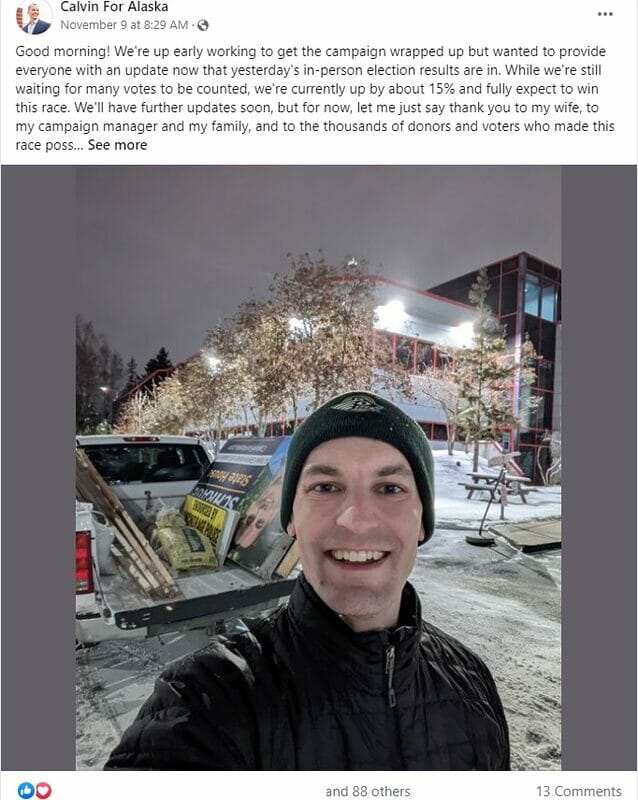 Thank you, Rep. Kaufman!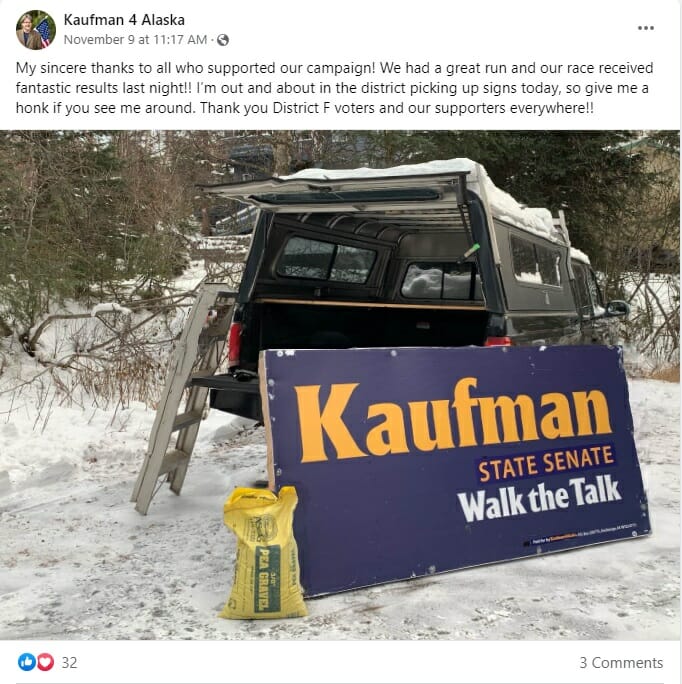 ***
Thank you, Rep. (or is it Senator???) Claman!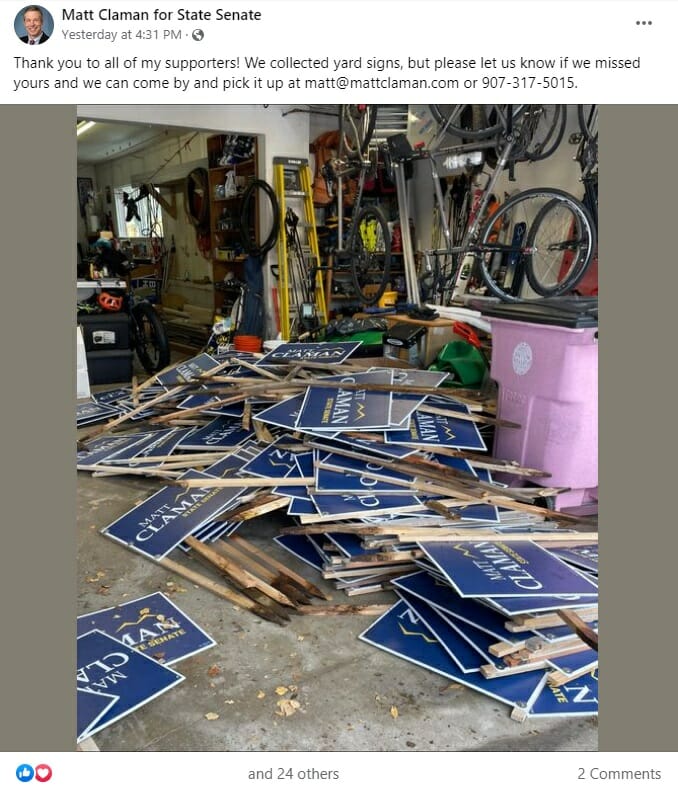 ***
And thank you Justin Ruffridge's wife!!! 🤣

***
The Stalker will be watching to see whose signs are still up next week. Looking at you, Jim Matherly! 👎👎👎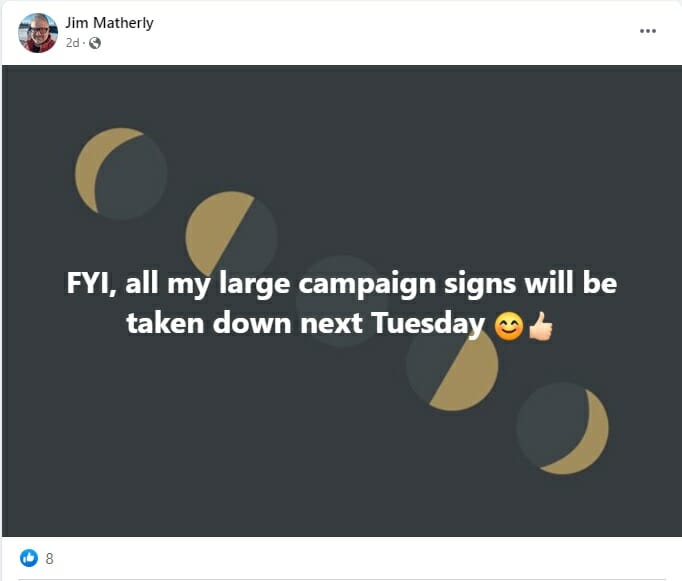 ***
Governor Dunleavy has already begun his victory lap. I can already hear his anthem playing in the background. "Cuts, cuts, cuts, cuts cuts." ✂️✂️✂️✂️✂️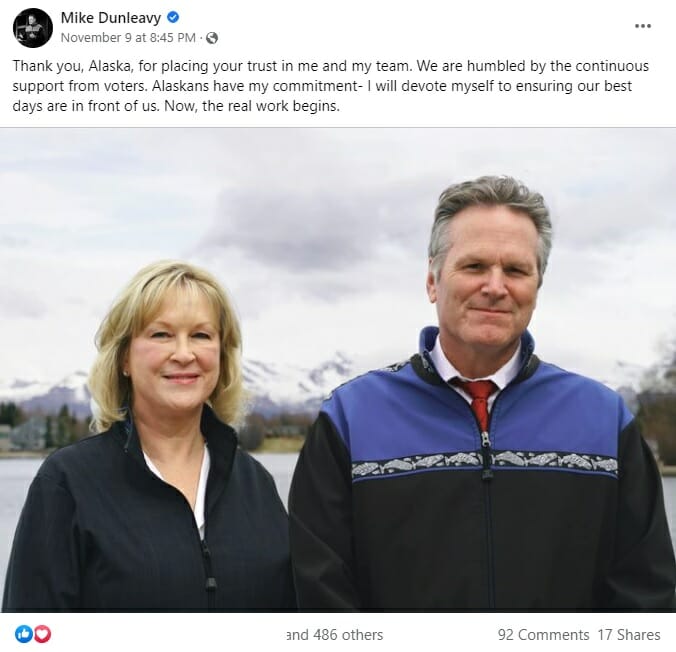 ***
Unsurprisingly, results are on track for Anchorage Assembly member Forrest Dunbar to become Senator Forrest Dunbar. I have to say, I was shocked to read Forrest's mother was not happy her own son won his race! 🧐
**
***
I kid, I kid. Forrest posted that before he knew Boebert came back from the brink. Don't worry, he has since corrected this dangerous misinformation. It's a good reminder that races you're cheering the outcome for this week could flip. I can't wait to see how many people bullet voted – now that's going to be interesting.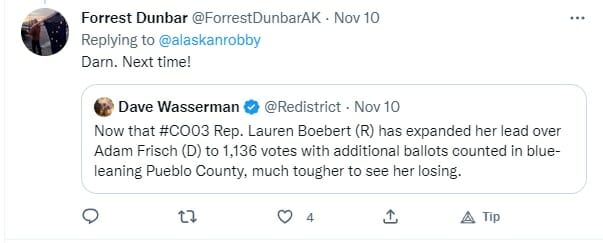 ***
Sarah Palin tweeted out what I can only describe as one of the loosest things I have ever seen.
***
She's going full RIGGED, BABY, RIGGED!!!!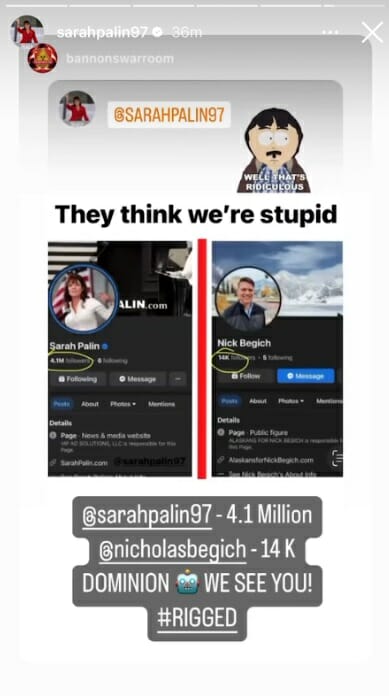 ***
Maybe Sarah should call Chris Kurka for some help with those Dominion machines. Who am I kidding, she's clearly going to call Mike Lindell.
***
While we should all exercise restraint, some races have been decided. It's never too soon to get acquainted with the our soon-to-be-legislators in Juneau. Here's C.J. from Bethel.
***
While we may be losing some Stalker favorites, I cannot wait for Genevieve Mina to be sworn in. Content machine! Not many people, much less politicians, could pull off marching with a F*CK SCOTUS sign in the middle of campaign season, and then dressing up as the actual Begich Towers in Whitter for Halloween. 💅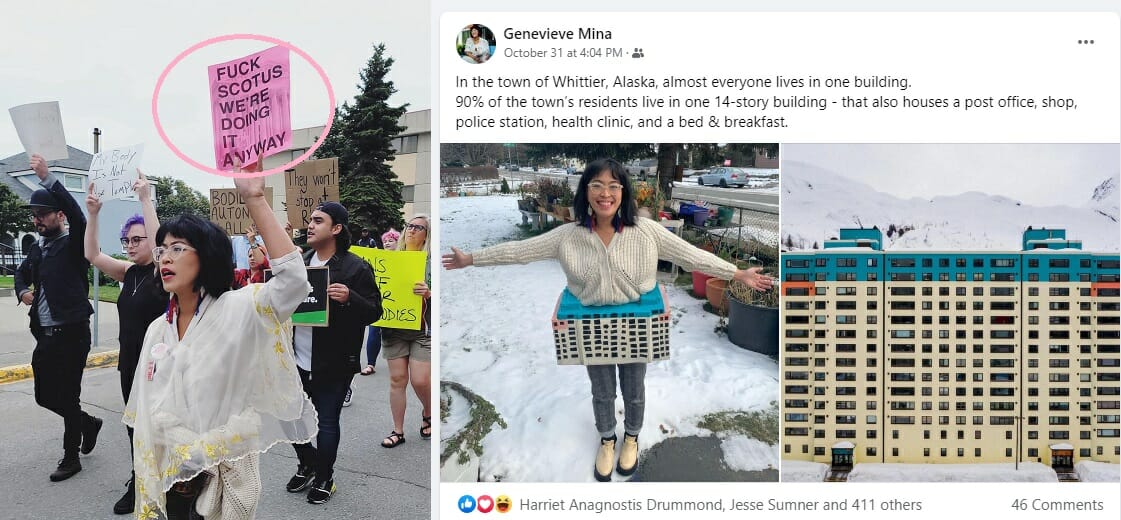 ***
How wild is it that there might be three Jesse's in the legislature this year – one in the House and two in the Senate. The Jesse caucus is the new Sara(h) caucus! It should be pretty easy to tell them apart. Jesse Bjorkman is probably the only person over 8 in the Capitol rocking a bowl haircut. Is this a Peninsula thing?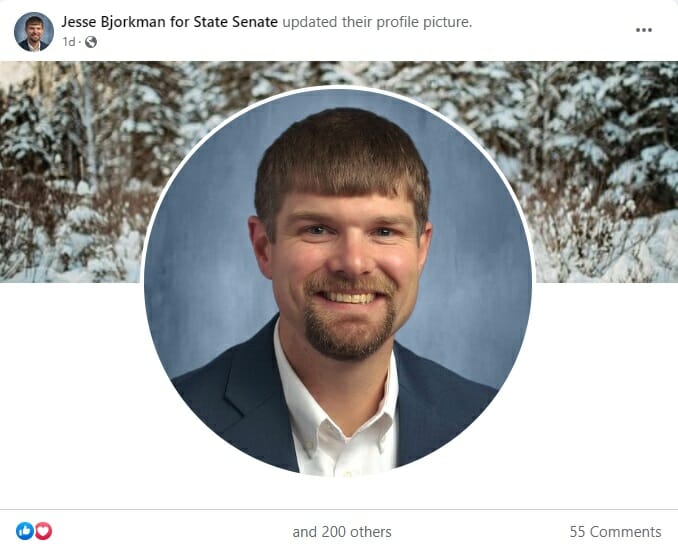 ***
Alyse Galvin is also changing up her look. Independent no more, she's gone blue baby!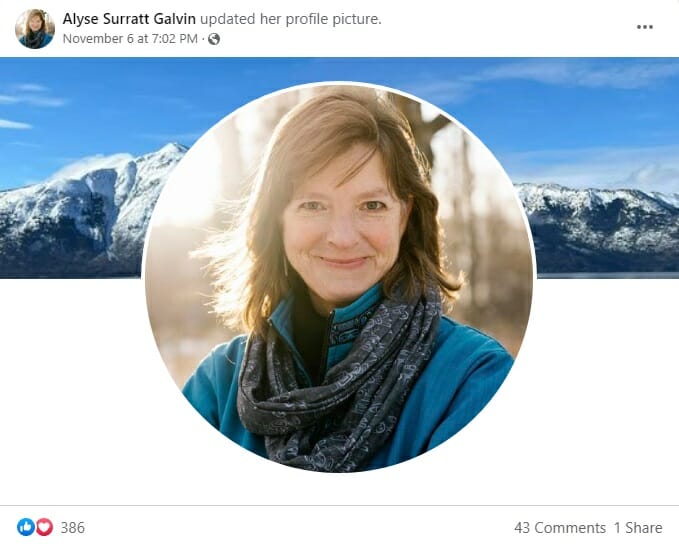 ***
Ashley Carrick is bringing her golden heart from Fairbanks to Juneau. She described running as, "the hardest job interview I have EVER had!" Let's see how her performance review goes in two years, shall we?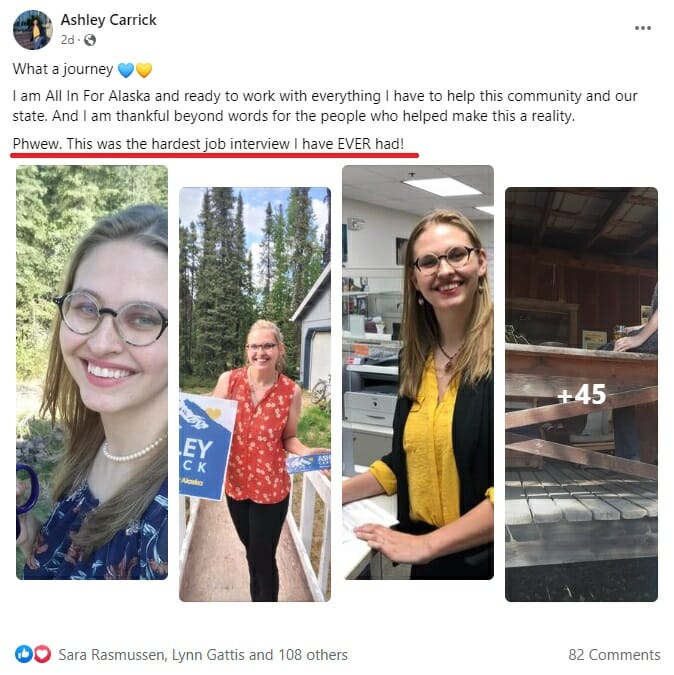 ***
And then there were the concessions… Tuckerman seemed to take his election day loss in stride. Could things in his race change? It's possible. See, ranked choice voting is fun after all! 🥴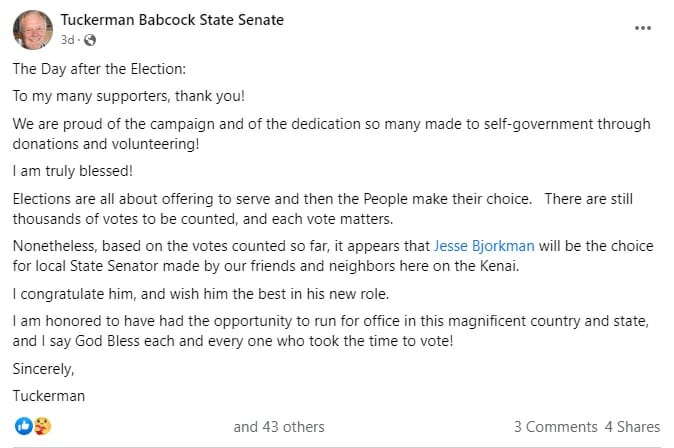 ***
Rep. Harriet Drummond conceded to Rep. Zack Fields. They were paired together due to redistricting. I can only hope Zack steps up his social media game to fill the void Harriet will leave in the Alaska Stalker. Bless you, Harriet.
Lucky for us, she told her husband, Elstun, he can "let loose" on social from now on. OMG.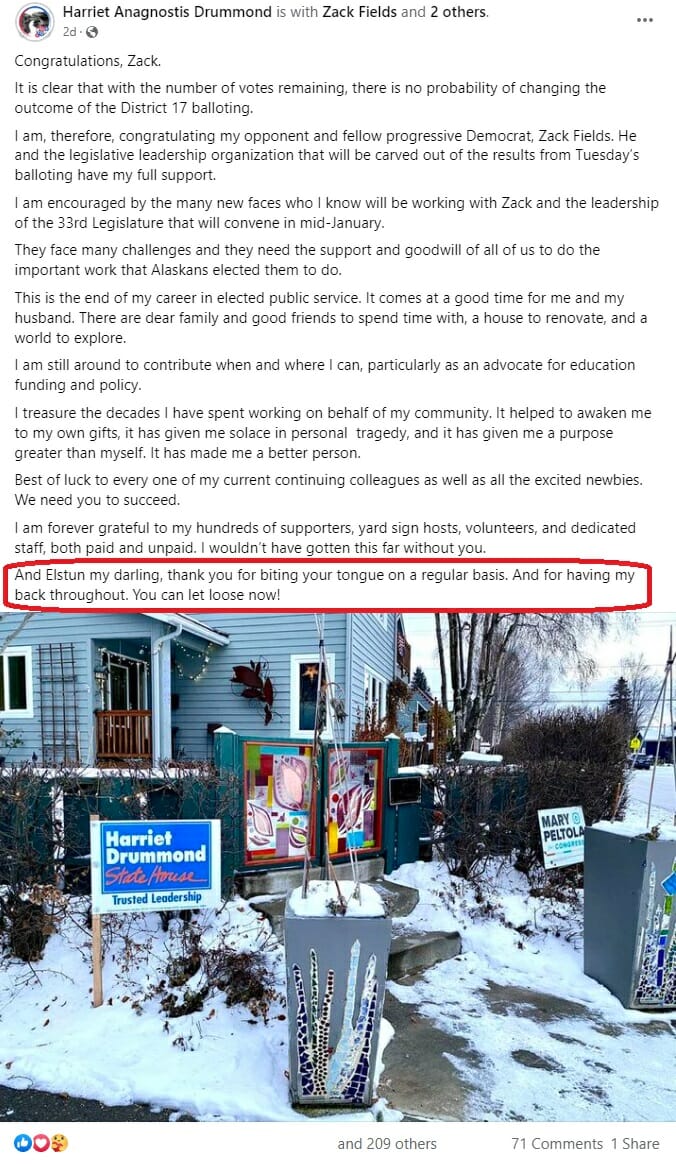 ***
For those of you wondering, this is an example of Elstun exercising restraint. 😳 That Elvi like tho…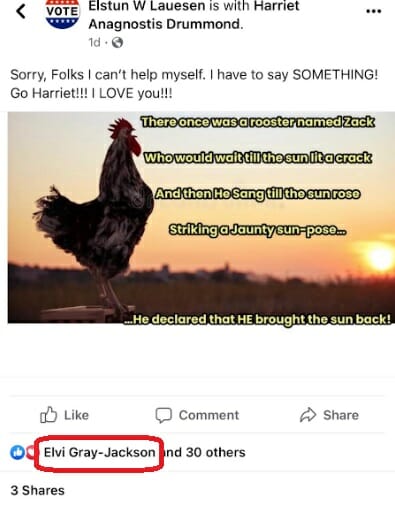 ***
Now all eyes are on the House and Senate as they navigate organization. How nice of Sen. Mike Shower to share with us this live footage of how that's going for him. 🙃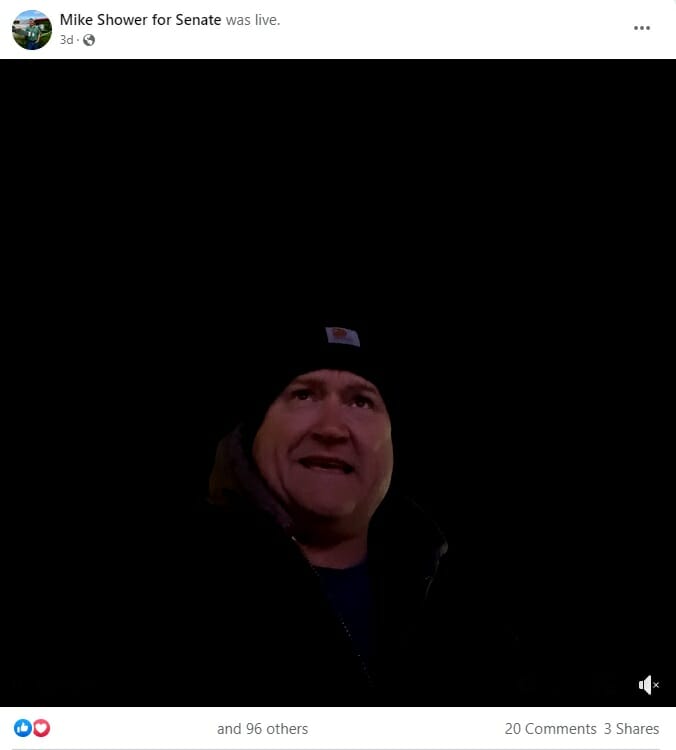 ***
The final election results will be announced soon, but there are still two house seats that have pending litigation. For those following the Jennie Armstrong saga, Jennie recently edited her Instagram post BACK to her original wording of "last weekend." Remember, after the Landmine discovered Jennie's Instagram post detailing her move to Alaska in June of 2019 (not May 20th like she said), she edited her Instagram post that specified her move date. Totally normal and transparent behavior. Can't wait to see discovery! 👀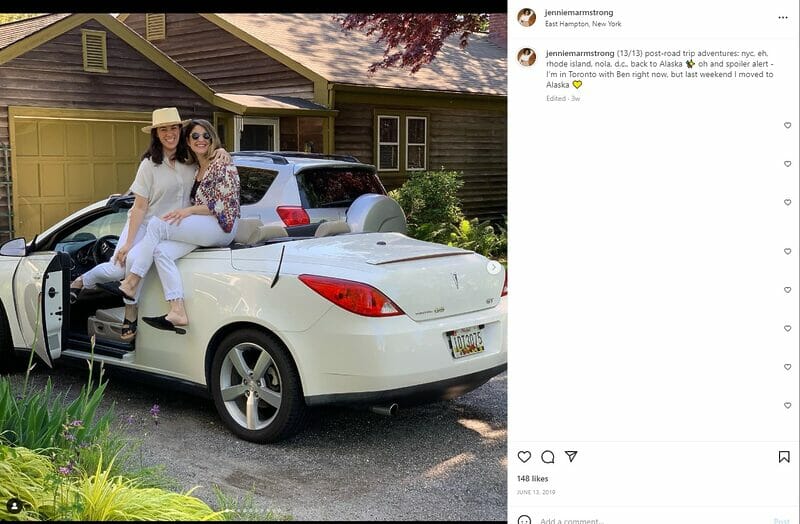 ***
Spotted at Anchorage Goodwill: the infamous Kelly Tshibaka lightsabers!!!

***
Spotted at the Anchorage Veteran's Day event: Gov. Mike Dunleavy, Anchorage Mayor Dave Bronson, Rep. Laddie Shaw, aides for Sens. Sullivan and Murkowski and more.
***
Overheard at O'Malley's on the Green: Bernadette Wilson telling a crowd of folks that, with the exception of Begich and Palin, she bullet voted.
***
Overheard in Anchorage: "It's been three days since the election and Mary Peltola hasn't texted me even once. I used to get three or more texts a day. Did I do something wrong? It's like a break up."
***
Spotted on Twitter: Chris Constant posting hate speech in the form of memes:

***
The Alaska Stalker was born and raised in Alaska. She lives in South Anchorage with her husband and three young children. She is not Jeff Landfield.