Welcome to this week's edition of the Alaska Stalker, a lighthearted round up of the best and worst of Alaska's social media landscape.
***
If you enjoy the Alaska Stalker, please consider supporting working moms like me by sending in hot tips, overheards, and spotted ins. You can reach me at akstalker@alaskalandmine.com. As always, thanks for reading.
***
With handshakes now forbidden, ASD extending their spring break, UAA making the switch to virtual learning, and Gov. Dunleavy issuing a state of emergency due to the coronavirus, life for many Alaskans is about to change for the foreseeable future. While it's important to exercise caution and take official recommendations seriously, don't forget that many people deal with the unknown by using humor and levity. If you're looking for the newest graph or most up-to-date information on COVID-19, don't read this column. If you want to see former Gov. Sarah Palin dressed as a pink and blue neon bear rapping Baby Got Back on Live TV, then this is the place for you. Be well, stay home, and don't forget to send in those hot tips!
Here is Sarah in all her glory! 👓🏒💄
***
As many of you know, it's against official Alaska Landmine policy to apologize. I'm going to make an exception to former Anchorage Assemblymember and The Masked Singer fan, Amy Demboski. While it was extenuating circumstances, next time the Landmine breaks a reality TV story with an Alaska angle, we will be sure to add the appropriate spoiler alert.

***
For those having trouble finding the 20 second hand washing song that best reflects ones Alaska pride, try out Alaska's Flag song.

***
Congressional Candidate Alyse Galvin wins this week's most entertaining political video for filming the first local hand-washing demo. A tipster pointed out it may also be the first political video shot entirely in a bathroom.
***
While we commend Alyse on her hand washing, she and Juneau Assemblymember Carole Triem need to work on their social distancing. 🧑🏼‍🤝‍🧑🏼🤝❌ I am thrilled to see the Alyse blazer movement is alive and well and now in bright pink!

***
No touching/hand shaking signs have been popping up around the Capitol. Check out Sen. Jesse Kiehl's suggestion below.

Nanu Nanu, Jesse!


***
The legislature's king of dad jokes, Sen. Josh Revak, isn't letting the crisis go to waste.

***
Sen. Scott Kawasaki has a very important message for legislators, staffers, lobbyists, and others who frequent the Capitol. Is security checking people's bags on the way out? 🧻
***
Pin Sen. Peter Micciche's place on your map as your one-stop-candy-shop once the supply chain breaks down. Stalker prepping PSA: Easter is right around the corner and Peeps happen to have a three year shelf life.

***
Political events have started to adapt due to coronavirus concerns. With just days before municipal ballots are set to go out in the mail, a group of Anchorage Assemblymembers decided to cancel a joint fundraiser for the progressive candidates up for re-election.

***
You know things are getting real when Alaska Airlines brings out the big guns and has their Director of Sales and Marketing, Scott Habberstad, cleaning the planes between flights.
P.S. what's the Red Hot "Chilly" Peppers? 🥶 vs.🌶️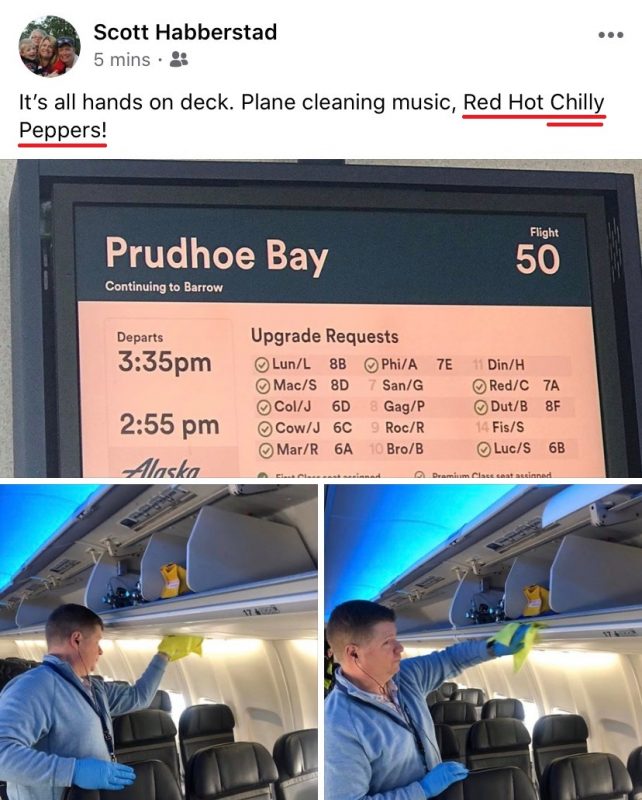 ***
Speaking of chili peppers, you won't believe this very special edition of guess the Facebook URL. This is not a joke! The Facebook URL "Spicy Gato" belongs to an elected official in Anchorage. To find out who it is click here or scroll to the end. Meow!!! 🌶️😼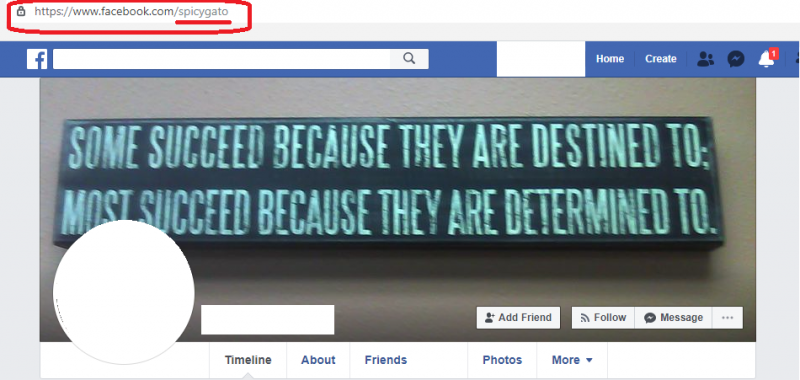 ***
Before the closures and distancing measures were announced, it was business as usual for politicos around the state. Legislators were still buying last minute Girl Scout Cookies. Hat tip to Rep. Adam Wool's daughter, Abby, for putting the hustle on Rep. Bart Lebon! 🍪💸💸

***
And newlyweds were still enjoying a date night out. Word is that's the same way Rep. Grier Hopkins looks at your PFD. 🙃

***
I'm not sure why, but it seems like many polticos in Juneau have adopted wild birds and feed them via their office windows in the Capitol. What the heck!? We have Wilson on floor five.

***
And here's a video of Larry Bird on floor two. Is this even legal? 😳
***
I can't get over Rep. Sara Rasmussen's passive aggressive "Happy International Women's Day" post addressed to some (not all) of the strong women who inspire her on a daily basis. LOL!!! Who is on the "not all" list, Sara???

***
In case you haven't seen it, a very interesting new Twitter profile popped up this week: @DunleavySigs. It looks like a bot, and it is listing the name and sometimes the place of signers of the Recall Dunleavy petition. Since Alaska Twitter is primarily made up of journalists and those left (but mostly far left) of center, every time a new name is posted folks comment things like "thank you for signing" or "way to go Amanda!" It's bizarre. ***Update: this account is currently suspended.***

***
After this post, I wouldn't be surprised to see former Sen. Lesil McGuire's signature appear on recall list. SHADE!

***
Spotted in the Capitol: Former Senators Pete Kelly and Anna MacKinnon.
***
Spotted at the Anchorage Chamber's Make it Monday forum, featuring Anchorage Assembly candidates: Assembly candidate Rick Castillo spilling the coffee and his opponent, Assemblymember Suzanne LaFrance, saying, "I'd like to thank Rick for pouring my coffee."
***
Spotted in Juneau: Mary Ann Pruitt at gourmet sandwich shop Subway.
***
Anchorage Assemblymember Felix Rivera is the self proclaimed spicy gato! For those of you who don't know, gato means cat in Spanish. 🙈

***
The Alaska Stalker was born and raised in Alaska. She is voluntarily self-quarantined in South Anchorage with her husband, daughter, son, and baby on the way. She is not Jeff Landfield.