Welcome to this week's edition of the Alaska Stalker, a lighthearted round up of the best and worst of Alaska's social media landscape.
***
Note: for those of you who may not know, I'm expecting my third child in four years later this summer. While I've been trying my best to keep up with the Stalker's usual weekly schedule, from now on things may be a bit more… fluid. A big thank you to Jeff, the Landmine crew, and our readers for being so supportive. I couldn't do it without all of you! Be sure to keep sending in tips to akstalker@alaskalandmine.com
***
🚨🚨🚨 BREAKING 🚨🚨🚨
May I present the greatest ad of the election cycle. I don't need to see anymore. While Sen. President Cathy Giessel may have some of the worst videos out there (more on that later) this print ad is perfection. It has it all: Cathy as the brave knight on her noble steed, slaying the "liberal agenda" with her courage, conviction, and broad sword as the damsel in distress looks on. I know it's an old-school metaphor but Alaska *is* a damsel in distress if ever there was one.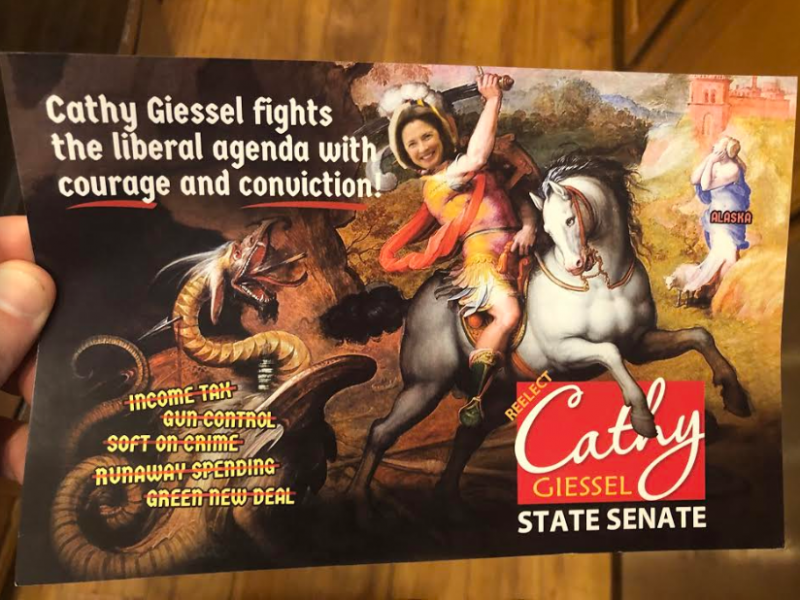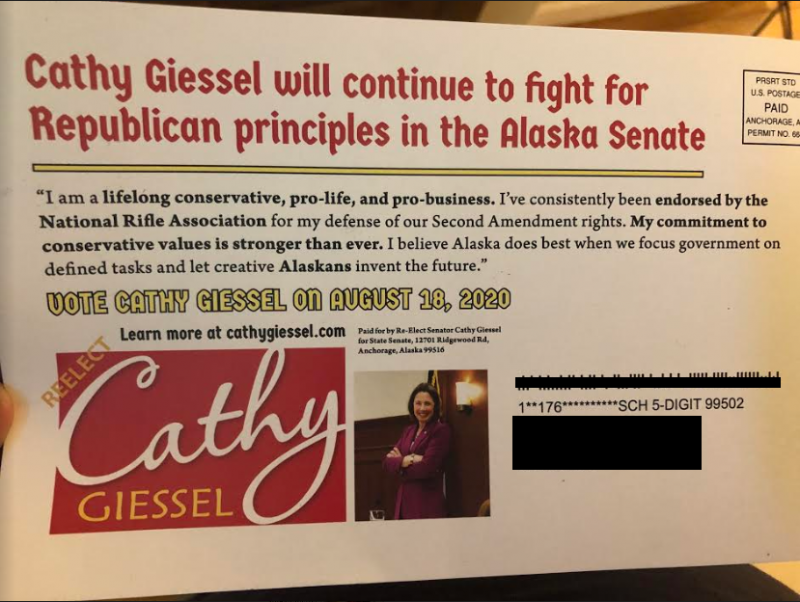 ***
I was 100% for sure going to start the column off with a photo of Congressman Don Young riding in the local mayor's personal tank in Ketchikan for 4th of July. Just goes to show, never underestimate Sen. Cathy Giessel. They are both legends.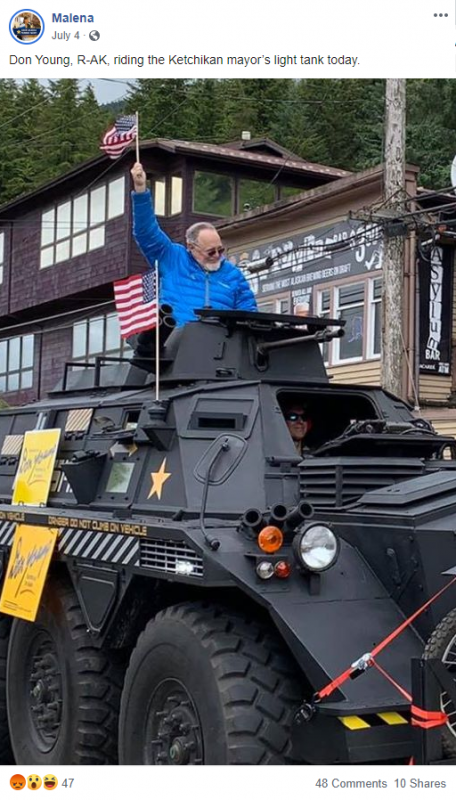 ***
Don's opponent, Alyse Galvin, continues to post the best throw back content. A personal note to Alyse: I tried pre-COVID to find a photo of you as Maria von Trapp in Anchorage Community Theatre's The Sound of Music circa 1995. Can you help a gal out? I remember attending that performance. I've been an Alyse fan since age 9!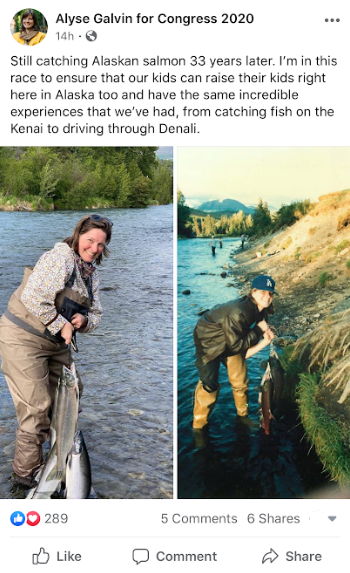 ***
Candidate for U.S. Senate, Dr. Al Gross, also posted some fishing pics. Hey Al, are you the king of… hearts? 🙊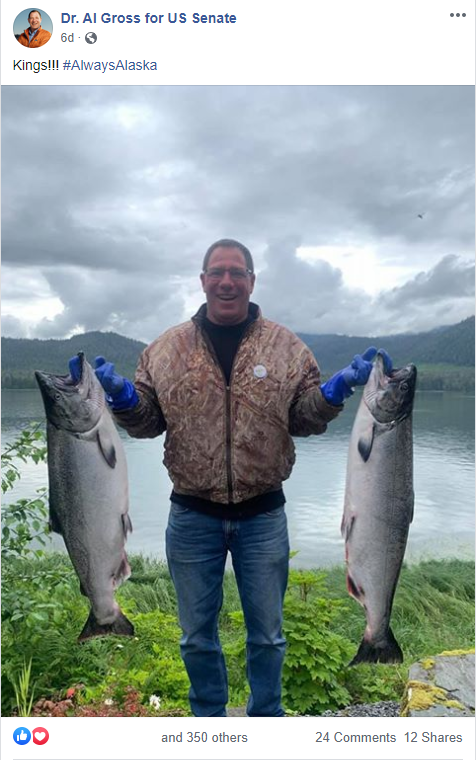 ***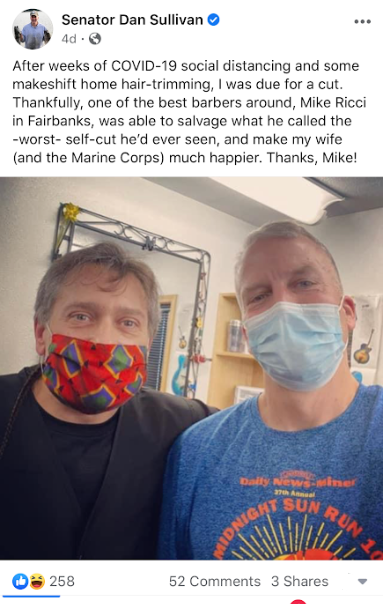 ***
No, Kevin. No. This is not how you convince the youths to take up the mantle of poll worker. Might I suggest:
1: Download TikTok
2: Practice your dance moves
3: Add some key phrases like "help save Grandma!" and "Get out, see the world, get paid!"
4: Get a more interesting and less sad cat.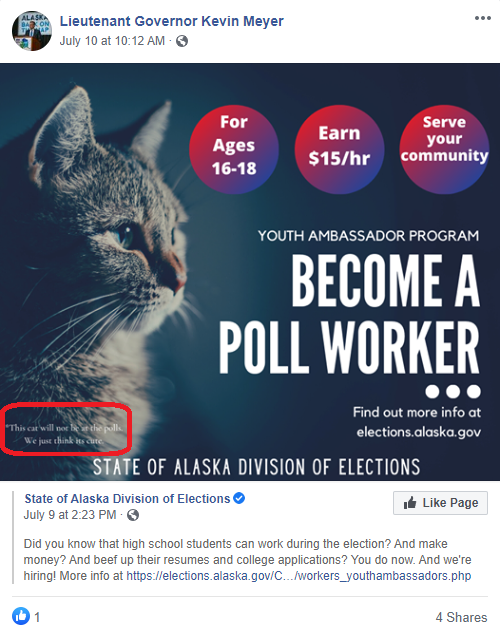 ***
While I don't have much to say about Rep. Ben Carpenter's catch of the day, I limited out trolling the comments for legislators. My fav is candidate for House District 15, Lyn Franks. "Sad." LOL!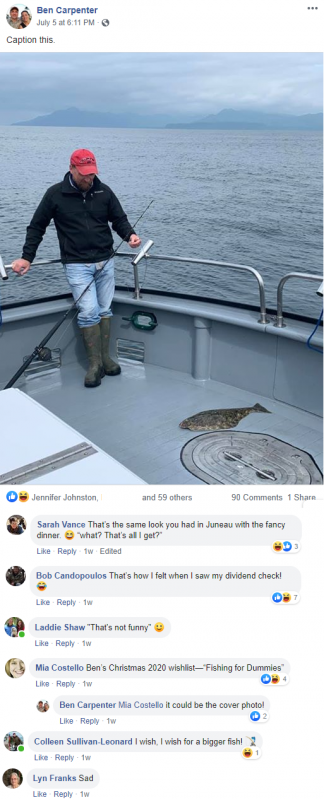 ***
Oh yes, because trash cans are the primary source of bear food at *checks notes* famous salmon fishing hole, Ship Creek.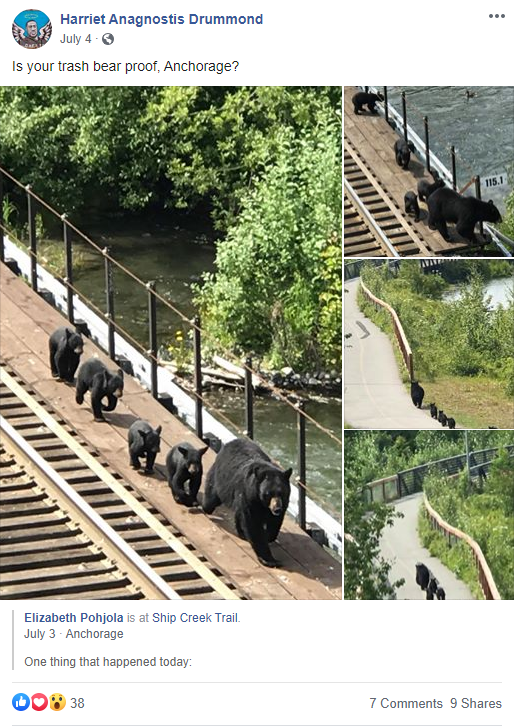 ***
Get it, girl! 💅🔫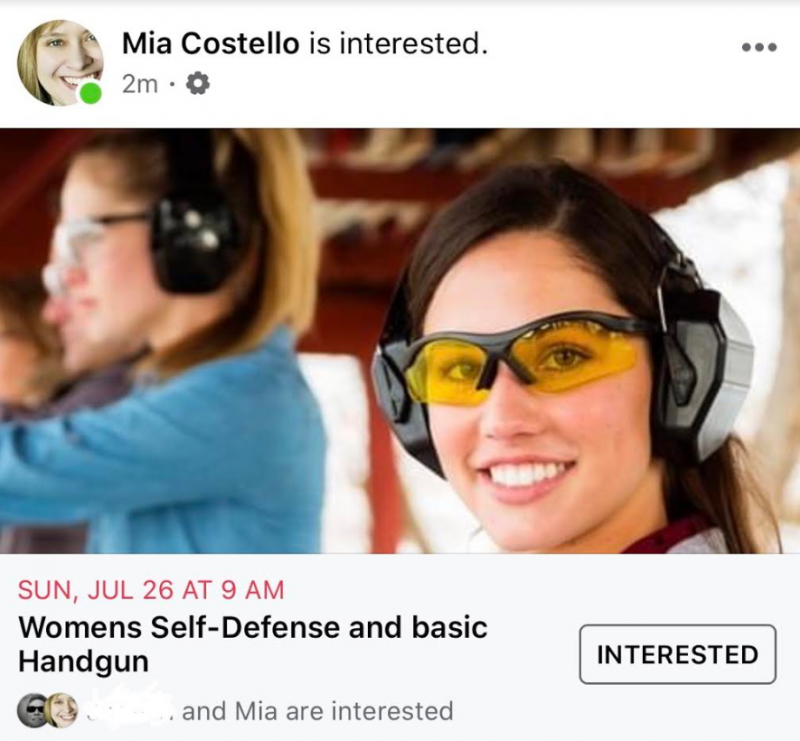 ***
Time for another installment of "Guess the Legislator!" Click here or scroll down to the end to find out who this lifelong Alaskan running for re-election is!

***
I am blushing! Rep. Sara Rasmussen is an AK Stalker fan! Thanks for sharing my last column; us working moms have to stick together. As for Rep. Sarah Vance, I gleefully accepted her challenge. Until I saw this…
***
Wow.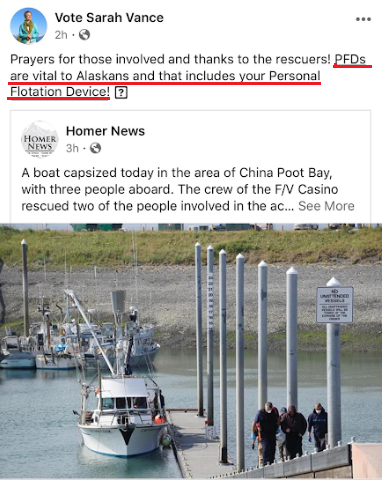 ***
After a couple hours Rep. Sarah Vance came to her senses, deleted the politically charged and inconceivably inappropriate post, and replaced it with something more thoughtful. What a sad story.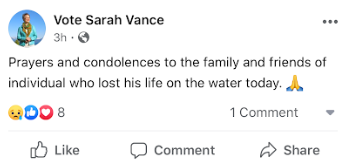 ***
While some legislators Zoom with Zink, Rep. Lance Pruitt Zooms with the Governator! Lance, this would have been a perfect opportunity for you to make an "I'll be back" reference on your campaign page.
Mornings in our household sometimes start with things like this….The Governator Arnold Schwarzenegger speaking on a State Legislative Leaders Foundation Zoom about redistricting among other things!

Posted by Representative Lance Pruitt on Thursday, July 9, 2020
***
Speaking of House District 27, have you seen Liz Snyder's newest campaign ad? It is clever, timely, and well done. Worth a watch. Wait a second… Dr. Liz? When did that page name change happen?
Knocking on neighbors' doors isn't the responsible thing to do right now, but we've got a plan!

Posted by Dr. Liz Snyder for Alaska on Tuesday, July 14, 2020
***
Oh, it's recent! Liz Snyder for Alaska is now Dr. Liz Snyder for Alaska. I wonder what world wide event could have possible prompted that change? 🤔🙄
***
Candidate for House District 10 (and home builder), Jesse Sumner, has a fantastic print ad out. That pun is *chef's kiss.*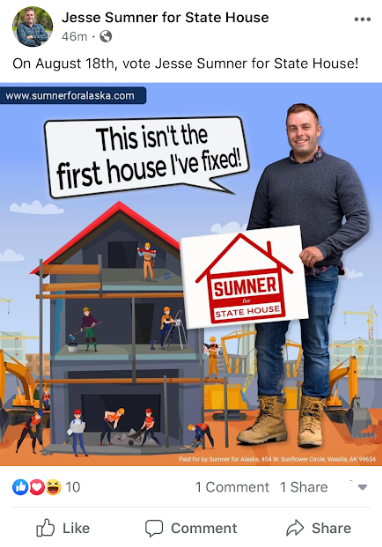 ***
I love that Rep. Mel Gillis' top qualification for re-election is: ROUGHNECK. I almost didn't recognize Mel without a cigar in his mouth!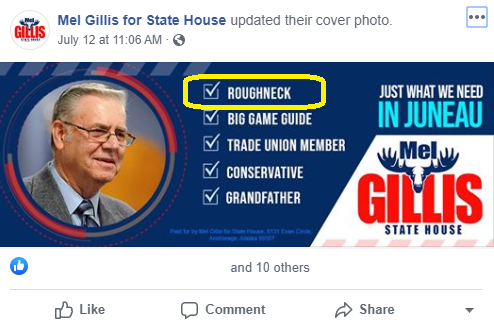 ***
Not sure what's happening here, but former Rep. Lynn Gattis has the perfect response. I hope she keeps the sign up as is.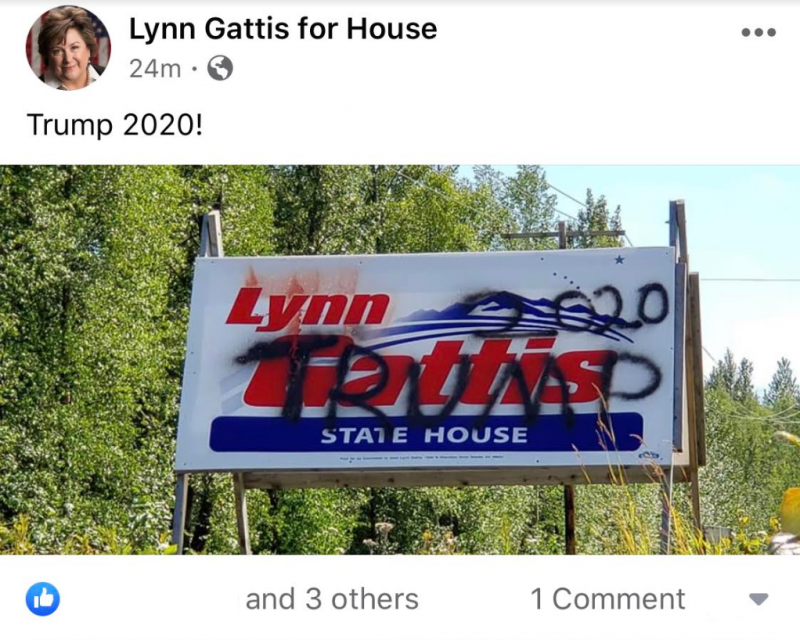 ***
Candidate for House District 21, Lynette Largent's Facebook posts are largent than life. Lynette is quickly outpacing Harold Borbridge and Gavin Christansen as this election cycle's "can't miss" social media poster.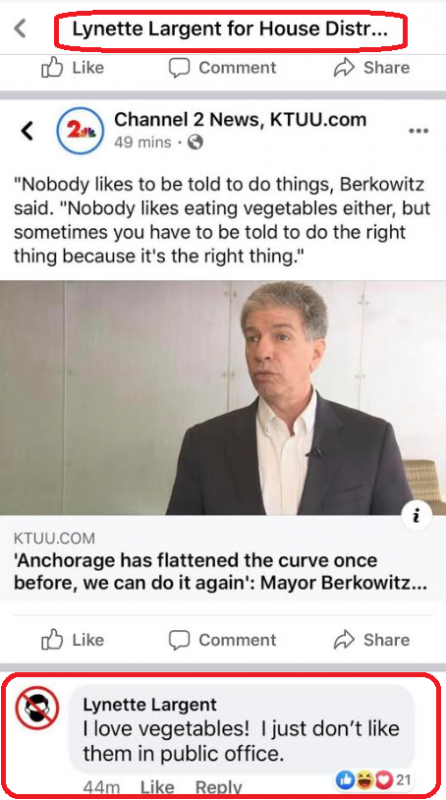 ***
Is it just me, or do Roger Holland's Facebook musings have a serious Jack Handy vibe? I mean, if Roger can guarantee that 2020 will end up "refreshingly calm" he could probably win.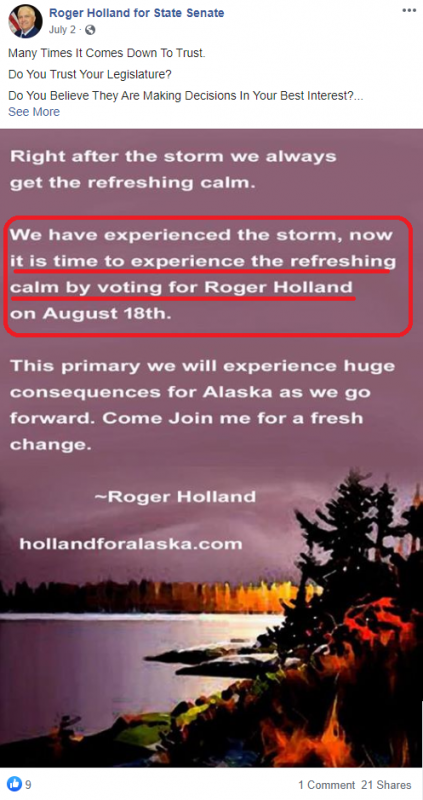 ***
We have to talk about Sen. Cathy Giessel's most recent campaign video. While her print ad was fire, her videos are a big condescending dumpster fire. The point of the video was to "correct the record" of a pro-PFD video Cathy posted on her page last election cycle. Instead, she rambled on for over 8 minutes about how her name was right next to "Governor — I mean then Senator Dunleavy" on the bill to keep the PFD whole. Then in the next sentence she commented on how then Sen. Dunleavy "couldn't even convince 11 other Senators" that the bill should pass. Was the bill good or bad, Cathy?
***
***
Honestly, all this video made me do was go back to the old video and re-watch it. Not sure if that was her ultimate goal. A lot is the same: same table, same couch, same concerned husband. He's even wearing the same vest! But there are some stark differences. Not sure what's moved more in the last four years: Cathy's PFD position, or her furniture.

***
Anchorage's leading mayoral candidates were busy over the 4th of July holiday weekend. Former Rep. Eric Croft watched Hamilton. Same, Eric. Same. And while the mask is aggressive, it's surprisingly proportional to the rest of his accessories.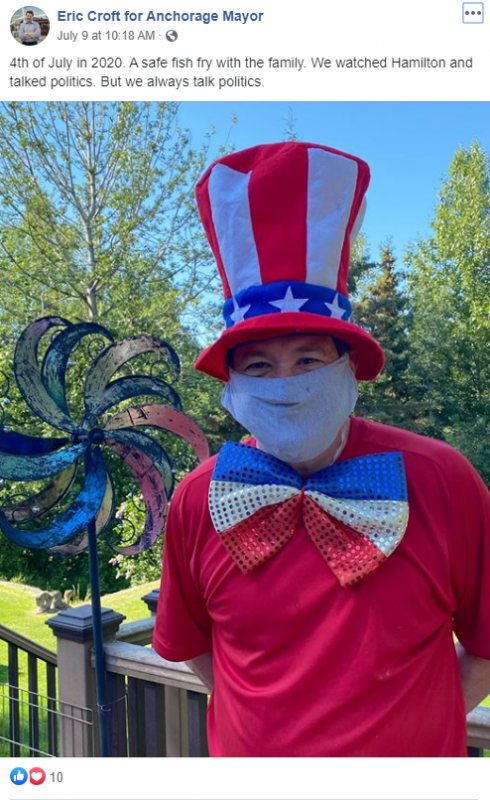 ***
Assemblymember Forrest Dunbar became a hero during his long weekend. No dog left behind! Glad to hear Knuckles has made a full recovery.

***
And former Assemblymember Bill Evans spent time recording a podcast with… Jeff Landfield? Like most things that Bill does, it's thoughtful and worth checking out.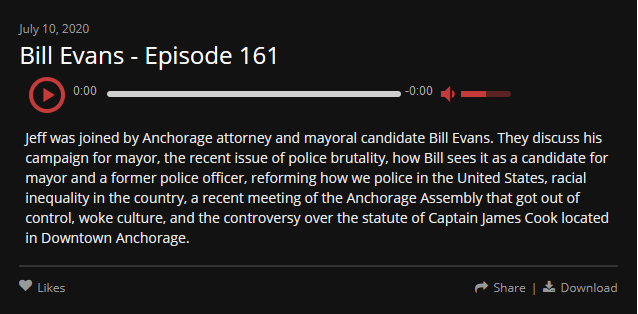 ***
I saved the mask drama until the end. There's always mask drama these days. This week Sen. Lora Reinbold was 86ed from South restaurant for not wearing a mask. She was pretty excited to post about her negative experience. If she is so opposed to everything Mayor Berkowitz does, South seems like an odd choice of restaurant to support in the first place.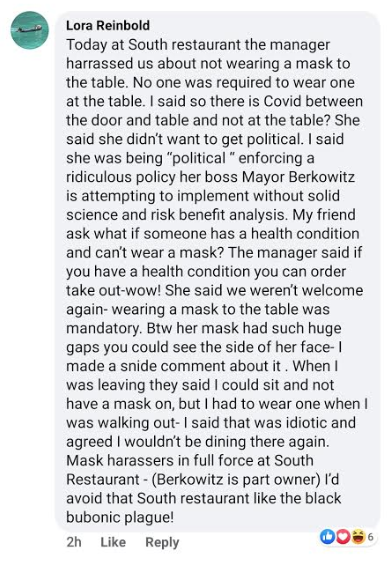 ***
We all know how this is going to end, right? 99/1 Lora gets kicked off an Alaska Airlines flight to Juneau.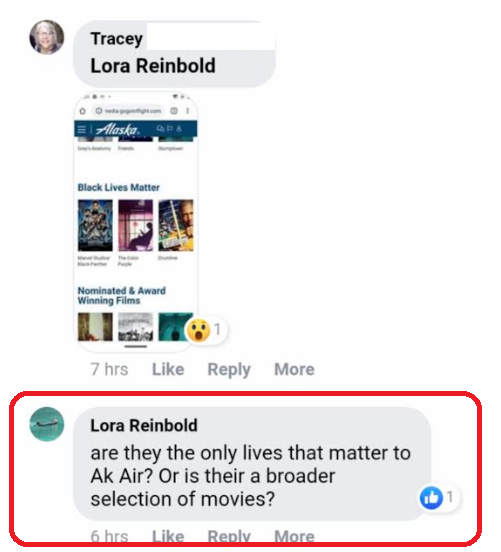 ***
Lora wasn't the only politician kicked out of a restaurant this week! Her protege, Assemblymember Jamie Allard was ousted from Papa Murphy's. You cannot make this stuff up.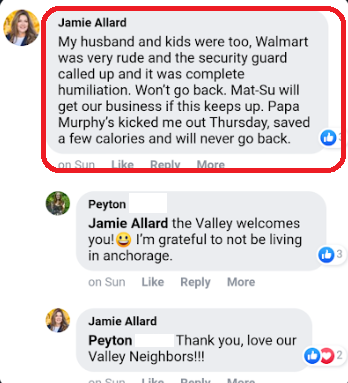 ***
I guess Papa Murphy is a lot stronger than Rep. Zack Fields or Rep. Jonathan Kreiss-Thompkins.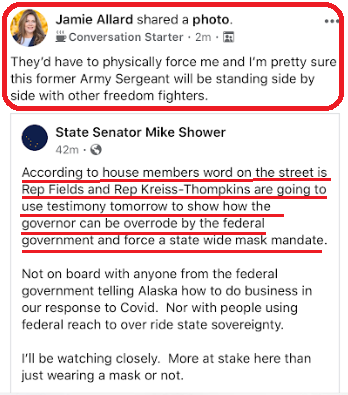 ***
A friendly tip to avid Stalker reader and Recall Dunleavy attorney, Scott Kendall: join the anti-mask OpenAlaska Facebook group. You might collect more signatures than you would expect.
***
Spotted at Double Musky: Sen. Natasha von Imhof and Rep. Sara Rasmussen (not together!)
***
Spotted door knocking at the Stalker's house: Candidate for House District 28 James Kaufman! While he doesn't "like" every single one of my personal Facebook posts like my current Representative (thanks Jennifer!), he did time his door knock perfectly: right in-between a mama black bear with three cubs in the back yard and a mama moose with one calf in the front. Be safe out there, James!
***
Spotted at a liquor store in Juneau: DHSS Commissioner Adam Crum. NO MASK!
***
Overheard: "Do you think Michael Chambers recognizes the irony of binding people to his pledge to a non-binding caucus."
***
Overheard in Anchorage: "I don't know what's more addictive: chips with French Onion dip, or Lora Reinbold's Facebook posts. Both are bad for you, but you just can't stop."
***
***
Overheard in candidate for Senate District F, Gavin Christansen's 3AM Facebook Live: "My attorney was high on meth while in a lawsuit against my ex, who was her dealer." Lots of material there.
***
The answer to "Guess the Legislator" is Rep. Ivy Spohnholz!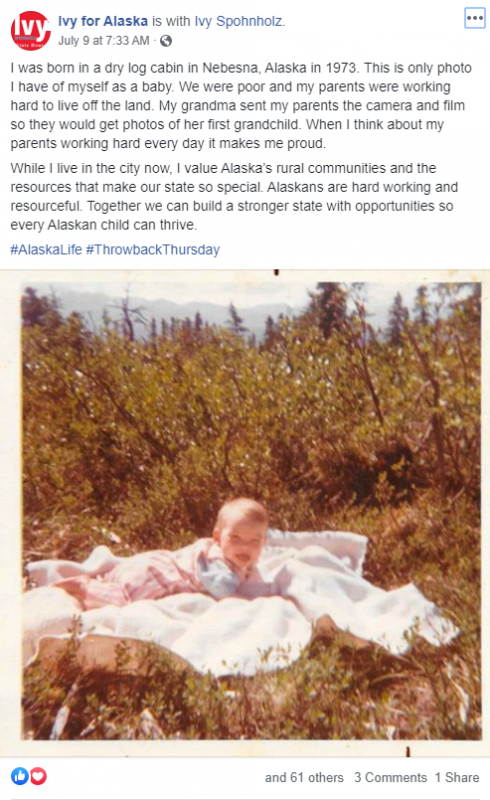 ***
The Alaska Stalker was born and raised in Alaska. She is slowly emerging from South Anchorage with her husband, daughter, son, and baby on the way. She is not Jeff Landfield.