Welcome to this edition of the Alaska Stalker, a lighthearted round up of the best and worst of Alaska's social media landscape.
***
If you enjoy the Alaska Stalker, please consider supporting working moms like me by sending in hot tips, screencaps, overheards, and spotted ins. You can reach me at akstalker@alaskalandmine.com. As always, thanks for reading.
***
If Sen. David Wilson is posting on Facebook, chances are it's a national holiday. David cranked it up a notch this year. Stone Cold George Washington laying down a Stone Cold Stunner on the Red Coats is next level. 💥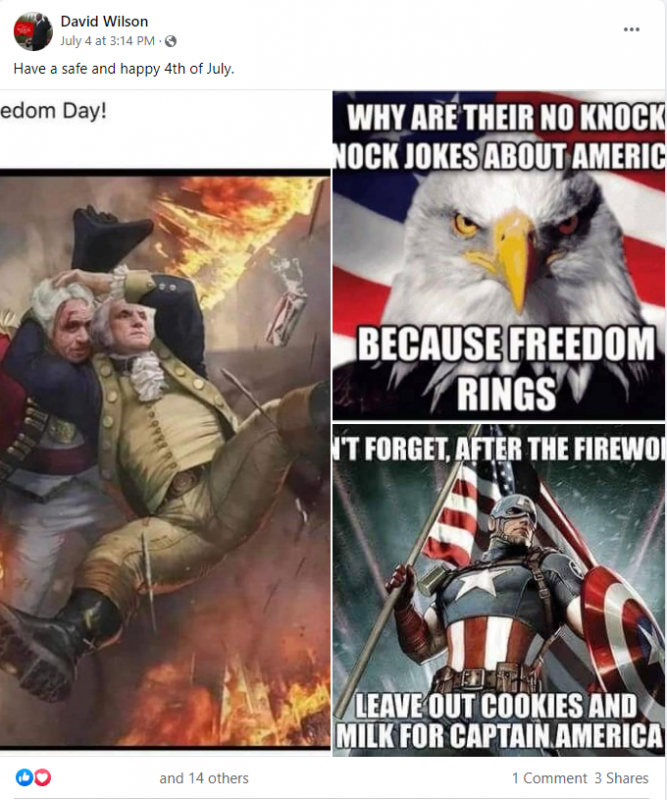 ***
Check out that time stamp on the bottom. Sen. Scott Kawasaki must have partied so hard he woke up four days later and thought it was still the 4th! 😵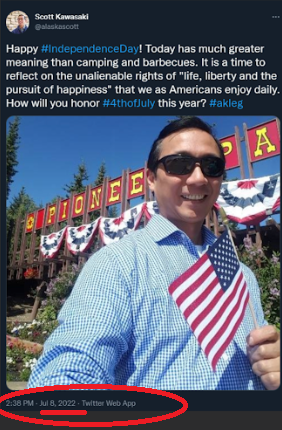 ***
Rep. Sara Hannan celebrated the true meaning of Independence Day — committing to eat local foods and not mentioning America at all. She understood the assignment.
***
I guess the Sara(h) caucus doesn't have a lot in common these days. While Sara H. is harvesting organic berries from her yard, Sarah V. is getting the Homer kids all hopped up on sugar. I mean, at least the blow pops were berry flavored.

Striking a balance, Nick Begich shared his family's famous potato salad recipe. With 1/3 cup pickle juice it's a lot like Nick himself – you either love it or hate it.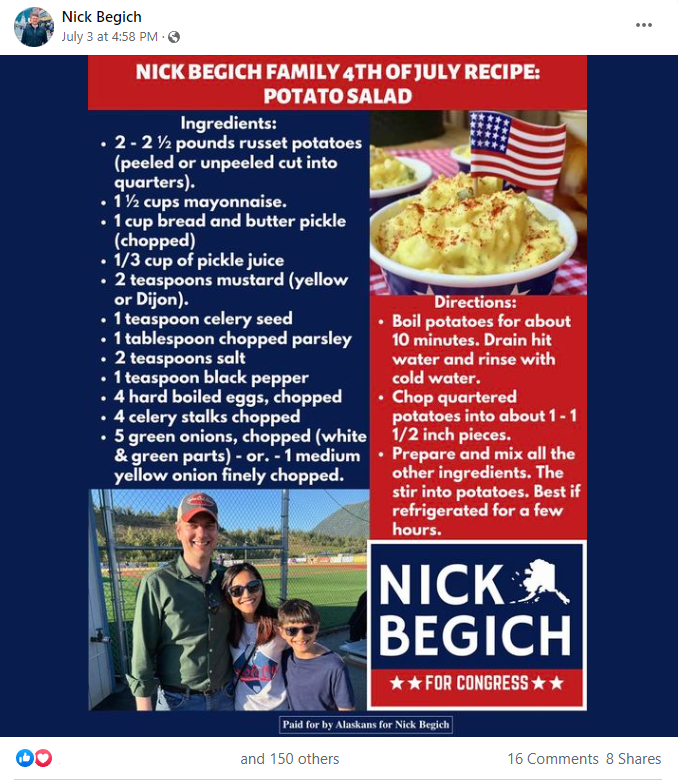 ***
OMG. It finally happened. A Kelly CHEWBACCA. YASSSSS!!!!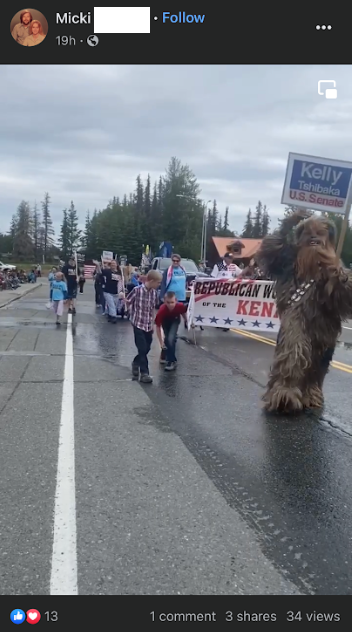 ***
In Big Lake there was a boat parade battle: State Senate candidate Doug Massie vs. Rep. Kevin McCabe and Sen. Mike Shower. The McCabe/Shower boat seems a little sad next to the Sassy Massie.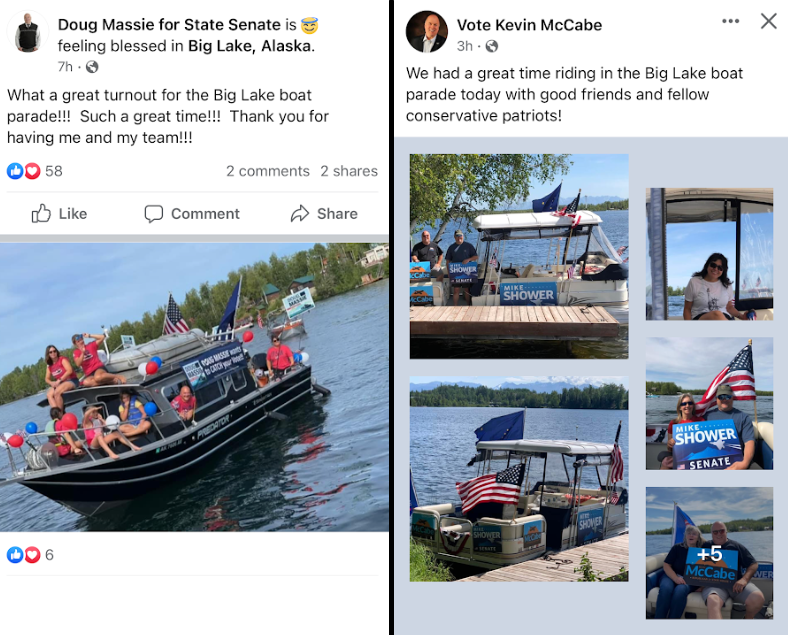 ***
If you want to see rock solid Rauscher get wet, watch this video. Don't worry, it's SFW.

***
✅ Flag
✅ America Tee-Shirt
✅ Old Car
✅ Cute dog wearing patriotic outfit and/or campaign sign
Rep. Cronk went full on 'MERICA. Anyone want to guess who topped Mike?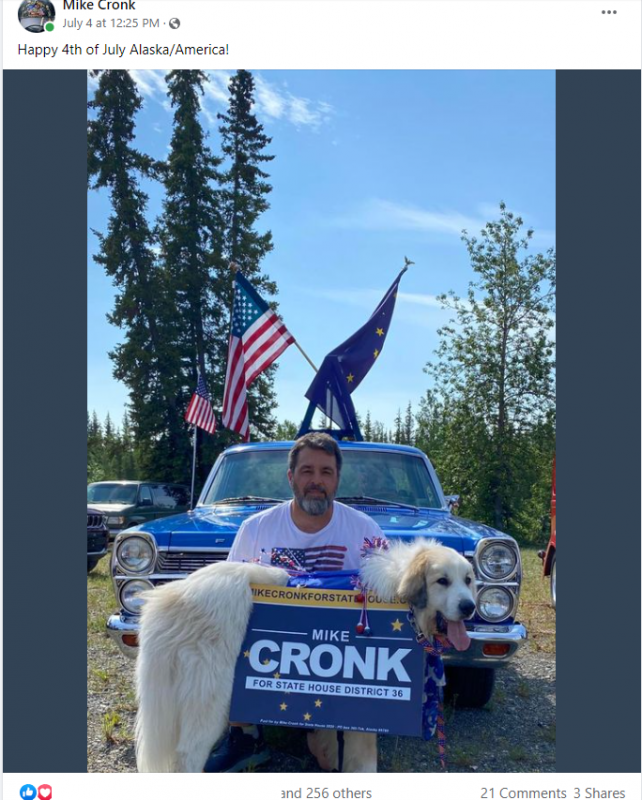 10/10 'MERICA has to go to the one and only Tuckerman Babcock. Holy Old Glory!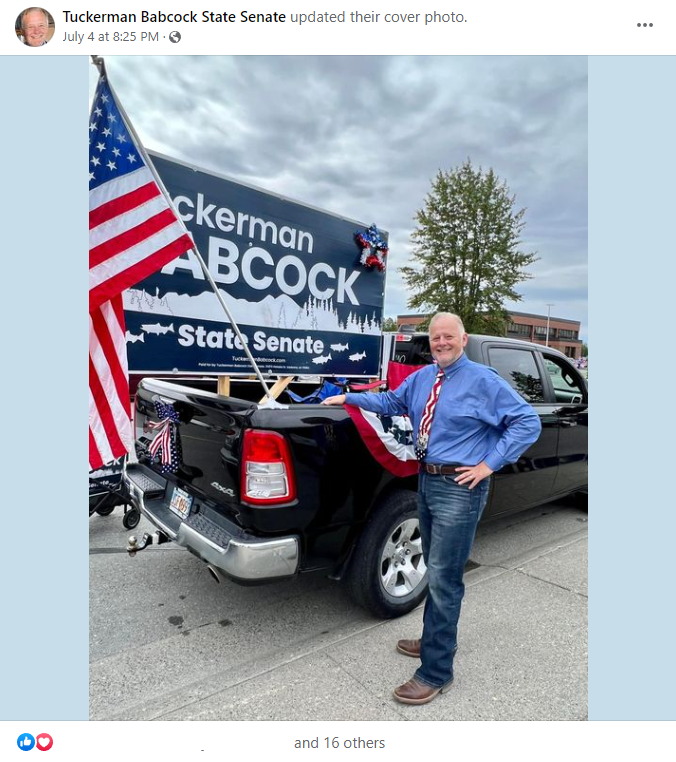 ***
If the Alaska Democrats wanted to really drive their fearmongering message home about the big bad Babcock, they should have used the above photo. This one works, too. 😉

***
Gov. Dunleavy is continuing his recent tradition of social media posts that sound nothing like him. They're also no longer totally boring, so I'll gladly take it.
***
I have to give a shout out to this Dunleavy float. From Mickey Mouse to Uncle Sam, a freedom sign and the full rainbow of Dunleavy signs, this float had it all. Well done. If only Tito were there.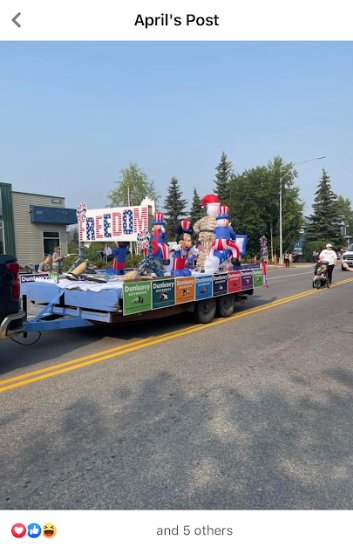 ***
I cannot stop rolling my eyes at this attack ad from the Walker/Drygas campaign. It's ruff. It reminds me of that sad Sarah McLaughlin ASPCA ad. Andrew Jensen took the words right out of my mouth, "Hey, did you hear the Governor hates puppies?"
Naturally it devolved into a bizarre twitter fight/Tito brofest between Dave Stieren and Scott Kendall.

***
Next up: Les Gara vs. Santa? Santa is such a nice guy, but he can be a little crotchety on Twitter. Giving his esteemed endorsement to Bill Walker because Gara campaign manager Nate Graham mean tweeted at him seems a little petty. I guess Santa really enjoyed being on that Alaska Public Broadcasting Commission.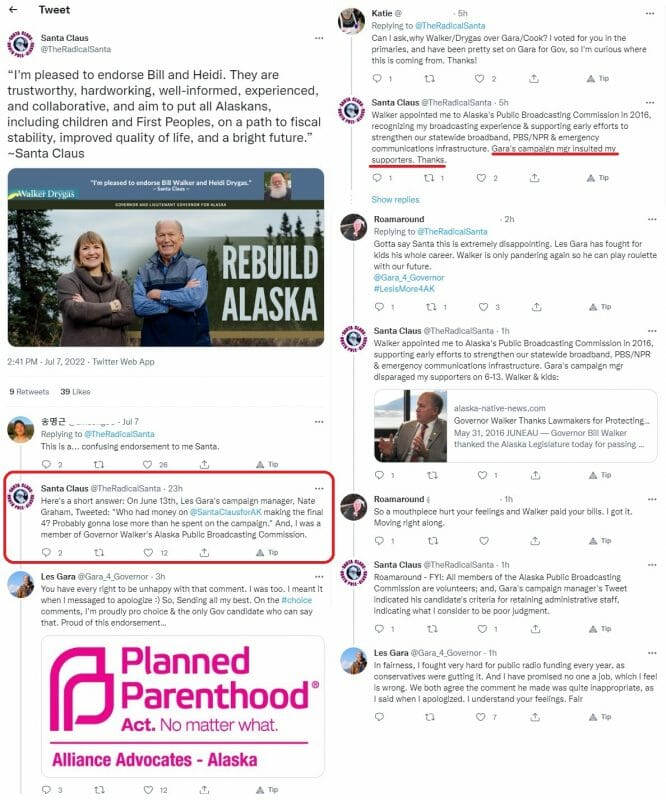 ***
While Walker, Dunleavy and Gara were battling it out over Santa and sad dogs, Charlie Pierce is on OurTime living his best life. Wait, what??!!! 😱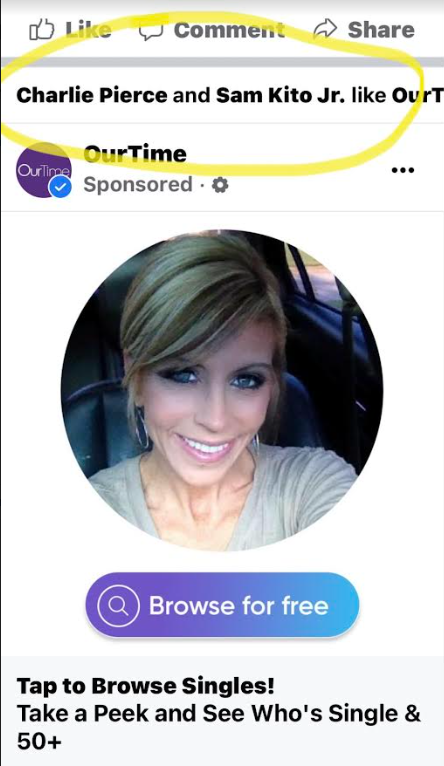 ***
Major kudos to whoever designs the Bear Paw magazine. These ads are placed perfectly — half of Alaska thinks Assembly member Jamie Allard is going to drain the swamp, while the other half just thinks she's full of sh!t! 😁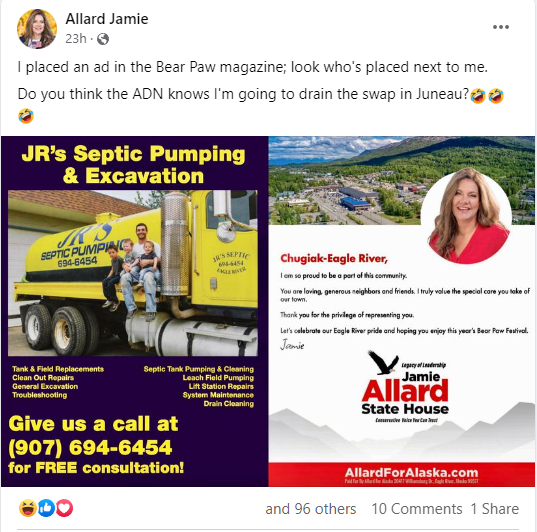 ***
Glad to see Rep. Claman's leg are getting some much needed sun! 👻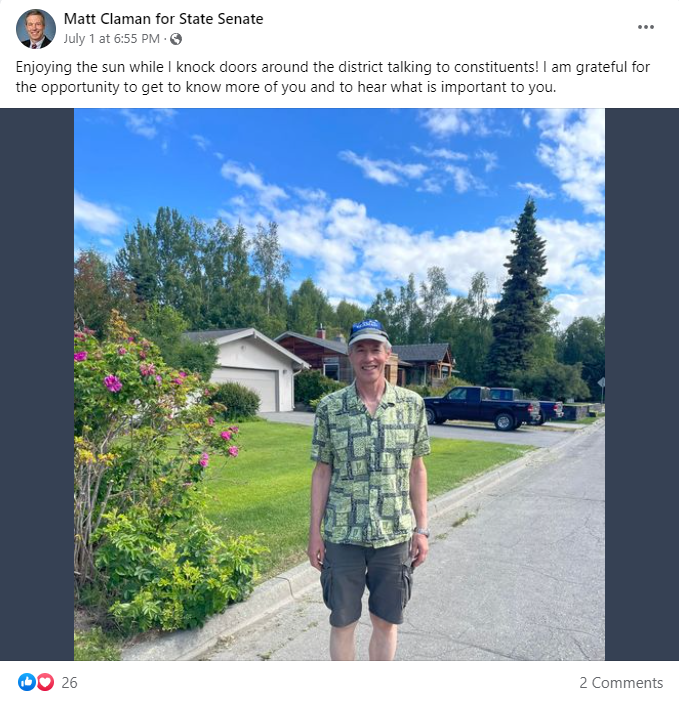 ***
I bet that ride is a fantastic conversation starter when going door-to-door.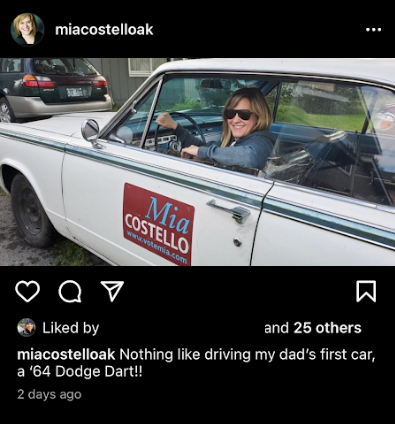 ***
I am loving all the former staffers running for office this cycle. Forrest Wolfe's commercial legit made me tear up. Definitely worth checking out if you haven't seen it yet.


***
Soon to be Rep. Genevieve Mina isn't afraid to tell us how she really feels – F*@k the Supreme Court of the United States!!!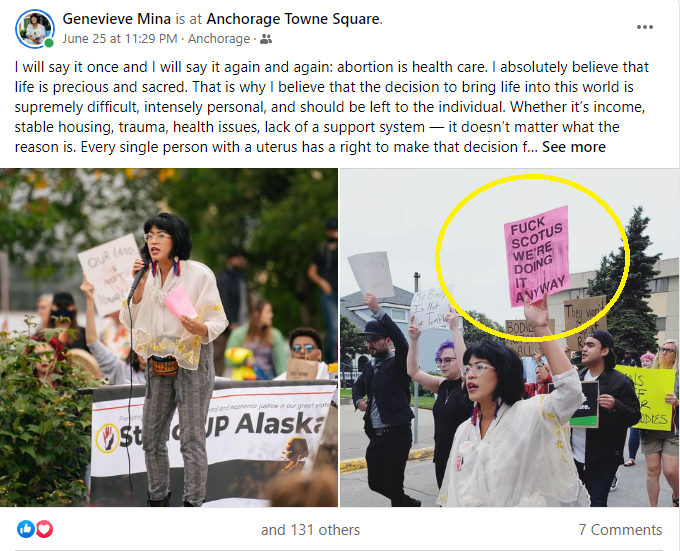 ***
And Löki Tobin recently posted the biggest Carhartt flex I've ever seen. She's even standing next to the Carhartt king himself, Forrest Dunbar. 

***
So, like, what happens when they put a call on the Senate…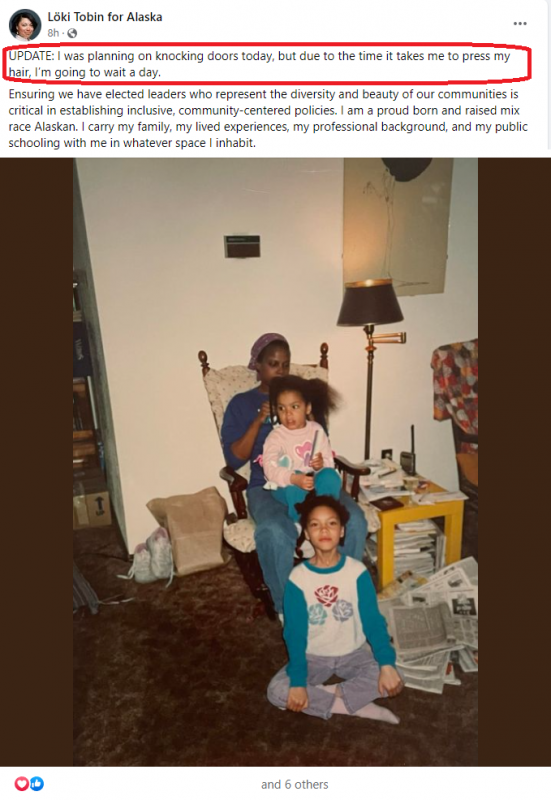 ***
While all the excitement is around the new kids, there's something to be said about the old guard of perennial candidates. I am loving Ross Bieling's most recent lit drop. ALL CAPS AND EVERYTHING NOW! Except protecting Alaskan families. That can be done later, I guess. 
***
Another Stalker perennial fav, Lyn Franks, landed in some hot water over this post. I'm aghast. Lyn Franks thinks homeless people are thieves and that is why Mayor Bronson should shut down Centennial Camp. Because: "Muldoon does not need more crime." WOW. Did Lyn apologize? Nope. She deleted the post after several angry comments. I expect Democrats and the many elected officials that have endorsed Lyn to hold her accountable for the dangerous mindset that more homeless people mean more crime.

***
The perfect campaign sign does not exis-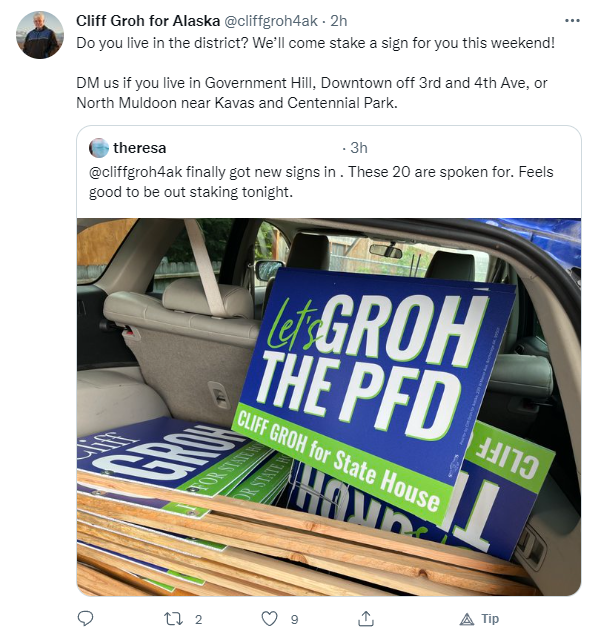 ***
Did you attend the Trump rally? Gubernatorial candidate, Rep. Christopher Kurka, started the party a night early with a "smash a dominion machine" fundraiser in a parking lot. Really.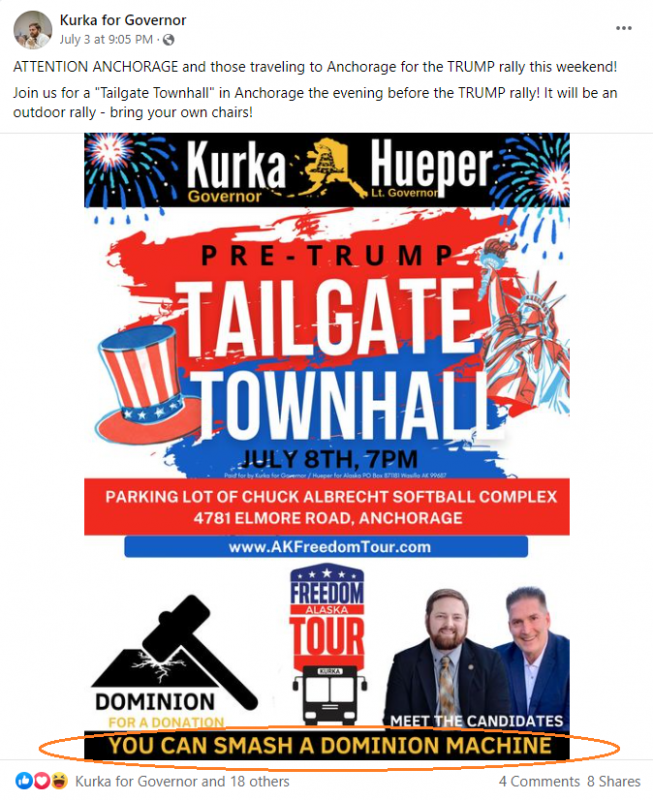 ***
Stalker fav, Fairbanks House candidate Kelly Nash, keeps referring to President Trump as Daddy T. I mean, at this point it's the least weirdest thing about her.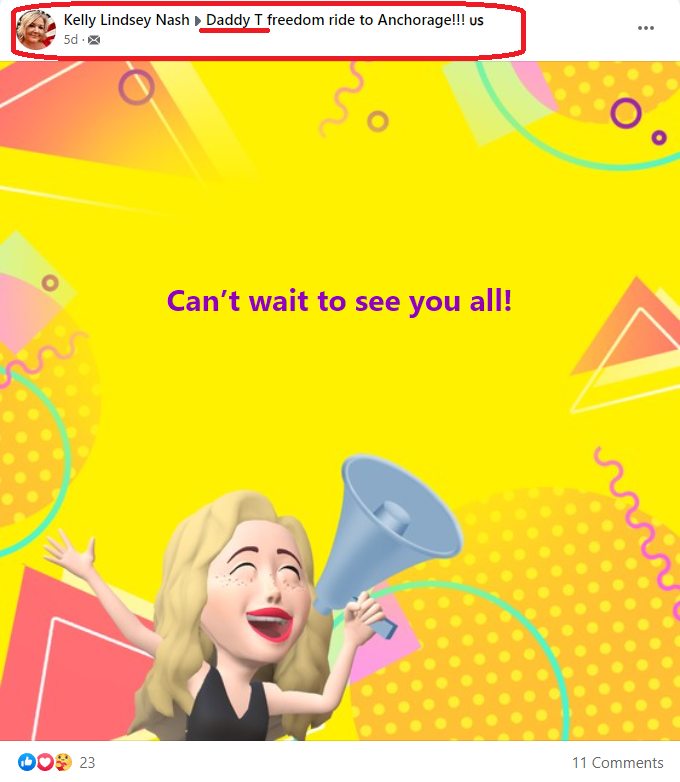 ***
Sen. Kawasaki is not going. FYI.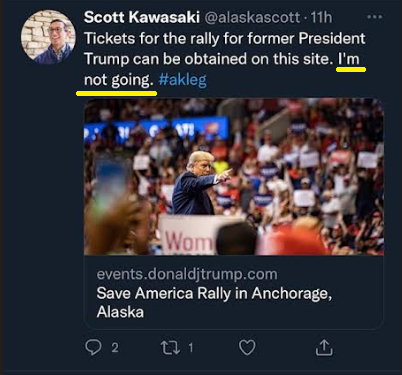 ***
Any guesses why Anchorage Assembly member Randy Sulte is taking a week off his Saturday morning constituent meet and greet?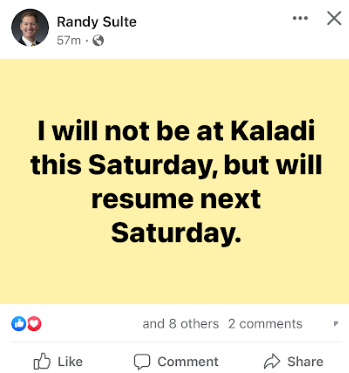 ***
Pollster Ivan Moore got his tickets! Pretty sure he's going with Scott Kawasaki.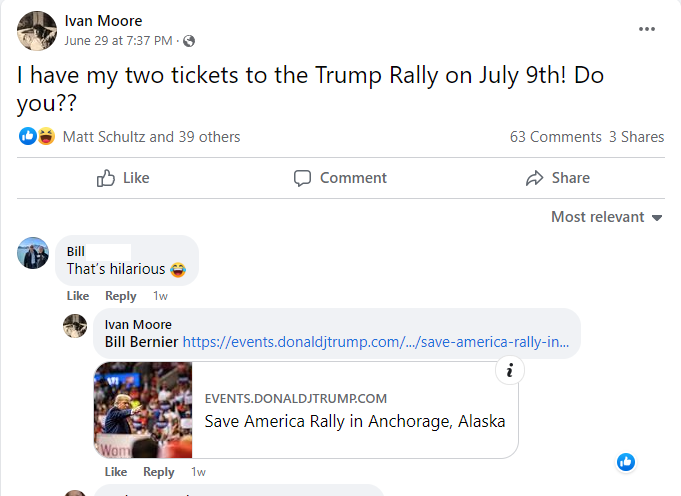 ***
Do you think Jamie paid $250, $1,000 or a $20,000+ for her tickets?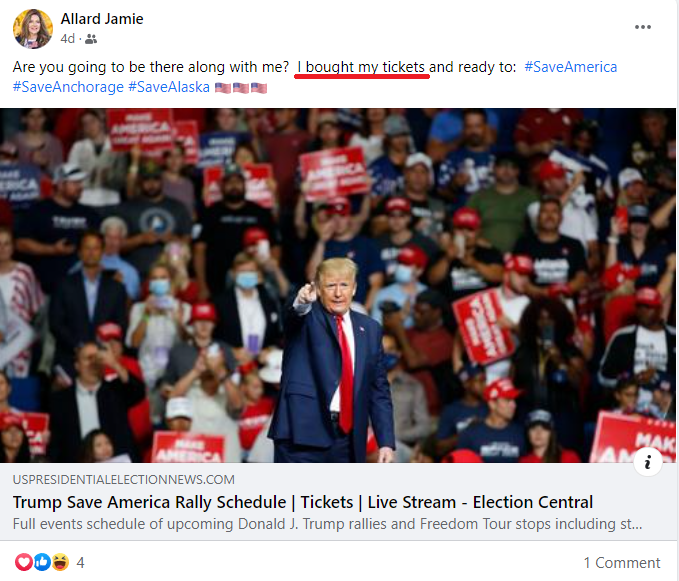 ***
Where was Lisa during all this? In Homer, living her best life. One does have to wonder if the yellow boots are an attempt to low-key signal her "independent progressivism."

***
On the other side of town, State House candidate Alyse Galvin was at the Keep Abortion Safe & Legal rally, passing out over 400 cups of lemonade. Pink, natch.

***
Spotted at the Trump rally: Mike Lindell (the My Pillow guy), Rep. Vance, Rep. McCabe, Rep. Tilton, Rep. Kurka, Rep. Eastman, Paul Hueper, Edie Grunwald, Anchorage Mayor Dave Bronson, Assembly member Jamie Allard, Attorney General Treg Taylor, Craig Campbell, Ryan McKee, some guy from Deadliest Catch and many more!
***
Spotted at the reproductive rights rally: Rep. Tarr, U.S. House candidate Mary Peltola, Cliff Groh, Andrew Gray, Alyse Galvin, Pat Chesbro and many more. Check out this Alaska Landmine gallery to see other familiar faces.
***
Spotted at Kaladi off Brayton: Rep. Calvin Schrage.
***
Spotted at the South Anchorage Farmer's Market: U.S. House candidate Nick Begich.
***
Spotted womanning the Gara/Cook booth at the 4th of July celebration on the Anchorage Park Strip: Jessica Cook.
***
Spotted in a sea of Rep. Fields and Walker/Drygas signs – a lone Sarah for Congress sign on I street.
***
Spotted at the Trump rally: Kelly Tshibaka in a navy pantsuit for interviews and pure white head to toe for the main event.
***
Spotted at the Trump rally: The Alaska Stalker making her Alaska Landmine livestream debut. So much fun!
***
Spotted at the Trump rally: Kitty Fox!!! Sure it miiiight be Kiddy Fox. But, it's kinda like "Go see Cal" and "Pussy Cow." You can be correct, or you can be right.

***
Overheard by almost everyone at the Alaska Airlines Center on Saturday: "Where is Dunleavy?" But really, where was he?
***
Overheard at the Alaska Airlines Center on Saturday – a most unexpected noise: Lots of cheers for Sarah Palin, but 2-3 times louder cheers for Kelly Tshibaka.
***
Overheard on the Dan Fagan Show: Dan admitting, "I don't have Kurka derangement syndrome. The only one I have is Dunleavy Derangement syndrome. I definitely have that."
***
Overheard in Anchorage: "The only people at Dunleavy fundraisers are people who work for him."
***
Overheard in Anchorage: "Watching the Walker messaging team feels like watching Alice Rogoff land her plane in Halibut Cove."
***
The Alaska Stalker was born and raised in Alaska. She lives bear free in South Anchorage with her husband and three kids five and under. She is not Jeff Landfield.