Welcome to this edition of the Alaska Stalker, a lighthearted round up of the best and worst of Alaska's social media landscape.
***
If you enjoy the Alaska Stalker, please consider supporting working moms like me by sending in hot tips, overheards, and spotted ins. You can reach me at akstalker@alaskalandmine.com. As always, thanks for reading.
***
Several politicos have taken to social media to help guide folks on the pronunciation of their name. First up, Rep. Maxine Dibert as in Die-Bert. Saying Dee-Bert is ding dong, you're wrong.

***
Anchorage Midtown Assembly candidate and local reality TV star, Travis Szanto, didn't have an accompanying meme, but he is getting his unusual name out there.

***
I've been mispronouncing Anchorage Assembly candidate Rachel Ries' name wrong for over a year. 🤦‍♀️ Rachel, I'm sorry! What a lighthearted, non-confrontational way to correct folks like me. It's Ries as in Reese. Or, Reece. YUM!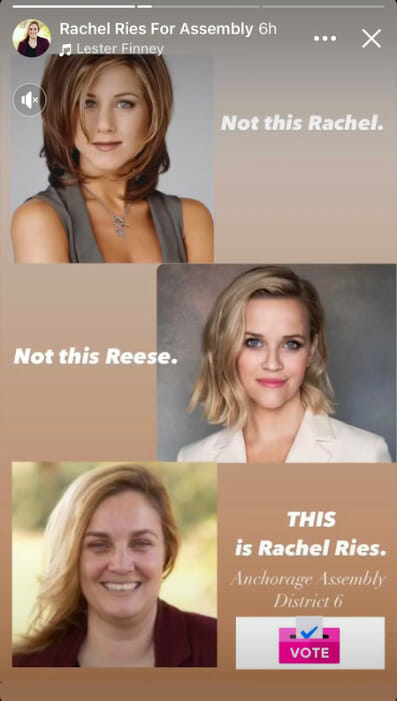 ***
Sen. Löki Tobin took to Rep. Andrew Gray's podcast to set the record straight on her name. Löki said if you misidentify her or misname her, you are denying her her existence — so we should all try to get it right! If you're not 100% sure on the pronunciation of her name, please check out the podcast. If you don't have time, I've made everyone this helpful info graph. Please remember, it's Lew + Key.

***
Hey! It might not be Sen. Stedman's best angle, but I think he looks pretty good.  Love former Rep. Sara Rasmussen's response. Sometimes it's better to laugh it off! I do like the idea of a collection.

***
Rep. Cliff Groh has a different approach to photos — look 100% creepy 90% of the time. My GOODNESS, Cliff. Can someone teach him how to smize already?

***
California born Sen. Forrest Dunbar, an almost 40-year-old man, keeps donning sci-fi inspired ties in the Capitol. It's one of the most cringe things I've seen all week. Atop it all, he's wrong. Tolkien didn't create an alphabet for the Black Speech. The inscription on the ring is written in the Tengwar alphabet, which is one of Tolkien's two Elvish alphabets. So Forrest's tie is almost assuredly displaying Elvish script. He absolutely still gets credit for being the smartest person in the room at all times.

***
Okay, so this is the most cringe thing I saw this week. Can we stop normalizing our elected officials idolizing fictional fantasy universes while on the job? Forget Make it so, Make it stop!

***
Looks like the shoot 'em up caucus replaced Micciche with Bjorkman without missing a beat shot.

***
Uh oh, it appears everyone forgot to congratulate Rep. Kevin McCabe on his two year anniversary as a legislator. Congrats, Kevin!

***
Wait, does this mean Gene Peltola is Ginger Rogers!? 💃

***
Just look at that face! 🐾❤️

***
I have to admit, I voted for Tito before I became aware of Juniper Volland. ERMEGERRD!!! Pretty sure I know where my vote's going in 2023.

***
Buddy. I know you're upset Pappy didn't win best dog, but this is a little over the top. 🙃

***
In Anchorage, the local Assembly race is heating up. I was excited to see a young, smart, philanthropically minded woman step up to run for office. 💪💪💪
Jenny Di Grappa, Chief of Philanthropy and Community Relations at the Food Bank of Alaska, has filed to run against Anchorage Assembly member Felix Rivera. pic.twitter.com/42VRgSPuoL

— The Alaska Landmine (@alaskalandmine) January 26, 2023
***
Okay now my head is spinning. I guess I don't know Jenny that well after all. According to Alaska Current lead writer Yarrow Silvers, Jenny Di Grappa is a top secret Save Anchorage agent. 😱😱😱

***
Puzzlingly, after such a warm reception into politics, Jenny dropped out. I guess I'll have to find solace in the fact that Anchorage Assembly races are ToTaLLy NoN pArTisAn.

***
On the Anchorage hillside, Zac Johnson is hosting his first fundraiser, virtually. LOOK AT THE SIZE OF THOSE CHOPS THO. He needs to have an in-person pork chop fundraiser ASAP.

***
Sometimes Facebook can be more informative than any voter guide.

***
Daaang. I got to give it to candidate Brian Flynn for blatantly ripping off former (and well liked) West Anchorage Assembly member Patrick Flynn's tag line, "Win with Flynn."

***
His opponent, Dustin Darden, was busy this week paying for records requests from former Alaska Elections Director Gail Fenumiai's "persenal" and business phones.

***
There are three candidates running for office in West Anchorage. Shockingly, one is less mature than Dustin Darden. Hint: it's the one who has a fireplace with googly eyes, LEGOS adoring the mantle place a unicorn print as the focal point, some paper mache taxidermy, dragons and what I'm sure are at least two Harry Potter references. For clarity, can someone please explain why grown adults acting like children is something that we're supposed to celebrate? I literally chose what type of fireplace I was getting based upon the largest tax rebate I would receive, not how big of googly eyes I could stick on it.

***
Is it just me, or did anyone else momentarily think conservative Anchorage Assembly candidate Rachel Ries was endorsing progressive candidate Anna Brawley? 🤣🤣🤣

***
Campaigning while cross country skiing is an Alaskan politician rite of passage. Thanks for sharing, George! Hope to catch you on the trails sometime.

***
It looks like the #GIRLPOWER mindset we enjoyed in the Peltola vs. Palin race is bleeding over into the Anchorage Assembly race. You go, girls!

***
Speaking of Mary… Congresswomen: they're just like us!

***
Overheard in a House judiciary meeting:
Rep. Allard "You said the word backlog. I like that word: backlog. Can you explain what a backlog is?"
***
Spotted at the Sealaska reception: Sen. Jesse Kiehl and Rep. Dan Saddler sneaking out the back exit together with their goody bags as soon as the speech started. Pro move – just took their oysters and ran!
***
Spotted: Sen. Matt Claman falling asleep for the 5th time in resources committee. Staffers are now making bets on how many times he snoozes each meeting.

***
Overheard: California born Sen. Dunbar taking every opportunity to mention to committee presenters that he's from Cordova. He's done it thrice in the space of an hour.
***
Spotted: Sen. Bjorkman and Sen. Bishop both sporting bolo ties and Sen. Merrick referring to them as the "Bolo Bros Caucus."
***
Spotted: Sen. Bjorkman and Sen. Claman being accosted by a very drunk man before 8 am am while walking into the Baranof for a meeting. He told Bjorkman, "You wanna go!" To which Bjorkman immediately responded (while wearing a suit), "Yeah,  I do!" The drunk man, confused, disengaged and walked off.
***
Overheard in a labor and commerce committee meeting: "I remember a few years ago when there wasn't a  single mustache in this building besides me and Bert Stedman."
***
Spotted on Rep. Laddie Shaw's desk: A custom bobble head of him and his wife.

***
The Alaska Stalker was born and raised in Alaska. She lives in South Anchorage with her husband and three young children. She is not Jeff Landfield.