Welcome to this edition of the Alaska Stalker, a lighthearted round up of the best and worst of Alaska's social media landscape.
***
If you enjoy the Alaska Stalker, please consider supporting working moms like me by sending in hot tips, overheards, and spotted ins. You can reach me at akstalker@alaskalandmine.com. As always, thanks for reading.
***
This week's column is dedicated to all the staffers that reached out with tips via email, text, Facebook message, and (my least personal favorite) through Jeff. I decided to sleep train my baby this week (if you know, you know). The extra help was a welcome surprise during a particularly stressful and sleepless few days. While I don't know most of you personally, I hope all of you keep the screen caps, overheads, and spotted ins coming. Couldn't do it without you!!! 😘
***
Alas, this feeling was to be short lived. 💔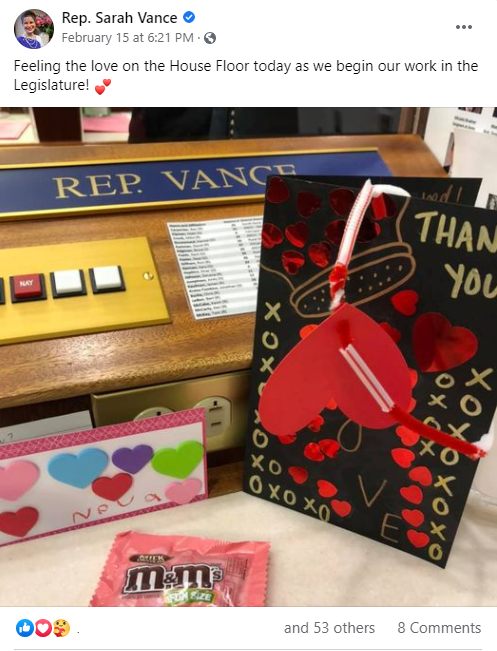 ***
While not everyone was feeling the love this week (more on that later) it was nice to see our favorite politicos write sappy posts to their significant others for Valentine's Day. Senate President Peter Micciche never passes up an opportunity to gush about his beautiful wife, Erin.

***
Based on past experience, I had a feeling Rep. Grier Hopkins' page would have something amazing and possibly inappropriate in celebration of the holiday. I was not disappointed. Glad they stuck to celebrating via puns only. I mean, if they had a true communist Valentine's Day the chocolate would be strictly rationed and the puppy would be the main course.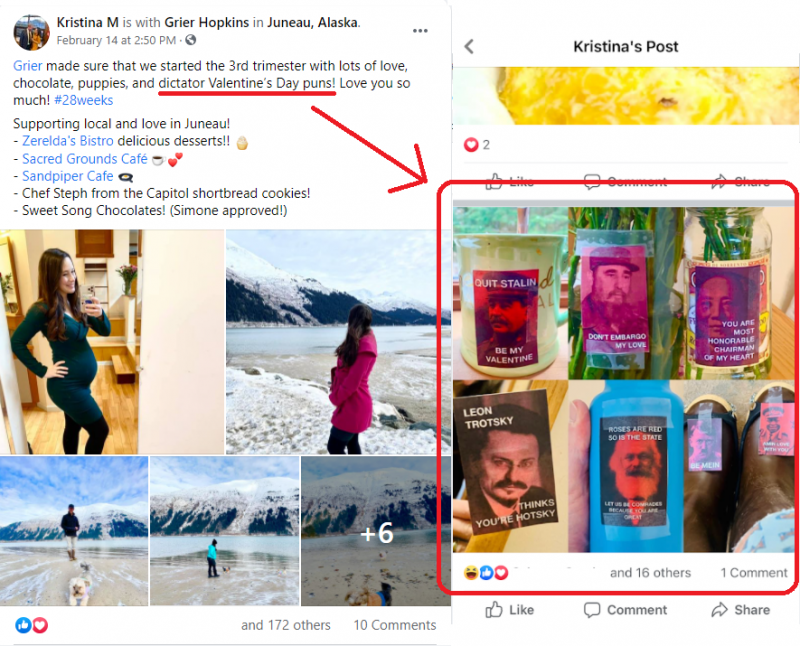 ***
I am proud of Lora for making this important sacrifice to help protect the health of herself and others. I never thought I'd see the day Sen. Lora Reinbold was more COVID conscious than…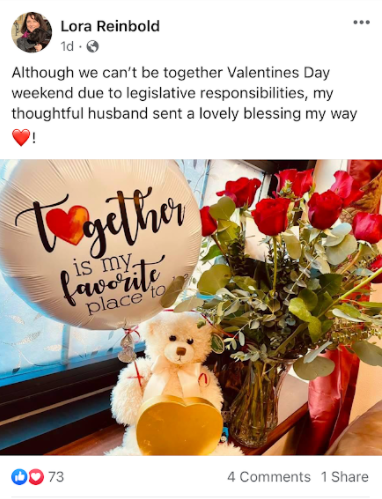 ***
Rep. Harriet Drummond?! 😱 Hope Elstun wore at least two masks and had a safe and healthy flight to Juneau.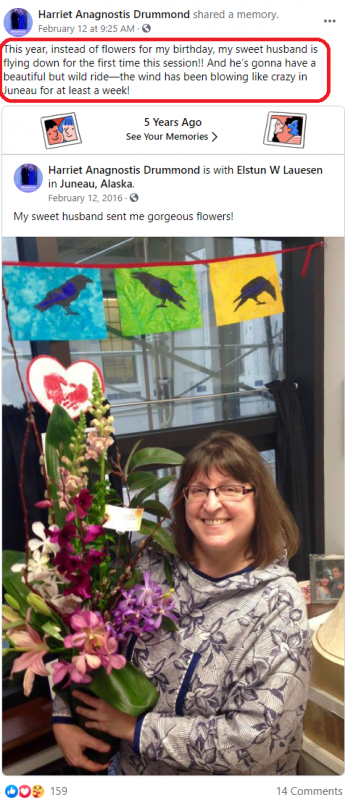 ***
UPDATE: I should have known better. Lora gonna find a way to Lora.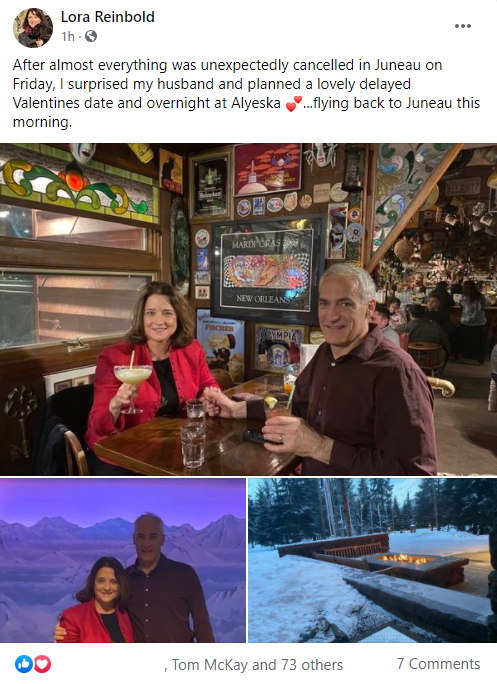 ***
Rep. Tom McKay and his wife seem to have the same sense of humor. #cringe 🙈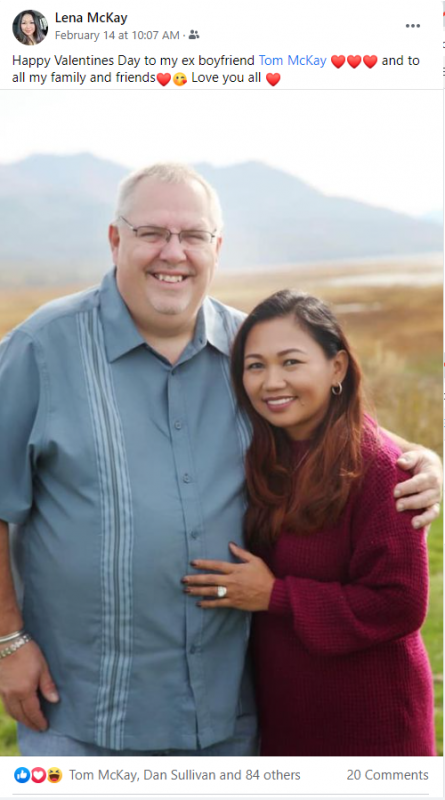 ***
But nothing compares to this e-valentine from AOGA. I'm experiencing some major secondhand embarrassment over here after seeing this on my Instagram. #whytho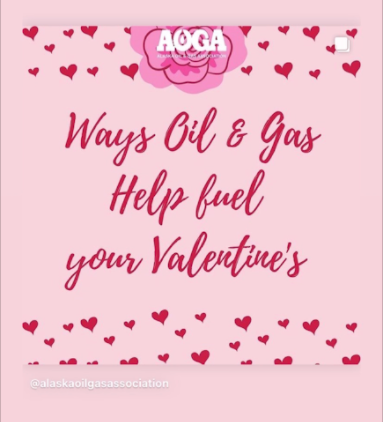 ***
This is by far the sweetest photo to come across our feed this week. Sen. Scott Kawasaki is the #1 son for taking his mom to get her first vaccine. 💗💉🥇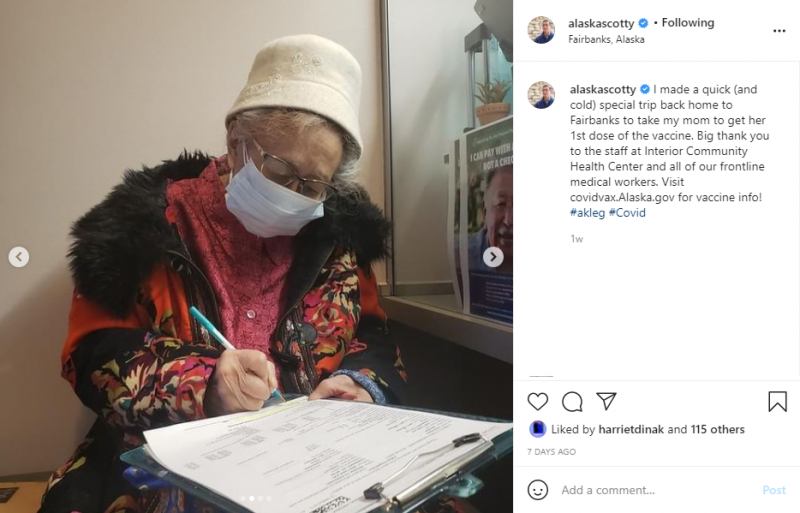 ***
Former Gov. Bill Walker was hacked! If only someone had a screen cap of what he posted and deleted…
Sorry everyone. Looks like I was hacked and last post was deleted.

— Bill Walker (@BillWalkerAk) February 15, 2021
***
I got you, Fam. 💁‍♀️ Honestly, he should have considered keeping it up, just to keep his followers on their toes. Lots of people getting "hacked" recently…. 🤔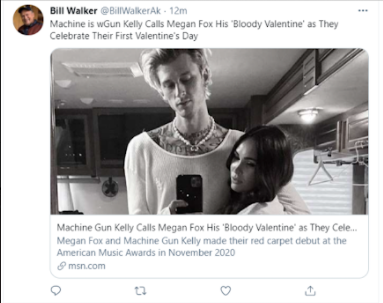 ***
Ever wonder what legislators do in Juneau to blow off steam? Rep. DeLena Johnson is an avid Pokemon Go player. I too have always wondered how one coordinates raid hour without Discord. Can everyone please let DeLena into their Pokemon Go Facebook messenger groups? Girl just wants to get her raid on.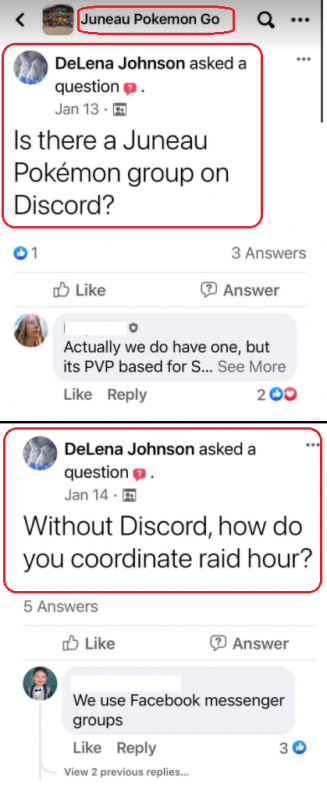 ***
And then there was the slew of catty inside baseball messages disguised as inspirational quotes. Not many people know the idea for the Stalker was born a few years ago, when then candidate for House, Sara Rasmussen, posted an inspirational quote meme on Facebook at the exact same time her opponent, then Rep. Jason Grenn, did. It was a District 22 inspirational quote meme off! I texted it to my friends and we wondered, "What if we posted this kind of stuff on the Landmine every week?" A star was born! Back to the current day memes. Sara posted a pretty typical (for her) meme late last week.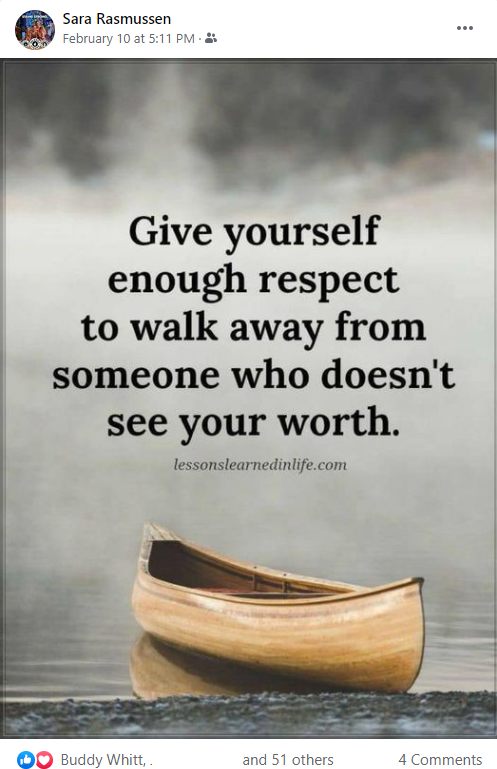 ***
She's been posting them for years. Sometimes it's extreme vaugebooking, and you have no idea what or who she's talking about. This time she ramped things up and everyone knew who she was talking about. LOL! Those comments though.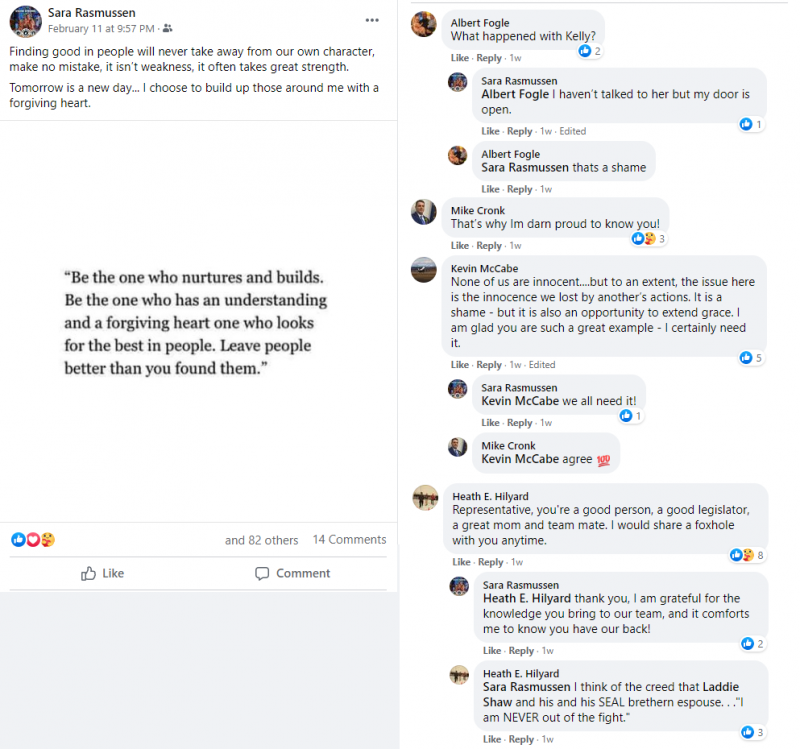 ***
As we all know, Sara and Kelly made up, and Sara left the House Minority. While they haven't joined Sara's caucus of one yet, all these old dudes have jumped onboard the inspirational quote train and I honestly can't believe this is real. Remember: these people are our leaders. First we have Rep. Ron Gillham imparting some wisdom I swear I've heard before on a Real Housewives episode.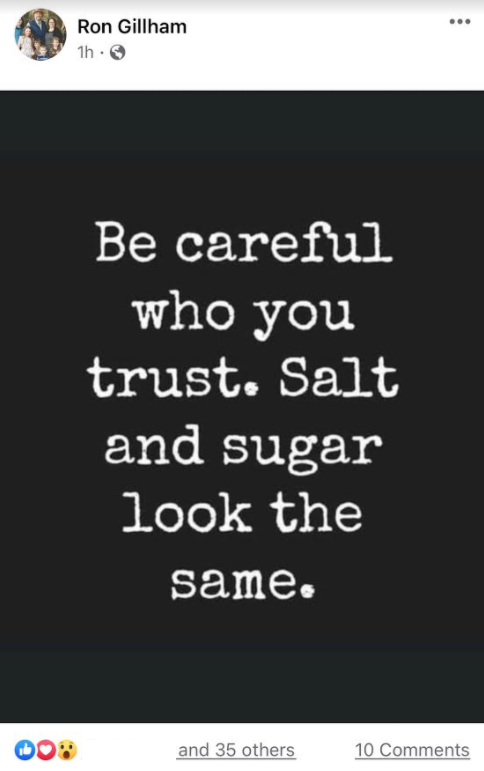 ***
Then there's Rep. Kevin ALL CAPS McCabe. SO MUCH ANGST.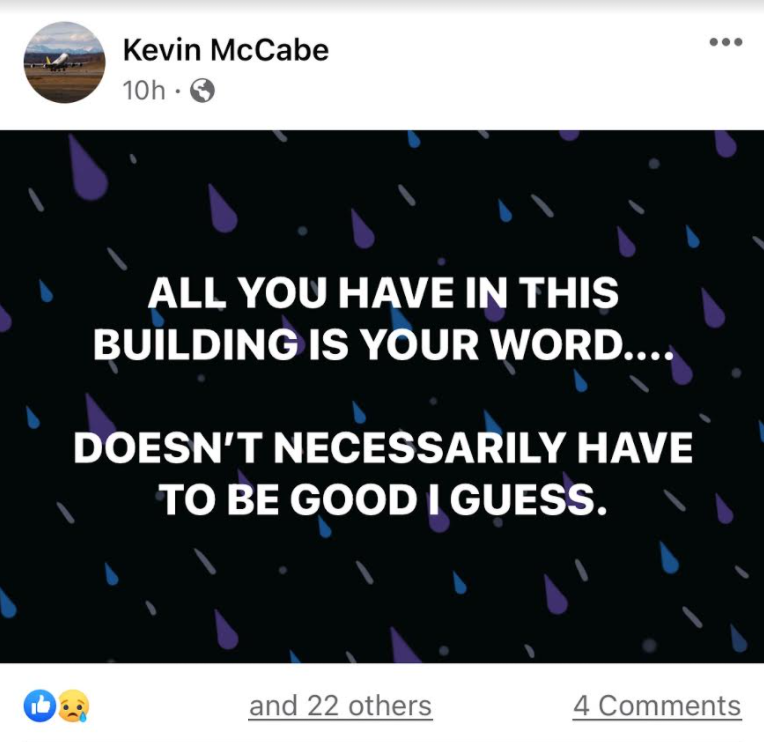 ***
While it may not be a true inspirational quote, Rep. Mike Cronk tried to dress it up a bit by adding a fancy background.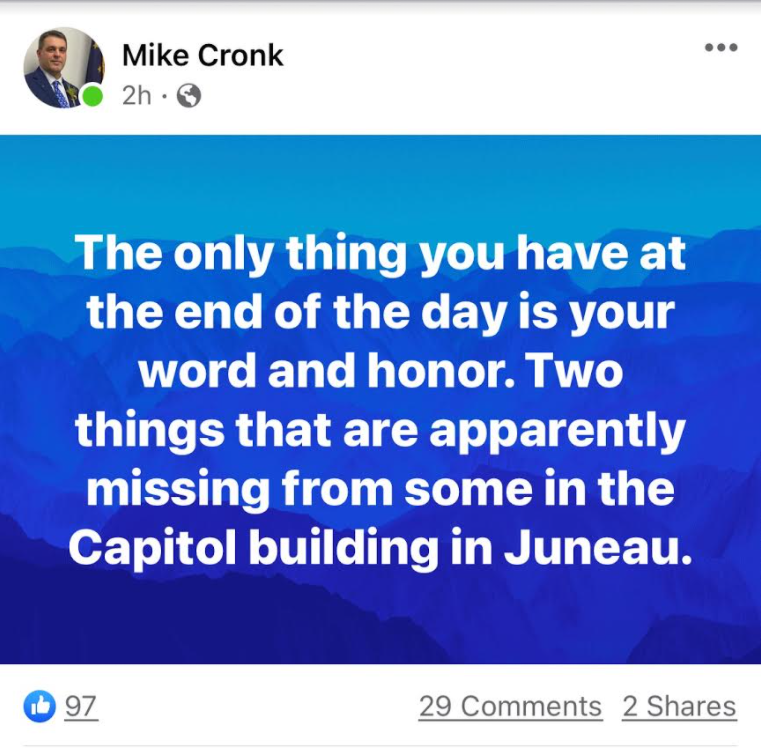 ***
Even Rep. Laddie Shaw got in on the fun. Veteran style, natch. Spoiler: they lost.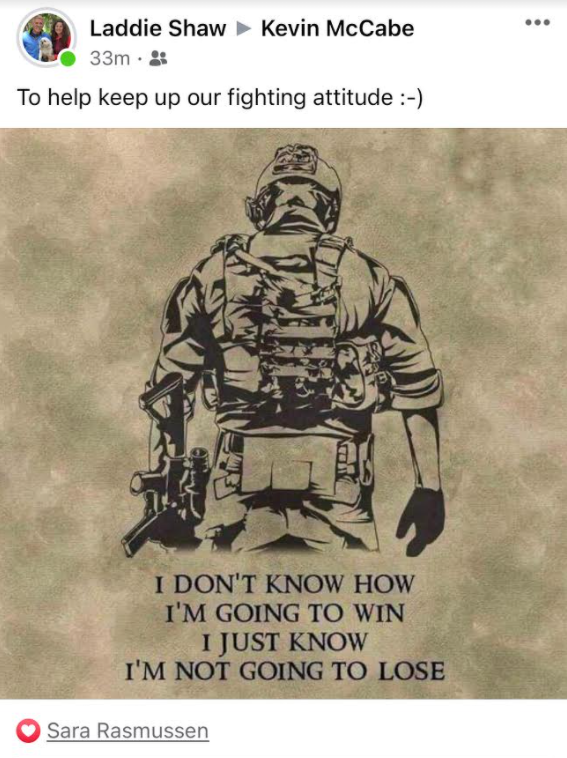 ***
At the end of the day, Sara remains the queen of inspirational memes.

***
Here, Sara, someone fixed it for you.

***
Meanwhile, over in Geranland…
                      MOOD: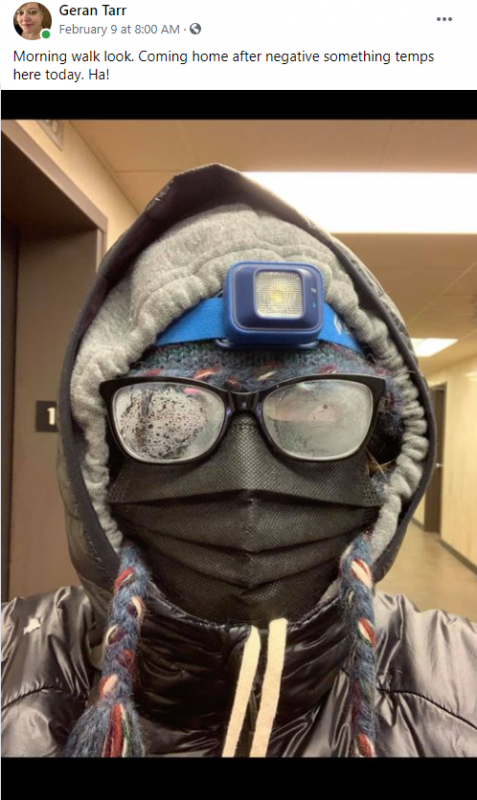 ***
Can't wait to see what next week will bring. Hopefully another Kelly Merrick TikTok. In the mean time, I'm glad to see staffers are finding more constructive ways than angry Facebook posts to get their emotions out. Like poetry.
Buddy's poem is great

But I really want to be

Besties with Jesse
***
Or ice cave selfies. Looking good, Leighan and Robin! Thank you for the shout out!

***
We're going to skip the Anchorage mayor's race this week. But, I have to include this tidbit from mayoral candidate Forrest Dunbar's AMA. Because of course Forrest Dunbar had an AMA on Reddit dot com. I am shocked and quite frankly appalled that Forrest thinks Sasquatches are only a "Lower 48 phenomenon." Typical from someone not born here. 🙃 I sure hope he takes the time to educate himself on Sasquatch and other Alaska cryptids, and stops spreading this type of dangerous misinformation immediately.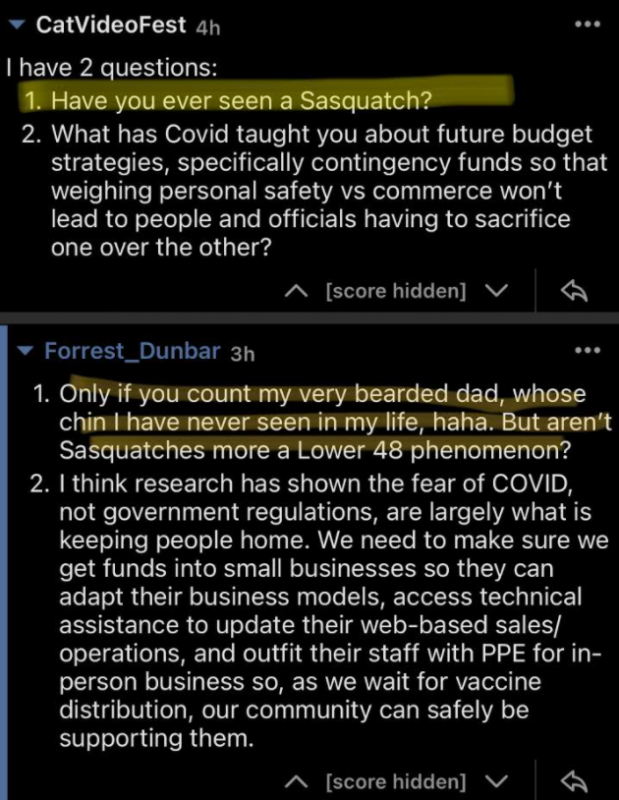 ***
Same Dave, same.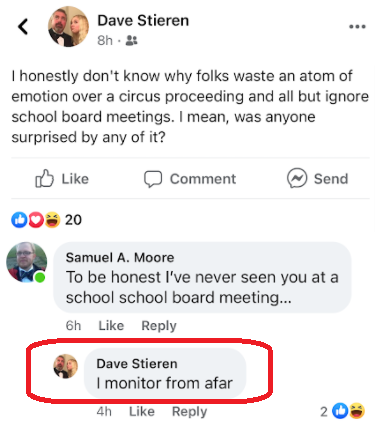 ***
Here's Anchorage School Board candidate Carl Jacobs capitalizing on those stunning February sunrises Anchoragites look forward to all year long. No better way to dress up a boring sign design.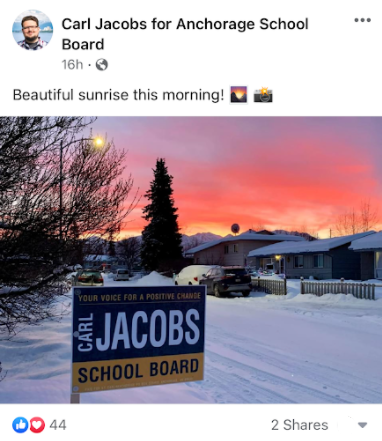 ***
I love that candidate Alisha (rhymes with militia!) Hilde wore her own sign to the ski for women, AND was dressed as an apple. So on brand. Literally. 🍎💯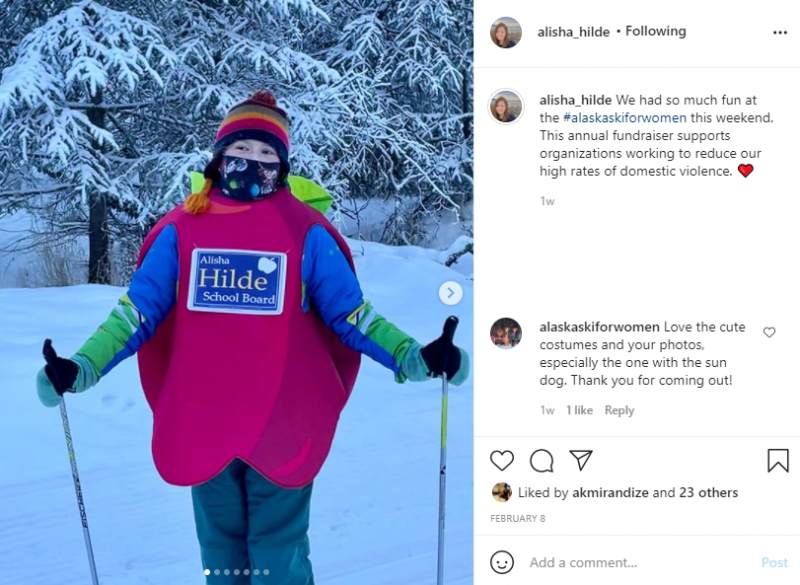 ***
Not quite sure what candidate Sami Graham is all about yet, but she was in Up With People in the 70's so 99% sure she has my vote. Legend status!!!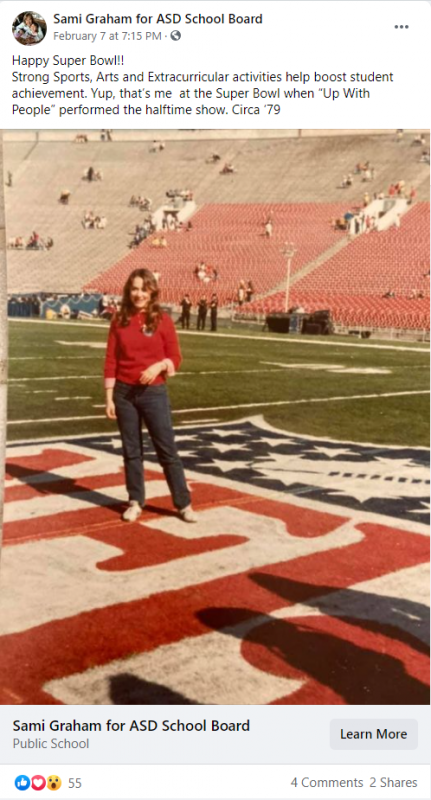 ***
Looks like somecandidate might need to go back to math class and learn their numbers. I mean, I guess 970 is close enough to 907. 🙅‍♀️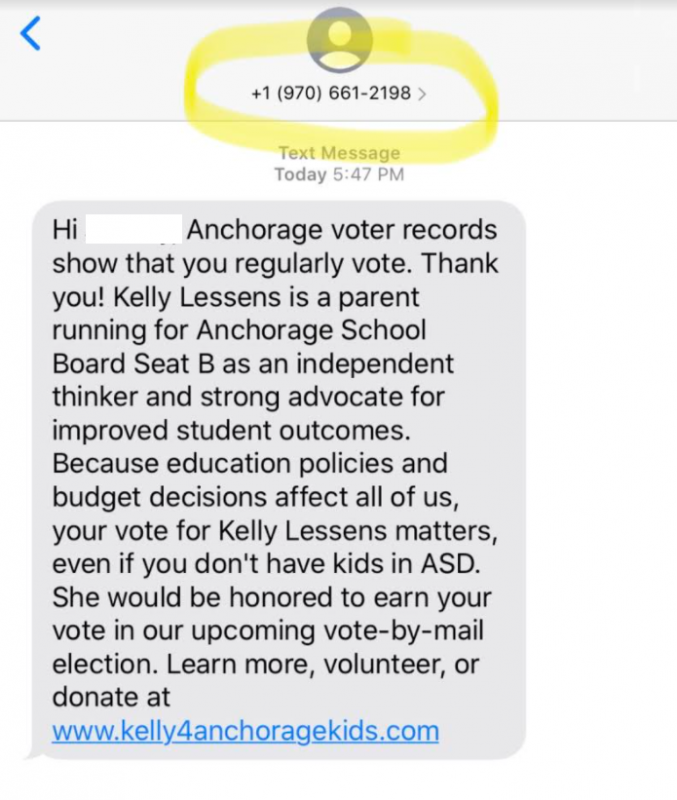 ***
Of course candidate Judy Eledge has her face on her signs. I'm just grateful she has her name featured so prominently. Based on that haircut, I would have guessed it to be Karen.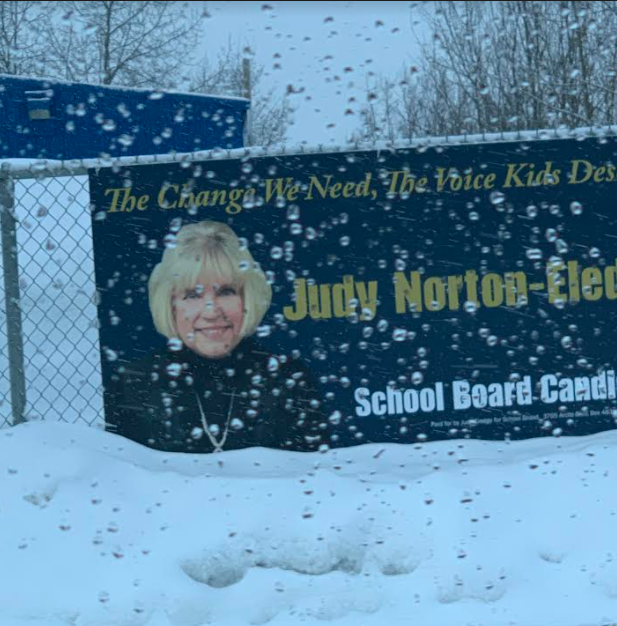 ***
Spotted at Old Seward and O'Malley. I would have loved to tell y'all who was driving, but they have a lead foot and I couldn't keep up. Slow down, Senator!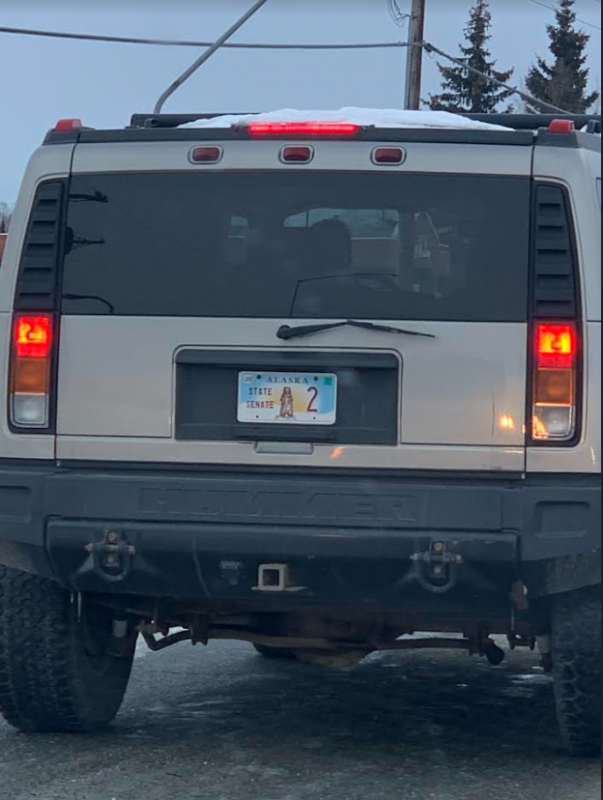 ***
Spotted on Rep. Calvin Schrage's office door. Might I suggest a slight improvement: "Thank you beary much for wearing a mask into our office."

***
Speaking of Rep. Schrage… It takes a brave representative to follow the Alaska Stalker from their official page. Thanks for reading, Calvin!

***
Spotted at Double Musky. Someone tell Kevin, STAT!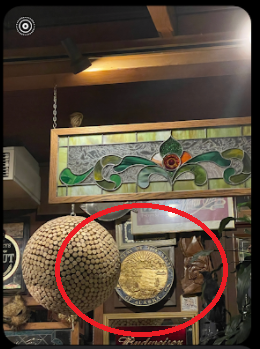 ***
Spotted in Juneau: Stalker fav, staffer Nikki Rose, walking into senator's offices unannounced, circumventing staff to talk directly with senators. There's bi-partisan opposition here, folks. 🥀
***
Overhead in Anchorage: "Is Ben Dietderich the Julia Savel of the right?"
***
Sent via the super secret Staffer/Stalker hotline: "I will be the mistress of the legislature, but only Bae Foster or Bae Hopkins."
***
Overheard on Alaska Airlines from Anchorage to Juneau:
"Jeff Landfield's voice carries through my headphones."
Same flight:
"I can literally hear Jeff ten rows up."
***
Overheard in Juneau: "I haven't seen Brian Appleberry in months! So good to see him testifying in Senate State Affairs today."
Whoops! They actually meant Josh Applebee, COS to Lt. Governor Meyer. Appleberry, I mean Applebee was testifying on SB39, Sen. Shower's bill.
***
Overheard at an ice rink in Anchorage:
Political hockey mom: "So, who are you voting for for mayor?"
Non-political hockey mom: "There's an election? I don't know. Who are you voting for?"
Political hockey mom: "Bill Evans. He's the only one that has a chance to beat Forrest Dunbar, you know the guy who cancelled our kid's hockey."
Non-political hockey mom: "Bill Evans? Oh I think he's my State Farm agent now. I'll vote for him."
Political hockey mom: "Great! 😬🤦‍♀️"
***
The Alaska Stalker was born and raised in Alaska. She lives bear free in South Anchorage with her husband, daughter, son, newborn, and Covid-19 antibodies. She is not Jeff Landfield.