Welcome to this edition of the Alaska Stalker, a lighthearted round up of the best and worst of Alaska's social media landscape.
***
If you enjoy the Alaska Stalker, please consider supporting working moms like me by sending in hot tips, screencaps, overheards, and spotted ins. You can reach me at akstalker@alaskalandmine.com. As always, thanks for reading.
***
Whoever made the filing deadline for the congressional special election on the same day as April Fools is my official nominee for this week's Loose Unit in the Sunday Minefield. WTF. As you all know, former Senator Mark Begich took the opportunity and ran with it. When I first heard him teasing his "big announcement" on the Dan Fagan show I figured it was a goof. Loved listening to Dan squirm on air! But this tweet from Leslie Ridle, Begich bestie and strong
opponent

of ranked choice voting, sealed the deal for me. Had to be FAKE.
***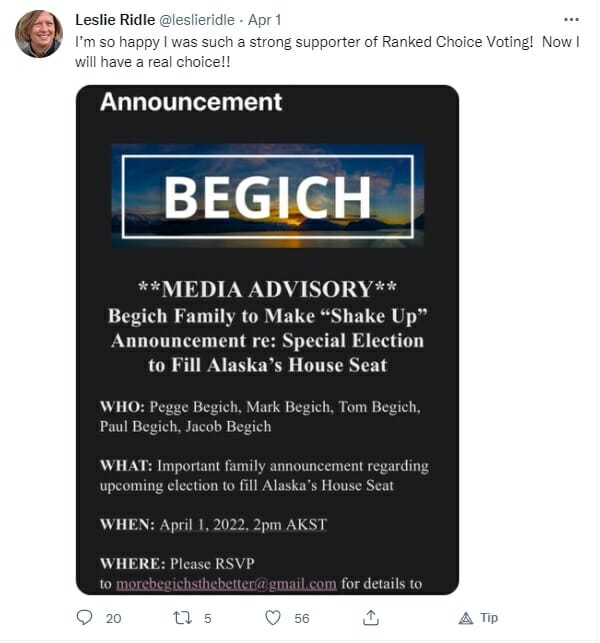 ***
So, I decided to follow the directions and email morebegichsthebetter@gmail.com. They emailed me back right away! Happy April Fools! Little did we know what the rest of the day had in store for us…

***
As it got closer to yesterday's 5pm filing deadline we were all Sen. Jesse Kiehl. There was nail-biting drama until the very end. 🍿🍿🍿

***
Former Governor Sarah Palin kept everyone guessing. Luckily I follow her boyfriend, ex-NHL star Ron Duguay, on Instagram. He gave me a bit of a heads up in his stories.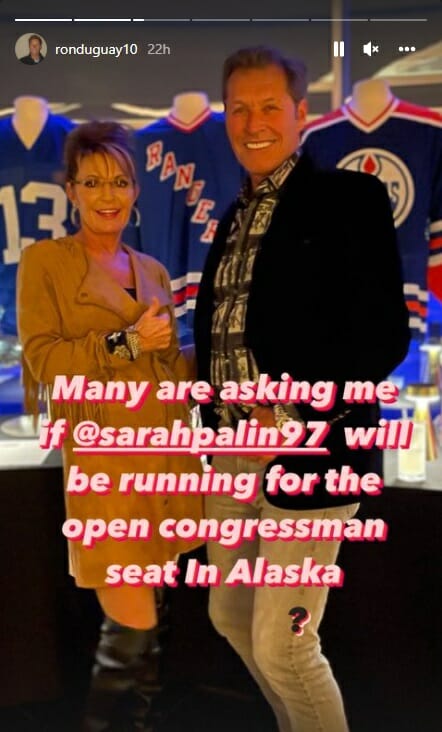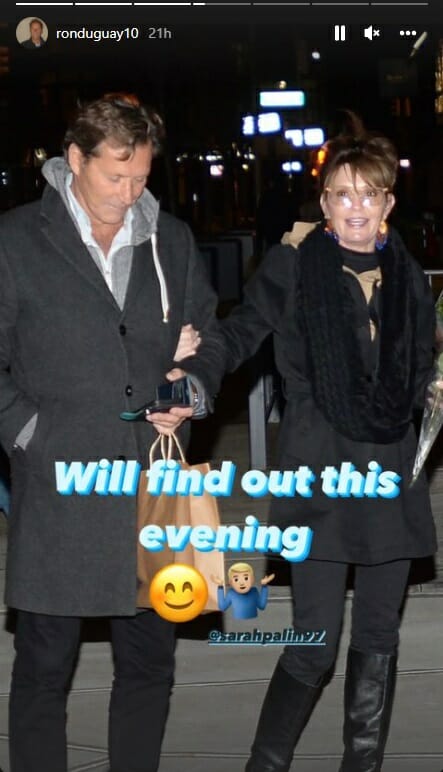 ***
Ron's Instagram is a true gift!

***
I can't even. How is this NOT an April Fools.

***
The attacks have already started. Can't wait to see what Andrew Halcro has to say about Palin entering the race.

***
Guess his ad for his podcast campaign website will have to do for now. I gotta give it to him – the man has style. 💁‍♂️

***
Since I don't want to be put on the naughty list, I'll just put this here. 🎅

***
On top of the rollercoaster of a congressional race, the Anchorage municipal election is in full swing. Over $1.2 million has poured into four Assembly races. Have you voted yet? Rep. Harriet Drummond received her mail in ballot in Juneau. ✉️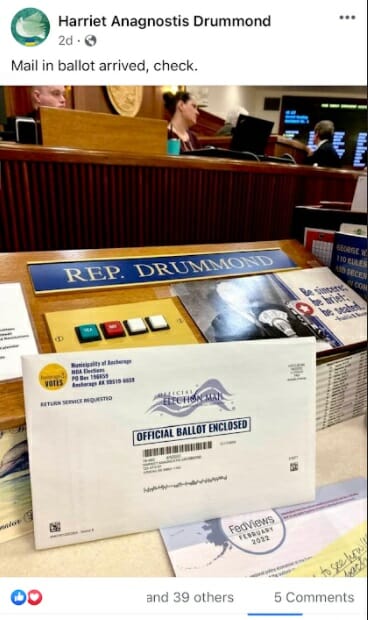 ***
Rep. Ivy Spohnholz went with the temporary profile pic reminder. 🗳️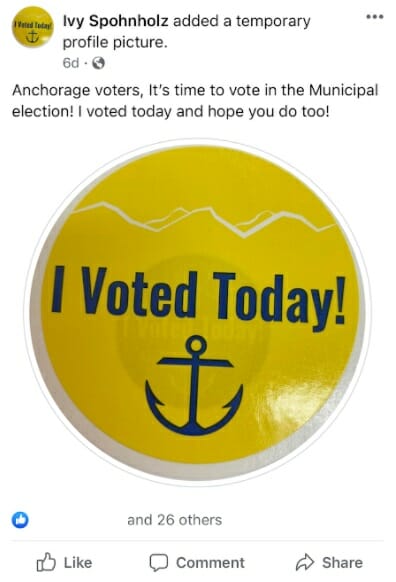 ***
Anchorage Mayor Dave Bronson chose to vote in person, natch.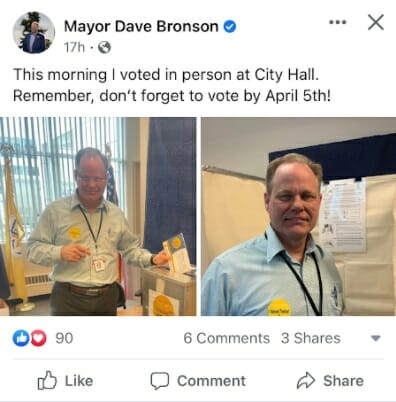 ***
In a since deleted post, Assembly member Jamie Allard offered to collect ballots for those stranded in the Eagle River avalanche zone. You can bet Alaska Twitter was in full ballot harvesting meltdown mode over this.
1: It's Petersen.
2: I can 100% imagine Constant collecting someone else's ballot and dropping it in the drop box for them.

***
Here it is on video!
One ballot
Two ballot
Blue ballot
Blue ballot
***
Okay, now on to the important stuff. I feel like this election cycle has been severely lacking in adorable dog content. I'm happy that Assembly member Forrest Dunbar is working hard to change that. Even at the expense of his campaign lit.
***
OMG. I was not prepared for this. SQUEEEEEEE! 😍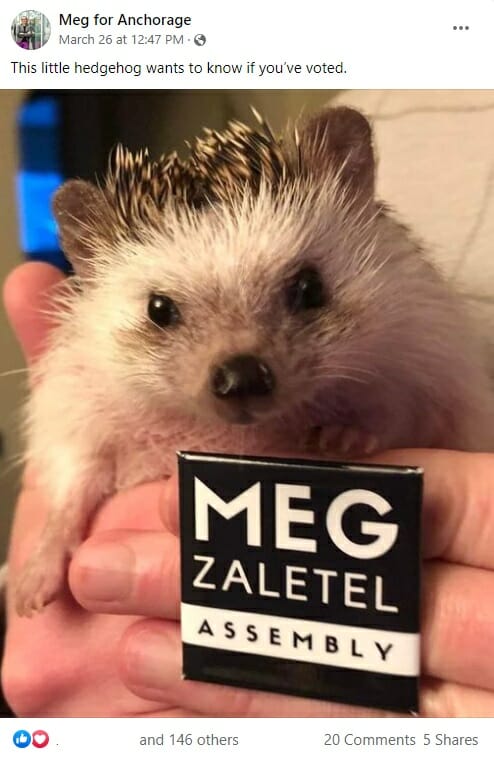 ***
This is the most Kameron Perez-Verdia statement ever. Does this guy ever actually say anything? The answer is clear alright! 😂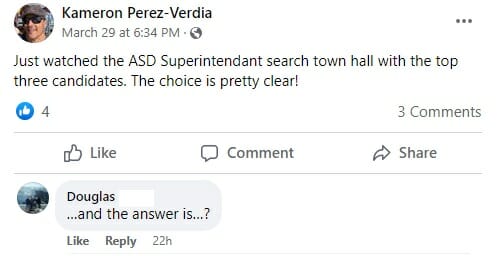 ***
Is someone stress eating?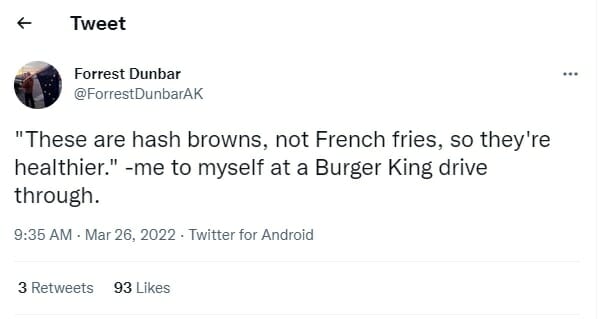 ***
That comment tho. Just a little tease as what's likely to come out of Eagle River once Assembly member Crystal Kennedy is gone. Jamie 2.0!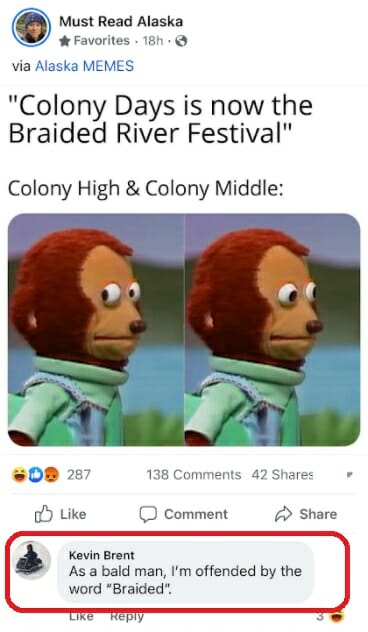 ***
I dunno. For some reason I always thought Maria Downey looked like Sen. Peter Micciche. Maybe it's the eyes. 🙃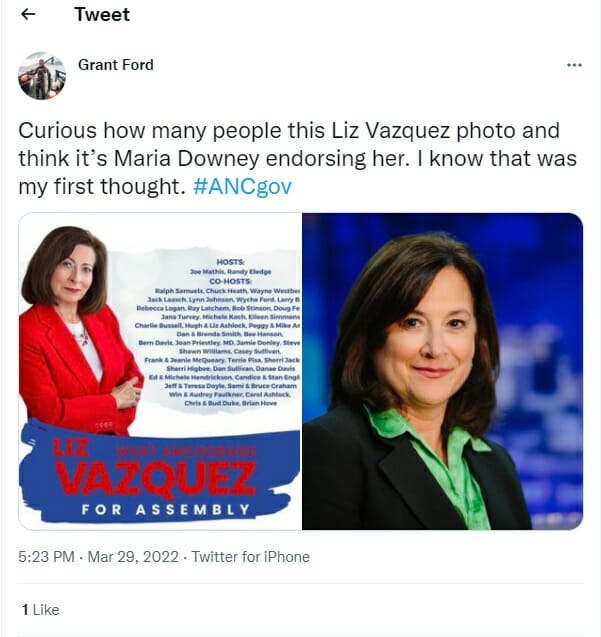 ***
I can't keep up with Sen. Peter Micciche's ever evolving last name. Last week he was Peter McCiche, part of the McCaucus. This week he's a Miccronkotak. What will next week bring? MicNotRunningForReElection?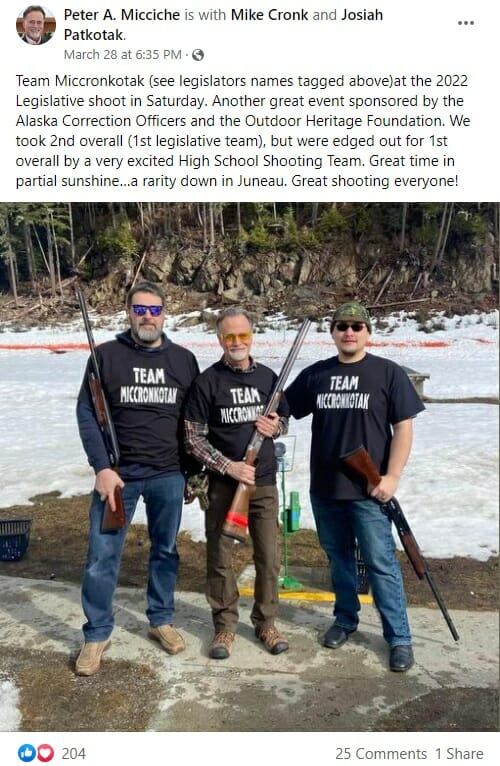 ***
Whatever Peter decides, there's always room over in the McCreepy caucus.

***
Speaking of flowers, does any legislator receive more arrangements than Sen. Lora Reinbold? Must be nice!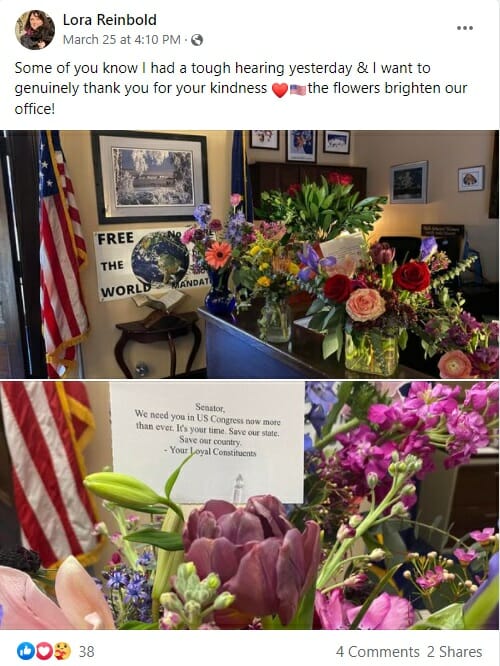 ***
While I won't be sending flowers, I do want to congratulate Lora on winning Fanatical Republican Extremist of the Day last week on the Daily Kos. What an honor.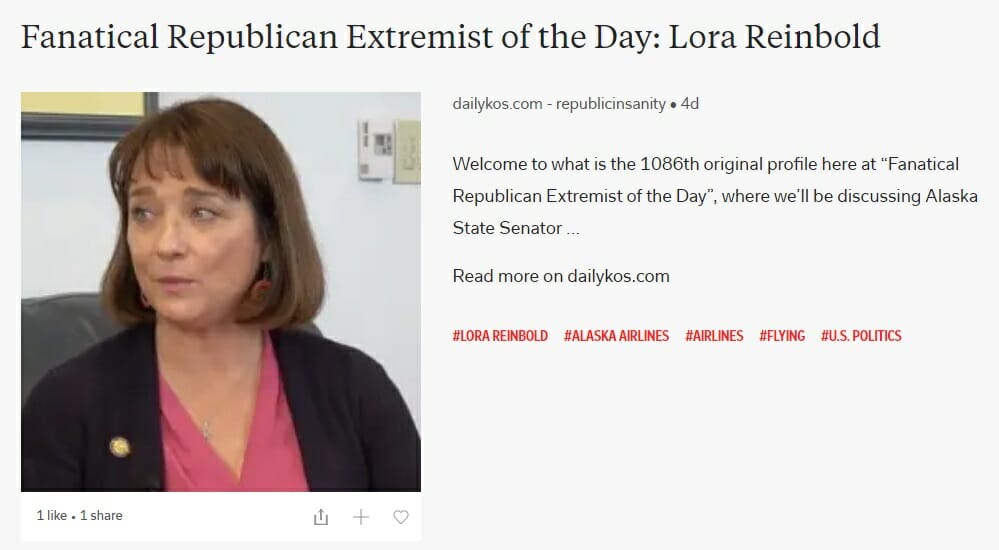 ***
Can someone please ask Fairbanks North Star Borough Assembly member what on earth he's feeding his flock? They look absolutely stuffed. 🤣🤣🤣

***
Temps are heating up in Anchorage. While yestertoday felt downright tropical, snow is forecast for next week. Those poor brrrrrrrds. I can't believe I had to make two fake bird jokes in one week. Im-peck-able timing.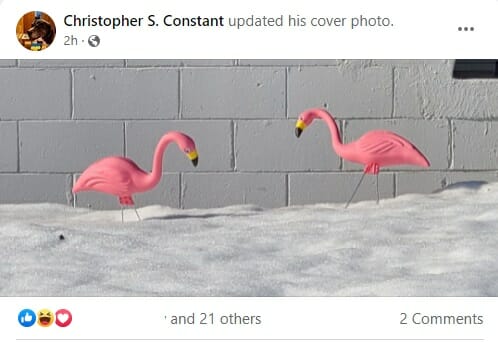 ***
Checking in on the governor's race – could Kurka be more low energy? 📉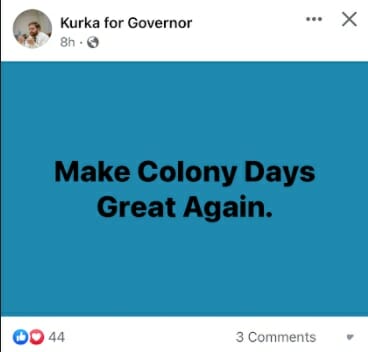 ***
Charlie Pierce isn't doing much better. At least Charlie had the decency to pick a quote with a fancy background.

***
Over on team Walker/Drygas things are getting weird. The morticians are weighing in. And, they think the question of partisan affiliation is hilarious.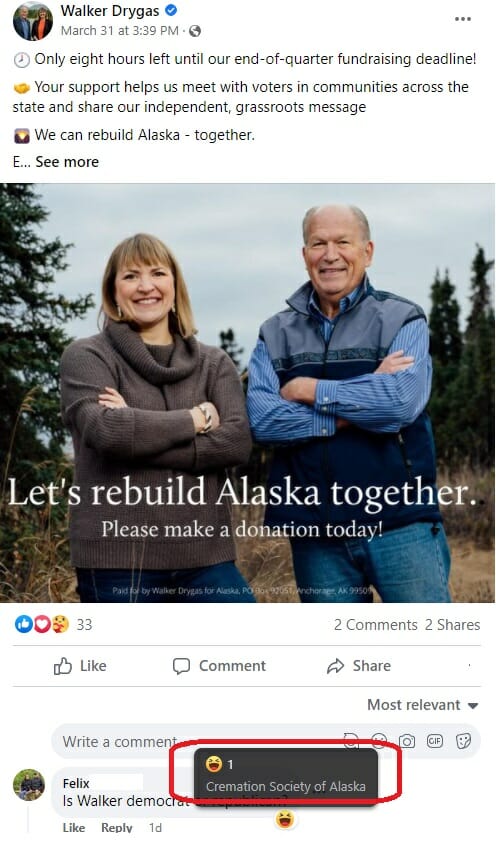 ***
In South Anchorage, Stalker favorite Jennifer "midnight☀️" Sonne had another bad week on Twitter. She posted a since deleted tweet that called out President Biden for being too Republican. Things got so heated in the comments it caused some of Jennifer's supporters to publicly reconsider their allegiance. Yikes!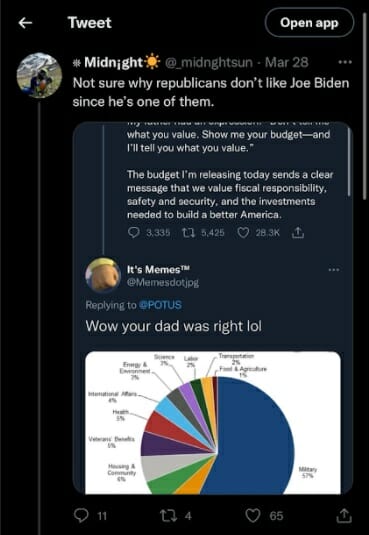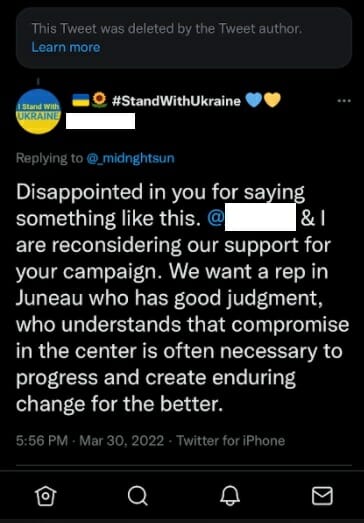 ***
Who would have guessed the Anchorage School Board would have some of the most compelling campaign mailers this cycle. First up we have candidate Rachel Ries with the mask on/mask off comparison.

***
Incumbent Kelly Lessens clapped back with an endorsement from previous opponent, conservative Marilyn Stewart.

***
I got to give it to Anchorage School Board member Margo Bellamy. Now that's true love – changing your profile picture to one that says I love… myself!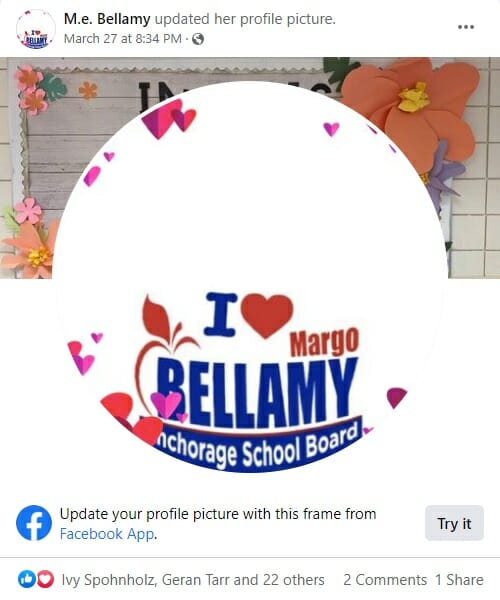 ***
Spotted in the trash at the Capitol: Foreshadowing?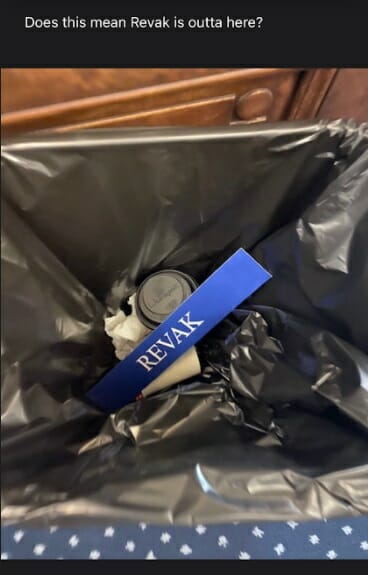 ***
Spotted on an Alaska Airlines flight from Juneau to Anchorage: Hilcorp's Lori Nelson showing Sen. Micciche how to play Wordle. Awwww. 🟩🟩🟩🟩🟩
***
Spotted out and about in downtown Juneau POST positive COVID test: Rep. Mike Prax and Rep. Ken McCarty.
***
Spotted at South Anchorage Lowes:
***
Spotted in South Anchorage: Maybe he has a shot!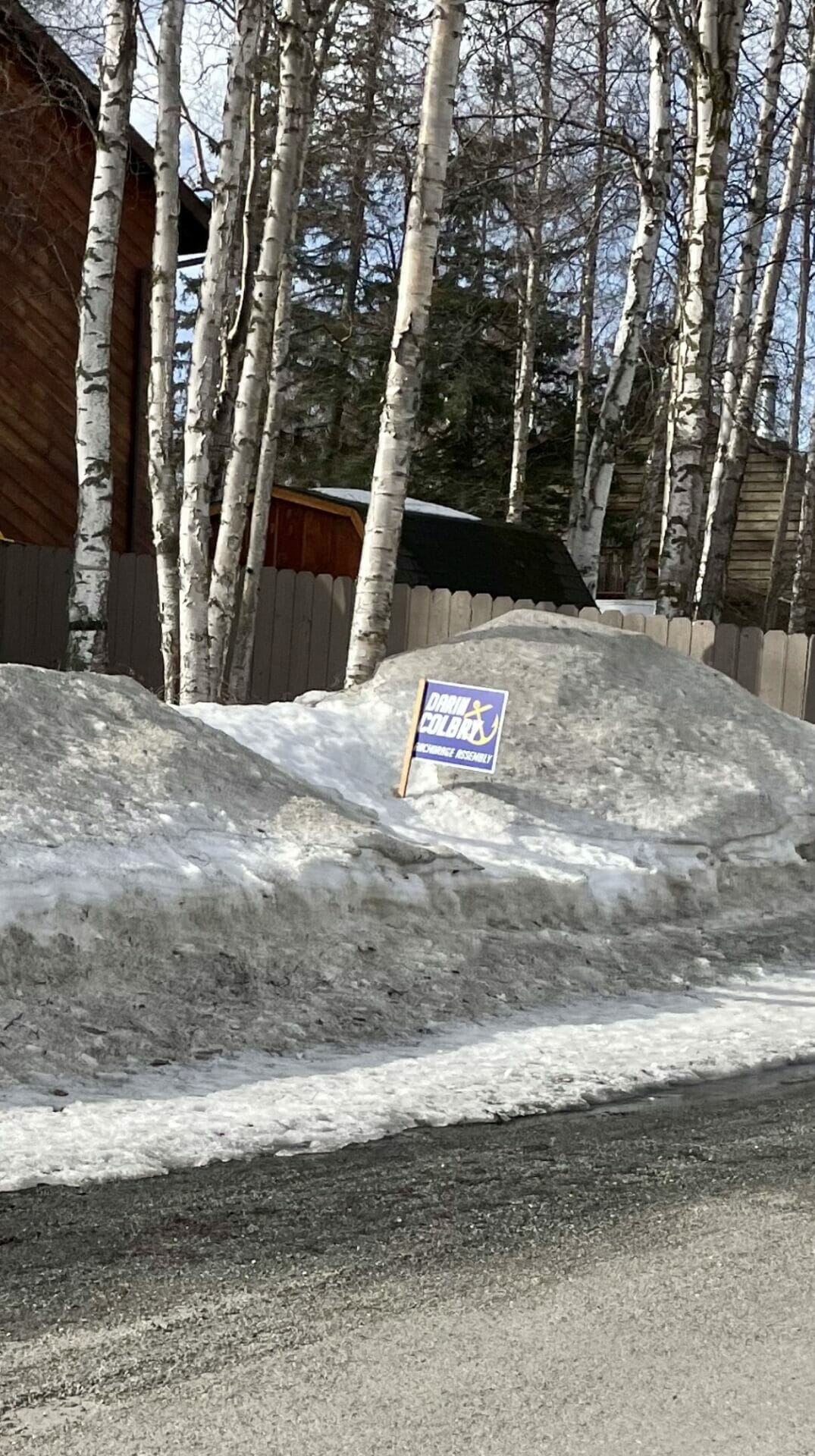 ***
Sent via Stalkermail: "It's a good thing your buddy Jeff wasn't here in Juneau during the outbreak. They 100% would have blamed the whole event on him."
***
Overheard in Juneau: gubernatorial candidate Christopher Kurka "COVID isn't an issue anymore, so people are asking what sets me apart from Dunleavy and I don't know what to tell them. It's hard to attack him because so many of our positions are the same."
***
Overheard in South Anchorage: "Cathy Giessel just hired a new guy to run her campaign messaging. His name is Roger Holland."
***
Sent via Stalkermail: I'm calling it now. Top four are Sarah, Al, St. Nick and regular Nick.
***
The Alaska Stalker was born and raised in Alaska. She lives in South Anchorage with her husband and three kids five and under. She is not Jeff Landfield.