The tourism industry felt the effects of COVID-19 shutdowns early on after cruise lines announced they would postpone trips to Alaska. 
Thousands of Alaskans lost their jobs this month, including me. Last summer I worked as a tour sales representative for Juneau Tours and planned to do so again this year. They had to reduce their staff from 95 people to five last week. 
However, we all still have rent and mortgages due April 1. I'm lucky I have a gig with the Alaska Landmine to keep me afloat. But my roommates, Chris and Kelsey Paulson, who own several tour companies in Juneau and Skagway, are currently facing a summer without a tour season and income. They've been attempting to buy the house we've been living at in West Juneau for a few months, but became wary as the news started coming out of COVID-19 and the possible disruption in the tourism industry.
"We feel like our whole world has just been upended," Kelsey Paulson said. "We have been working to buy this home only to watch that dream be torn away from us from the upheaval stemming from COVID-19." 
The House Labor and Commerce committee is hoping to provide relief for Alaskans who won't be able to pay their rent or mortgage. On Saturday, the committee, led by Rep. Ivy Sponholz (D – Anchorage), introduced HB 310, which would put a moratorium on disconnection of residential utility service, evictions due to nonpayment of rent, and foreclosures related to financial hardship from COVID-19 through April 30. 
With the ground murky until this bill passes, for some landlords and tenants, wading this situation is a matter of decency rather than legality. And still there are other issues, such as landlords and realtors looking to sell properties and do showings when tenants, who have no say in the process, are trying to stay at home and self-quarantine.
Jon Mick is renting a house in Midtown Anchorage that the owner recently listed for sale. 
"We worked with the realtor (Joe Logan) to schedule two showings so far, obviously the world is a different place today than it was even last week, and the owner had been upfront with us to let him know if we had any concerns with the process," Mick said. 
But last Tuesday, after another request was received to show the house, Mick asked the realtor if there was a plan to go to virtual showings. Subsequently the realtor called off in-person showings for the time being. 
"It's an unfortunate circumstance for all of us, but the owner and realtor have been understanding," Mick said last Wednesday. "It could be worse. I don't think I'd be walking into showings of stranger's homes this week, but that's just me."
However my roommates and I, who are in the same situation, have not been so lucky.
"We have over 25 employees that we just had to lay off for the whole summer, I have no income, and we have no end in sight," Chris Paulson said. "This isn't a two week mandate for us. This could be the entire summer. And in the midst of all this we're being ousted from our home. We're being told to go for a bike ride in the rain so they can have people come in to see the house or do inspections." 
The anticipated closing date for the Paulsons to secure financing was March, and they had already put down $10,000 in escrow. But after it increasingly looked like any tour business this summer was going to be nonexistent, on March 15 Chris Paulson notified the current owners of the house, Scott and Kacea Bjork, that they were not going to be able to obtain financing. He then asked if they could continue renting for a few months and wait to see what the situation looked like. The next morning, Erica Simpson, a realtor from Platinum Real Estate Group in Juneau, called and said she would be by the house at 5:30 p.m. the next day to take pictures. When Simpson came to take photos, she informed the Paulsons the first showing would be the following day at 5:30 p.m.
Since our other roommate returned from a vacation in Orlando, Fla., late night Friday, March 13, he was self-quarantining himself for 14 days, as per the health alert that has since turned into a statewide mandate as of Monday, March 23. Chris Paulson asked Simpson if showings could be postponed or done virtually to respect this quarantine. 
Platinum Real Estate recently issued a protocol, which stated the measures they were doing to protect sellers and buyers, but that policy states nothing regarding the rights of the tenants who might be living in the houses being shown. The Landmine obtained the policy that was sent out to clients: 
We have closed our office and will not be doing any open houses through April 1st. This being said, as REALTORs, we are in a profession where we can work remotely and do most of our work through phones and computers.
If you're a seller this is what you can expect from us:
We will ask buyers if they've traveled out of state in the last 14 days and provide that information to you. We will ask that if buyers or their REALTOR have been experiencing symptoms that they allow us to do a FaceTime walkthrough in lieu of a live tour. We will ask that you leave your lights on and doors open for showings, so there are minimal surfaces we have to touch as your home is toured.  
The decision on how you would like to move forward as a homeowner and what you are or are not comfortable with is ultimately up to you, and I will respect that. We do understand there are conflicting feelings and opinions about this and we will respect each individual and your wishes. I will be reaching out to each of you in the next day or two to discuss this further and how you would like to proceed.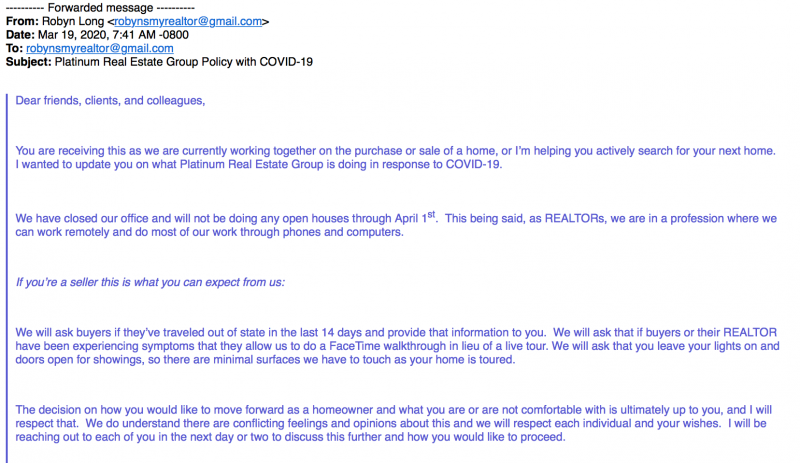 "We were not in that at all," Chris Paulson said after viewing the policy. "We asked them not to show the house, and they basically forced it upon us. We asked it out of safety for ourselves and the people coming into our home because we knew that we were at medium risk."
The Paulsons repeatedly asked the realtor and landlords for showings to halt and instead virtual showings be done out of respect for our health, but their requests were denied. 
"As far as concerns for quarantine, I know everyone is doing their best to be mindful about sharing germs right now," the Bjorks said in an email to the Paulsons. "Typically tenants are not present when a house is being shown. That's part of why we also offer 24 hours notice so that everyone can make alternative plans, and hopefully we won't encounter having more than 10 people in the house for a showing."
So showings were held on Tuesday, March 17 and Thursday, March 19. On Thursday, Chris Paulson made everyone viewing the house sign a waiver stating they had not traveled outside of the state in the last 14 days and they knew someone in the house was self-quarantining. 
By Friday the Paulsons received an email with 30 days notice to move out. Three days later, at a Juneau Assembly meeting on Monday, city officials voted to hunker down, and ordered residents to "stay at home" as much as possible, closing non-essential businesses, including realty. The same day the governor changed the health alert requiring self-quarantining procedures for people who have traveled out of state to a health mandate, punishable by fines up to $25,000 and/or a year in jail. 
"It's heartbreaking to work hard for something and then immediately watch your dream home be sold out from under you," Kelsey Paulson said. "On top of that, we have a health crisis where the Centers for Disease Control and Prevention and the World Health Organization have repeatedly stated that self-quarantining is the best way to get ahead of the curve to make sure people stay healthy and now we have no choice on who comes and goes from our home during this process."
The Alaska Supreme Court Order No. 1957, issued by Alaska Supreme Court Chief Justice Joel Bolger on Thursday, which suspends many hearings until April 3, effectively halts evictions from happening until hearings resume after that date. HB 310 would seek to extend that moratorium on evictions until April 30. But neither address protections for tenants against landlords who are conducting business as usual to sell a house.
I am fortunate enough to have connections and help to find a suitable alternative housing arrangement. As someone who is attending the governor's press conferences daily and attempting to heed the advice of top government officials to stay at home as much as possible, it's especially concerning that some landlords and realtors do not feel compelled to protect and respect the health and safety of their tenants by postponing showings or moving to virtual showings only, when the technology is certainly available.
As Alaska Chief Medical Officer Dr. Anne Zink said in a press conference on Tuesday, if we continue to think we're a special exception to this, the virus is going to continue to spread. As someone who has many friends in industries that have been shut down due to COVID-19, I am concerned that this could be happening to other people who are immunocompromised, sick or otherwise at a higher risk of infection as well as people who simply do not have the means to find other places to live after being laid off indefinitely.
"If they would have just waited a couple more weeks or a month like we asked, we could have maybe come up with an alternative method for purchasing the house," Chris Paulson said. "I just would ask our landlords, would they be so comfortable showing the house and having strangers come in here if it was their family at risk living here?"
"We've asked for empathy, and we've gotten none," Kelsey Paulson said.