There was a collective gasp on the House floor earlier this morning when Representative Gary Knopp (R – Kenai) voted against Representative Dave Talerico (R – Healy) for Speaker of the House. The vote was again 20-20. 21 votes are required to elect a Speaker.
Multiple media outlets reported yesterday that Knopp had decided to vote to break the month long deadlock in the House. Many assumed he was going to vote for Talerico. To be fair, Knopp never explicitly said he was voting for Talerico. But everyone seemed to think that's what he meant. Sometimes people hear what they want.
Headlines yesterday included:
Anchorage Daily News
Holdout Kenai lawmaker agrees to break leadership deadlock in Alaska House
KTUU
21 votes to speaker: Rep. Gary Knopp to join Republican House to form majority
KTVA
Knopp set to back a Republican state House speaker
KTOO
Update: Knopp votes against Republican Talerico for speaker as House stalemate continues (This is an update of the original story. The title of the story appeared to have changed with the update)
The Midnight Sun
After pushing House to record-long impasse, Rep. Knopp says he's signing back on with Republicans
Must Read Alaska (Alaska Republican Party and Dunleavy administration propaganda machine)
Knopp tells reporters, district leaders, he'll stick with Republicans
She actually said he was voting for Talerico! Solid gold.
I opted against doing a story because I had a feeling something like this might happen. It seemed odd that Knopp would join a 21 member majority after a month of not doing exactly that out of concern that a 21 member majority was doomed for failure. Also, legislators and staff were being suspiciously tight lipped last night and this morning. Sometimes you have to believe it when you see it.
House Republicans are not happy. Judging by their faces and reactions, they did not see this coming. When nominations were opened, Representative Louise Stutes (R – Kodiak) nominated Knopp after Representative Chuck Kopp (R – Anchorage) nominated Talerico. This seemed to confuse many in the room.
Once the 20-20 vote for Talerico took place, everyone knew it was over. Following the vote for Talerico, there was a 20-20 vote for Knopp. It was the exact opposite as the vote for Talerico. Before the vote, Representative Dan Ortiz (I – Ketchikan) urged his colleagues to vote for Knopp. He said the House needed to move past partisan politics, and as an Independent he believed Knopp was the right person.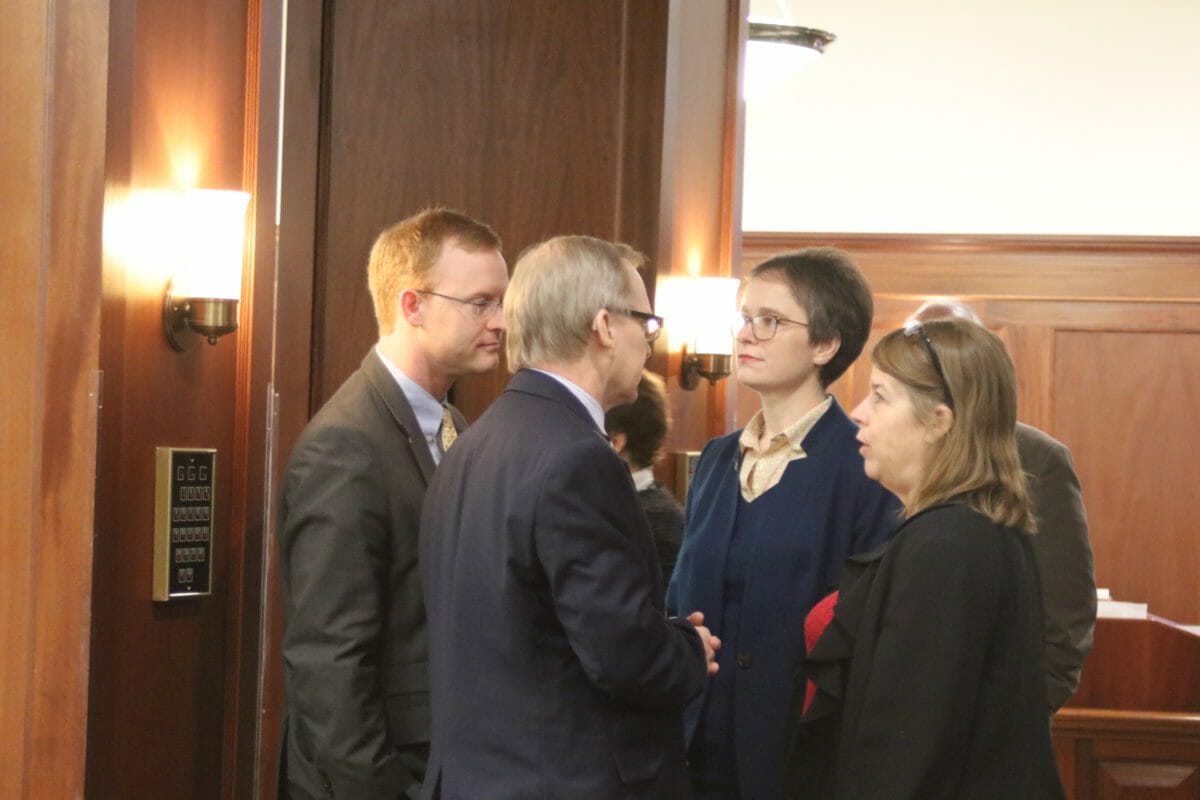 Representative Mark Neuman (R – Big Lake) rose and expressed extreme frustration with Knopp. He said Knopp led them to believe he was going to vote for Talerico. After the House adjourned, Neuman took questions from reporters in the hall. He didn't hold back on how he felt. He said all people have in this building is their word. "If you don't have your word as a man, what are you?" He also said "I'm calling bull shit on Knopp," and added, "Who wants to invest in this State with this kind of stuff going on." I think it's safe to say Gary Knopp is on the outs with House Republicans.
District 30 Republicans narrowly passed a resolution last night calling for Knopp to join the Republican majority in the House or resign. The meeting was at a coffee shop in Soldotna called the Ammo-Can. That's for real. It passed 10-9 with one abstention. The abstention was from District 30 Republican chair Neil DuPerron. Sources reported that Kristie Babcock, wife of Governor Michael J. Dunleavy's (R – Alaska) Chief of Staff Tuckerman Babcock, was Senator Peter Micciche's (R – Soldotna) proxy vote. The Babcock's are from the Peninsula. If the Babcock's were pissed at Knopp last night, they are about to go nuclear now.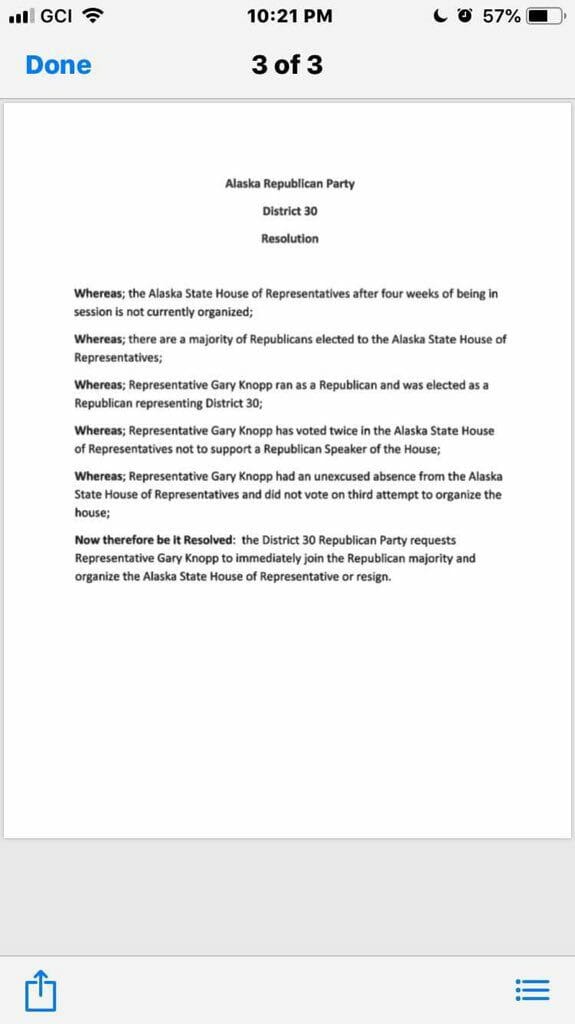 The narrow vote tally is interesting. Those meetings are normally attended by the most rabid partisan people in any given district. This is true for both parties. The fact that the resolution only passed by one vote says that there is probably not the level of frustration with Knopp in his district than there is with extreme partisans like  Tuckerman Babcock and his propagandist, Suzanne Downing.
Governor Dunleavy's budget comes out on Wednesday. If there is one thing that can kick start the House into organizing, it might just be that.
Update: There are some people talking about organizing a recall effort against Knopp. A Facebook page recently popped up, Recall Gary Knopp. Last night, Representative David Eastman (R – Wasilla) posted this comment on Facebook from his official account. Probably not the best way to try and welcome Knopp back over…