In a shocking move on Monday, Representative Zach Fields (D – Anchorage), announced he would lead several Democratic legislators, as well as Representative Sara Rasmussen (R – Anchorage), into Chugach State Park to find a place for the homeless population to live.
The growing problem of homeless encampments in Anchorage parks and public areas has become a public crisis. In response, Fields and a number of other lawmakers penned a letter to Anchorage Mayor Ethan Berkowitz and Anchorage Police Chief Justin Doll urging them to "clean up the city's parks." In the letter they wrote that "The Municipality of Anchorage has ample space for individuals to sleep outside, including thousands of square acres in Chugach State Park."
Not wanting to be all talk and no action, Fields decided to lead the legislators who signed onto his letter into the Chugach on a 40 day and 40 night pilgrimage to find a place for homeless people in Anchorage to sleep.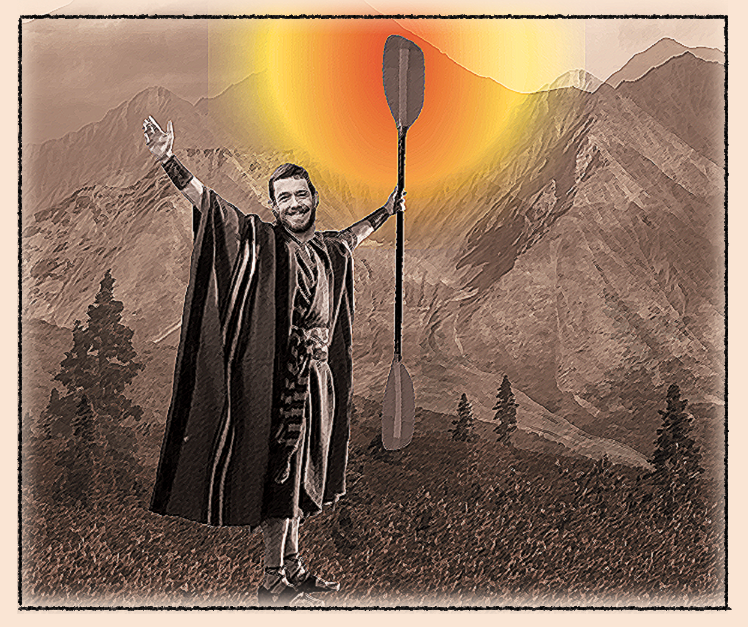 On the way out everything was fine and spirits were high. But after only eight hours, Rasmussen backed out because there was no place for her to find a latte. She was later quoted as saying "I'm all for roughing it, but instant coffee borders on a human rights violation."
Despite Rasmussen's departure, Fields and his fellow Democrats continued onward into the remote heart of Chugach State Park, surviving on a sparse diet of nutritious roots and small mammals. Fields, an avid outdoorsman, explained that he learned everything he knows from former Representative Les Gara. In fact, Fields brought a pillow from Gara's bed so he could, "Feel that Les wasn't far away."
After a couple days, however, hostilities started to grow among the beleaguered campers.
Fields assigned jobs for everybody within the camp. However, Senator Bill Wielechowski (D – Anchorage) attempted to organize a "camp workers union" and demanded a limit on mandatory foraging hours. This divide between labor and management led to a work stoppage, and campers refused to haul off the honey buckets. Eventually, after he could no longer handle the stench, Representative Chris Tuck (D – Anchorage) unilaterally removed the buckets, prompting Representatives Matt Claman (D – Anchorage) and Harriet Drummond (D – Anchorage) to scream "Scab!" and "Union buster!" at Tuck.
Fearing an imminent coup, Fields and Tuck fled to Fire Island to continue the search for the homeless promised land. "Let them try to get out here. I guarantee none of them know how to packraft like I do," Fields said. Reports suggest that Fields and Tuck are enjoying the island and are fascinated by the stationary windmills.
As day 25 approached, the remaining campers started to abandon the cause. "It's just really hard living out here. We've fended off over thirteen grizzlies and I'm missing out on yoga in the park," said Senator Tom Begich (D – Anchorage). Senator Elvi Gray-Jackson (D – Anchorage) was overheard saying, "Two or three days is one thing, but twenty-five? Y'all white folk are crazy. I'm outta here!"
As the rest of the representatives and senators headed back to Anchorage, Fields and Tuck continued to evade capture by the authorities on Fire Island for illegal camping. Fields was last seen on the beach, screaming, "If you want us come and get us, mother fuckers!" before fleeing back into the woods clad in a crude loin-cloth and waving a conch.