Paul Oliva, a former Alaska resident who now resides in Kentucky, recently played an elaborate con on the Landmine. On Saturday, Oliva sent the Landmine screen shots of identical tweets allegedly posted both by the Blue Alaskan and Chris Constant. Oliva claimed that the tweets proved that Christopher Constant is the person behind the Blue Alaskan media operation. I reported on this in my weekly column yesterday.
In fact, Oliva had fabricated the tweets, even going as far as to create fraudulent Twitter API logs as evidence. As it turned out, the Blue Alaskan tweet was real but the Constant tweet and API logs had been fabricated by Oliva. After, he posted this YouTube video detailing the prank.
When I learned what Paul Oliva had done, I posted a retraction in the column. But this whole situation gives an opportunity for a broader discussion.
I've known Paul Oliva for over six years. He was very involved in politics when he lived in Alaska, and volunteered for the Bernie Sanders campaign in 2016. Despite some warning signs, I thought we had a good relationship and I trusted him. Of course, I was wrong to do so. And as it turns out, I'm not the first person whose trust Oliva has betrayed.
After I did a live stream about Oliva's fabricated tweets, I was contacted by Nathaniel Markowitz. Markowitz told me that in 2017 Oliva volunteered to help develop a platform for the Alaska Democratic Party to help with donor research. Markowitz was the Party's finance director at the the time. The work involved getting access to the Party's proprietary voter file. Shortly after, Oliva tried to sell the proprietary file. Markowitz said the Democratic Party immediately cut ties with Oliva. Markowitz told the Landmine, "The tool he was developing was very useful. He could have helped Democrats and progressives in Alaska. Instead, he betrayed our trust to try and make a buck." He added, "And just to be clear, I'm agnostic about the whole Blue Alaskan thing. I just think Paul Oliva is totally untrustworthy and people should know to steer clear of him."
Jay Parmley, who was executive director of the Alaska Democratic Party at the time, immediately recalled the situation. "He violated our agreement and we had to send him a cease-and-desist letter. I was very disappointed in his actions," Parmely told the Landmine.
This wasn't the first issue I've had with Oliva, either. In 2015, he made a bizarre meme about me and Lesil McGuire that was posted on the Alaska Young Democrats Facebook page. I don't recall what the meme was exactly, but this is a message he sent me about it:
I accepted his apology at the time. In retrospect, I should have treated Oliva's actions as a red flag.
Oliva and I kept in touch when I was living in Australia in 2017. He was interested in getting the same kind of work visa I had and asked for my help, which I was happy to offer. During that time, he also asked me to help him on a web project. I later learned it was about some next level political trolling, which raised the eye of the Alaska Public Offices Commission (APOC). He even asked for my help with his APOC issue.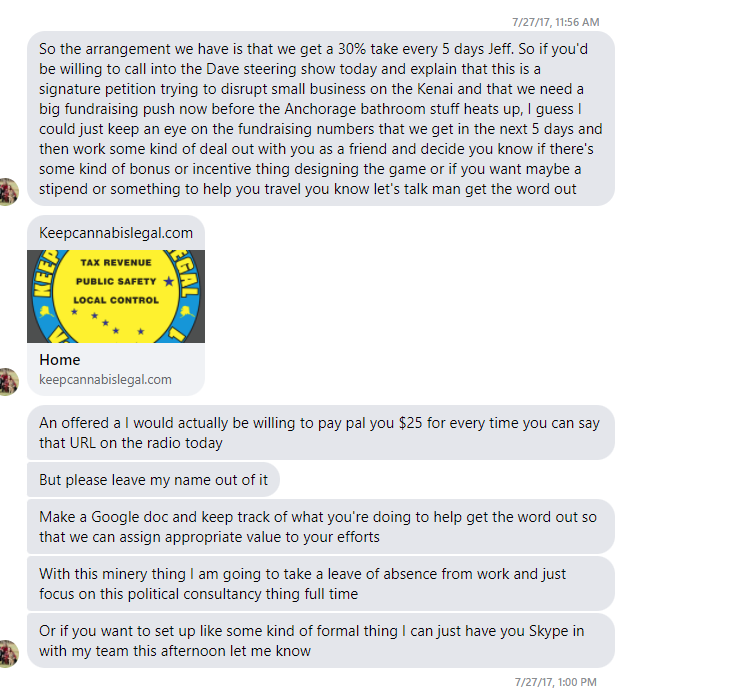 Soon after all of this, Oliva started sending me extremely bizarre messages. He later told me he had some kind of breakdown in Hawaii and was arrested for trespassing but was getting help. I told him I was glad to hear he was doing better. When I got back from Australia and started the Landmine, Oliva offered to help with website work. I was grateful to have a talented web developer offer to help. Oliva seemed to be getting himself sorted out.
So when Paul Oliva contacted me on Saturday with the Blue Alaskan/Constant tweets, I generally trusted him and thought that he was trying to help me out after I had been friendly to and supportive of him. I was still skeptical of course; people send me things all the time, and often the information is misleading or incomplete. Information from someone I know and trust is obviously treated differently that someone I don't know at all. But like the famous Russian saying goes, "Trust but verify."
Here is his initial message.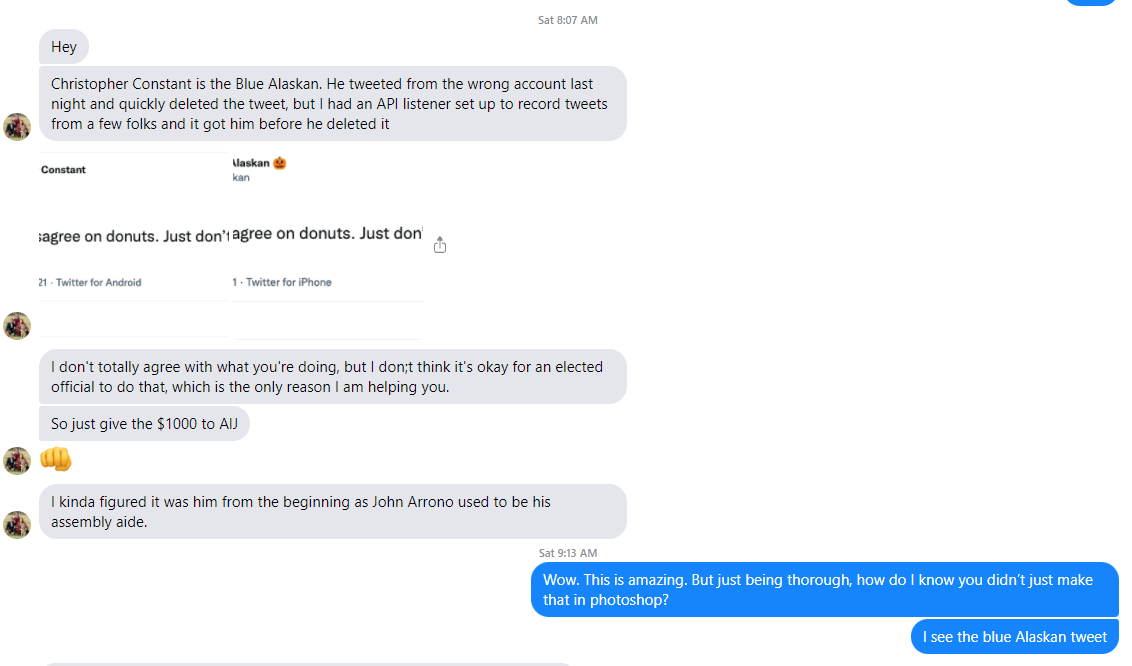 We all make mistakes. As a journalist, you don't know everything about the subjects you report on. You can't. When reporting a story you almost always have to trust someone or take their word for the information they are giving you. I have been doing this for four years and pride myself on rarely making mistakes. In this case, someone I trusted went to great lengths to create fraudulent information. This is on me and I own that.
In a way, I hope this helps cement my point about why I think the Blue Alaskan should identify him or herself. I am the publisher of the Landmine, and you can hold me accountable for my mistakes. Could you say the same about the Blue Alaskan? That is the difference and that is the problem.
As for Paul Oliva, he has cemented his reputation in Alaska as a troll and a deeply untrustworthy and dishonest person. Any political or media organization would be insane to trust someone who creates fraudulent information–and who steals and attempts to sell intellectual property from clients. It goes without saying that my friendship with Paul is over and this incident will serve as a warning for anyone else who considers having a personal relationship with this person.
Oliva initially tried to get me to donate the $1,000 prize to the Alaska Institute for Justice. I told him the information he sent me did not definitively prove anything but I would donate $250 to the Alaska Institute for Justice, which I did before publishing this article.