Nearly a year after being threatened with deportation by the United States Citizenship and Immigration Services (USCIS), Bethel resident Rebecca Trimble is still in immigration limbo. Trimble, a mother of two, is the wife of an Army dentist who is currently working at a dental clinic in Bethel. On March 3, 2020 the Landmine published a story, Government orders deportation of Bethel military wife and mother, about her situation. The story was shared on social media tens of thousands of times.
Trimble was adopted from Mexico as a baby by an American couple and brought to the United States in 1989. In 2012, when attempting to get a REAL ID in Washington state, she was informed by the government that she was not a United States citizen because her adoption had not been legal. She and her husband have been fighting to fix the situation since.
Senators Lisa Murkowski (R – Alaska) and Dan Sullivan (R – Alaska) introduced a private bill in the U.S. Senate on March 12, 2020 to make Trimble a Permanent Resident. The bill never got a hearing. On July 7, 2020 the New York Times published a story about Trimble, A Woman Without a Country: Adopted at Birth and Deportable at 30. On July 27, Congressman Don Young (R – Alaska) introduced a private bill for Trimble in the House similar to the bill introduced by Murkowski and Sullivan. That bill also failed to receive a hearing. But Young and his office continued to work diligently on the issue. Trimble said she and her husband had a video meeting and phone call with Young, and has been in communication with his staff. Trimble said she has not heard from Murkowski or Sullivan since March.
Young was able to get language in the National Defense Authorization Act (NDAA) earlier this month that would have prevented the government from deporting spouses of military members without approval from Congress. This was a notable accomplishment, as Young is a member of the Republican Minority. But the Senate version of the NDAA did not contain that language. The language was stripped out in the conference committee.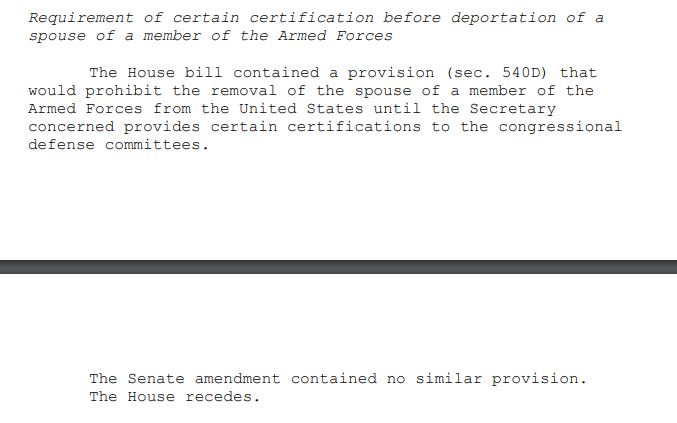 Margaret Stock, an Anchorage immigration attorney who represents Trimble, made the following statement about the situation: "Senators Murkowski and Sullivan made a 'token' attempt to help Rebecca but not any serious effort, unfortunately. They introduced a bill but didn't try to get it passed. They also did not stop the Senate conferees from stripping Don Young's amendment to the NDAA. They were not willing to do the hard work necessary to help this Alaska family. Congressman Young and his staff, however, worked hard to try and help Rebecca. Don Young's office has also said that they will try again to get his bill introduced and passed in the next Congress. He will need the rest of Alaska's Congressional delegation to help him do that."
Trimble and her husband John said they are disappointed the issue has not been solved, but are hopeful for a solution next year. They are thankful for the attention to the story and for all the support they have received. Stock, and the Trimbles, were hoping for a legislative solution in order to avoid a lawsuit. The Trimbles started a GoFundMe in July to raise money for their legal fees. They were able to raise $24,500. A lawsuit would likely cost more than that. John and Rebecca have already spent thousands of dollars trying to resolve the situation.
The next Congress could take up the matter, or the incoming Biden administration could change federal immigration policy. But for now Trimble is still in immigration limbo.