In a series of documents obtained by the Landmine, Angela Rodell told the Legislative Budget and Audit Committee (LB&A) she believes her recent removal as Permanent Fund CEO was for "political retribution for successfully carrying the Board's mandate to protect the Fund and advocate against any additional draws over the POMV spending rule in front of the 30th, 31st and 32nd Alaska State Legislatures which is contrary to Governor Dunleavy's agenda. It is this direct conflict of agendas that contradicts the statement made by Chair Richards to the Senate and House Rules on December 15, 2021 that 'politics had no part in the [Board's] decision."
Rodell was unexpectedly terminated as CEO by the Board of Trustees on December 9, 2021. The unexplained move surprised many legislators and political observers.  After, Governor Mike Dunleavy (R – Alaska) claimed he had no prior knowledge of the decision even though two of his commissioners, Revenue Commissioner Lucinda Mahoney and Natural Resources Commissioner Corri Feige, make up a third of the six-member board. Mahoney has served as vice-chair since September 2021.
Rodell has said little publicly about her termination.
On December 27, 2021, Senator Natasha von Imhof (R – Anchorage), who chairs LB&A, sent a lengthy letter to Board Chair Craig Richards asking for an explanation as to why Rodell was terminated.
You can see Rodell's January 10, 2022 letter to LB&A Committee here.
Another document includes a series of emails between Mahoney and Rodell in the days leading up to her termination. The emails were about a survey of staff and board members conducted for Rodell's performance review. Rodell provided a chronology of events in her letter. Rodell says there was no discussion prior, during or after about her performance.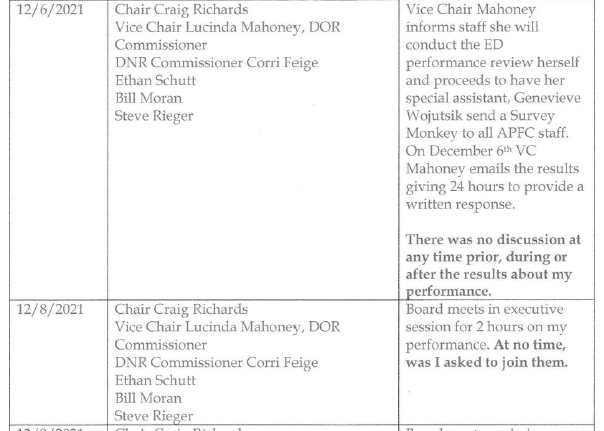 Another document, marked confidential, is Rodell's performance evaluation based on the survey. The summary includes a mix of positive and negative reviews. You can see the full review here.

Rodell responded to the review on December 7, 2021. She was terminated by the board two days later.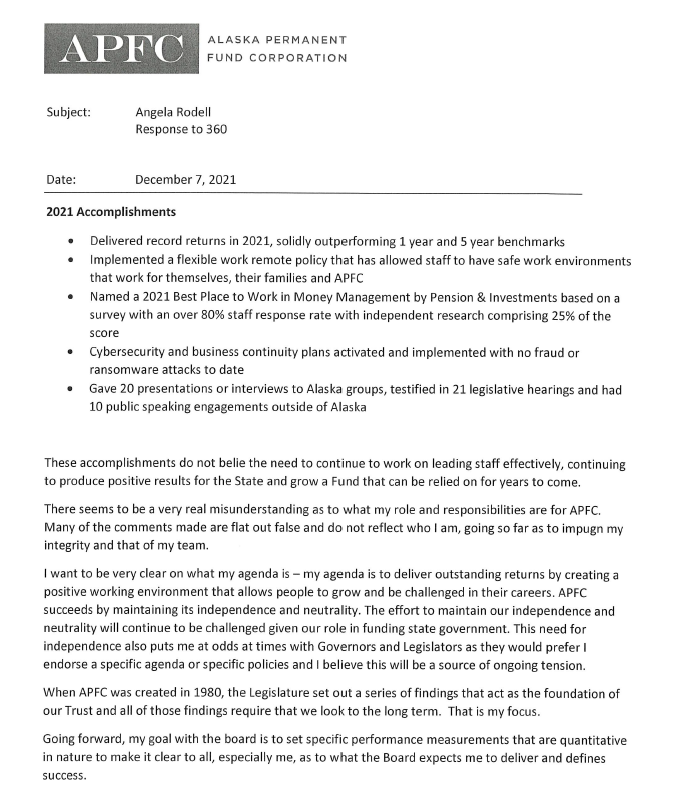 In the performance review, many comments from board members were critical. But in December 2020, one year prior to her termination, the board voted 5-0 at their annual meeting to give Rodell a significant salary raise. The unanimous vote approved a salary of $389,000. Note that Richards, Mahoney, Feige, Schutt, and Rieger – all of whom are still board members – voted for the raise. Her salary before this motion, set at a 2017 board meeting, was $325,000.
Look for this to be a major topic of the upcoming legislative session.