Representative Tom McKay (R – Anchorage) and Republican Julie Coulombe may end up being victims of ranked choice voting. McKay and Coulombe are both in second place in three way races. But neither of their main opponents have a majority of the vote, meaning the races will be decided using ranked choice voting. In both races the person in third place is a Republican, which under ranked choice voting should help McKay and Coulombe. However, the dynamics of both races show that is not likely to happen.
McKay is currently down by five points to Democrat Denny Wells, 45.06% to 39.94%. Republican David Eibeck has 14.58%. Eibeck reported only raising $350 the entire election cycle. This suggests the people who voted for Eibeck were not voting for him, but rather against McKay and Wells. To win, McKay will need a lot of the Eibeck voters to rank him second. If a majority of them bullet voted, McKay will lose. At least 1,114 votes remain to be counted in this race (758 absentee and 356 early). Wells is currently winning absentee votes (57.2%) and early votes (47.45%), so his lead should increase when the Division of Elections updates the vote count today.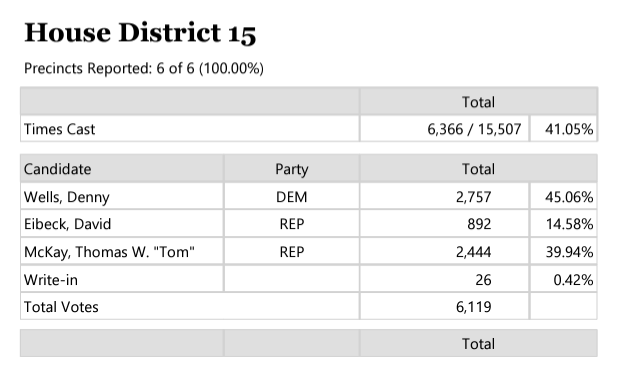 Julie Coulombe is in better shape than McKay, but not by much. She is currently down by four points to Independent Walter Featherly, 43.86% to 39.74%. Republican Ross Bieling has 15.98%. Like Eibeck, Bieling did not raise much money. He reported raising less than $2,000, and a of that was non-monetary in the form of old campaign signs.
Bieling has run for the House several times, so he has some name ID in the district. But like in District 15, the Bieling voters were probably not voting for him as much as against Coulombe and Featherly. While McKay has the benefit of incumbency, this is an open seat. If a majority of Bieling voters bullet voted, Featherly will win. At least 1,279 votes remain to be counted in this race (895 absentee and 384 early). Featherly is currently winning absentee votes (57.31%) and early votes (51.04%), so his lead should also increase when the Division of Elections updates the vote count today.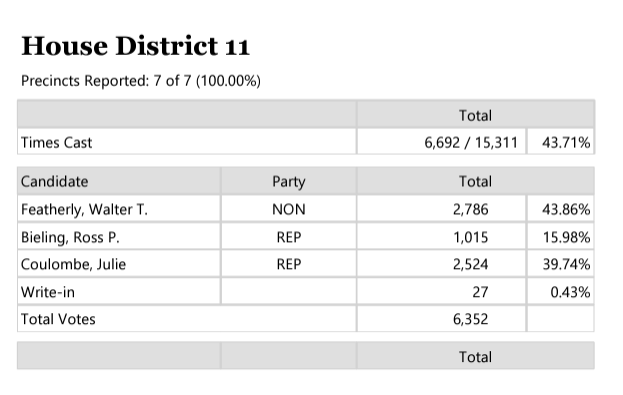 In the August special House election to replace the late Don Young, 20% of the people who voted for Nick Begich did not rank a second choice, and almost 30% of them voted for Democrat Mary Peltola. That was a high profile race, where these two State House races were at the bottom of the ballot. Ballot exhaustion normally increases down ballot. Granted, many Republicans embraced the "rank the red" strategy, but the first round of the results for the U.S. House race show nearly similar results to the August special election. The likelihood is most of the people who voted for Eibeck and Bieling bullet voted. And for the ones who did mark a second choice, some percentage of them ranked Wells and Featherly second. Both McKay and Coulombe will need miracles to win.
If Wells and Featherly prevail, the likelihood of another coalition in the House will dramatically increase. If they both win, and Representative Neal Foster (D – Nome) – who is in a tight race – holds on, coalition members number 20. This does not include Representative Josiah Patkotak (I – Utqiagvik), a key swing vote. He would make 21. If Democrat Donna Mears comes from behind and beats Republican Forrest Wolfe, who is ahead by 135 votes, a House coalition is all but guaranteed.
We will have a better idea of where things stand this afternoon when the vote totals are updated. The retabulation of votes in races where a candidate does not have 50% plus 1 will take place on November 23 at 4 pm.