Yesterday began like any normal day for me in Juneau. However, it ended very strangely. I was following some committee hearings and had just finished up a podcast when I got a message from the producer of the Mike Porcaro show asking if I could call in to talk about something I had written about Mike in my Sunday column. This is what I wrote: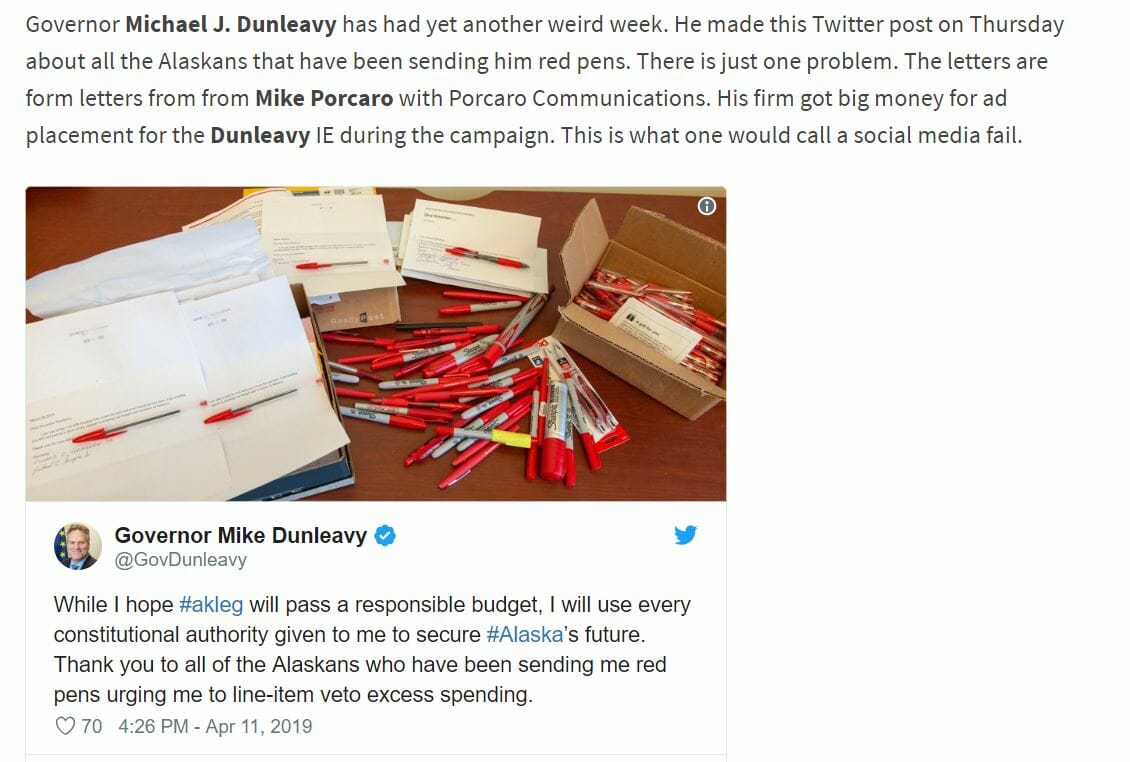 Let's just say Mikey was not happy I mentioned his company, Porcaro Communications. Why would Mikey's company be relevant to this? Check out the money Mikey's company took from the Dunleavy independent expenditure group, Dunleavy for Alaska, for media buys and radio production during last year's election.

I never wrote that his company's name was on the letterhead, just that he's with Porcaro Communications and took a bunch of money from Dunleavy for Alaska last year. Which is relevant now that he is promoting this "red pen" campaign. When I called in, he was real pissed I brought his company into it. All one has to do is read the letterhead to see that is says Mike Porcaro, and not Porcaro Communications. I never said it said the letter said Porcaro Communications.
Mikey also said he was unaware of all of this until he read my Sunday column. Which is funny because this was all over social media in the three days prior to Sunday. I was late to the party. Check out what Will Muldoon posted on April 11, the same day the Governor made his bizarre Twitter post:
The grift is already set….and sadly this is probably it.

1: letters are all the same body.
2: some genius forget to remove Mike Porcaro's bundling of these form letters and pens.
3: Porcaro took >$100k from the Dunleavy campaign/IE…for media production/placement. pic.twitter.com/uuwhuYdxmu

— will muldoon (@WillMuldoon) April 12, 2019
Mikey, and his producer Crash, then got real activated. They said it was an idea they came up with on the radio and has nothing to do with his company. I again pointed out all the money his company made supporting Dunleavy during the campaign and how I thought that relevant to the "red pen" campaign. Why the hell is his name even on the letters? I have a feeling it has something to do with self promotion. Maybe Mikey and Crash should take a class on social media. They could invite the Governor's communications team and maybe get a discount!
Mikey then got real upset and said, "I'm going to tell you this as a friend. What you just did was very sleazy." (I had no idea we were friends. I don't think I have ever even met him. I have called his show many times). I responded, "That says a lot, Mike, coming from you." Mikey didn't like that. Let's not forget last year when Porcaro was ALL for the Chugach/ML&P merger, until his company didn't get the marketing contract for the deal, and then he was ALL against the Chugach/ML&P merger. Cool.
Mikey then expressed how mad he was that I did not call him before I posted what I wrote. I told him I don't see the need to call people for something I can see with my eyes and that is basically meaningless. I call people for things that are important or require verification. Mikey must think he is a really big deal. I wonder if he calls everyone he talks about on the radio before he talks about them?
You can listen to the whole thing here. Start at 45:28.
The funny thing is this topic was being discussed again today. I got a text from someone about it so I turned it on. Will Muldoon called in to talk about what he wrote on Twitter about the "red pen" campaign. Then there were more callers who had some real interesting stuff to say. More on that below. I decided to call back to correct some of the things that had been said. Now get this. Crash told me they were moving on and unless I had something to add, or wanted to issue an apology, I would not be allowed on the air. So much for calling Mikey! You can't make this shit up.
Some of Mikey's fans are some real characters. Yesterday, a caller named Jeremy, who sounded like he had a few drinks, went on a real nice rant. He said I block people from the Landmine Facebook page if they disagree with me. Not true. I have blocked a handful of trools like Jeremy. Jeremy's use of language makes me sound like a priest and he routinely made threatening posts about others. Jeremy also said I was jealous of Suzanne Downing! Mike responded, "Suzanne's got the credentials to do what she's doing, and she's doing it very well." Neat.
One guy called me Jeff Lowenfeld and said I need to take off my poopy diaper.
Today, a guy called and said he was going to give me a black eye if he sees me. He then added that he had a few drinks, to which Mike laughed and said that was fine. After a lot of rambling, and threatening physical violence against Speaker Bryce Edgmon, he told Mike he was going to Jap Slap me! Mike thought that was hilarious.
I love how Mikey's listeners know me so well and read the Landmine!
Another caller today, unrelated to this, said he has an idea for legislators. He said we should knock them out after the election, let them up just enough before the election, and then knock them out again after the election! He seemed nice.
Truth be told, I had totally forgotten about this after I wrote it. It's as important to me as what I had for dinner last Friday. But now that Mikey has made such a big deal about it, and had some of his loony callers give their thoughts, I will be paying much closer attention to Mikey and Crash. Stay tuned, guys!