The University of Alaska (UA) has awarded a $500,000 contract to Milwaukee based advertising firm BVK. The contract was in response to an RFP from UA that came out in February. A total of eight firms responded to the RFP, including several Alaska firms. The firms include Denali Daniels & Associates, Strategies 360, Thompson & Co. Public Relations, Brilliant Media Strategies, and Yuit Communications. The other two that responded were Ologie and EMC Research, both based in Ohio. The RFP allows for up to two possible one-year extensions totaling an additional $1 million.
The scope of work describes a "public awareness campaign" that includes polling and messaging.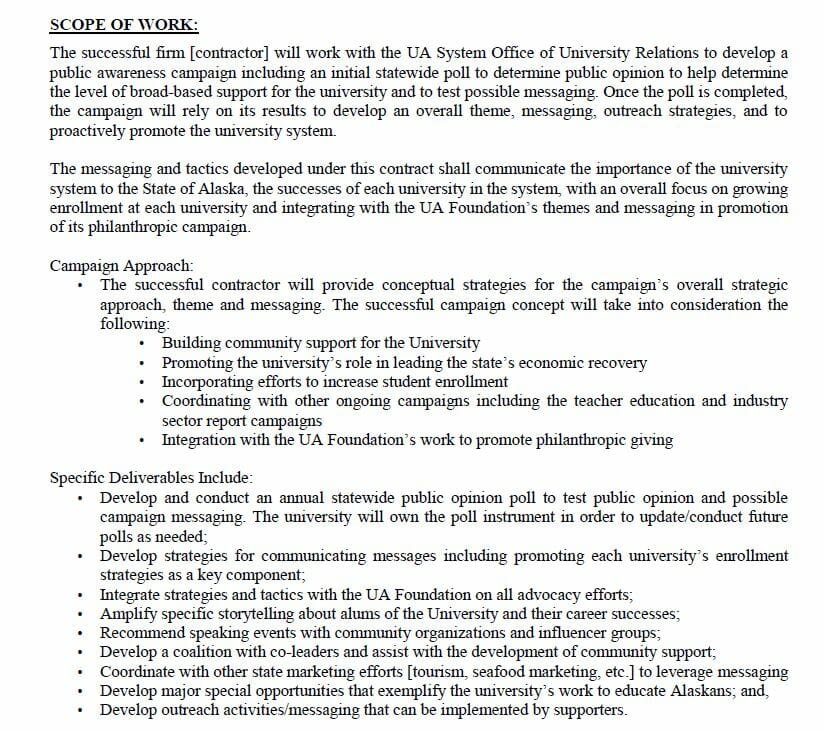 Robbie Graham, the Associate VP for Public Affairs for UA provided the following statement about the contract:
The university has great respect for the talent and creativity of our Alaska firms. The three universities and the system office have worked with, and continue to work with most of them on projects ranging from promoting teacher education, to web development and on other marketing efforts.
But what BVK offered differently than the other proposers was deep and impressive experience with numerous universities and higher education campaigns across the country. The firm's level of knowledge about the task at hand impressed the evaluation committee as did the firm's overall approach to the campaign. As we get underway, we will discuss with BVK how it might work with Alaska vendors on this campaign.
She added that the money for the contract comes from "UA's unrestricted funds, and that no state funds will be used to support this campaign." Although all university funds are fungible.
According to BVK's website they do work for other universities that include Michigan State University, Texas Christian University, and Bryant & Stratton College.
The University has dealt with two years of steep budget cuts proposed by Governor Mike Dunleavy (R – Alaska). Many of the proposed cuts were added back by the legislature, although the University did agree to reduced cuts in 2019 in exchange for long term spending cuts.